Set the mood for a happy celebration with decor that combines pretty splashes of colour with enchanting festive touches borrowed from nature and given an original Kirihimete makeover.
Christmas has always been the perfect time to get crafty and find new ways to entertain in your space, no matter its size. A festive table brimming with harmonious colour and texture is your starting point for a joyful celebration. Add to that some nature-inspired decorations that are a fresh and clever twist on the traditional, and the scene is set for an enchanting day of merriment and happy memories. All you need now are the guests!
Fresh green ideas
If you simply don't have the space for a tree, or just want to do something completely different this year, here are
a few simple and quick-to-construct festive decor suggestions that still bring the outside in. Or just look around your garden to see what you can find, and let nature inspire you.
• Don't overlook tree branches that have been trimmed during a pruning session, or left behind by a seasonal storm. Simply prop the dried branch upright in a corner – swathed in fairy lights, if you like – for instant impact. Or, to create a really dramatic effect, suspend it over your dining table. Hang your favourite Christmas decorations from it. For an especially personal touch, you could add little messages to friends and family for them to discover and read during the festivities. Lit up with vintage bulbs, your seasonal decoration can even become a year-round lighting statement.
• Hang fragrant pine cuttings from string or ribbon to add a special feature to a plain wall, above a mantelpiece or even over your bed. Keep it as simple as nature intended, or add a few hanging baubles for extra Christmas spirit.
• Fill a vase with festive branches. If they threaten to be top heavy, add some stones at the bottom of the vase to prevent it from tipping over.
• Or, if you prefer, choose faux branches of greenery and fill up the interior of the vase with pine cones for an added decorative touch.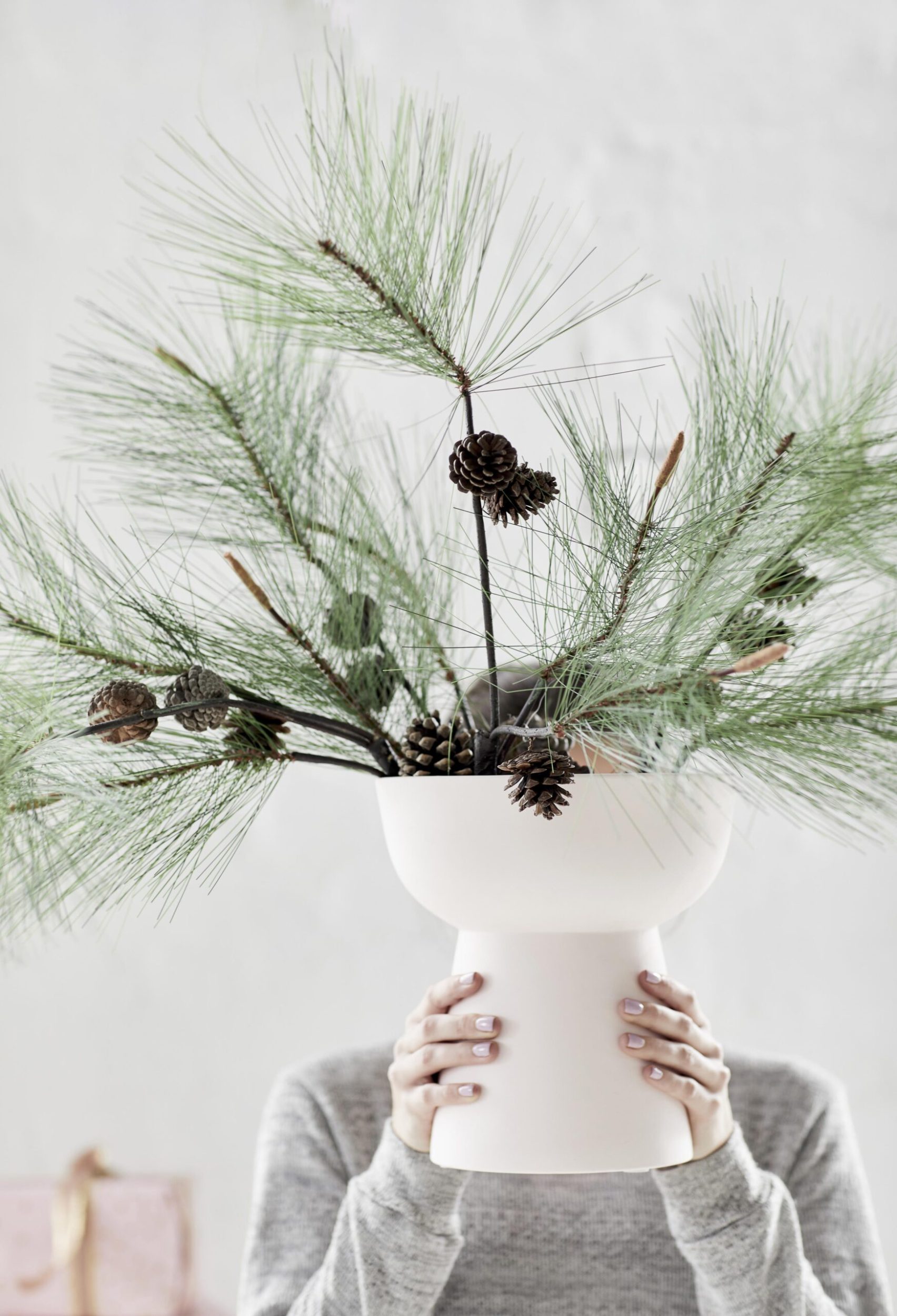 Top tip
Bring your gift wrap into your colour scheme. Gold, white and pink paper and ribbon enhance this pretty palette.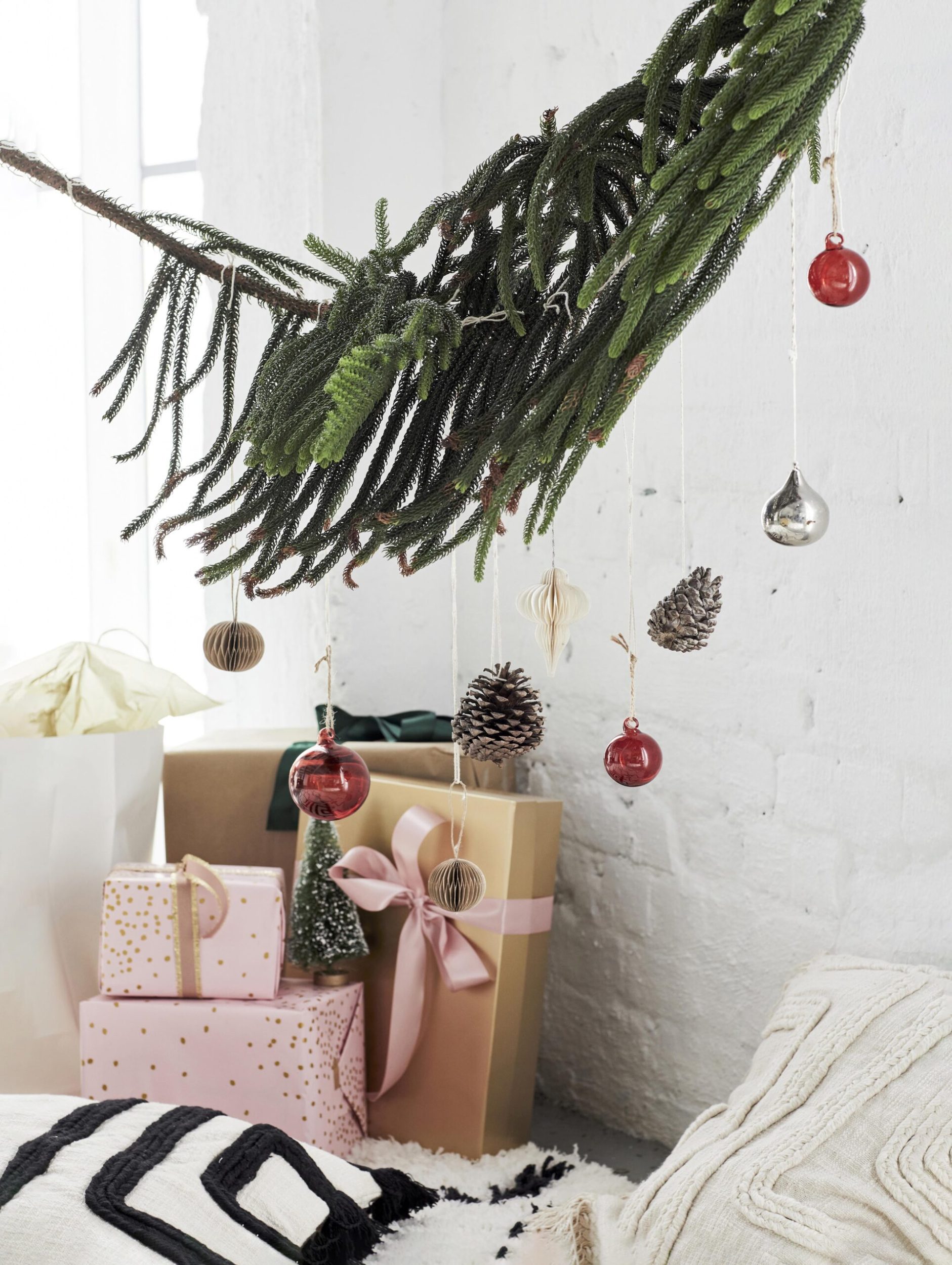 Cute idea
Suspend a leafy garland (use real or faux foliage) from a bobbing, helium-filled balloon to make an alternative "tree" that's sure to be a conversation piece. Make a simple statement with one, or float several around the dining table to create the feel of a magical forest.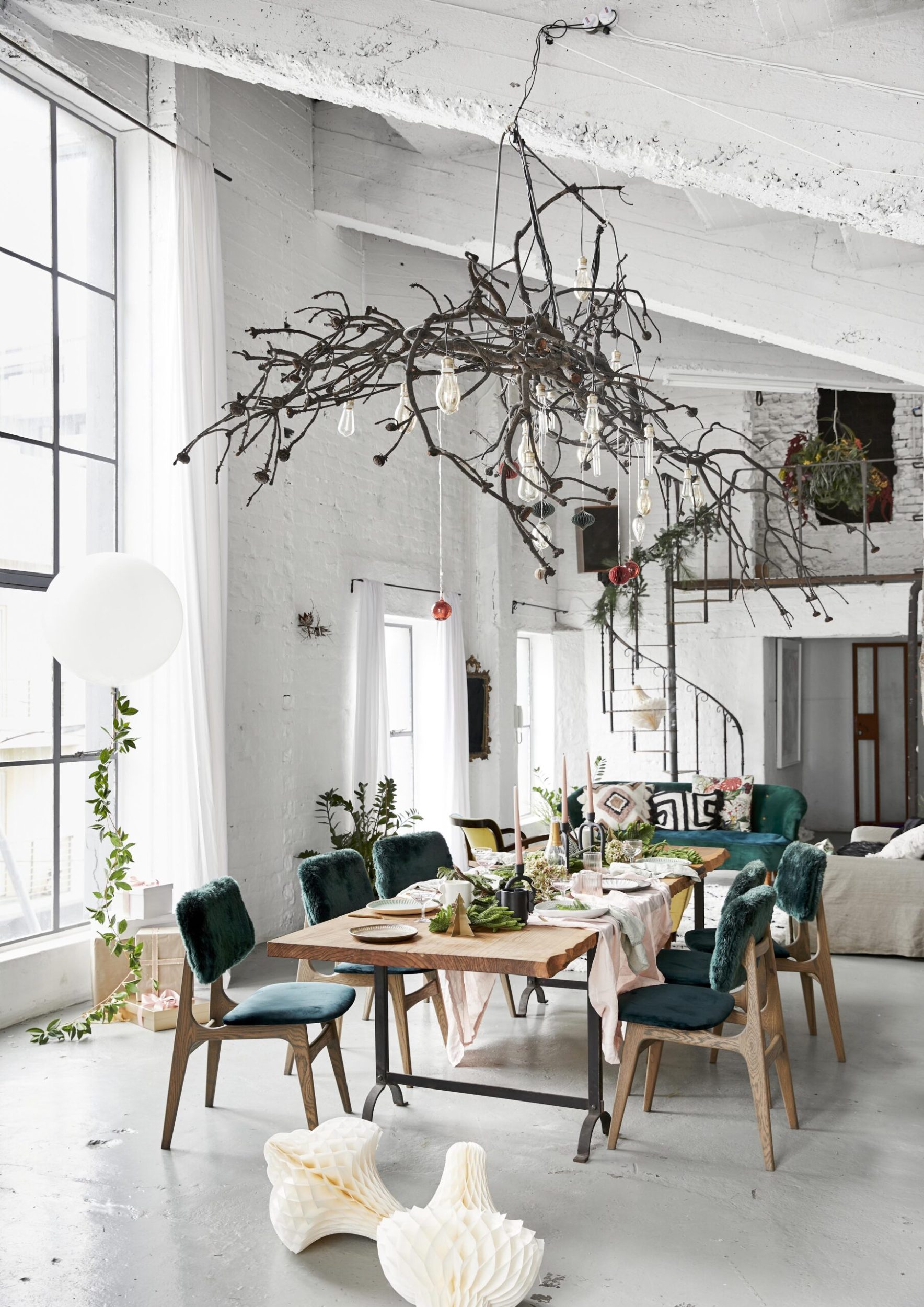 Dine on
Every festive table should be so inviting that guests are eager to sit down, ready to fill your home with chatter, laughter and cheer.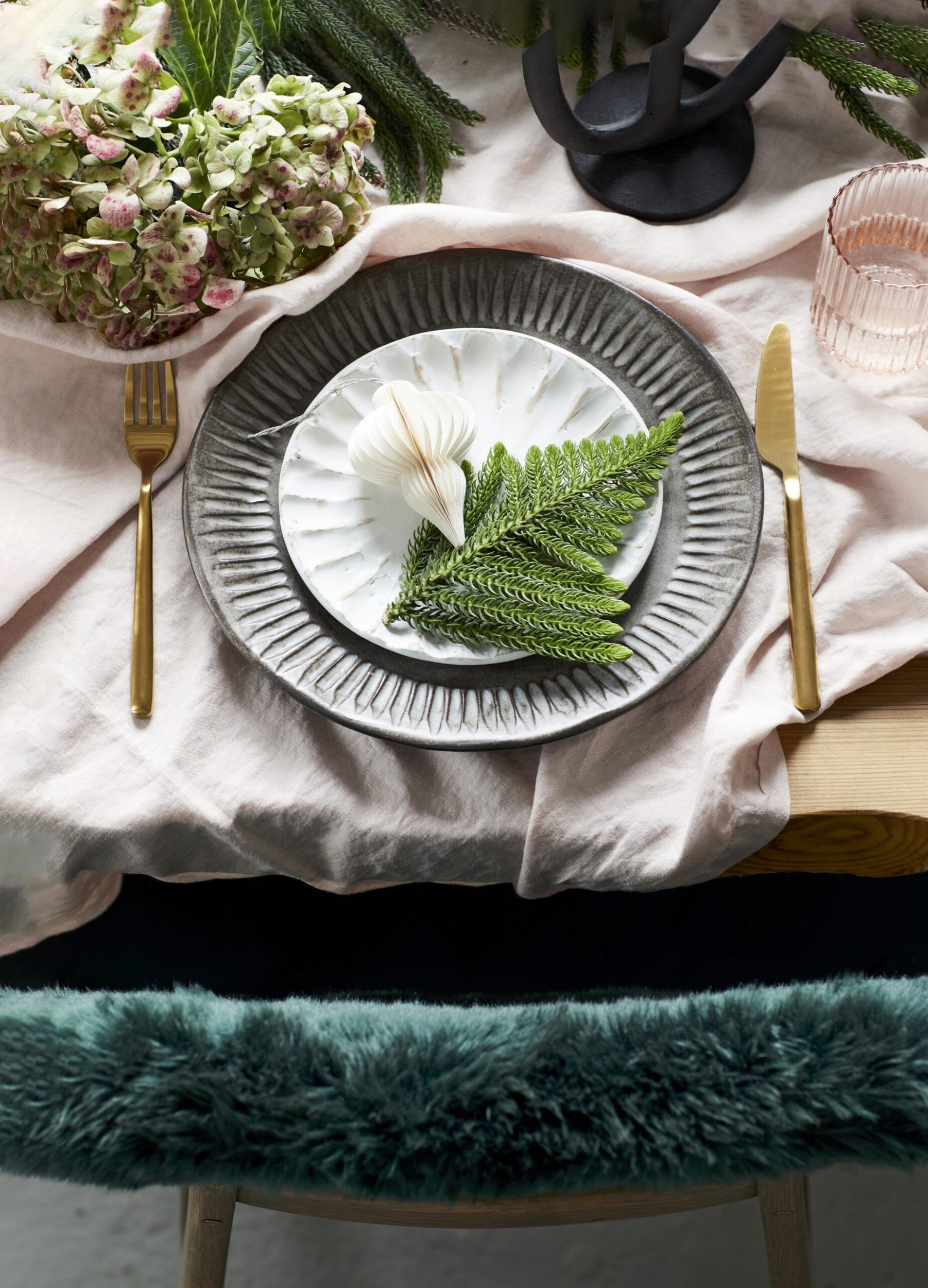 • To avoid a look that feels too precious or "done", drape your table with natural linen in muted tones of pink and green. Blending the energising power of all things green with the welcome softness of pink makes for a chic and contemporary colour combo.
• Play with textures. Plush deep-pile chairs in a rich jewel green combined with a table runner made from layering up pine tree branches with hydrangeas, all on a base of beautiful raw linen, create an effortless decorative feel that is genuinely easy to put together.
• Floral touches can be dried or fresh favourites, displayed simply in pretty bowls or bottles filled with water so they last throughout the holidays.
• Add a bold contrast to the softer elements, using chunky black candle holders – and don't forget a splash of bling, which is easily provided by bright gold-toned cutlery.
• Top plates with treasures from nature to keep things homespun, then add special Christmas decorations and tea light candles for sparkle.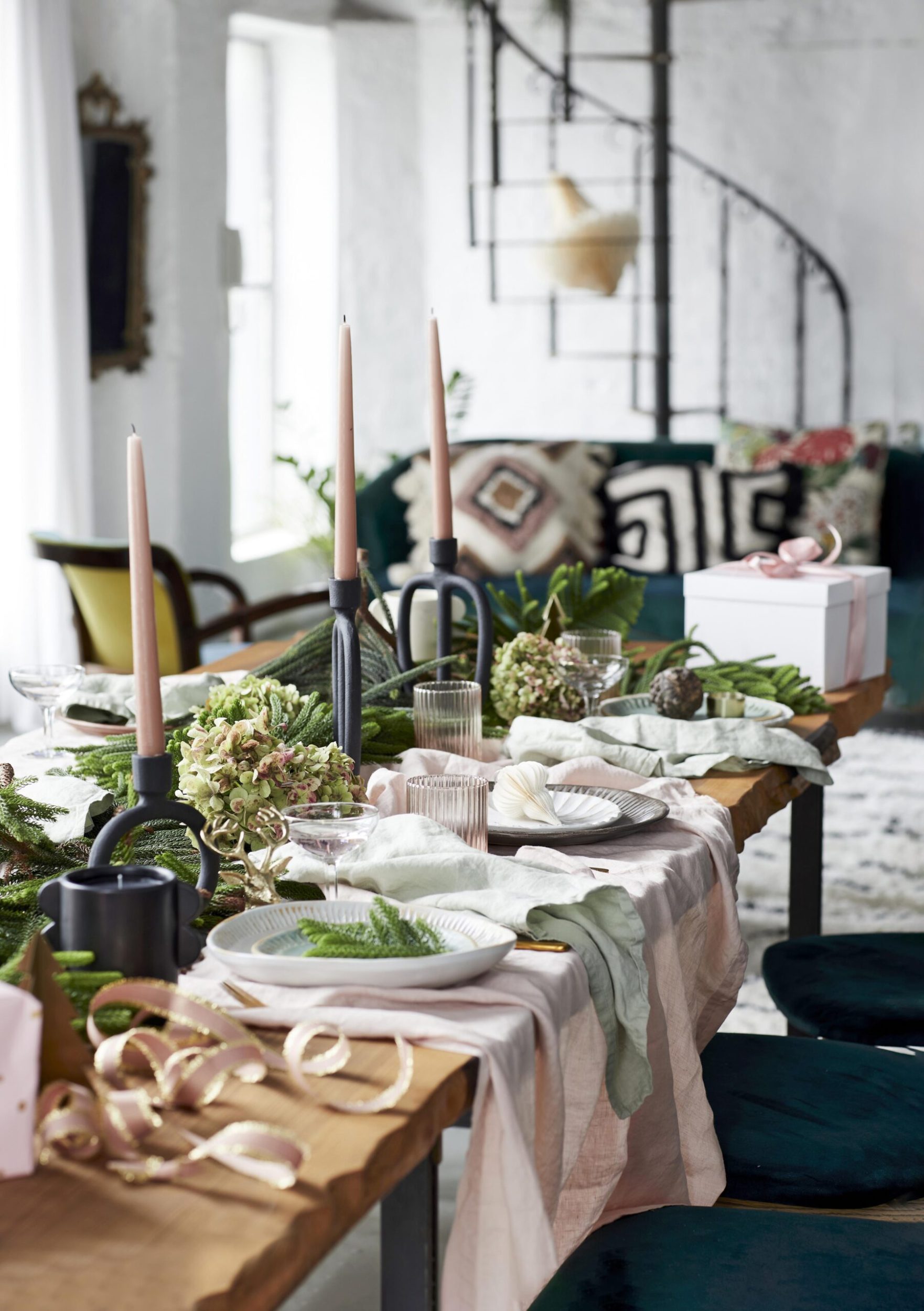 Top tip
Each place setting here is a blend of mismatched crockery pieces. Pull out every piece of glass, china and ceramic serveware you've collected over the years and enjoy spending time planning a unique setting for each of your guests.
Gather round
This time of year is all about togetherness and taking time to relax with loved ones, so whether your exchange of gifts happens before a Christmas breakfast, after a celebratory lunch or in the evening, consider the space you'll use for this special time. Will some guests want to pull up a chair, while others chill on a fluffy rug? Get the setting just so, then enjoy watching the faces of your loved ones light up – and don't forget to take photos!
Festive finish
It's the details that really complete a space and make everyone feel festive, so ensure you create as many celebratory trimmings as you can among the everyday elements in your home.
• Giant paper decorations always add great impact, whether they're hanging from the ceiling, perched on the stairs or adding a celebratory feel to a windowsill. Plus they fold down neatly, so can be safely stored away until next Christmas.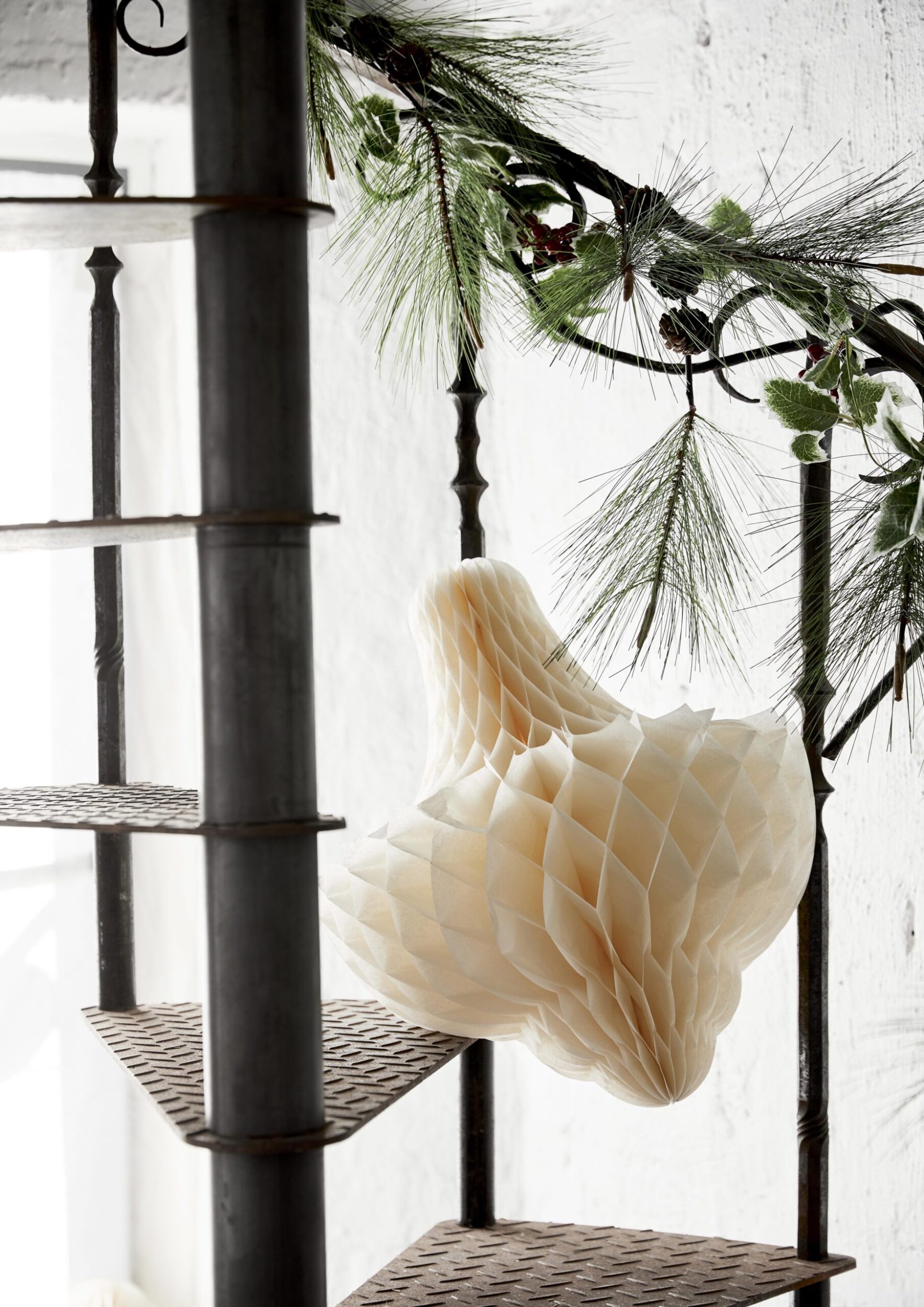 • Don't have a wreath? Hang a swathe of greenery on your door and glam it up with an oversized gold ribbon. It will set the mood for guests as they arrive at your celebration. Forage for real greenery if you want a delicious woody scent, or purchase faux fir fronds that you can reuse every year.