I'm usually open to exploring new brands and styles, but when it comes to selecting the best boots for the winter season, I like to learn a little bit about the brand before making my final decision. After all, harsh weather can inflict a lot of wear and tear on a shoe and I want to know that my beloved boots will last me a long time – which is good for both the environment and my bank account. It may be dreary and grey outside, but if you wear a new pair of shoes, things will certainly feel a little better. All of this prompts the question: which brands and boots have the most reliable styles to pick from?



What To Look For

The best women's boots are versatile. When the temperature cools, they can replace your trainers, party heels and sandals – yes, the perfect pair can do all three!
Women used to pick between practicality and style, but we're now seeking chunky, punk shoes with comfortable platform soles due to the geniuses behind brands like Bottega Veneta and Prada. The kind who can toughen up slinky evening gowns and floral day dresses while also looking terrific in skirts, denim, and everything in between. If the biker/hiker aesthetic isn't your thing, our selection has plenty of attractive easy-to-wear choices with wedges, block heels and strong soles that will easily transition from day to night. Take a look at our WOMAN+ approved picks below.



Annie Cowboy Boot

Have you heard that 70's styling is coming back? Mi Piaci's Annie boot rocks the cowboy boot trend with Western-inspired topstitching and a Cuban heel that feels incredibly modern and wearable. You heard it here first: embroidered, stack-heeled Western cowboy boots are coming back. If you don't believe us, just ask Dua Lipa, Kourtney Kardashian, or Kendall Jenner, who have all been seen wearing them recently. Wear it with an over-the-knee skirt or underneath your favourite denims.



London Rebel Chunky Boots

For something stylish and versatile, meet these chunky knee-high boots. All of our favourite fashion 'it' girls have been spotted in this style. These ones are from ASOS and are made from faux leather. I have a pair similar to these, which are such a fun pair with short dresses and skirts as their silhouette adds a loud statement.



Tucky Ankle Boots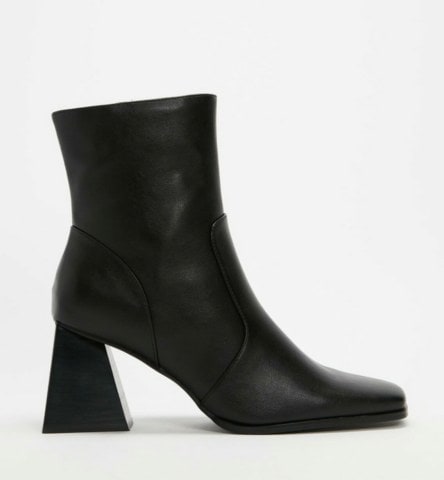 These are the boots you'll reach for night after night. Perfect for dinner dates and even the office, these ankle boots are comfy and durable, with raving reviews online. Their pointed toe ups the level of the class immediately, and you'll have plenty of fun click-clacking away in these heels. Everyone needs a pair like this in their life!



Nora Combat Boot

The Nora ankle boots are beloved by Mi Piaci women. This stunning pair combines delicate aspects of grunge while maintaining a basic form, making them the ideal style for year-round attire. We're obsessed with the snakeskin leather boot vibe at the moment as the perfect neutral that still stands out from the crowd.



Territory Leather Ankle Boots

The ROC Territory boots are worn-in leather and have a utilitarian look. ROC Territory is the place to go if you're looking for gothic/punky combat boots. The lace-up design lends a military vibe to the shoe, while the block heel adds height without sacrificing comfort.



Edam Combat Boot

Adding height without the discomfort of heels? Easy peasy with Merchant's Edam Combat boot. The Edam ankle boot is the brand's best-selling style. Designed with comfort and elegance in mind, the subtle grunge characteristics that will enhance everything from jackets to jeans. I bet you'll reach for these everyday this Autumn/Winter!



Anine Bing Mid Tania Boots

Tania Boots by Anine Bing are revised for Autumn '23 with a little longer, stylish and classic shaft. The warmth of the toffee suede pairs perfectly with denim, neutral trousers and print! Subtle western stitch details enhance the Mid Tania Boot's timeless vibe. You'll hold onto these forever.



Joy Chelsea Boot

The chunky platform Chelsea boot is not going anywhere. The Joy Boot by Karen Walker is an edgy twist on the classic Chelsea boot style, with its hefty high-heel sole, increased height, and stylish almond toe. It's made of 100% croc-embossed leather with a silky leather inner. It also has an elastic gusset and a back pull tag to make it easy to put on. The stacked heel is set on a lugged rubber sole with a styled trail that combines elegance and utility.




It's important to research and choose a reliable brand when selecting boots for the upcoming season to ensure durability and save money in the long run. Exploring new styles is exciting, but the quality of the shoes is crucial, especially in harsh weather conditions. A good quality pair of boots not only benefits the environment but also adds excitement to the daily routine, making the dreary and grey weather so much more bearable.