It's easy to spot the home of recently retired Labour MP and former Silver Fern Louisa Wall. In a row of houses on a narrow street in the Auckland suburb of Manurewa, her home is the one with the giant rainbow flag, a symbol for the LGBTIQA+ community, waving proudly in the wind.
For the past 14 years, Louisa, whose iwi are Ngāti Tūwharetoa, Ngāti Hineuru, Waikato and Ngāti Kuri, has been waving her own rainbow flag within the halls of Parliament, fighting for the rights of the marginalised and spearheading a historical 2013 bill that legalised same-sex marriage in Aotearoa. To be an openly gay politician responsible for making life-altering changes for the rainbow community is a legacy Louisa is extremely proud of. Her commitment to improving the lives of those who have not had a voice comes from years of experiencing trauma and self-doubt on her own life journey.
IMAGE: LUKE HARVEY
As she sips tea with the team from Woman in the home she shares with her wife, Prue Kapua, Louisa starts to shed tears as she remembers a period when she was forced to keep her true identity a secret and harboured feelings of isolation while being in the closet.
Speaking publicly about this experience for the first time, Louisa says the immense loneliness manifested when she made the national Silver Ferns netball squad at just 17. Throughout her four years of playing netball at the top level, she heard a raft of homophobic comments from players, which made it difficult for her to be open about her sexuality. The experience ingrained within her a fighting spirit and motivated her passion and drive to become a politician, so she could make a difference.
"There were women within the greater netball community that other people would describe as obviously gay and they would talk about them in a disparaging way. There were homophobic comments such as 'Eww, do you know?', and 'Isn't it awful'," Louisa says.
"I had an emotional response because of the environmental homophobia. No one outright said to me 'You're a lesbian and you shouldn't be playing netball.' It was a lot more subtle than that.
"I was a young person conscious about my sexuality and had no one to talk to within that space.
I was thinking, 'What is wrong with me? Where do I go?' I couldn't process it. It was really traumatic. I felt so alone."
IMAGE: LUKE HARVEY
Louisa played 28 games for the Silver Ferns and competed in one of the most nail-biting Netball World Cup finals in history when New Zealand lost to Australia by one goal in 1991 in Sydney. Despite her success in the sport, the pressure of being in the closet and the hostile environment were too much for Louisa and she retired from netball at only 21.
"I was in the Silver Ferns for four years and then didn't get picked. I just woke up one day and couldn't go to netball," says Louisa. "A lot of people thought that I just needed to sort myself out, not realising that sorting myself out meant that I was going through this personal recognition that I was takatāpui [gay]. The way that I reconciled it in my own mind is that I went to the library to do my own research, got a book, and realised that I'm not unnatural."
Louisa was born to be an elite athlete and a natural leader. She played representative soccer while growing up in the small settlement of Waitahanui near Taupo and even qualified to represent New Zealand at the Commonwealth Games in javelin.
"With sport, I've always credited my tupuna. I've always had this amazing natural ability, coupled with parents who were always supportive of their children being involved in sport."
It was when she decided to play women's rugby, after leaving netball, that Louisa was around other lesbian women. But unlike her, they were open and honest and fully embraced their sexuality.
"It was a contrast from netball, because there were a lot of out, gay, happy, transparent, lesbian women. You can be part of the team, do your job and you were picked up on merit," she says.
Louisa once played rugby when she was five years old, but when local officials discovered she was a girl, she was banned from the field. It was another time in her life when she experienced discrimination and injustice and it shaped the person she would become.
"In a five-year-old's mind, you automatically pivot. I didn't have the capacity to dwell on and think about why I wasn't allowed to play. I was born in a particular time; an era when men played rugby and where women washed the jerseys and provided the after-match- function food and hospitality. The notion that women could play this physical sport wasn't even a consideration."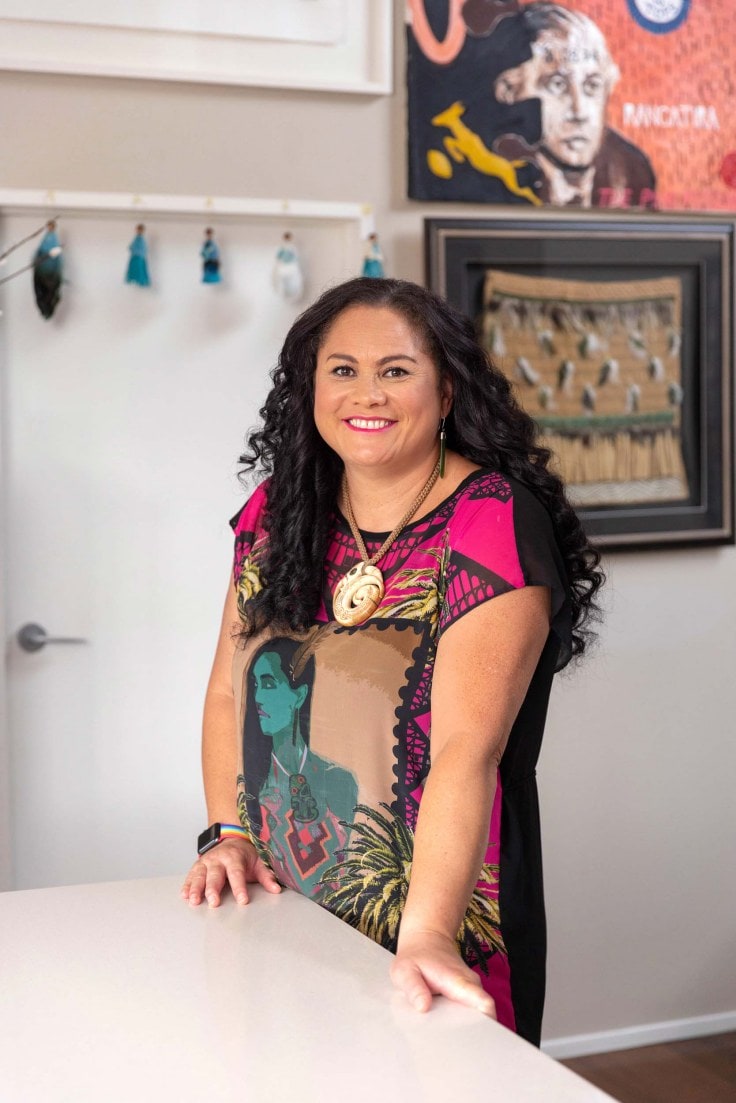 IMAGE: LUKE HARVEY
Louisa helped change those perceptions as one of the pioneers of women's rugby. She played for the Black Ferns from 1995 to 2001 and was part of the team that won gold at the very first Women's Rugby World Cup in Amsterdam in 1998.
Later in her life, Louisa used her political experience to work with New Zealand Rugby to fight against sexism, racism and homophobia and campaigned for women to be represented on its board. She also says the netball community has improved and the environment is a lot better for gay, lesbian and trans players.
"The NZ Netball Players Association has had a lot to do with accepting and not assuming, and people are being able to come out. In the rugby space, it's still a lot more difficult for gay men to play rugby and be open about their sexuality."
It was during her early 20s, while she was playing rugby, that Louisa felt comfortable coming out to her whānau. Her parents were supportive and a conversation she had with her late father, Leslie, changed her life.
"When I talked to my dad, he said to me, 'Are you aware of the life you are choosing?' He was worried about the level of discrimination I would receive and my ability to do some of the things I had the potential to achieve.
"I told him I wasn't choosing this life. This is who I am. He said that he loved me, but he wanted to make the implications of my life as a takatāpui woman very clear. It was incredibly powerful, because I didn't need to worry about what anybody else thought of me. I could lead an authentic life and be who I am.
Fundamentally, I had the aroha of my parents, and with that aroha, nothing else matters."
Louisa earned qualifications from the Waikato Institute of Technology, and Waikato and Massey Universities, and worked in the health field before entering national politics. She inherited the desire to help others and be of service from her father, who was active in the community, serving on local school and iwi trust boards. "To me, being political means that you have an opinion, that you are not passive, that things happen in your world and that you choose to stand up and speak out," Louisa says.
"I was always clear I was proud to be Māori, takatāpui and a woman.
"It is important to have role models, so people can see we are part of New Zealand society, whether it be on the sports field or in politics. That we are out and proud and that we are using our voices to promote and advocate our status as equal human beings."
Louisa entered politics in 2008, initially as a Labour list MP. In 2011, she won the electoral seat of Manurewa and served for three terms. She stepped down from contesting the seat during the 2020 general election after criticising the Labour Party's selection process. She became a list MP during the remainder of her time in the Beehive.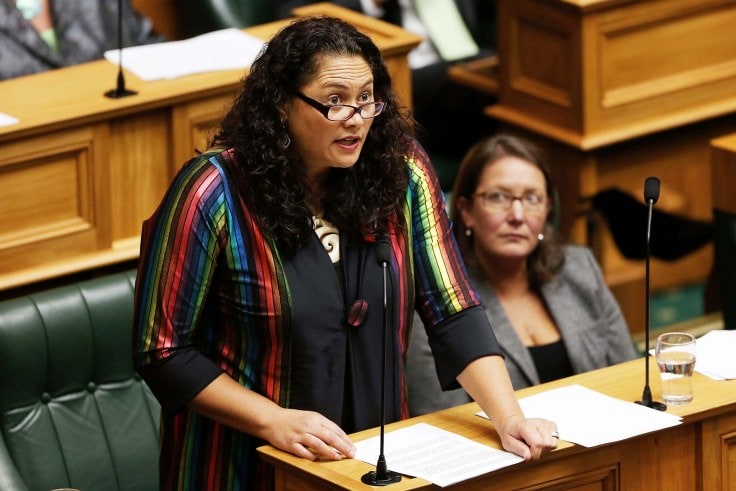 Labour MP Louisa Wall speaking in Parliament during the third reading and vote on the Marriage Equality Bill on April 17, 2013. IMAGE: GETTY
During her tenure in politics, she was described as "the maverick MP" – someone who wouldn't toe the party line, and eventually fell out with Prime Minister Jacinda Ardern and the Labour Party leadership. She quit politics after feeling undervalued and being told by Ardern that she would never be a minister under her leadership and that she didn't even want Louisa in her caucus.
"I think there was a misalignment of values. Once I have a goal, it's difficult to dissuade me and for me to change course. I know if we go through these steps, then we can achieve the outcome that we are seeking.
"When people have said that I am difficult and that I'm hard to work with, I think they have misinterpreted me, especially when I'm not willing to put a spin on everything. The reason I use the word spin is that I think politics is about spin. It's about trying to derive a political outcome. For me, the outcome I'm seeking is a legislation reform or a policy change so that things will happen. You do things because it's the right thing to do. You don't do it because you want to be in the media and you want the credit."
She's disappointed that politics is not like sport – where you get rewarded for your commitment.
"You get selected for national teams because of your hard work, your determination and your passion, for getting yourself in the best position to be picked to be a representative. It's the ultimate satisfaction when you have invested everything into achieving that goal."
Despite never being chosen as a cabinet minister, Louisa has managed to achieve significant outcomes for the rainbow community, women and Māori. She was instrumental in helping to achieve not only the legalising of same-sex marriage but also creating safer facilities at abortion clinics and a law change for harsher penalties for revenge porn.
"I don't think anyone could ever say that what I've done has not been 100 percent concurrent with the values of the Labour Party."
It took Louisa 14 hours to pack up her office during her last days in Parliament. She had mixed emotions when saying goodbye to her 14 years in the Beehive, but is excited about the challenges ahead. She is moving into a new role created by Foreign Affairs Minister Nanaia Mahuta as an ambassador for gender equality in the Pacific. She is looking forward to empowering the voices of women and the LGBTIQA+ community across all the Pacific nations.
"I'm somebody who has been involved in the political system. I've been able to understand how important it is for women to be engaged politically. I'm glad that I will continue to be a champion for women and the marginalised and make sure that they have a voice."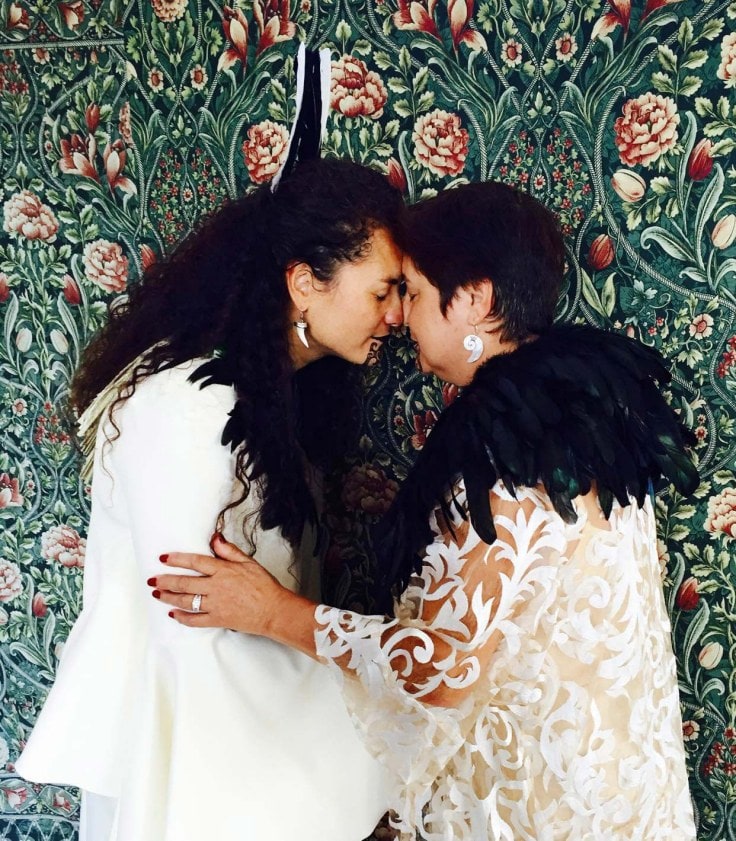 Louisa with her wife, Prue, a prominent Māori lawyer who helped her draft some of the bills she presented during her time as an MP.
Louisa is also looking forward to spending more time with her wife, Prue, a prominent Māori lawyer and former president of the Māori Women's Welfare League. "I have been fortunate to have married a competent and incredibly supportive wife, that, as a lawyer, has drafted a lot of my bills and who I've been able to talk to about a lot of these issues."
Louisa turned 50 in February. She says the milestone birthday has given her a new lease on life.
"I've passed the halfway stage of my life. For me, 50 is the dawn of a new status. It's now up to me to use all that experience and wisdom and the skills I've garnered over the years."
This is Public Interest Journalism funded by NZ On Air.