When a Tauranga woman discovered that the barista at her favourite café needed a kidney transplant, she made a jaw-dropping offer, writes Sharon Stephenson.
On October 5, 2016, two women walked into Auckland City Hospital. They couldn't have been more different. Frankie Egglestone was a 29-year-old single mother who stood just under five feet tall, liked hip-hop music and disliked coffee – even though she worked as a barista. Lianne Bateman was also a single mother, but she was just under six feet tall, a dental hygienist and devoted Christian with a thing for British actor Jason Statham.
Yet these two women's lives were about to be connected forever by an act of staggering selflessness: Lianne was donating her left kidney to Frankie. What's more, when Lianne first made the offer several years earlier, she'd known Frankie for only six months.
Their story begins in Tauranga in 2012 when Frankie was working as a barista at Lianne's favourite café.
"Frankie's cafe was the nearest one to work and church, so I'd often pop in for a mocha," says Lianne, now 50. "She was always happy and chatty and we got to know each other."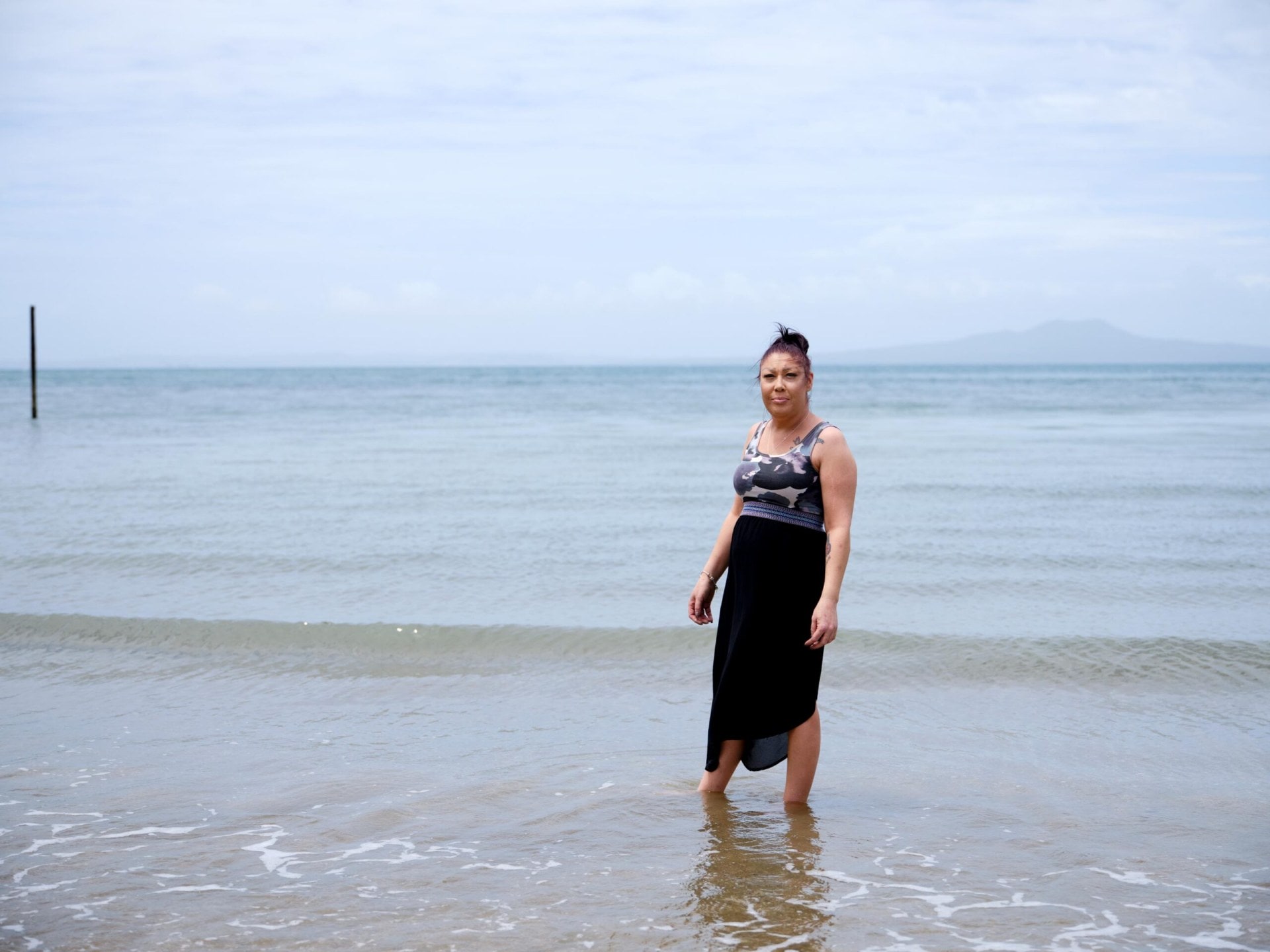 One day Lianne saw a dressing poking out of the top of Frankie's T-shirt and asked what it was. "Frankie explained that her kidney was failing, that she was on dialysis and needed a new kidney."
Two weeks later, while Frankie served her eggs Benedict, Lianne said, "What have I got to do to give you a kidney? I have two good ones."
Ask the mother of daughters Taylor, 24, and Ella, 19, what motivated her generous offer, and she'll laugh. "I honestly don't know. I didn't think about it before I said it. But I knew it was the right thing to do." As soon as the words came out, she says, she felt a sense of peace.
For her part, Frankie, now 34, thought her favourite customer was kidding. "I said, 'Are you sure?' I was a bit taken aback but told Lianne if she was serious she should call Waikato Hospital and find out what was involved."
Frankie wasn't getting her hopes up. Disappointment had hitched a ride throughout her life. She was born in Tauranga without a left kidney and with a barely functioning right kidney. Around the time she started school, her mother donated a kidney, which worked well until Frankie was 22.
It allowed her to spend seven years living her best life in Texas, where her mother is based, and later to find her niche in Tauranga cafés.
"I'd been told I couldn't have kids but I fell pregnant with Lexi [now 12]. And then I fell pregnant for the second time in 10-and-a-half months. That put a real strain on my kidneys."
Tragically, her second daughter, Mikayla, died of cot death when she was eight months old. Shortly after, Frankie's relationship ended. "My health went downhill after that. My kidney failed a year after Mikayla died."
That meant her father driving her to Waikato Hospital three times a week for dialysis. "Every 20 minutes he'd have to pull over so I could be sick. It's probably the worst I've ever been."
Eventually Frankie had a dialysis machine installed at her home, which made life easier. But surgeons told her that if they didn't find a kidney replacement, there was nothing more they could do for her. "So when Lianne offered to donate her kidney, she was literally giving me a new life."
For her part, Lianne had to undergo a barrage of tests to determine her suitability, from frequent blood tests to a CT scan, and even a psychological test.
Unfortunately, she didn't prove a good match. But a few years later, with time running out, Frankie's surgeon retested those who'd offered Frankie a kidney, and concluded that Lianne was the closest match.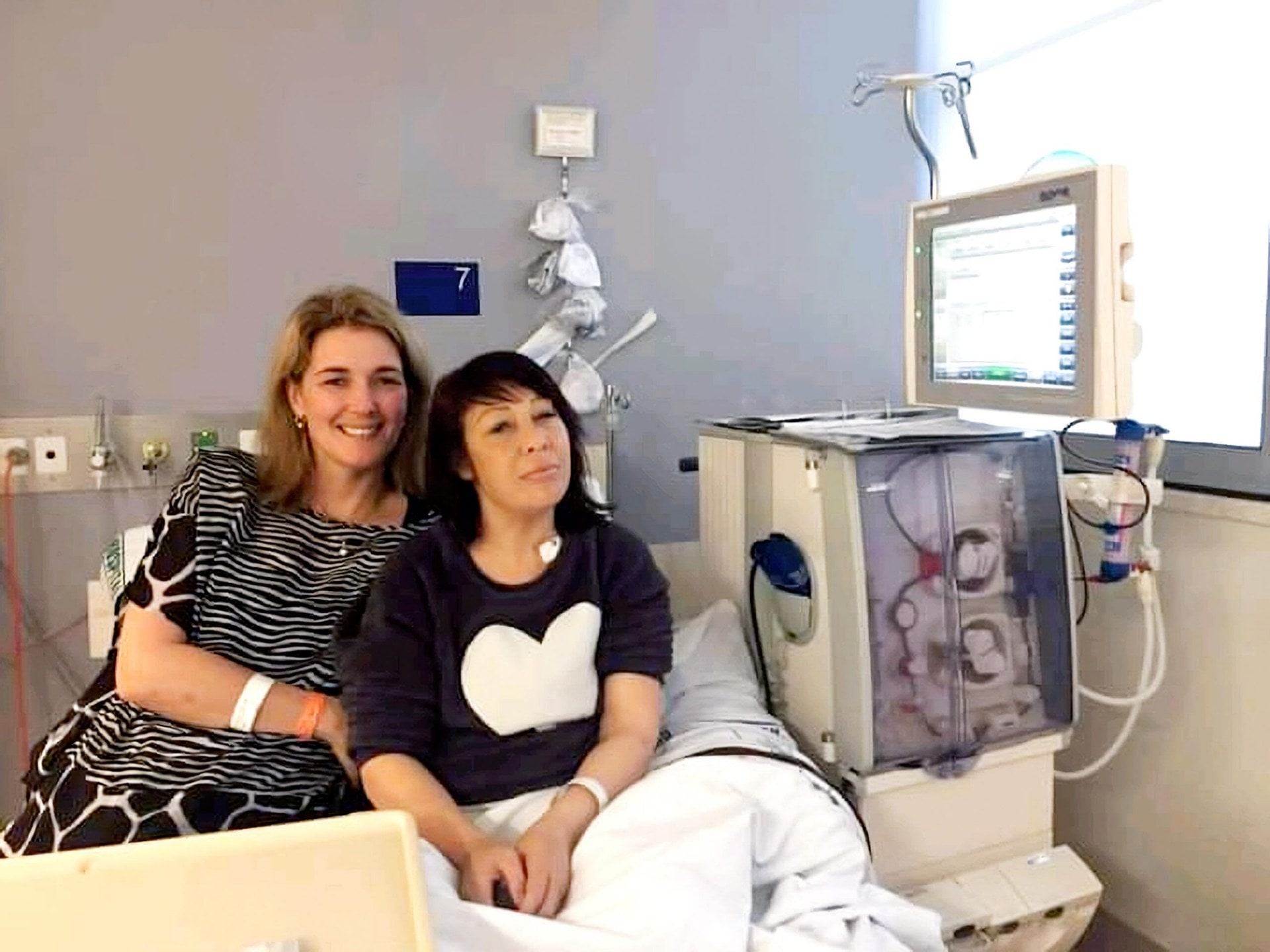 Frankie wasn't too worried about the procedure – by that point in her life she had already survived 55 surgeries. Lianne was also no stranger to hospitals, having undergone a hysterectomy and laparoscopic procedures.
It took around three hours to extract Lianne's left kidney and another six to implant it into Frankie. Lianne, who'd taken annual leave from her job and paid her own way to Auckland, says the procedure went like clockwork. "We couldn't have asked for a better outcome. I was up and moving around the next day."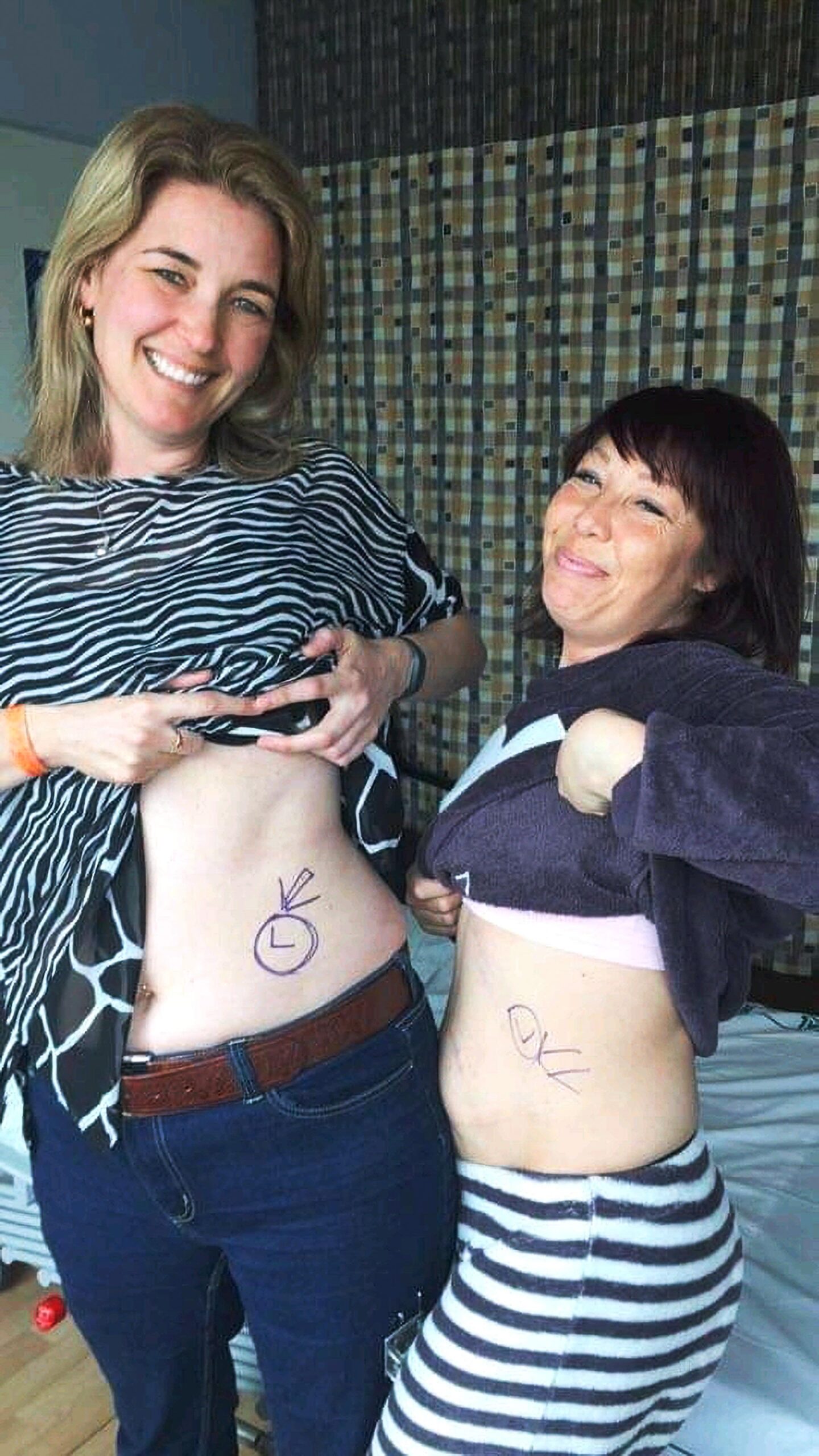 Frankie's recovery wasn't such plain sailing, and four months after the transplant she battled major organ rejection, spending another three months in hospital. Eventually, she found her way back to health and, last year, fulfilled her dream of studying.
"I was tired of hospo and wanted to do a health science degree, so I moved to Auckland and am majoring in psychology at Massey University. I eventually want to help those going through transplants and dialysis, because I didn't really have the support I needed and I'd like to provide that for others."
The pair remain close and call themselves "the kidney sisters". "We got matching tattoos of a butterfly and the date of the transplant," says Frankie. "Mine is on my arm while Lianne's is on her hip."
For the first five years after the surgery, Lianne, who's now engaged to be married, had to have her blood tested every year. She recently had a scan that showed that her remaining kidney has grown in size and is working at the capacity of two healthy kidneys.
"Living with only one kidney hasn't affected me at all. I'm pretty healthy and it's amazing to think a part of me is living inside Frankie.I have no regrets about doing what I did. It feels great to be able to help someone and see Frankie go out and be there for her daughter, study and live her life instead of being tied to a dialysis machine. I'd do it again in a heartbeat."
Frankie says she could never repay Lianne for what she's done. "I'm still blown away that someone who was once a regular customer ended up saving my life but wanted nothing in return. We have a bond that many people will never understand – she's like the big sister I never had."
Oddly, one change Frankie has experienced since the transplant is a taste for coffee. "I never drank the stuff until I got Lianne's kidney! Her love of mochas must have rubbed off on me."
Still, life isn't without its creases. A recent test found Frankie only has 35-40 percent function in her transplanted kidney.
"The reality is that a transplant isn't a cure for kidney disease, it's a treatment," she says. "Transplants don't last forever. I've decided that if it fails again, that's it. I'm not prepared to go through dialysis again. I have a DNR (do not resuscitate order) in place. Hopefully it won't get to that, but it if does, I'm prepared for what's to come."
Donation nation
You may not know exactly what your kidneys do, but it's a good bet you're thankful for them because kidneys act like a filter to remove waste and extra fluid from the body, help control blood pressure and pH levels, make red blood cells, and keep bones healthy.
Figures from Organ Donation New Zealand show that there are around 550 people waiting for organ transplants in New Zealand, with most waiting for kidneys. The majority of organ donation is from deceased donors, with 186 people receiving life-saving heart, lung, liver, pancreas and kidney transplants from 64 deceased organ donors in 2020.
Many more received tissue transplants including eye tissue, heart valves and skin from those donors, while a further 87 people received kidneys from living donors, and three received a liver from a living donor.
Generally speaking, one donor has the potential to transform the lives of up to 10 recipients through the donation of organs and tissues.
How to become a live organ donor
To be able to donate an organ you will need to have medical tests and checks to make sure this type of surgery is suitable for you.
Key things to know:
You don't have to be a New Zealand citizen to donate.
You may be able to donate if you live overseas.
There is assistance for eligible donors, including financial assistance for travel and accommodation, and compensation for loss of earnings after surgery.
You can donate a kidney to a member of your family, a friend or a stranger.
Donating to someone you know, such as a family member or a friend, is called directed donation because you "direct" that your kidney goes
to a particular person.
Donating to someone you don't know is called altruistic or non-directed donation, and in this case you can't say who receives your kidney. The kidney will be given to the next best-matched patient on the kidney organ waiting list.
The first step in donating an organ is to contact your DHB, which will arrange tests and checks and determine any compensation you might be eligible for.
PHOTOS BY MARK SMITH & JAMIE WRIGHT