Locked down in Los Angeles, Kiwi baker Jordan Rondel was overwhelmed by stress but determined to carry on. The Caker tells Leena Tailor about adapting her recipe for success.
Los Angeles rain is as rare as Jordan Rondel's tears, but both came flooding down on March 23, 2020.
Trudging home through a downpour after hearing New Zealand was entering lockdown, the 32-year-old entrepreneur panicked. Her Auckland business, The Caker, was financially carrying her through her Hollywood move, so a closure threatened her American dreams – which had already been thwarted by nearly losing $30,000 in a business scam.
"That was my hardest day," Jordan reflects from the Echo Park home she shares with sister and business partner Anouk, 28. "I walked home in pouring rain and cried the whole way, thinking, 'The New Zealand business is what's keeping us afloat. This is really bad.' We didn't have our cake kits produced here yet, so nothing was set in stone and I thought, 'Why am I even here? This is too hard.'
"It was a huge release of emotions from the challenges of expanding my business and setting up a new life in LA. New Zealand shutting down was the straw that broke the camel's back. I freaked out and had my first panic attack."
While she hasn't experienced further panic attacks, it was only the beginning of a trying year. Striving to keep her business thriving from 10,000km away, Jordan also faced lengthy LA lockdowns and being far from family during a global crisis. Then, just as LA began emerging from Covid chaos, her 10-year relationship crumbled.
Today, the driven baker appreciates the silver linings of each hardship hurled her way since moving to California in September 2019. Everything started out great as she made new friends, sampled the incredible culinary scene and "lived it up" for six months.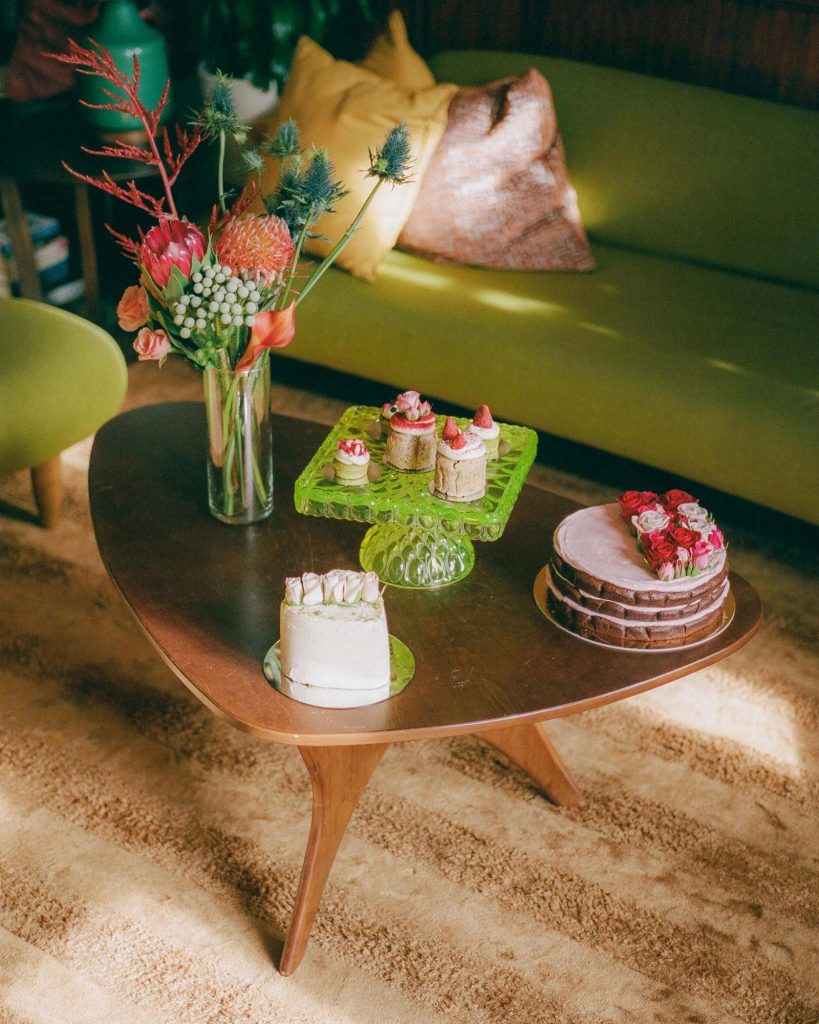 The long-planned move was the next step in expanding The Caker – a recipe blog Jordan started in 2010 which swiftly evolved into a popular brand encompassing cake kits, books and her cakery. The kitchen on Auckland's K' Rd is a long way from the bustling Parisian one where she discovered baking with French grandparents Pierre and Jacqueline. Jam connoisseur Pierre would prep piles of overripe strawberries in one corner, before Jacqueline and Jordan used his jam to bake tasty tarts.
"I remember thinking, 'This is insane how you can put together a few ingredients and make something so delicious,'" recalls Jordan, whose French father Stephane met her Irish mum Dee in France before moving to New Zealand. The girls spent Christmas holidays in France, where every meal came with dessert, creating the "insane sweet tooth" which has guided Jordan's baking.
I remember thinking, 'This is insane how you can put together a few ingredients and make something so delicious'
The kitchen quickly became Jordan's happy place and the straight-A student often ditched homework for baking. Later discovering painting and graphic design, she considered architecture, until an internship signalled it was a "man's world", with more time spent on bureaucracy than creativity.
She instead studied business and, despite starting her blog during her final year (naming it The Caker after Stephane accidentally blurted out "caker" while trying to say "baker" and "cake"), food-related careers never occurred to her.
"My mum was like, 'You should be a doctor or lawyer.' My parents were more traditional and academia-driven. Although, my dad pushed me into starting The Caker."
When readers wanted to buy the cakes she was blogging about, Jordan launched a cake subscription service, started getting orders for weddings and events, and created cake-baking kits. Word-of-mouth combined with the power of social media and lack of similar products meant the kits became hot property.
Meanwhile, increasing food-related television shows continued "normalising" culinary careers and soon Jordan was renting a commercial kitchen and releasing books.
But The Caker's rapid rise took a toll.
"I wasn't prepared for how quickly things grew. I took on everything from recipe creation to baking, cleaning, accounting, marketing. I had no time for family, friends or myself. By the fourth year, I started losing my love for it. I was exhausted, burnt out and wasn't being creative because I didn't have time," she says. "I was also afraid to hand over any control, so stuck in this limbo stage of not loving what I was doing, but not wanting help. I considered throwing in the towel."
The joy on customers' faces when she delivered a cake kept Jordan going until the wonderful day Anouk called asking for a job in 2015. Done being a lawyer, she now handles the operations and business side of The Caker.
Evolving their sisterly bond into a business partnership, they eventually started cooking up California cakery plans. By the time they arrived three years later, the high risk and cost of launching food businesses in LA was deterring them from a cakery, and their cake kits emerged as a better focus.
It was ultimately those kits which helped The Caker boom locally during lockdown. Following her brief, rainy meltdown, Jordan sprang into action, encouraging Instagram followers to swing by The Caker for free ingredients that would have otherwise gone to waste during the closure. She cleverly suggested they also buy a cake kit, leading to outstanding sales.
Relieved she had a "Covid-friendly product", Jordan and her team also introduced smaller "bubble" cakes, to serve household bubbles of four to six people. They sold "like crazy" and 2020 became more profitable than 2019.
Importantly, the pandemic also forced Jordan to confidently hand control to her New Zealand managers.
"I was used to going home every six weeks, so to be stuck in the US for a year was terrifying. I thought, 'My business will fall apart.' But I learnt it can function without me. It was a lovely realisation."
Being far from home still came with other challenges. She struggled to find a US manufacturer after one company almost scammed her and Anouk out of $30,000.
"Covid got really bad after that, so it felt like one thing after another. There was so much stress. I've learnt to make stress my friend, but there were points where there was so much to worry about that it became overwhelming and crippled me. I couldn't do anything.
"That's when going for a walk or run helps, but I fell off the wagon during lockdown. I stopped exercising, didn't sleep well, drank more alcohol. And I missed home. I felt scared, thinking, 'What if I get Covid and die? Maybe I should go home!'"
Due to Visa requirements, Jordan felt stuck in LA. "But I'm grateful I was forced to stay and focus on the US business, because I find it hard focusing on two things at once, let alone two countries.
I'm grateful I was forced to stay and focus on the US business, because I find it hard focusing on two things at once, let alone two countries
"It also made us look at the business in a new light and confirm a bakery isn't what we want to focus on here. Auckland took 10 years to build; it doesn't happen overnight. Trying to replicate that was distracting us from the cake kits. The pandemic allowed us to hone in on that."
Like Jordan, Anouk normally embraces stress, saying it's "sometimes the fire we need" and highlights aspects of life requiring attention. But 2020 tested her endurance. "I learnt that stress can bubble over and hinder progress, and it can help taking the edge off if stress has passed the point of being beneficial," Anouk says. "That might mean having a glass of wine when you're trying to [cut down], or trying medication when you hoped to be medication-free. It's worth it to bring stress back to that good level."
Persevering, the sisters were thrilled when American retail giant Anthropologie started stocking their cake kits. The kits come in dreamy flavours like flourless dark chocolate (one tiny bite of which once derailed me completely from six months on the Keto diet), and have been featured in Vogue.
Celebrity demand for custom cakes is meanwhile growing. Jordan landed an order for Red Hot Chili Peppers bassist Flea's wedding cake – and stayed for the ceremony. "It was so fun, especially seeing [Chili Peppers frontman] Anthony Kiedis' speech."
Pamela Anderson tried and loved one of The Caker's cakes at a party, whilƒe pop star Billie Eilish took leftovers home from a shoot Jordan catered.
With LA life picking back up, Jordan's now enjoying returning to the amazing restaurants and produce markets that inspire her. Five new cake kits are in the works, one involving coffee and another tasting "like Christmas". She's also finished writing her fifth book, Sunday Baking 3, which is due out later this year.
Having finally made it home for a visit in early 2021, she hopes to also spend Christmas in New Zealand, where The Caker continues to grow. And while Jordan's parents – who split when she was 12 – once idealised academic careers for their daughters, Dee, a doctor, is currently working as The Caker's distribution manager, and furniture designer and architect Stephane just picked up 36 cake kits for his pals.
They couldn't be prouder as their daughters chase their LA dreams. The city has proved empowering for Jordan.
"Tall poppy doesn't exist here, so I've become better at talking myself up and feeling more confident. People boost you and want you to succeed. And everyone loves that I'm Kiwi. They're like, 'You come from paradise and have a cool prime minister!' But LA can be quite lonely, despite how many people live here, because everything's so spread out."
Loneliness is something she could easily be feeling following her split from Kiwi tattoo artist Stefan "Spider" Sinclair, but Jordan's admirably finding the positives. "We were together 10 years, so with that comes a desire to have new experiences and grow personally. He wanted to stay [in NZ] and I wanted to leave, so we're on different paths. There were no bad feelings and I can grow in a whole new way now."
It's that resolute determination to move onwards and upwards from each setback which is perhaps the key ingredient to Jordan and Anouk's success.
"The pandemic was a hellish delay, but not a reason to quit before achieving what Jordan and I came here to do," says Anouk. "It'll take more than that to interrupt our plans!"
"You can push through adversities if you stick with what you love doing," adds Jordan. "Find the positives in tough situations because there are always silver linings, as cheesy as that sounds. The pandemic had plenty for me – I just had to find them."
PHOTOS BY LIZ BARCLAY, EMMA BASSILL AND TRISTAN KALLAS