Bringing food to the people is the aim of these women who ply their artisanal wares from food trucks, caravans and trailers across the motu. Sharon Stephenson takes a bite.
Given Anna Brand wasn't a chef, didn't have much money and had never run a business, there really wasn't really much of a seat for her at the restaurateurs table. But that didn't stop the Aucklander from doing what she loved the most. In 2017 Anna bought a down-at-heel 1960s caravan on TradeMe, stripped it to its rusty chassis and, after throwing $35K or so at it – including installing gas burners, an oven, deep fryer and fridges – the mother of two launched her vegan food truck, Vege Bang Bang.
Specialising in the clever plant-based food that she loves to eat, Anna started selling spicy cauliflower roti, fried oyster mushroom burgers and the Korean tofu tacos she's constantly selling out of, across Tāmaki Maukarau.
During summer Vege Bang Bang is a mainstay at weddings and corporate functions and you only have to look for the queues at festivals such as Splore to find Anna and her four staff feeding hungry punters.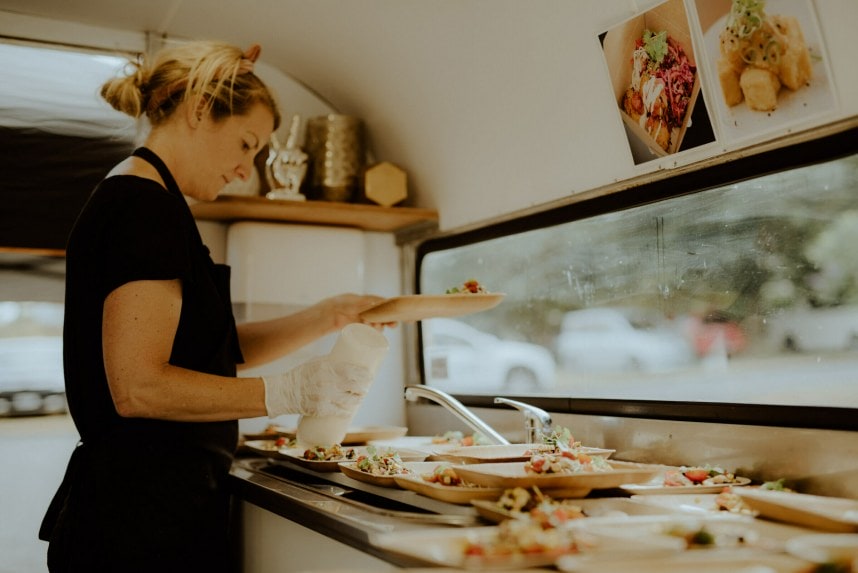 But it wasn't meant to be like this. Anna, 42, was headed for a career in science when she fell into property management while on her OE. She and her British husband Will, a visual effects artist, returned home from London seven years later but after having sons Finn, now 10 and eight-year-old Leo, the idea of returning to the corporate life held little appeal.
"I didn't want to go back into property management after maternity leave," says Anna. "I come from a foodie family and have always been obsessed with food. People told me they liked my food so when I was thinking about what I wanted to do with my life, food seemed the obvious choice."
Prompted by the lack of good plant-based offerings at festivals, Anna found the caravan and started developing her menu. There were, she admits, numerous 3.00am moments.
"I had a lot of self doubt. I'm not a chef and it was hard getting bookings at the beginning. But the more customers who told me they loved my food, the more it encouraged me to keep going."
Becoming part of the Auckland Food Collective helped, not only for the support from other food truck owners but also for the access it provided to events at Britomart, Remuera and MOTAT.
These days Anna's biggest commitment is weddings and summer events.
"We did 10 weddings last summer year but I generally try to limit events to three a week."
She loves the flexibility the mobile food truck gives her, a lane she intends to stay in.
"It means I can have school holidays off and do things like go to the UK to see family. There are no plans to expand into a cafe because I really don't need the stress!"
Anna is currently working on launching a food product and the long-term plan is to open a wedding venue. "But that's only when I'm done with the food truck. For now, bringing great vegan food to customers is what gives me joy."
****
They're believed to have been invented in Mexican silver mines in the 18th Century when miners discovered that they could use a simple corn flatbread as a 'spoon' to hold their food. Eventually the taco made its way across the border and today it's one of America's favourite street foods.
They're what Amber Sturtz missed most when she moved from Texas to Wellington in 2005.
"I grew up in Austin which is known for its great tacos," says the 43-year-old owner of the Taco Addicts food caravan.
"But I couldn't find anything similar in my adopted home."
In 2016, Amber started making flour tortillas which she filled with veggies, chicken and pork and sold to office workers. Stints at markets followed before her hand-rolled tortillas and salsa were picked up by several supermarkets, including Wellington's Moore Wilson's.
Weary from spending two hours unpacking and setting up her stall, only to have to do it all again at the end of the day, Amber launched a crowd-funding campaign to raise $10K to buy a caravan.
She found what she was looking for in Tauranga – a caravan that, with the help of friends and TradeMe, she was able to convert into the Taco Addicts HQ.







Fast forward four years and Amber and four staff sell a range of tacos at events across the Wellington region, including at markets and festivals.
Although she loves where she's landed, life started off in a very different place – studying photo journalism in Missouri. Two study abroad placements took her to Italy and Australia for a year. "That opened my eyes to travelling, to different cuisines and culture."
The former travel agent fell in love with the hospo industry and eventually trained as a chef, with the aim of one day being her own boss.
It was while taking a Kiwi friend on a taco crawl around Austin's many taco trucks that Amber settled on the business that she plans to be in for life.
"My friend said, why is no-one making great tacos in Wellington? That was my A-ha moment."
There are currently no plans to move out of the caravan and into a more permanent spot, mainly because of the variety of views that having a business on wheels affords.
"In a restaurant you have to look at the same four walls, but here I opened the window and it's a different view every day. I've worked in restaurants and you're usually stuck behind a wall but I'm a people person and being in the caravan means I get to interact with customers."
*****
Catherine Page looks like a Jackson Pollock painting come to life, her apron splattered with flour, sugar and milk.
The 48-year-old is speaking to Woman+ from the commercial kitchen in her Dunedin home where she's spent the past few hours making hundreds of dumplings and steamed buns.
It's something Catherine, the owner/operator of The Dumpling Lady food trailer, has done for five years. Every weekday from February until November Catherine's pork, chicken and vegetarian dumplings, steamed buns and fried rice fill the bellies of hungry Otago University students and staff.
Which is ironic for someone who's never been a foodie and "hates cooking".
"It's not that I don't know how to cook, I just find it a chore," she laughs. "If my husband Glenn doesn't cook, then we don't eat!"
But the trailer, which she bought for around $20K, is her happy place.
"I love my job. You get to know the university staff and students. I see the students come in their first year and watch them grow up into nice people, which is really rewarding."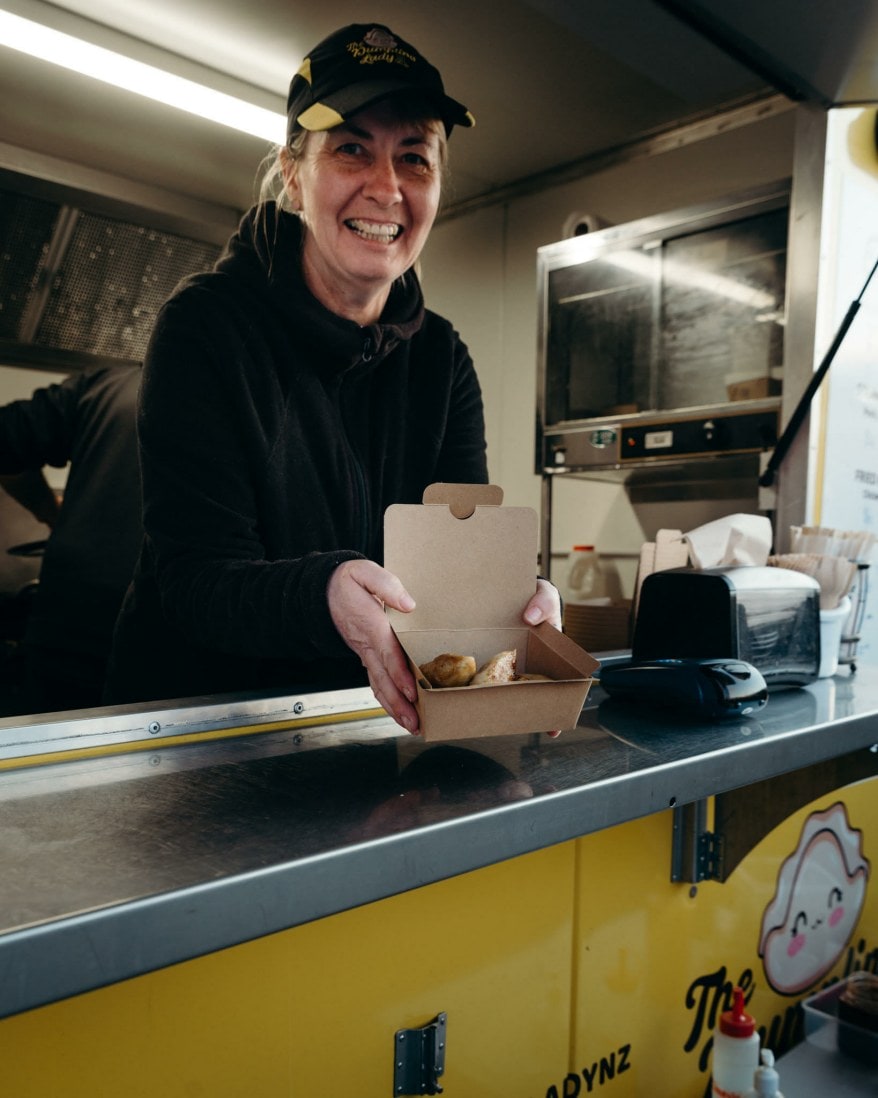 So popular is she around Dunedin that Catherine will often hear "Hi Dumping Lady" when she's in the supermarket.
"I've had students who've moved away but come back and see me whenever they're in Dunedin. One even Facetimes me now and again to see how I am."
Born in Dunedin, Catherine left school at 15 and cycled though a range of jobs, from working in a freezing works and picking apples to assembling Fisher & Paykel dish-draws.
She had her first son, Jamie, when she was 19 and raised him on her own until she met Glenn 23 years ago (the couple have one son together, Nicholas, 13).
Dairy farming in Balclutha and Oamaru kept Catherine busy for eight years but following a move back to Dunedin, she was at a loss what to do.
"Dad and his girlfriend were running a food truck selling hand-made dumplings and sushi and Dad offered me the use of a second truck to do the same."
Even though the idea of running a food truck serving Asian food was "something I would never have dreamed of" Catherine discovered not only did she enjoy the work, she was good at it.
"This is the first job I've had where I haven't been told off for talking! Because not only am I the boss but also I have to engage with the customers. I've met some really interesting people and made a lot of friends."
A year after her toe-dip into the mobile food industry, Catherine went out on her own, re-branding her business The Dumpling Lady.
In summer, she tows the trailer to festivals such as Rhythm & Alps in Wanaka and Electric Avenue in Christchurch.
Ask Catherine if she's ever thought about swapping the trailer for a bricks-and-mortar cafe and she'll say no before the question has even left your mouth.
"I pay the university for my spot but the rent for cafes is insane. I like to keep my prices reasonable but I'd have to put them up if I was working out of a cafe and there's no point in having a product that people can't afford. That's the beauty of food trucks."
****
There's a Spanish saying, Lo mejor está por venir, that Toni Bolland had on high rotation when she lived in Argentina. Meaning 'the best is yet to come' it's an apt phrase for the 63-year-old's life.
Toni is the owner of the Firebird food truck and cafe in Levin, which she runs with the help of her daughters Rosanna, 35, and Lily, 24. Despite having no formal food training or business experience, Toni started selling food at markets in 2016 after a year in Buenos Aires where she filled her days with tango dancing.
"I really missed the food when I got back," says Toni. "Life in Argentina is about good food and good people and I wanted to create a space like that which no-one else was doing at the time."
Broke and living at her mother's house, the former artist and teacher started making her own chorizo, chimichurri and choripan, the beloved Argentine staple of chorizo-filled bread.
"It's the kind of food you can get at any hour in Buenos Aires. I would grab a choripan after a night of dancing."
It wasn't an instant success. "Customers generally weren't familiar with South American food so it took a year of educating people before they realised how good it was."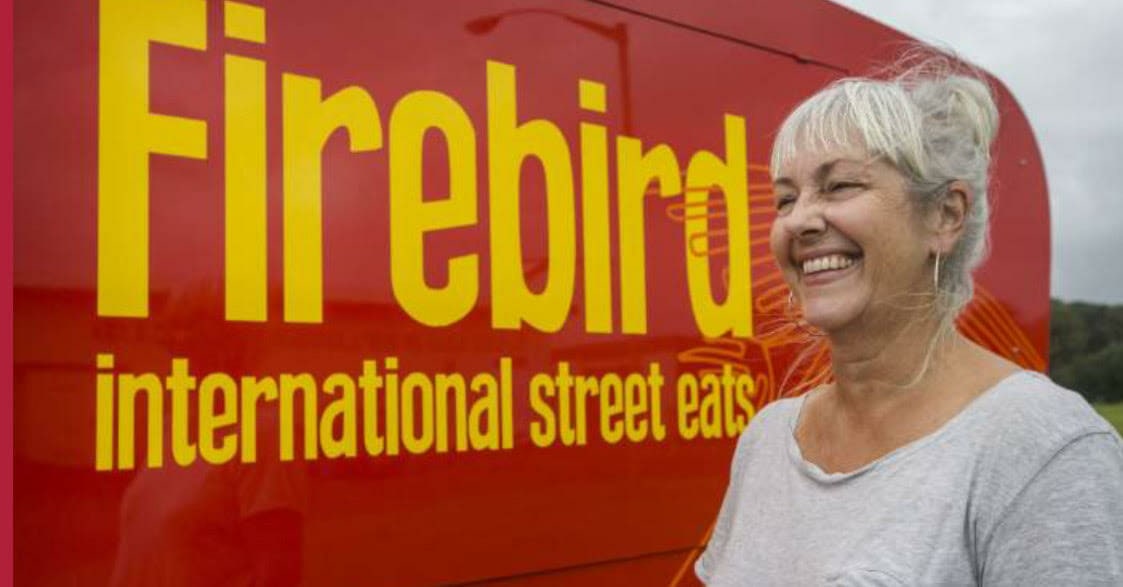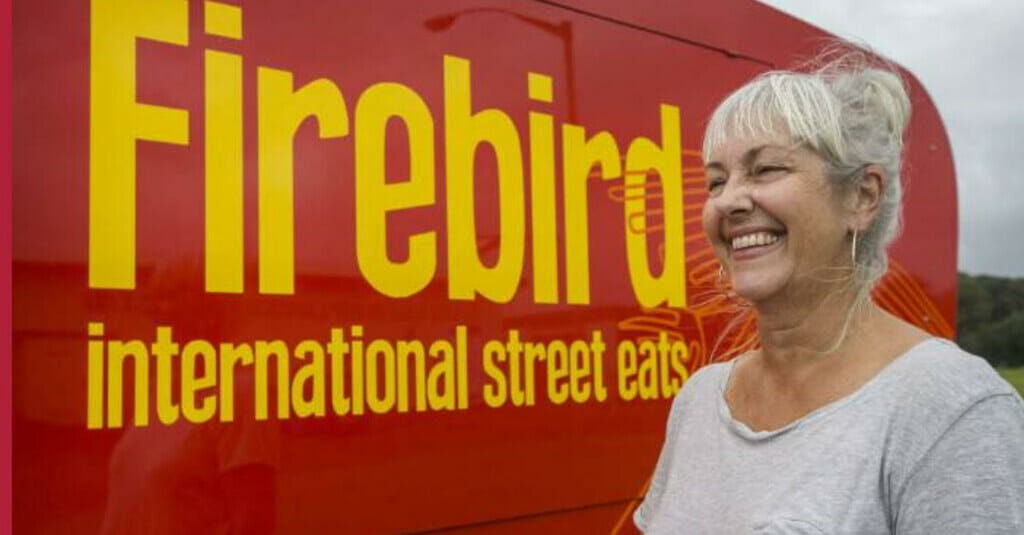 Initially, Toni hawked her wares from a trestle table at every market and festival in the lower North Island she could find.
But one night when the wind blew her stall over Toni's brother, a panel beater, offered to build a trailer to her specifications, including solar panels and a retro 50s look.
Her menu evolved to include not just international food but also burgers and bowls, many of which are gluten free and vegan, offered at weddings and festivals such as WOMAD and the Newtown Fair.
All was going swimmingly until Covid raged across the planet and subsequent lockdowns robbed Toni of her income.
"I'd been planning to walk the Camino but of course that was no longer possible so instead I put the money into leasing a cafe."
Toni's daughters, who have both worked in hospo in Europe and Australia, help run the cafe which she has expanded to include live music and poetry readings.
"I'm not a natural businesswoman and I couldn't do this without them."
What is she is a natural at is cooking. "As the oldest of four kids, I was making dinner for the family when I was 12."
When her oldest daughter was three, Toni signed up for an art degree, which she finished at Auckland's Elam School of Fine Arts before going into teaching. She's almost completed her PhD in fine art which she plans to do when she can find the time.
For now, the dual businesses take up most of Toni's bandwidth, but she admits to a particular soft soft for the food trailer.
"I love it because it gets me out of town and out of my head. And the food truck community is amazing, we look after each other."

Related Article: The Woman Driving Wellington's Biggest Foodie Event