Sophie Hansen and Annie Herron share a selection of their favourite recipes, guaranteed to warm your belly and your soul over winter.
This pie is nothing fancy, just simple, pure and homely. But that's what makes it so lovely. The combination of apple and blackberry is a total winner – the blackberries taste extra good because they are extra painful to pick! However, feel free to use any fruit you like. I used rye flour, which I find adds depth, colour and interest to the dough. You can use plain or other flour if you prefer. And finally, you'll want to serve this with some gloopy, dollopy cream. Happy baking!
Prep time: 30 mins, plus 1 hour to chill
Cook time: 50 mins
Serves 6
Ingredients
Pastry
1⅔ cups rye flour, plus extra for dusting
⅓ cup icing sugar
150g chilled butter, cut into cubes
3 tsp iced water
1 egg, whisked
Filling
4 large apples
½ cup white sugar
¼ tsp ground cinnamon
1 cup blackberries
Method
1. To make the pastry, whisk the flour and sugar together in a bowl. Tip out onto the bench and make a well in the centre. Add the butter, then use the heels of your hands to bring everything together, adding a little of the iced water as you go. Keep smooshing it all together until you have a rough dough with some pea-sized bits of butter throughout. Shape into a disc, then cover with plastic wrap and chill in the fridge for 30 minutes.
2. For the filling, peel, core and slice the apples. Place the apple in a saucepan with most of the sugar, the cinnamon and a splash of water. Cook over medium heat, stirring often, for about 10 minutes or until the apple has softened. Remove from heat and set aside. (If time allows, chill the apple).
3. Tip the apple into a 6-cup (1.5 litre) pie dish and sprinkle the blackberries over the top.
4. On a lightly floured surface, roll out the pastry into a large rectangle about 4mm thick. Cut it into long strips. Lay 6 or 7 strips across the top of the apple, then spin the dish 90 degrees and "lattice" in more pastry strips.
5. Brush the egg over the pie, then sprinkle the remaining white sugar on top. Place the pie in the fridge to chill for 30 minutes. Preheat the oven to 200°C.
6. Bake the pie for about 30-40 minutes or until the pastry is golden. Serve warm with cream or ice cream.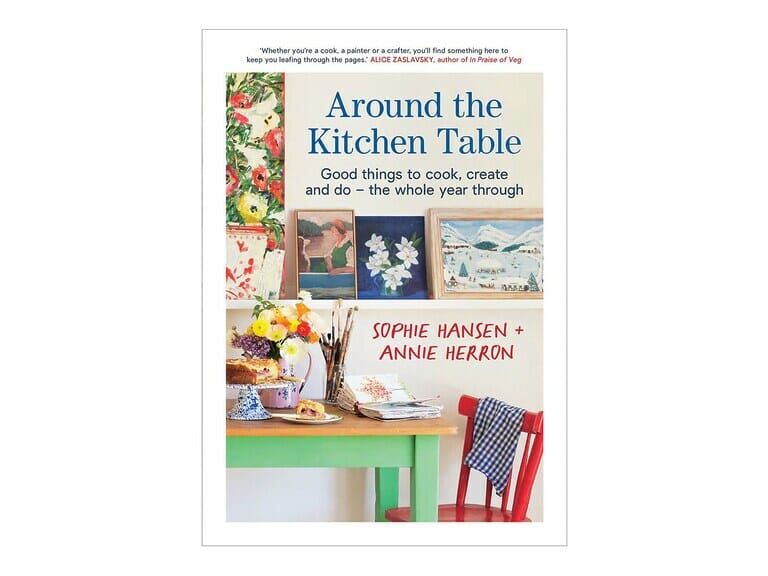 Extracted from Around the Kitchen Table by Sophie Hansen and Annie Herron. Photography by Sophie Hansen. Murdoch Books, RRP $45.