Actor and writer Amanaki Prescott-Faletau is leading the way in rainbow storytelling and hopes her new work will inspire Pacific youth.
Many actors would normally be thrilled to be cast in the lead role of a screen adaptation of a popular play that portrays a love story between a high school trans teenager and the captain of the First XV.
But Amanaki Prescott-Faletau, who identifies as fakeleiti (Tongan for a transgender woman), dreaded the idea of starring in a screen version of Inky Pinky Ponky. The high school rom-com is based on her own play that she co-wrote with her friend, Leki Jackson-Bourke.
Amanaki is 34, and the character of Lisa is 17 which was one of the reasons why she did not want to audition. But the main factor is that there were scenes in the story, loosely based on her own experiences, that were triggering and Amanaki knew that she would find it difficult to return to those dark places in her life.
"The idea of having to put on a boy's school uniform, and having to tape down my breasts for three weeks during the shoot was going to be a nightmare. It brought me back to living through the emotions of what it was like to be a 17-year-old and trying to figure myself out while navigating the first time falling in love, juggling religion and culture. It was going to be a challenge."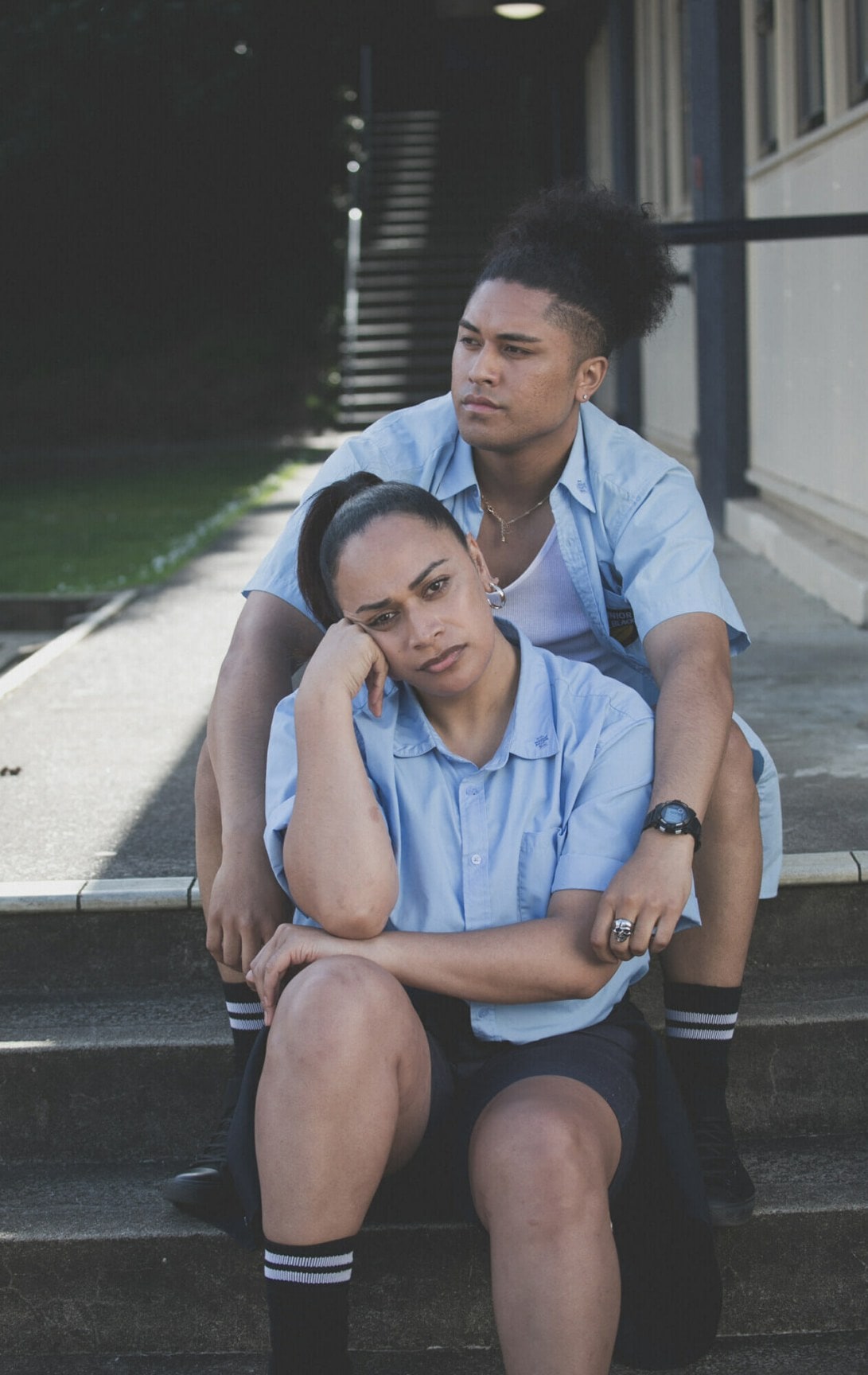 The producers tried to cast Pacific trans performers for the vital role but discovered that no one had the acting skills to portray Lisa. Amanaki is a trained actor and professional dancer who graduated from the Pacific Institute of Performing Arts. She accepted the role because she did not want her trans sisters to go through reliving some of the difficult moments in order to capture authentic performances, like scenes with teenage bullying and ridicule.
"Many of them had not been formally trained to tap in and tap out of the scenes that most of us have experienced when we were young," she explains.
The experience of acting in the project was made comfortable and easier for Amanaki because one of the co-directors, Ramon Te Wake, is also trans and understood the sensitivity of some of the scenes.
"Sometimes as an actor, you don't want to be a hassle or annoying when the crew is throwing ideas around that may put you in an uncomfortable position," she says.
"But Ramon knew what it was like and knew what I was thinking in my head. She was sensitive to my needs. It was amazing that she could lead those conversations on set with style and grace. She made the set such a safe environment for me."
Amanaki co-wrote the play nearly a decade ago after she and her friend, Leki, were wanting to provide work for themselves as fresh young actors who had just finished drama school. The play enjoyed a successful production in Auckland before the screen adaptation was green-lit.
"I didn't think it would get us this far. We just wanted some money. A decade later, we're still getting coin for it."
The story about a secret love between a trans teenager and the high school rugby star is loosely based on Amanaki's life while attending Auckland's Lynfield College. She says it was common that many of the trans students were forced to conform to a masculine norm at high school and had relationships with heterosexual cis males, which were kept secret.
The story of young love from a rainbow perspective is an important tale to tell, she says.
"The high school years are the craziest times of our lives when we are trying to figure out who we are. Even today, there are topics around gender-neutral toilets and uniforms at schools. It's about trying to create safe spaces for those who identify as rainbow, in particular school students."
Amanaki was raised in Auckland but is from the Tongan villages of Vava'u and Tongatapu. She is the fifth child of 12 siblings.
She says that she was lucky to be raised in a loving home, where her entire family supported and embraced her transition. Her siblings are successful in their careers, one is a doctor and others are business owners. Growing up, she was motivated by their drive and success.
"In order for me to have a place in the household, I had to play my role; go to uni to study, find a job and make some money. I wasn't the type who wanted to stay at home and play with makeup and do my hair. I knew if I wanted to have the same respect and love that my siblings got, I had to pull my weight. I had to be as great as all the other children in the house."
Amanaki realises that most Pasifika trans and rainbow youth do not have the same support at home. She hopes that stories like Inky Pinky Ponky can spread a positive message of hope for the youth who are struggling.
"We are everywhere. We are not going anywhere. We are in schools, in churches, in the workplace. Let's all grow together and learn to coexist. I hope the world gets to understand that we don't choose to live a life like this. We are living our true selves and we want people to accept that."
Although Amanaki has found success as a performer, she has just finished a precursor course to get into the New Zealand Police College. She is contemplating joining the police force. The process of a fakeleiti woman like her pursuing a career in the police will inspire her next film.
"As a child, I always wanted to be a police officer. It was my number one dream and was something I wanted to do over being an artist," she explains.
"During the pandemic, I had the time to think about it. When we came out of lockdown, I enquired about making this dream happen."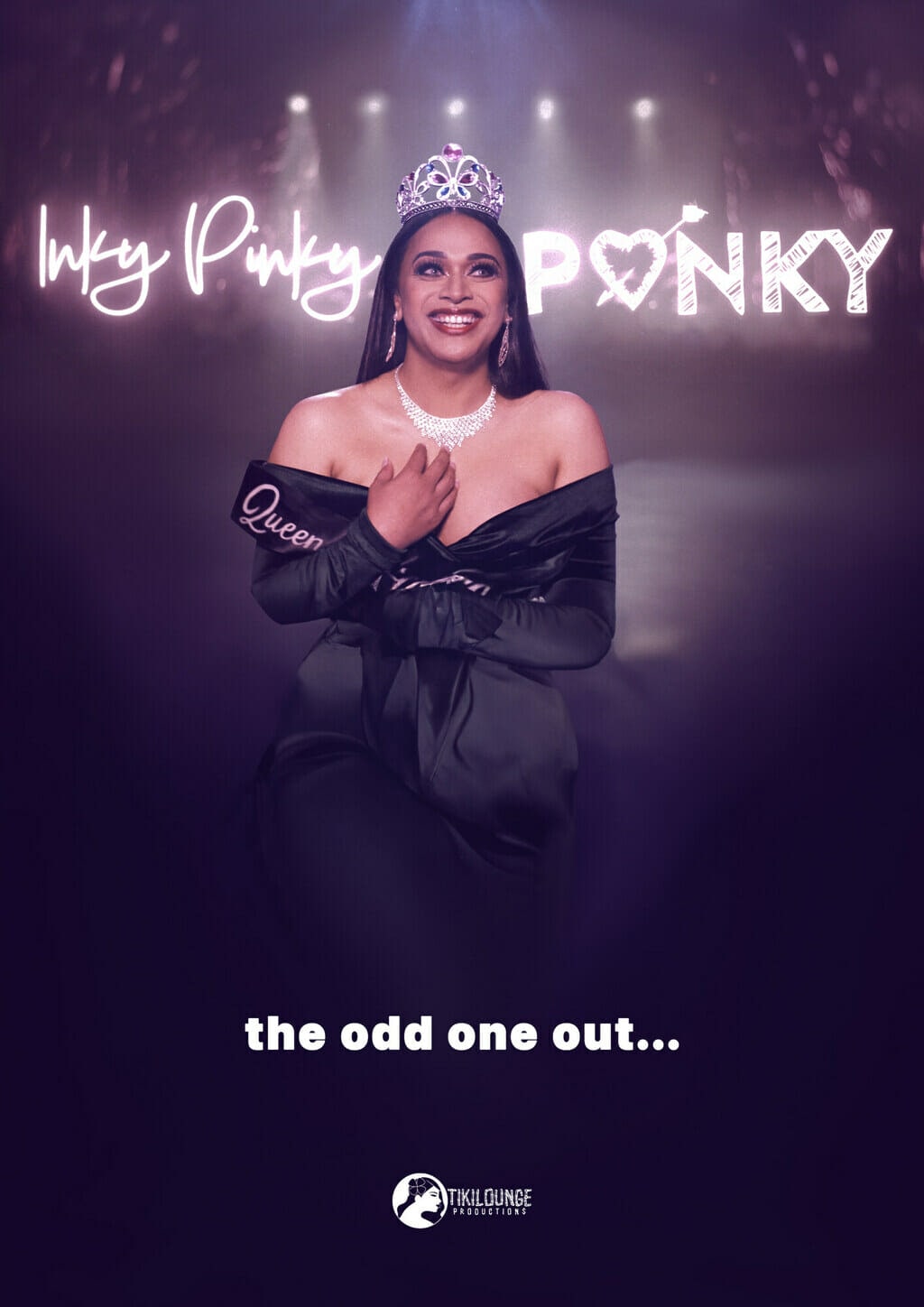 Inky Pinky Ponky is available on MĀORI+2 and on The Coconet TV, streaming all around the world.
Related article: Jackie Clarke Says Yes
This is public interest journalism funded by NZ on Air.