Written by Lissa Mitchell, Curator Historical Photography at Te Papa, Through Shaded Glass takes the reader on a journey through the backrooms of nineteenth and early twentieth-century photographic studios, into private homes, out onto the street and up into the mountains, and looks at the range of photographic practices in which women were involved. Through superb images and fascinating individual stories, it brings an important group of photographers into the light.
Some married women took up work as photographers after a marriage breakdown. If they were able to get themselves established in business, the Married Women's Property Protection Act 1860 – 'a remedy for the "excess" number of deserted wives' – could protect their earnings if their husbands returned to claim profits from their earlier labour. It was not uncommon for husbands to be abusive or drunkards (or both), and poor at managing money. Even if desirable in other ways, breaking their legal bonds to such men left women economically vulnerable and potentially in need of charity.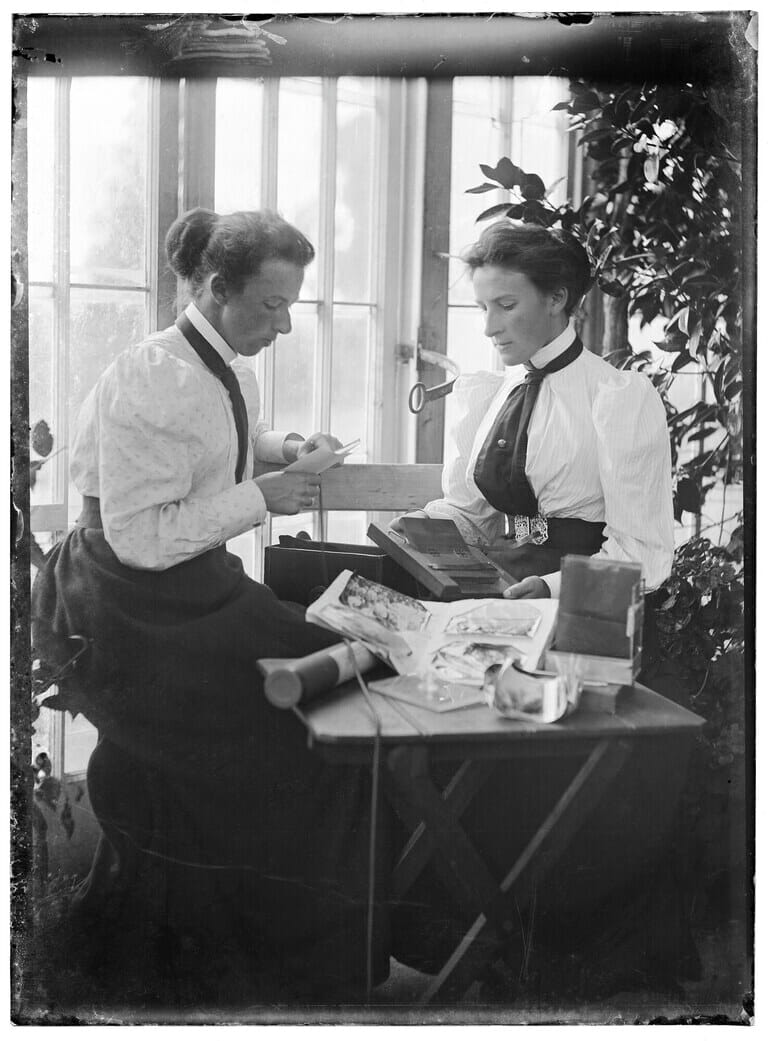 In January 1882, an announcement in the New Zealand Gazette declared the dissolution of the photographic partnership between Frances Windere Hamilton and William Henshaw Clarke, who had operated a studio on Lambton Quay in Wellington since 1876. During their partnership, the pair had taken the portraits of the Members of Parliament for 1878 and 1879, which was considered quite an esteemed commission. The ninety-one circular portraits were assembled into a large group photograph, with an index of names, a larger portrait of the speaker of the house, William Fitzherbert, and a view of Parliament buildings, and was hung in Parliament, where it remains today.
The little that is known about Hamilton's photographic career comes from court reports of her legal dispute with Clarke. She was born in England and arrived in Sydney with her family in 1840. In 1854 she married David Hamilton in Melbourne, and they lived together in Geelong until July 1864, when she awoke one night to find him threatening to kill her with a knife. He had been drinking heavily and abusing her for some time. She left him and at some point moved to Wellington; by the time she went into partnership with Clarke, she had been supporting herself for about twelve years.
A month after their six-year partnership ended, Clarke was arguing with Hamilton over the terms around his purchase of the business, specifically whether a £75 credit note he had issued to her in 1876 should be included in the £400 purchase price. Clarke argued that because Hamilton was a married woman she was not entitled to sue, and boasted that 'the value of the business consisted chiefly in his skill and reputation'.
Even though she had been estranged from her husband for so long, Frances Hamilton was taking a risk by being in business as a married woman. The law offered her limited protection, and in the event of things going wrong she would need her husband to assert those rights on her behalf. Furthermore, he was also entitled to her earnings and assets. Two months before she and Clarke went to court, and at the insistence of her sister's husband, Hamilton had been granted a protection order against her husband on the grounds that she had been 'subjected . . . to cruelty without adultery and that she is maintaining herself by her own industry'.
The order entitled her to have her assets protected from her husband under the Married Women's Property Act 1880. It also derailed Clarke's case against her. Two years after leaving the partnership, Clarke was declared bankrupt and his studio closed.
In 1896, Christchurch woman Florence Craig applied for an order directing her husband William 'to contribute to her maintenance'. The couple had married in 1894 and briefly lived together in Auckland before Florence returned to her parents' house in Christchurch. She claimed that shortly after their marriage her husband had started locking her out of the house, making her sleep in the washhouse, regularly beating her, pouring cold water over her and threatening to kill her. Her husband denied any ill-treatment and insisted that they had parted 'affectionately'. The judge ruled 'he would make no order', and Florence continued to live in Christchurch with her parents.





Working as both FE Craig and Jubilee Studio, Florence Craig set to work as a photographer and businesswoman in 1900. Keen to document what interested the public, Craig, or one of her staff, photographed the many guests and onlookers in Cathedral Square during the society wedding of Ella Julius and Arthur Elworthy at Christ Church Cathedral on 18 April 1900 (see page 62). (Craig specialised in photographs of wedding groups 'taken either at house or studio'.) The same year, Craig and her Jubilee Studio advertised that they had joined the 'revolution in photography' by taking 'portraits at night', which implied that they had adopted artificial lighting. The following year, during the visit to Christchurch of the Duke and Duchess of Cornwall and York, the Jubilee Studio took photographs 'day and night during Royal Visit'.
In 1903 the Jubilee Studio was 'extensively altered, improved and up-to-date', but less than two years later it had closed and another photographer, George Burrell, was finishing any work Craig owed the public on her behalf. In 1908, William Craig's application for a divorce on the grounds that Florence had deserted him was granted.

The aftermath of a failed marriage was disastrous for Priscilla Bartlett, whose husband, Robert, ran the Auckland studio RH Bartlett, Photographer. Robert had financial problems, and in June 1875 he was declared bankrupt and said to be 'going to ruin'. In 1887, after he deserted her and left her with their eight children, Priscilla announced that she would continue to run the business by borrowing money and employing Frederick Edwards as a camera operator. By 1890, however, Bartlett had declared bankruptcy and the business was sold to Edwards.




Buy Through Shaded Glass: Women and Photography in Aotearoa New Zealand 1860 – 1960 by Lissa Mitchell here

Related Article: Book Extract from Resilience By Inge Woolf