Photographer Guy Coombes is a new convert to apartment dwelling but a veteran of inner-city Auckland living.
Where do you call home?
Tāmaki Makaurau. I was born in Auckland and currently call the city home again after many years away.
Who do you live with?
My partner Chris Domin and our two flatmates.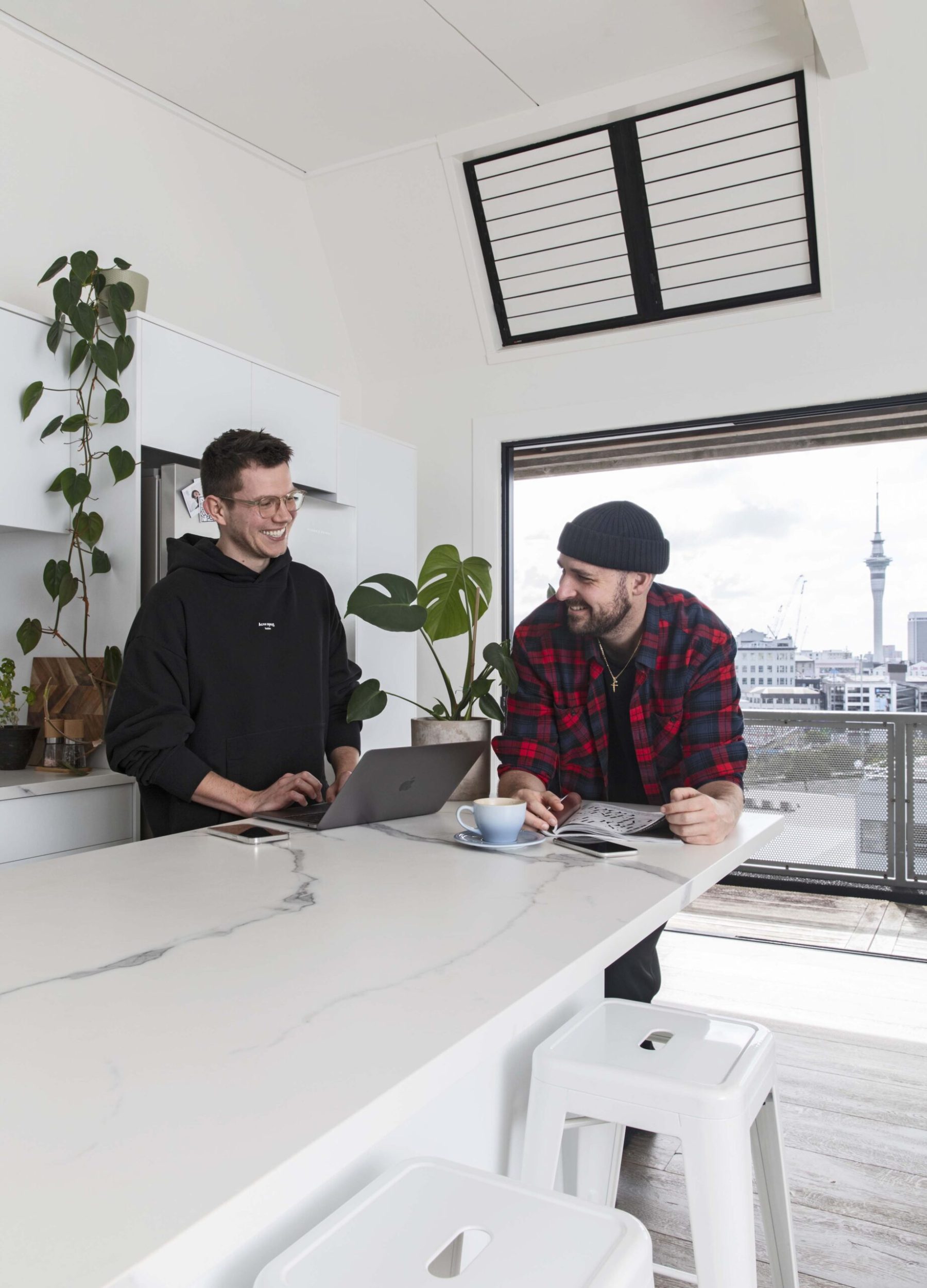 What do you love about apartment living?
I'm normally more of a house-and-backyard man but our place is enormous, so it has all the space of a house but is lower-maintenance, central and has a great city view.
How would you describe your interiors style?
Minimal and DIY! I have a major resistance to clutter that borders on the extreme. I think it comes from having moved around a lot. This place is big, so I've got into growing large houseplants to help fill spaces. Renting makes it tricky to invest in furniture because you never know how long you'll be there or if it will fit in the next place, so that's where being resourceful comes in. We made our office desk out of a large wood panel from Bunnings and trestle legs. I like raw, warm textures, soft natural colours and a mix of modern and retro when decorating. I also seem to always pick up interesting ceramics and glassware on my travels.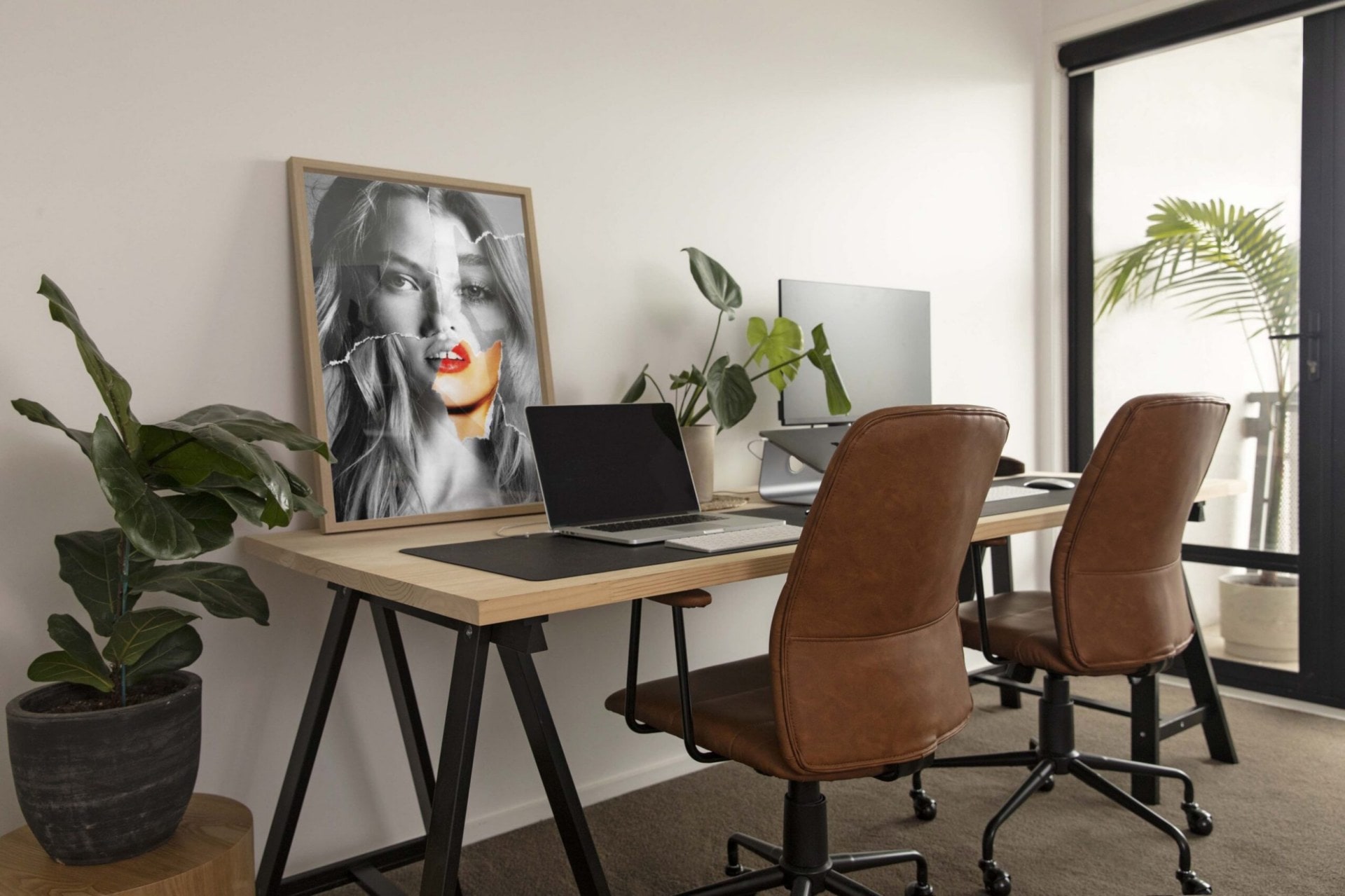 You're a photographer. What do you love about the light in your apartment?
We have an enormous skylight on the top level, which is like being outside. I've done a few shoots under it when the conditions have been right, and it's very relaxing to sit under when it rains. The houseplants also love it – they thrive with the sunlight from above, like a greenhouse.
What's the first thing you do when you get home after a busy day?
Plonk down on one of the couches under the palm trees or catch up with Chris in the kitchen. He is a great cook and I'm very good at sitting at the bench with a glass of wine, observing.
What do you love about your neighbourhood?
Living in the uptown area, everything is at our doorstep. All that Karangahape Road and Ponsonby have to offer are minutes away by foot, Newmarket is a five-minute drive away, and all the great food of Dominion Road is just down the road. I'm also close to the studios I work out of, so I never need to go far.
What are your favourite local restaurants and cafés?
Really hard to narrow this down! For coffee or brunch, Bestie Cafe in St Kevins Arcade, sitting out by the big windows, is one of my favourite spots in Auckland. For lunch, Mizu Bread on Symonds Street – their katsu sandwich is a must-try. Dinner would be back to St Kevins Arcade for a mouth-watering bowl of pasta from Pici, and to finish off the day of carbs, a beer from Galbraith's Alehouse, an institution of the area.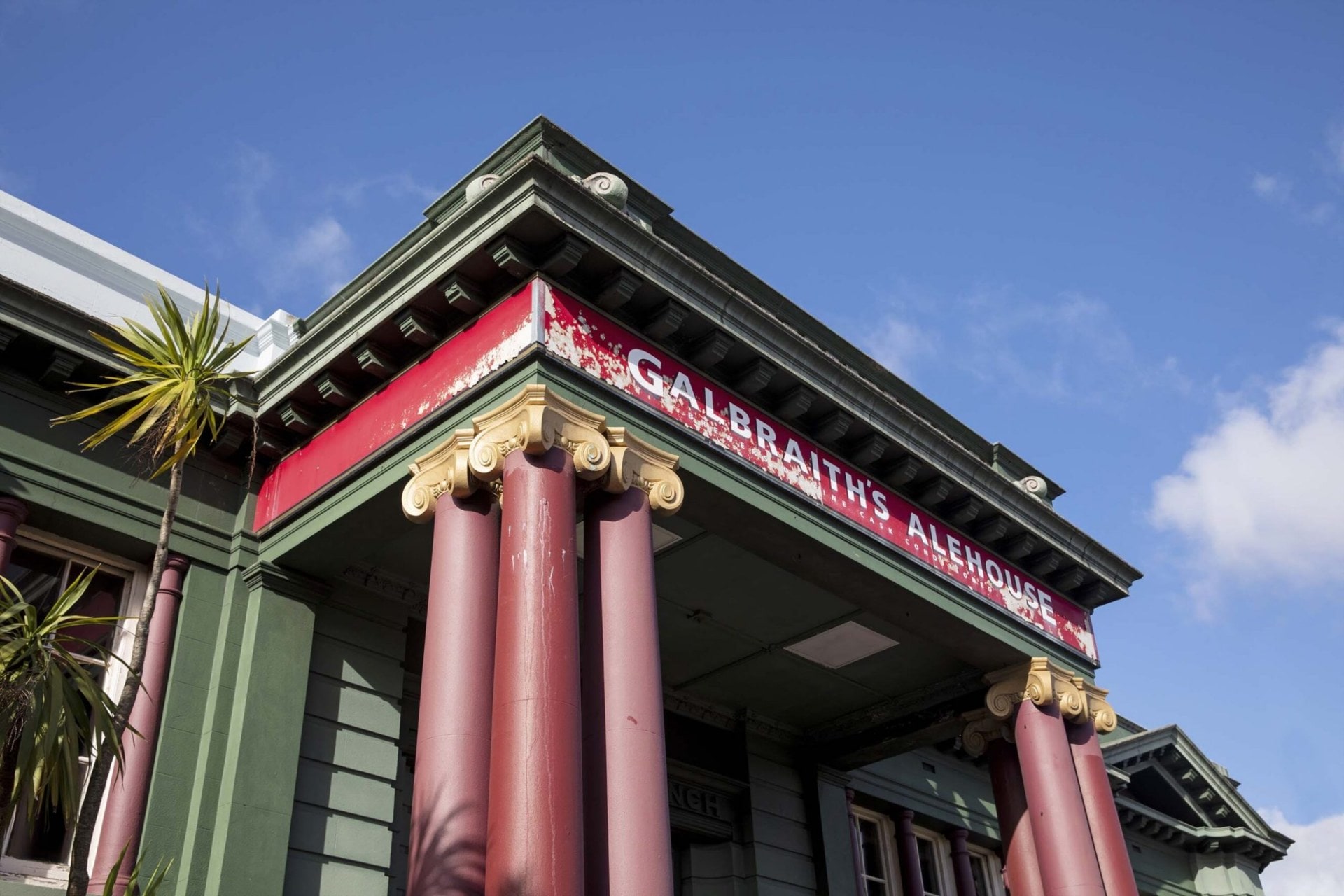 How have kept yourself entertained over lockdown?
I have gained some momentum on a project I started years ago while I was living overseas. I'm a magazine junkie and always accumulate piles of them. When I was living in London, I had so many amazing magazines and knew I wouldn't be able to keep any of them when I left, so I started ripping them up and making collages. It's a project I find incredibly relaxing, like doing jigsaws, and a nice way for them to live on in a new context. I've been working on photographing them, doing test prints and figuring out how to best show or sell them. They make great artworks for the home – you can see a few of them on my walls.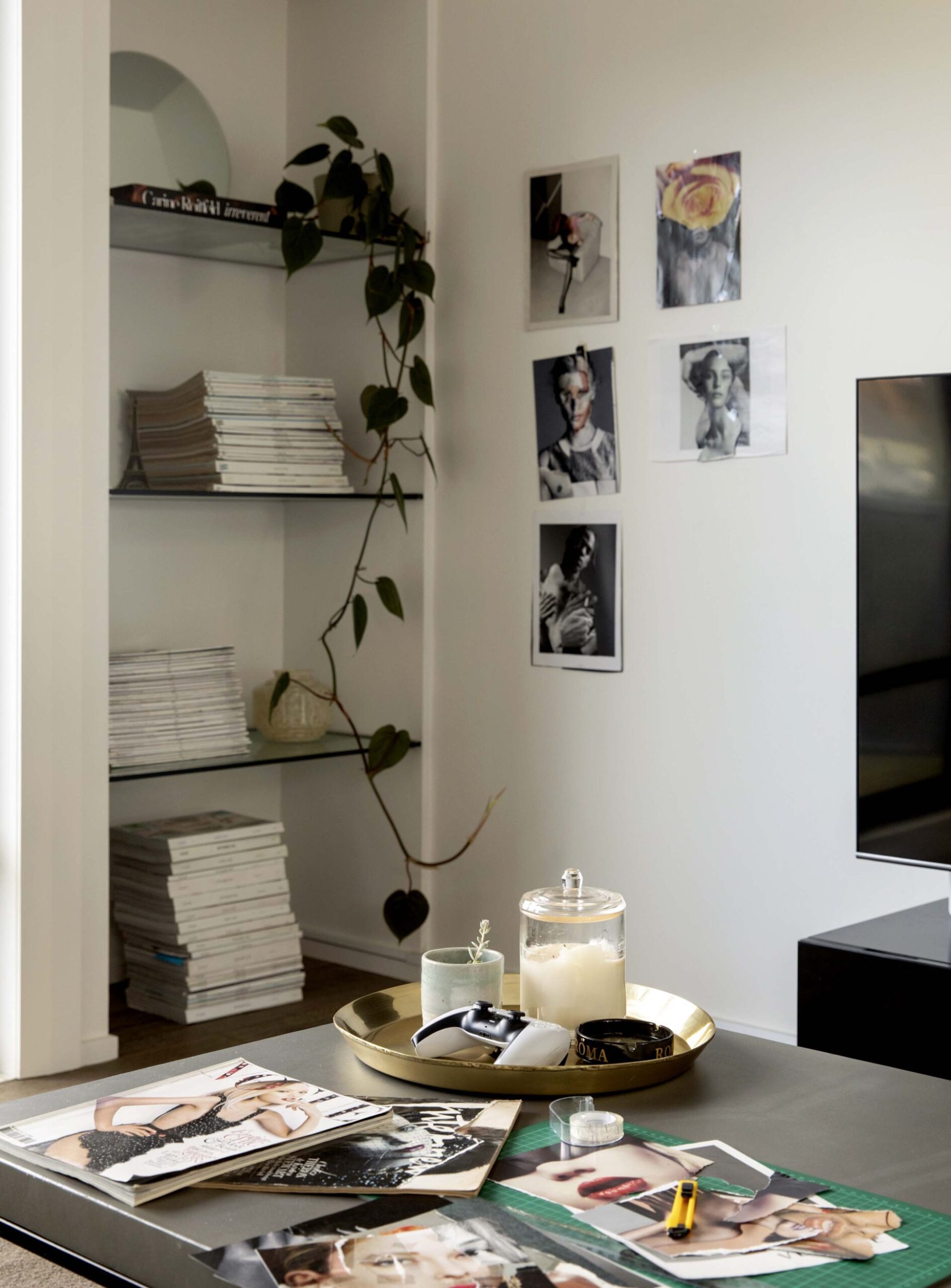 What's the most recent purchase you made for your home?
A friend of mine was restoring retro furniture, and I fell in love with this little coffee table that he had refurbished. It's currently being used as a side table. I love pieces that have history.
Where do you go for a dose of nature?
I love swimming in the small bays dotted along the harbour at Herne Bay – I've been doing this since I was a child, having grown up around there. Closer to home and especially during lockdowns, I often trek up Maungawhau/Mt Eden. The view is always amazing and there's the reward of a real fruit ice cream from Whau Café on the way back down.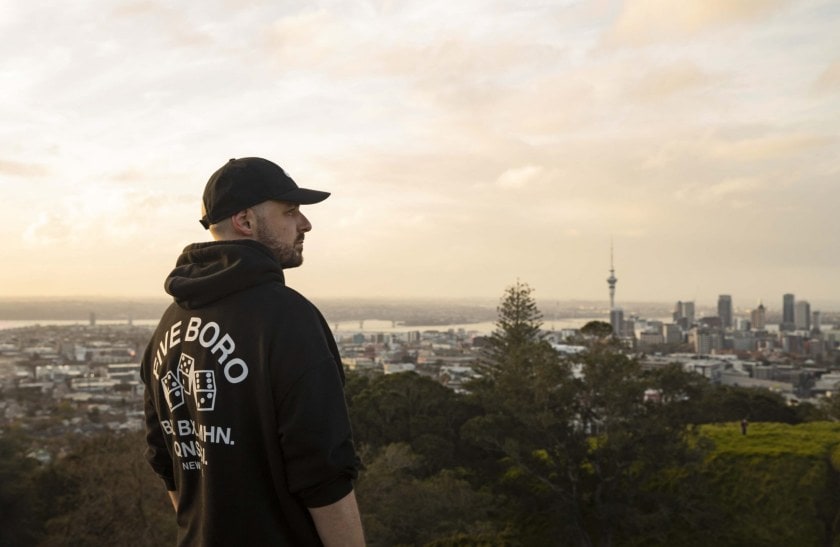 Any hidden gems nearby?
Hard To Find Bookshop on St Benedicts Street has so many second-hand books that anyone is bound to find something they like. Bar Magda on Cross Street is a literal hidden gem – a very unassuming black door on the street leads to an underground cocktail bar and restaurant where I feel transported to a New York dive bar, but in a polished way