There's no looking back for the Duchess of Sussex as she forges into her 40th year with candour and courage.
As she enters what many believe will be her defining decade, Meghan, Duchess of Sussex, appears to have finally created the royal fairy tale she always wanted.
It's a reinvention carried out entirely on her own terms – just 16 months after quitting royal life in a blaze of anger and recrimination, Meghan is now happy and fulfilled, determinedly combining motherhood with doing good from the sanctuary of her Los Angeles home.
"Friends of Meghan say she is in a very peaceful place, just enjoying being with her family and focusing on projects that she feels contribute to the greater good," said author Omid Scobie, a longtime Meghan supporter, on the eve of her August 4 birthday.
She is in a very peaceful place, just enjoying being with her family and focusing on projects that she feels contribute to the greater good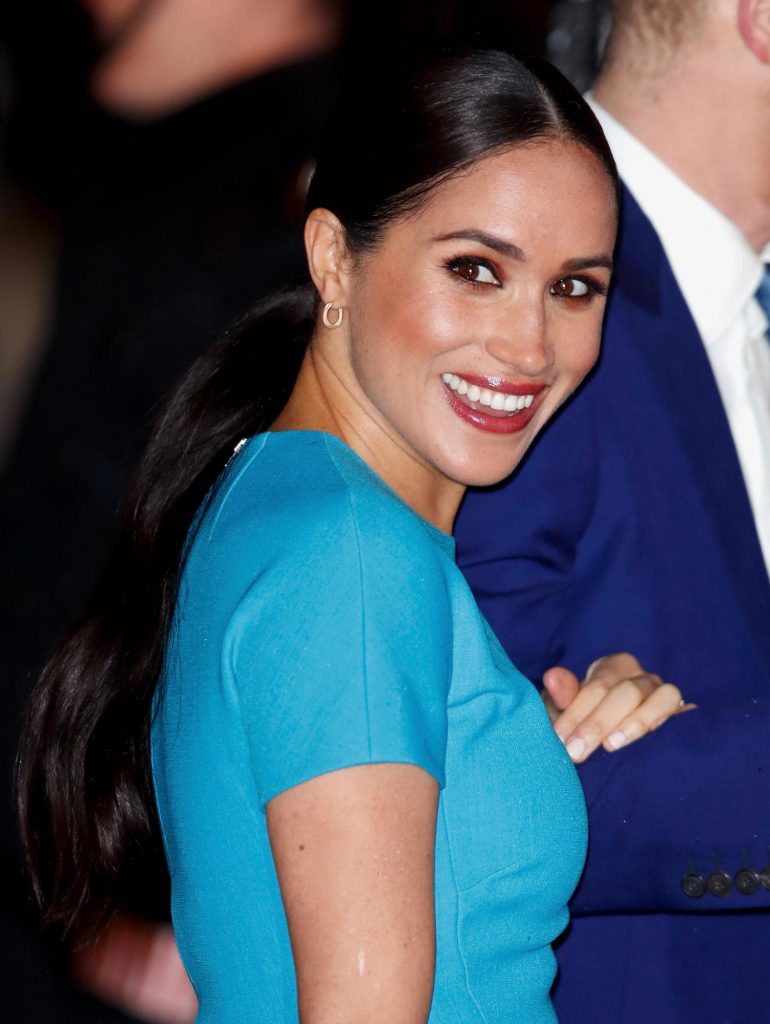 With her trademark dewy skin and that inimitable LA confidence, Meghan marked her milestone with a surprise video posted to her and Prince Harry's Archewell website. It was the Duchess' first major public initiative since welcoming her second child, Lilibet "Lili" Diana Mountbatten-Windsor, on June 4, and the new mum seemed a picture of happiness as she announced her new venture 40×40, designed to help women back into the workforce.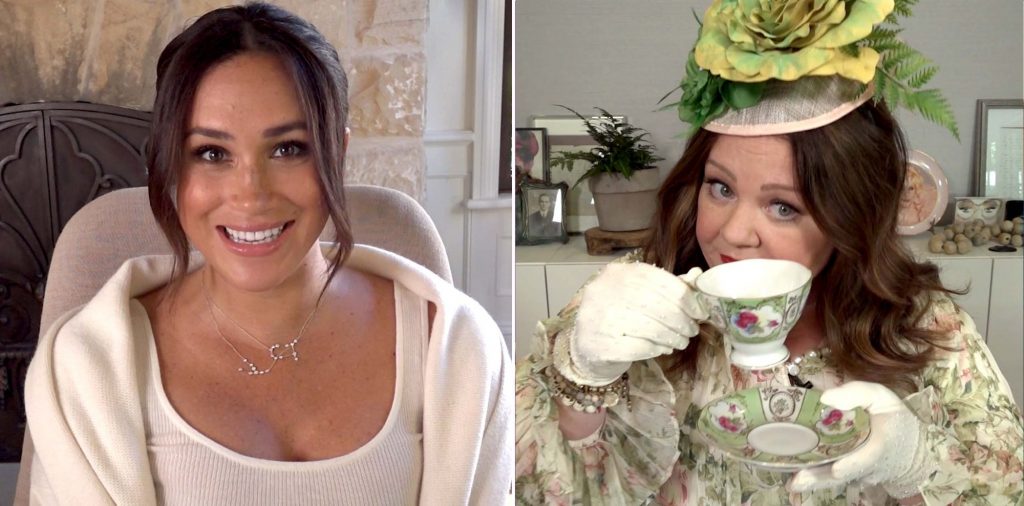 Dressed in a chic white ensemble and seated at a white-washed table inside her stunning $22 million Montecito mansion, Meghan smiled down the camera as she explained her vision.
"I believe mentorship is one way to help women regain confidence and rebuild their economic strength, and for my birthday I have asked 40 friends, activists, athletes, artists and world leaders to help kick off a global effort by contributing 40 minutes of mentorship to support women re-entering the workforce."
Meghan was joined by superstar comedian Melissa McCarthy on the video – as well as Harry, who made a cameo appearance juggling through the window. There's no doubt this was a carefully planned, slick piece of PR genius, hitting exactly the light-hearted yet do-good tone that she and Harry have been aiming for as they continue their stateside charm offensive.
While A-listers, including Adele, Stella McCartney, Princess Eugenie and Hillary Clinton, have lent their support, others were not so convinced. Writing in the Times newspaper, columnist Camilla Long asked how on earth we'd ended up with a workplace mentor "who famously doesn't work". She called Meghan a "pruned, spoilt duchess sitting in a mansion in California, telling us she was a new global icon for women".
She added, "And the video, well – it didn't take us back three decades, it took us back five centuries, to a time when aristocratic ladies would shower gifts on peasant women, or in Meghan's case, 40 minutes with each of her 40 celeb friends, including Adele. Since when is 40 minutes with Adele going to solve anything? Why not 40 hours, or 40 years, which is how long you really need to make what Meghan would call 'systemic change'? What's amazing is how many people will still believe what they're doing is real good, and not just hollow marquee initiatives."
Meghan fans, however, would point to the work of Archewell, the couple's charitable venture set up to "unleash the power of compassion to drive systemic cultural change".
And those who know the couple insist they are genuinely committed to helping change the world. "We can all live a life of service. Service is universal," they said in a statement last year, in what was seen as a pointed comment towards the palace.
And as she enters her forties, there is no doubt that Meghan is a woman who has achieved an extraordinary amount in her four decades. From a middle-class childhood in LA, Meghan showed an early determination, working on commercials and low-budget productions before a stint on game show Deal or No Deal.
But it wasn't until 2011, the year she turned 30, that she got her big break playing lawyer Rachel Zane on hit drama series Suits.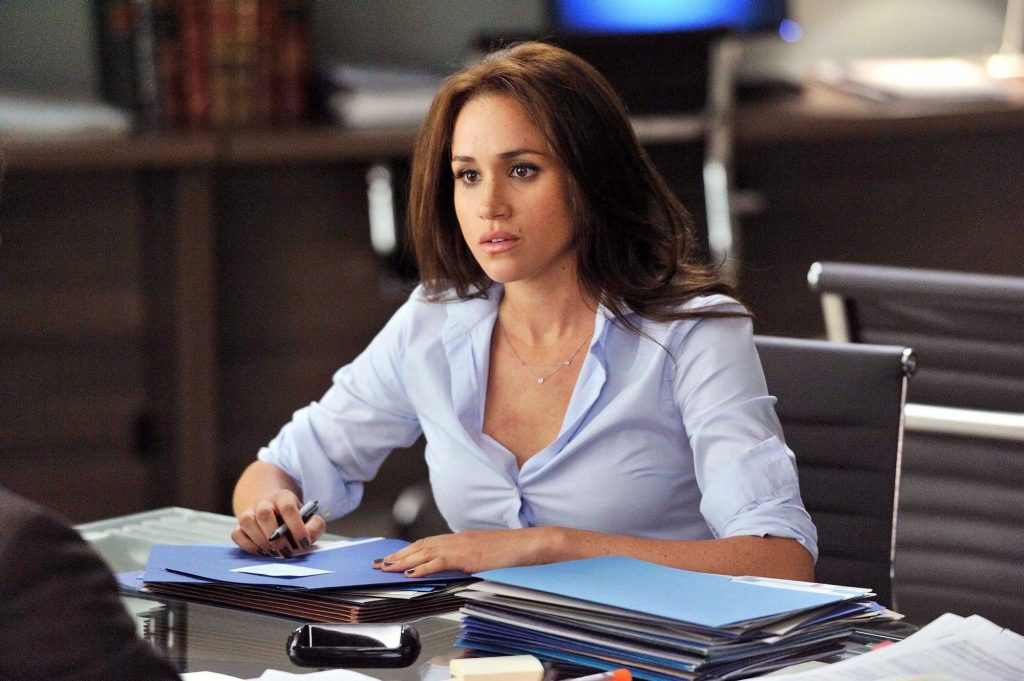 She also launched herself as a lifestyle blogger, with the hugely popular blog The Tig (which abruptly shut down when her romance with Harry went public in 2016).
After a short-lived marriage to first husband Trevor Engelson, Meghan fell in love with Harry after being set up on a blind date at Soho House by mutual friends. The romance made global headlines – a Hollywood actress falling for a British prince was the sort of fodder celebrity watchers can usually only dream of. The news was swiftly followed by a statement issued by the prince's communications secretary, confirming that Meghan was Harry's girlfriend and condemning the "wave of abuse and harassment" and "outright sexism and racism of social media trolls".
Despite the intense interest, their romance prospered. In May 2017, Meghan was Harry's date at Pippa Middleton's wedding reception. By October, she was on the cover of Vanity Fair. "We're a couple," she told the magazine. "We're in love. I'm sure there will be a time when we have to come forward and present ourselves and have stories to tell."
A month later, they were engaged, with Meghan telling the BBC that Harry went down on one knee at home in Kensington Palace while they were cooking together. He presented her with a ring containing a diamond from Botswana, flanked by two diamonds from his mother Princess Diana's collection. "It was just an amazing surprise," Meghan said. "Just so sweet and natural and very romantic."
The news was met with glee by royal fans and Hollywood stargazers alike; her addition to the institution was seen as a much-needed modern touch. "You don't have to be a blue blood to make a good princess," wrote royal biographer Christopher Wilson, while another journalist wrote that Meghan was a "refreshing departure from the mould of staid tradition".
But it was around the time of their nuptials when trouble started brewing – first it was claimed Meghan had made the Duchess of Cambridge cry over an argument about bridesmaids' dresses (a claim Meghan later rejected, retorting "the reverse" had occurred), before a full-blown scandal erupted when it emerged her father, Thomas Markle, had colluded with paparazzi photographers over staged photos. By the time of their Windsor Castle wedding, Meghan's mother Doria Ragland was the sole member of Meghan's family to make an appearance, and the bride was walked down the aisle by Harry's father, Prince Charles.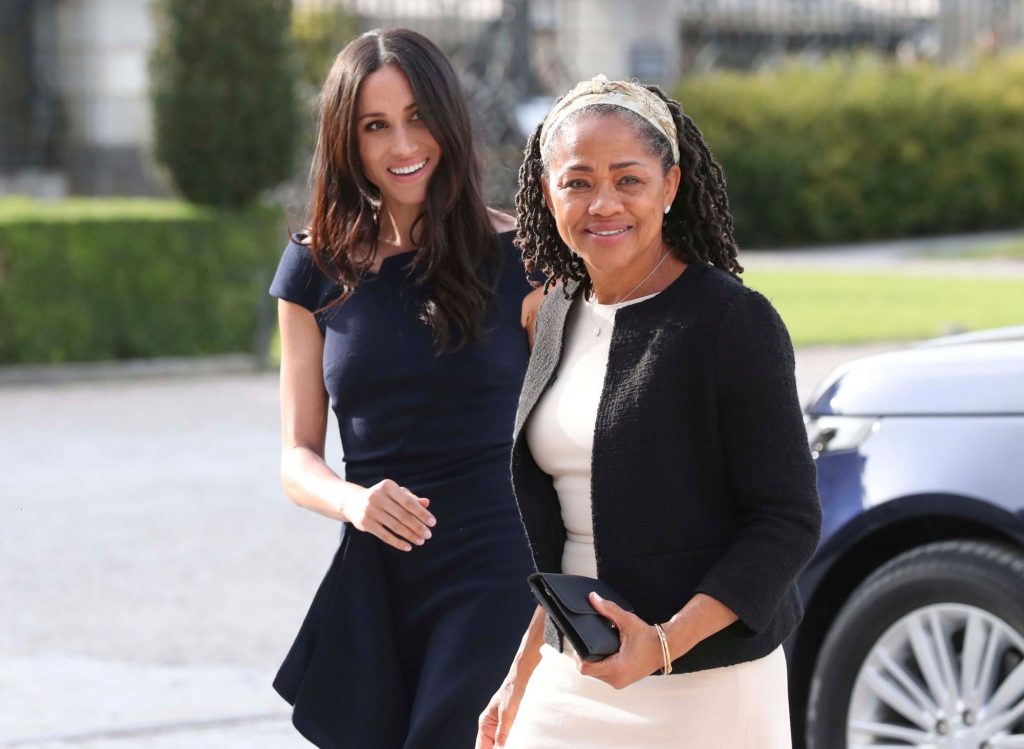 The celebrity headcount was high, though, with stars including Oprah Winfrey and George Clooney adding an element of Hollywood glamour not usually seen at royal events.
As the couple said their I do's before a global TV audience of 1.9 billion on May 19, 2018, no one could have predicted what was to come. Back then, an optimistic Meghan had seemingly-happily given up her acting career with the promise of dedicating herself to serving the causes that were close to her heart: championing girls and women, and standing up to racism. And at first glance, it seemed the British public had welcomed this newcomer with open arms.
But behind the scenes, Meghan was struggling with what she saw as an antiquated and oppressive institution. Still, she continued on – including what was deemed a hugely successful tour of New Zealand and Australia while in the early stages of her pregnancy with their first-born, Archie.
His birth, however, was shrouded in secrecy, with the couple irritating the British press in their refusal to share details around his arrival and godparents. It wasn't long after, during a tour of Africa, that the couple revealed their struggles. Meghan claimed no one had asked if she was OK, and Harry admitted he was taken back to his mother's death every time he heard the shutter of a photographer's lens.
"I think [of] being part of this family, in this role, in this job every single time I see a camera, every single time I hear a click, every single time I see a flash," he said. "It takes me straight back, so in that respect it's the worst reminder of her life as opposed to the best."
By the end of 2019, the couple had taken legal action against several publications and any good will between them and the press had all but gone.
In January 2020, they blindsided not only the public with their decision to walk away from the royal family, but also the Queen, who was said to be completely in the dark about the couple's plans to start a new life in the United States.
While shockwaves reverberated, Meghan took charge, setting about recreating a new life for her, Harry and Archie (and now baby Lili) in Los Angeles. She hired a crack team of PR and digital specialists for the launch of Archewell, and over the past year she and Harry have signed several lucrative deals, including a multi-million dollar Netflix venture.
There was the jaw-dropping Oprah interview, of course, in which Meghan revealed she'd been suicidal after joining the royal family.
Podcasts have been recorded, and recently, it's emerged that Meghan – alongside Elton John's husband David Furnish – is executive producing an animated TV show called Pearl, about a 12-year-old girl who is inspired by women from history.
Harry, meanwhile, has announced he's working on a "wholly truthful" memoir, set to release late next year. In a statement, Harry explained, "I'm writing this not as the prince I was born, but as the man I have become. I've worn many hats over the years, both literally and figuratively, and my hope is that in telling my story – the highs and lows, the mistakes, the lessons learned – I can help show that no matter where we come from, we have more in common than we think."
The revelation has reportedly sent shockwaves through the royal family, with reports that certain members have blasted Harry's decision to pen a tell-all as "yet another mark of disrespect".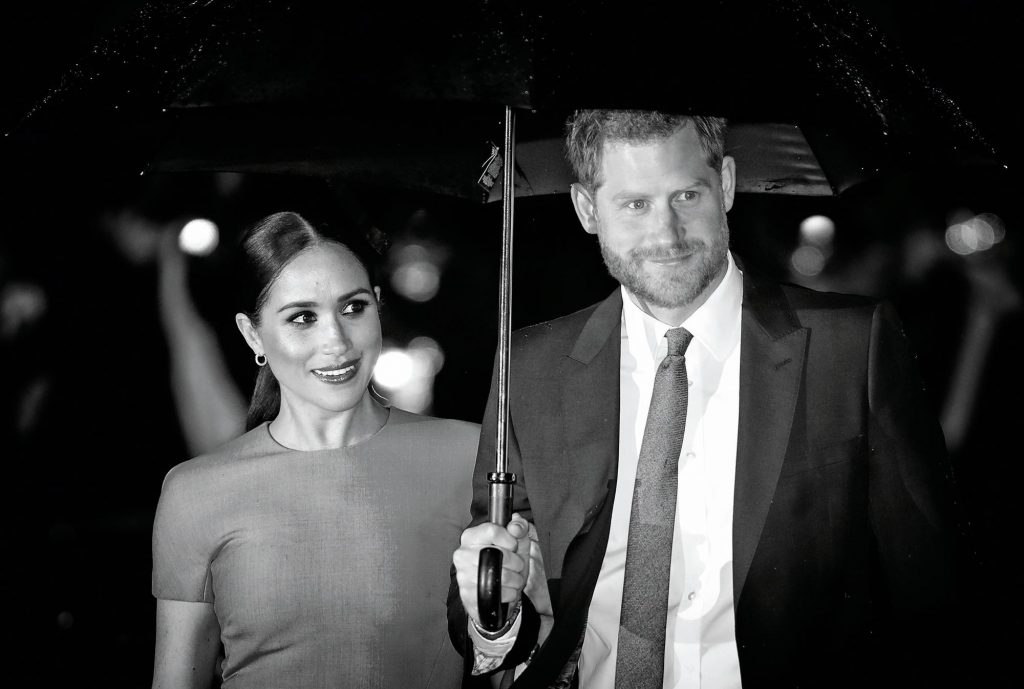 One thing is clear: this is a couple intent on doing things their own way. And while they are officially on parental leave for another few months after the birth of Lili, speculation is now growing that Meghan is eyeing up a move into politics.
One of Meghan's biggest frustrations when she married into the royal family, claims a source, was the expectation that she tone down her political activism. In an interview with Marie Claire, the duchess said it was vital that everyone was free to voice their beliefs and opinions.
"I know what it's like to have a voice, and also what it's like to feel voiceless," she said. "I also know that so many men and women have put their lives on the line for us to be heard. And that opportunity, that fundamental right, is in our ability to exercise our right to vote and to make all of our voices heard."
While the Sussex PR team are often quick to point out inconsistencies in press coverage, it's been noted that there has been little push back against claims that the former actress has her eye on the US presidency. Meghan reportedly held an hour-long meeting last October with California's Governor Gavin Newsom, and royal biographer Tom Bower believes she'll make a bid for the US presidency within the decade. Her friendship with both the Obamas and the Clintons would be of enormous help, he notes.
"Meghan certainly has the guts and self-belief to fight to the top of the greasy pole," Tom said. "The question is whether she has the stamina."
While her long-term focus might be on her bid for the White House, for now, Meghan is happy doing what she's doing – spending time at home with Harry, Archie and Lili.
With her mum Doria just a few minutes drive away, and celebrity friends all in close proximity, it seems Meghan really has found her peace. "She's happy and fulfilled," said a source last week. "And she feels good about her forties. She's positive about the future."
She's happy and fulfilled. And she feels good about her forties. She's positive about the future
While her birthday plans were kept firmly under wraps, there's no doubt Meghan will view her 40th milestone as a momentous turning point. In 2016, she wrote, "My mom has always said that birthdays are your own personal New Year – your own chance to make resolutions just for yourself and what you prognosticate for your year ahead."
My mom has always said that birthdays are your own personal New Year – your own chance to make resolutions just for yourself and what you prognosticate for your year ahead