New Zealand designer Gosia Piatek has gained a worldwide following for her Fairtrade, organic fashion label Kowtow. She tells Jessica-Belle Greer what it's like to build a value-based brand from the ground up.
Known for its clean lines and considered approach, Kowtow has paved the way for fashion that can create positive change. Fifteen years ago, when us shoppers were building up piles of plastic bags and a problematic love of polyester, founder Gosia Piatek had the foresight to use sustainably and ethically sourced materials in her designs.
At every step of building her brand, she has worked to protect workers' rights and the environment. A culmination of many learning curves, even from a young age, her conscious label is now stocked in 200 stores worldwide.
As a young girl, Gosia and her family fled Poland, shortly after the Chernobyl disaster in nearby Soviet Ukraine. Her mother secured a temporary departure by pretending to be going on holiday for a race car rally. Instead, the family spent two years in an Italian refugee camp where Gosia went to school. "The experience for me was really positive," recalls Gosia. "As a five-year-old in Italy we were provided with a house on the beach, which I thought was pretty amazing."
New Zealand accepted the family's application for refugee status, and they moved to Wellington. Gosia remembers learning English and assimilating quickly. "It was much tougher for my older brother and parents, they had to experience the hardship that a little kid doesn't," says Gosia. "The entire experience meant that I was raised in a way where everything was considered precious and nothing was taken for granted."


Her father, a commercial fishing captain, and her mother knitted together a close family life. "My father is calm, positive and methodical and my mum is full of energy, spontaneous and creative," says Gosia. "There was always a lot going on in our house; parties, friends, activities, arts and crafts. I guess all these influences make me who I am today."
As a student of Wainuiomata Primary School, Gosia's favourite fashion memories are wearing pretty Italian clothing, a collared white shirt and a Barbie outfit. "I was so proud, but felt like I didn't fit into the Kiwi look."
The exception was going to a school disco with friends in a full fluoro outfit – a side-pony scrunchy, singlet, rah-rah skirt, socks and rainbow laces. "It was the best feeling ever and 1988!"
Cut to 2000, Gosia graduated from Victoria University of Wellington Te Herenga Waka with a bachelor of tourism and services management.
She chased endless winters around the world on her snowboard before returning to Wellington to start her own business. "Spending time in such pristine places brings about a huge feeling of love towards nature, it crawled under my skin and made complete sense for me to start a business where sustainability and ethics are the foundation."
It was a friend who proposed the idea of a Fairtrade organic cotton clothing brand over coffee. The name Kowtow comes from the Chinese custom to bow as a sign of respect. Also, the domain name kowtow.com was available when Gosia checked. Like many of her designs, it was poetry and practicality in one.
Gosia undertook her own fashion education, focusing on tracing every element of her line of basics from seed to garment. "It made sense to try and work out the origin of a product and make sure it travels along a certified, sustainable and ethical production chain," she says. "I don't like the idea of not knowing, and am that person that questions it all."
I don't like the idea of not knowing, and am that person that questions it all.

The founder has visited the small Fairtrade farms, so she's seen the rows of rain-fed cotton for herself. She has also developed a close relationship with two certified factories in India. "Our philosophy is the foundation of the business and drives all of our decision making," she explains.
As such, her work has also woven into her personal connections. Gosia, 40, met her partner Thomas at a hotel in Kolkata, when she was visiting a factory and he was shooting a music video. Over a day, they fell in love – and in four months they had decided to become a family.
They commuted between their respective homes of London and Wellington before moving more permanently to New Zealand last year with their six-year-old son Laker. "I love New Zealand and feel more at home here than anywhere in the world," tells Gosia. "Selfishly, I am happy international flights are difficult, it means I can finally settle here with my partner and son and not be torn in so many directions."
The Kowtow head office is based above their Te Aro flagship store. Made with locally sourced and sustainably harvested materials, it's something of a sanctuary. "We make sure we instil a culture of kindness and respect, and understand it's important to have fun, and be silly now and then," says Gosia. "Balancing growth and people isn't easy, there are wobbly hurdles for sure. But that's life, and life isn't easy."
Designing down to the yarns, the team appraises each well-proportioned piece to create deceptively effortless looks. Plus, many have pockets. "I hope it makes [our women] feel ease and joy," says Gosia. "I also love that our clothing is practical, not precious, and made for the everyday."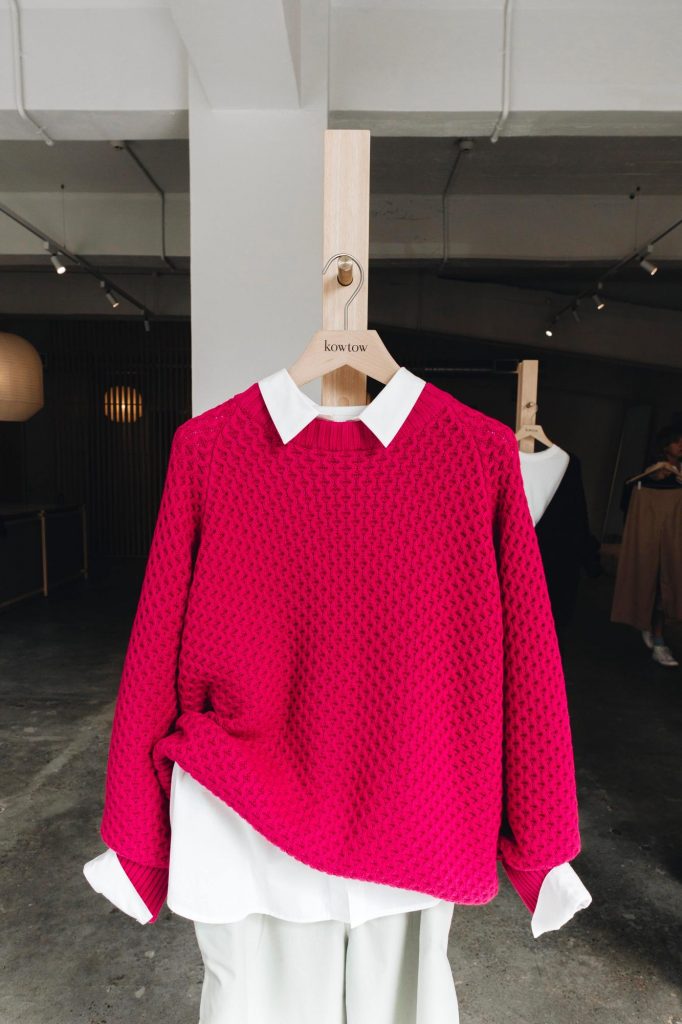 The production team have started a sustainability action group and are working towards better solutions for their thread, elastic and facing. "These are the nuances that most people don't consider in a garment, but they're the things that really bug me," admits Gosia. "We are currently trialling some innovative solutions that will get us closer to 0% plastic and 100% natural and biodegradable products. I'm really excited about it!"
Gosia is inspired by multifarious references each season. She follows radical thought leaders like Noam Chomsky, who is currently keeping her thoughts on track in the sustainability field as she scrolls through social media for glimpses of colour and style she likes.
While Kowtow has expanded its range over time, including to regenerated nylon swimwear, it's going back to its roots of using only Fairtrade certified organic cotton. "Biodegradable and truly plastic-free clothing is what the planet needs," says Gosia. "We do not need more microplastics in the sea, which is what all polyester clothing eventually ends up as."
Gosia is not just thinking about the impression a beautiful new dress makes, but the impact it has long after the first wear. Kowtow offers take-back and free repair programmes to intercept garments that may otherwise go to landfill. "Customers don't know what to do with their clothing when they no longer want it," explains Gosia. "This sort of stress should not be left to the customer and needs to be a business and government responsibility."
To Gosia, being sustainable means constantly evaluating, evolving, challenging and innovating. "It is important to come up with new sustainability innovations to protect what is the most important," she says. "There is no Planet B."
Of course, thinking of the calamity of climate change is overwhelming, and feeling fatigued is a natural response in a world that doesn't make much sense, especially in her industry. "Fashion is so fast-moving and demanding, seasons are always colliding, so we have to be very conscious to not let the stress overwhelm us."
It helps for Gosia to look on the bright side. "At Kowtow, I love our sustainability wins, it's what gets me out of bed each morning," she smiles. "The biggest reward is that we have so many amazing customers worldwide that believe in us, our product, design and message."
We have so many amazing customers worldwide that believe in us, our product, design and message.
She hopes the brand will continue to challenge the status quo. As for her hopes for Planet A: "Ending our reliance on non-renewable energy and lowering the planets CO2 levels would be a good start."
For Gosia, Earth Day is a moment to pause and think about the vastness of the natural world, without any modern-day interruptions. When not at work, she likes to be in nature and to spend time with her family. "At the moment, we are attempting to learn to skateboard, which is pretty hilarious and definitely keeps you in the moment."
They have also made time to appreciate as much of the country as possible. "We have done a roadie from the top of the North Island to the bottom of the South Island," she says. "I have discovered new places and my heart has filled up and burst multiple times with the beauty of Aotearoa."

RELATED ARTICLE: How sustainability champion Jacinta FitzGerald is changing the fashion industry