You're never too old to follow your dreams – just ask Margaret Mills, who has released her debut novel at 91. Donna Fleming finds out more about the adventurous Kiwi author.
When Margaret Mills left school at 18, the one thing she knew she wanted to do with her life was write a book. It may have taken 73 years, but she can finally tick it off.
"So, what took you so long?" I ask the 91-year-old, whose historical novel The Nine Lives of Kitty K, about a pioneering woman in Central Otago's goldfields, was published in February.
"I got busy," she replies. "Life got in the way."
We're sitting in Pukeatua Reserve – a hill-top expanse of open land just 500m from Margaret's Waiheke home – and talking about the many distractions that stopped her from putting pen to paper over the years. The views across the island's rolling hills and vineyards to the Hauraki Gulf and Auckland in the distance are breathtaking; apparently, it's one of the best spots to see spectacular sunsets.
The wind is blowing, the sun is beating down and while I'm being whipped by my hair and having to reapply sunscreen every 20 minutes, Margaret – in shorts, T-shirt and leather sandals – is basking in the elements. The outdoors is her happy place.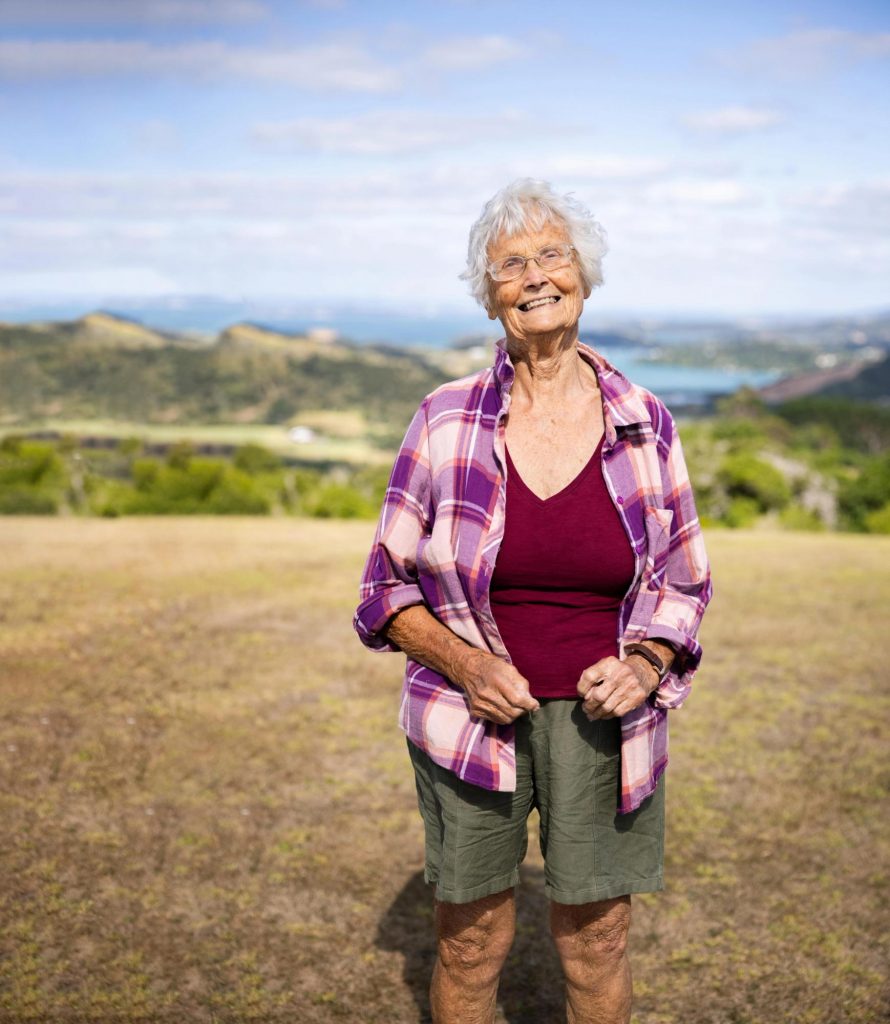 A van taking people to the nearby EcoZip flying fox zipline beeps as it drives past. "That's for me," says Margaret, waving at the driver. "I'm a bit of a tourist attraction."
The drivers often see her tootling along the road on her walker – she does 2km every day. "I can see their mouths going, telling all the people in the van about me, and then they all wave," she smiles. "It's just because I'm old."
Margaret may be a nonagenarian, but she doesn't look it. She doesn't act it either – she has a lively sense of humour, a keen interest in current affairs ("Don't get me started on politics," she warns), and a brain that's still pin sharp. Her stories may go off on tangents, but she always snaps back to the original narrative without any prompting.
The only time she misfires slightly is whens he's talking about a woman she knows who became a junkie (her word) after being involved with a band "as their road kill". She means road crew, of course; she chuckles at her blooper. "Actually, Road Kill would be a good name for a band, don't you think?"
She still has a great memory and loves to tell stories about the places she's been, the people she's met – like the chef friend who accidentally burned down his house while trying to dry his dope in the oven – and the adventures she's had. There have been many in her 91 years, not least the time she got, as she puts it, "shipwrecked without even going to sea".
In fact, Margaret was on board the Rainbow Warrior when it was bombed in Auckland in July 1985. A relief cook for Greenpeace, she was asleep in her cabin when the first of two bombs went off. The noise woke her and she realised it was an explosion, but it never occurred to her that it could be a bomb. She was trying to find her glasses when a couple of crew members came down and told her she needed to get off the ship.
"When they said we'd been bombed, I said, 'Don't be so bloody silly, we don't have bombs in New Zealand'. I'd forgotten about the Trades Hall bombing [which killed caretaker Ernie Abbott in 1984]. But I wasn't shocked at the time because I just never thought that's what it would be."
Margaret was helped to safety before the Rainbow Warrior sank. Sadly, the man in the cabin next to hers, photographer Fernando Pereira, drowned when the ship went down. "I was very lucky, so very fortunate," she says, recalling how she later wrote a poem for Fernando about how she'd hunted all over Auckland to find a particular type of bread the 35-year-old had liked. "The loaf was never finished." After the bombing, she invited the shaken and shocked Rainbow Warrior crew to stay with her on Waiheke. Some are still residents on the island more than 35 years later.
Margaret worked for Greenpeace for five years, including a stint sailing up the east coast of America. Campaigning for environmental causes and peace is in her blood; she also took part in protests such as the 1984 peace march from Cape Reinga to Taupō, in which she rode a horse.
There have been other adventures on horseback, such as the time when, as a young woman, she would collect bets for a bookie (which was illegal, so she pretended to be delivering meat).
She laughs as she reminisces about how she and a friend were "hoons, galloping all over Waiheke at night. We cantered our horses down the wharf at Matiatia."
But it hasn't been all protests and play; Margaret's worked very hard over the years. She's run a guesthouse and worked as a postie, a cook, an SPCA inspector and a wardrobe assistant on the 1970s TV show Hunter's Gold, among other things. Along the way she has also raised four children – Bruce, Brett, Jonell and Loris.
No wonder she didn't have time to write a book until recently.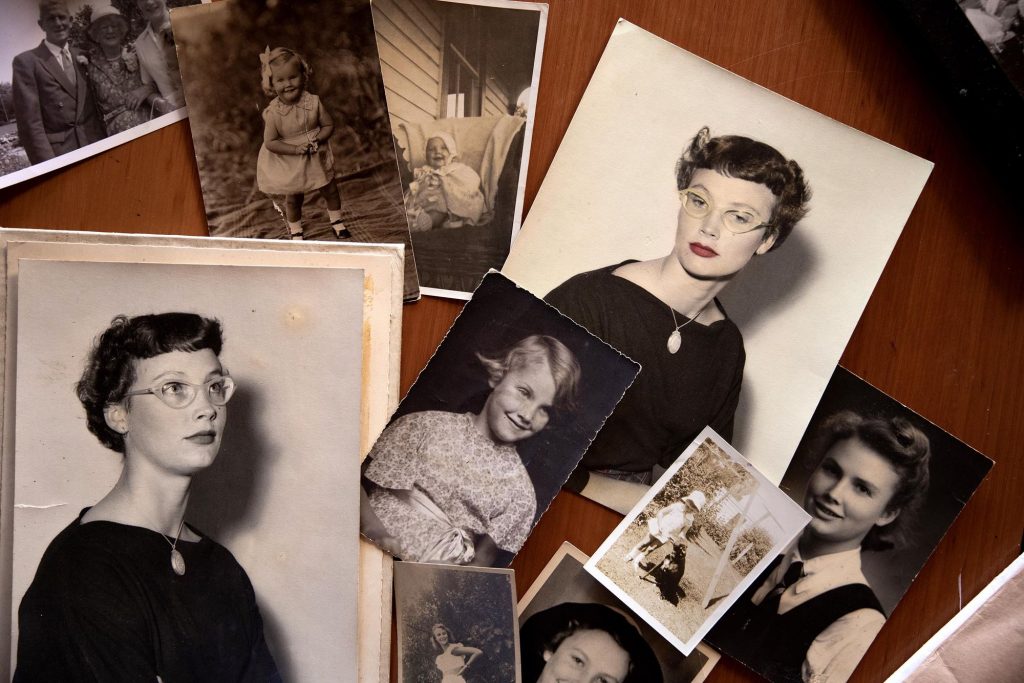 "You've had an action-packed life," I say. "Oh, you have no idea!" she hoots.
Born on October 23, 1929 – just as the world was descending into chaos thanks to the Wall Street Crash – Margaret was an only child; her parents split up when she was young and she lived with her mother. She looked forward to catching up with her schoolteacher father in the holidays, who'd been left deep in debt following the break-up of his marriage.
Trips away had to be inexpensive, and in those days going to Waiheke was cheap. They both fell in love with the place after seeing the long stretch of sandy beach at Onetangi. Her dad also took her tramping in the central North Island; she remembers the two of them being on top of Mt Ruapehu watching the crater lake erupting in May 1945, the day the war in Europe was declared over.
"I think I inherited being an adventure seeker from him," Margaret says.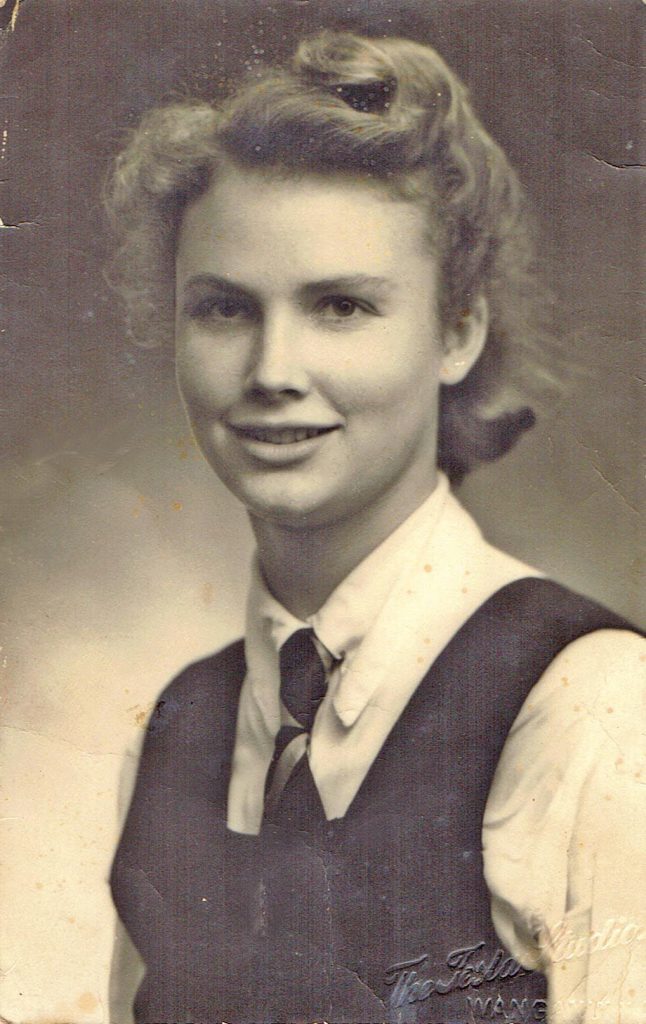 She embarked on her first big solo adventure at 21, after pulling the plug on her tertiary education. She'd been studying English at the University of Auckland, but decided academia wasn't for her – especially as it seemed the only thing a degree would be useful for was becoming a teacher, which she didn't want to do.
"We had to learn Anglo-Saxon [Old English] and it was impossible, I couldn't get my brain around it," she recalls. "The poet A.R.D. Fairburn was one of my lecturers and I said, 'Why do I have to do learn Anglo-Saxon?' He said, 'So you can teach it to other people.' I couldn't go into a career teaching people Anglo-Saxon just so they could teach it to other people."
Instead, she decided to go in search of a new challenge, and as she couldn't afford to go overseas, crossing the Cook Strait to the South Island was the next best thing. She ended up in Queenstown, where she married bus driver and local skiing star John Mills.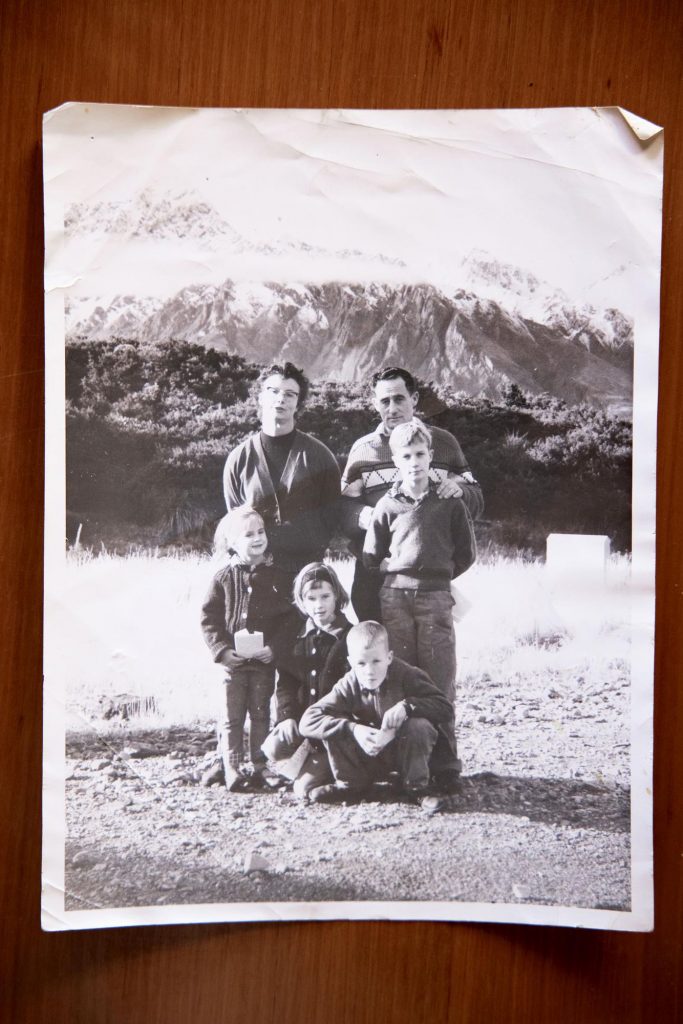 She ran a guesthouse while raising the children, and though it was a beautiful place to live, she never really felt like she fitted in. "I wasn't popular, I came from away, from Auckland. And I read books, so I was damned. In those days, you didn't read books – you were meant to be spending that time cleaning the house."
She wrote a few short stories, but there was no time for a novel. "My husband didn't like me writing – it was bad enough that I read so much!"
My husband didn't like me writing – it was bad enough that I read so much!
Her marriage ended when the children were adults and after the guesthouse was sold in the mid 1970s, Margaret took a job as a postie so she could work outdoors. She got to know an elderly lady on her delivery route, Winnie Mulholland. Over a series of visits, Winnie told her about a colourful local character called Kitty Kirk, who'd lived in the district during the gold rush and the severe depression that followed.
Kitty's life had been beset by tragedy, but she became a local legend thanks to her daring deeds, which included riding her horse through perilous Skippers Canyon to deliver prescriptions to sick miners and their families. She was incredibly tough, says Margaret, but trying to survive alone in a hostile man's world took its toll, and sadly, she became a chronic alcoholic and ended up in Dunedin's Seacliff Mental Hospital.
"She died in 1930, the year after I was born, and she'd had a hell of a life," tells Margaret. "Winnie's mother had told her all about Kitty and said, 'You have to get this out.' Winnie decided I was the person to do it."
When other elderly ladies who'd known of Kitty heard that Margaret was compiling details of her life, they too regaled her with their recollections. The 12-page article she wrote was given to the Lakes District Museum and, not long afterwards, Margaret left Queenstown and moved north to live on Waiheke.
As she got on with life – including her stint with Greenpeace – Kitty's fascinating story smouldered in her brain, but she never did anything about it. In 1987, there was an exciting new chapter in Margaret's own story: she met Australian peace activist Trevor Darvill when he came to New Zealand to attend the scuttling of the Rainbow Warrior in Matauri Bay.
"I sat next to him at lunch and felt a sort of current," recalls Margaret with a smile. They were trans-Tasman penfriends for a couple of years before romance blossomed and Trevor moved to Waiheke to be with her.
"I got myself a toyboy – I was 60 and he was 48, which I thought was a hell of a difference in age," she says. "I didn't think it would last, but it did. We had 30 good years until he got dementia."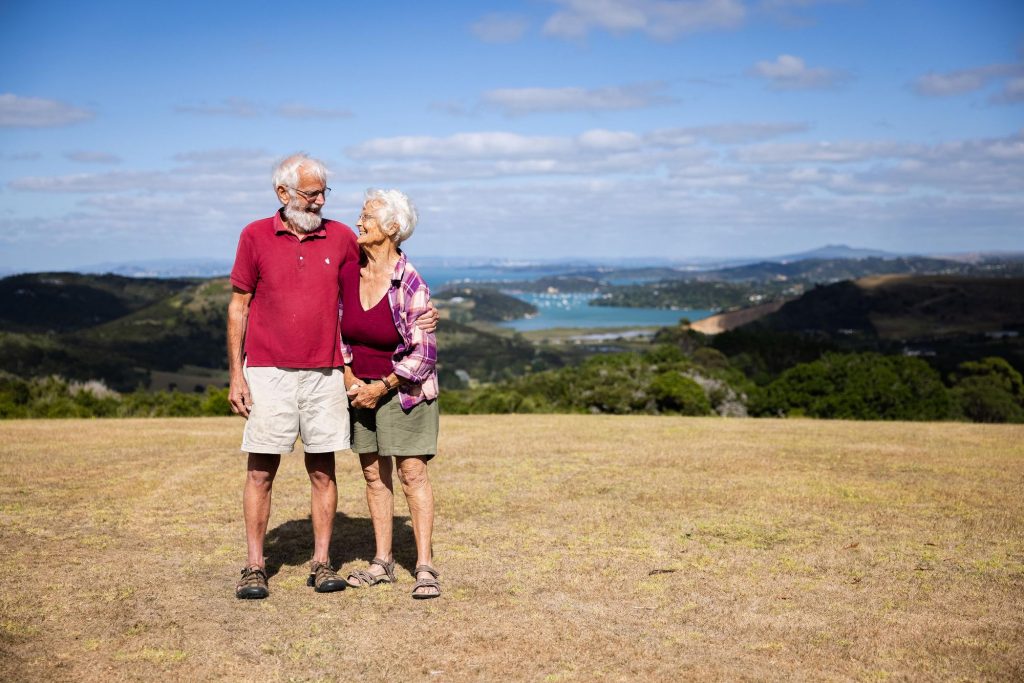 Margaret is now Trevor's caregiver. "I miss our conversations. I miss his sense of humour. Every now and then he'll go back to his old self and that sense of humour will come out. The other day he said he wanted a T-shirt that says, 'I Have a Licence to Forget' on the front, and 'P.T.O' on the back. But most of the time, it's gone."
Fit and healthy for most of her life, Margaret now has her own issues. She has "something wrong with my cerebellum", which means she has difficulty with balance and uses a walker to get around. She's had several nasty falls, breaking a leg and her pelvis, but recovered surprisingly quickly.
"Funnily enough, my balance is okay when I'm dancing," she says, explaining that she likes to put on music (Glen Miller is a favourite) and dance around the house by herself to stay limber.
She's also had "belly troubles", as she puts it, and jokes that of nine bodily orifices, she has had issues with seven of hers.
But she's still fiercely independent, and until she got an electric oven a few weeks ago, did all her cooking on a wood burning stove in her character-filled cottage.
"Mentally, I don't feel my age," she says. "The trick is to spend time with younger people and have nothing to do with mirrors – they've really deteriorated since I was 18."
I don't feel my age. The trick is to spend time with younger people and have nothing to do with mirrors
A few years ago, as she became less able to do physical activities like gardening, Margaret decided to focus on exercising her brain. Finally, it was time to work on the novel she promised herself she'd write when she was a teenager, by using what she knew of Kitty Kirk's life as the framework and filling in the gaps with her imagination.
"I got up at 6am and wrote for two hours every day before Trevor was awake, and it was so easy – it just poured out of me," Margaret says. Writing with pen and paper to start with, she eventually began using a computer, although she describes herself as a "techno-cretin".
Friends and family helped her with technology, researching and proofing, and after just 14 months she had a 370-page manuscript. The Nine Lives of Kitty K: An Unsung Heroine of the Goldfields has been published by Mary Egan Publishing and, as she runs her fingertips across the cover, she says she still can't quite believe she's finally written a book.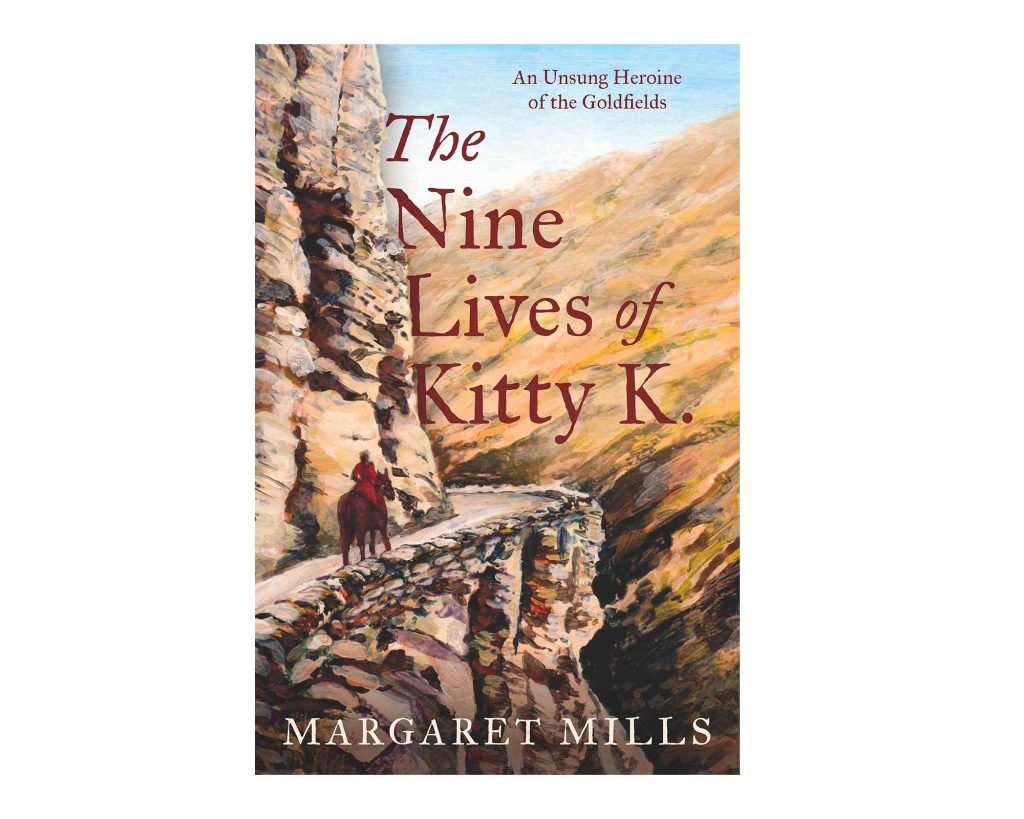 "You should write your autobiography next," I tell her. She's a natural storyteller and won't be short of material.
"I don't know, maybe," she muses. "I suppose I could start writing down some anecdotes, there's so many of them. And after all, what is life but a series of anecdotes?"
Then she adds with a smile, "Do you like that? I just made that up."