Inspired by the simple life of lockdown, Wellington writer Catherine Robertson turns a new page with a move to her Hawke's Bay holiday home.
There's nothing like a pandemic to spark a change of plans. In the case of author Catherine Robertson, that meant permanently relocating from the Wellington suburb of Seatoun she and her husband Dave had lived in for 27 years to their holiday home in Hawke's Bay.
The couple, who co-own a Wellington business consultancy, built the house in 2016 with the idea of one day making it their permanent base.
"But we were thinking we'd do so in the next three to five years," says Catherine, who has written seven novels, including her bestselling Gabriel's Bay series.
Then Covid slammed into the planet and the couple spent lockdown at the semi-rural property. "We love the setting, amongst the grapevines and with sea views. Dave and I looked at each other and said, 'Why don't we make this our permanent home now?'"
In March this year, they did, leaving behind their adult sons Callum and Finn in Wellington (interestingly, Finn and his partner recently bought the first house Dave had ever owned, a 1909 former worker's cottage in Berhampore) and moving with their two rescue dogs, Jake and Beanie, who have since been joined by three kittens.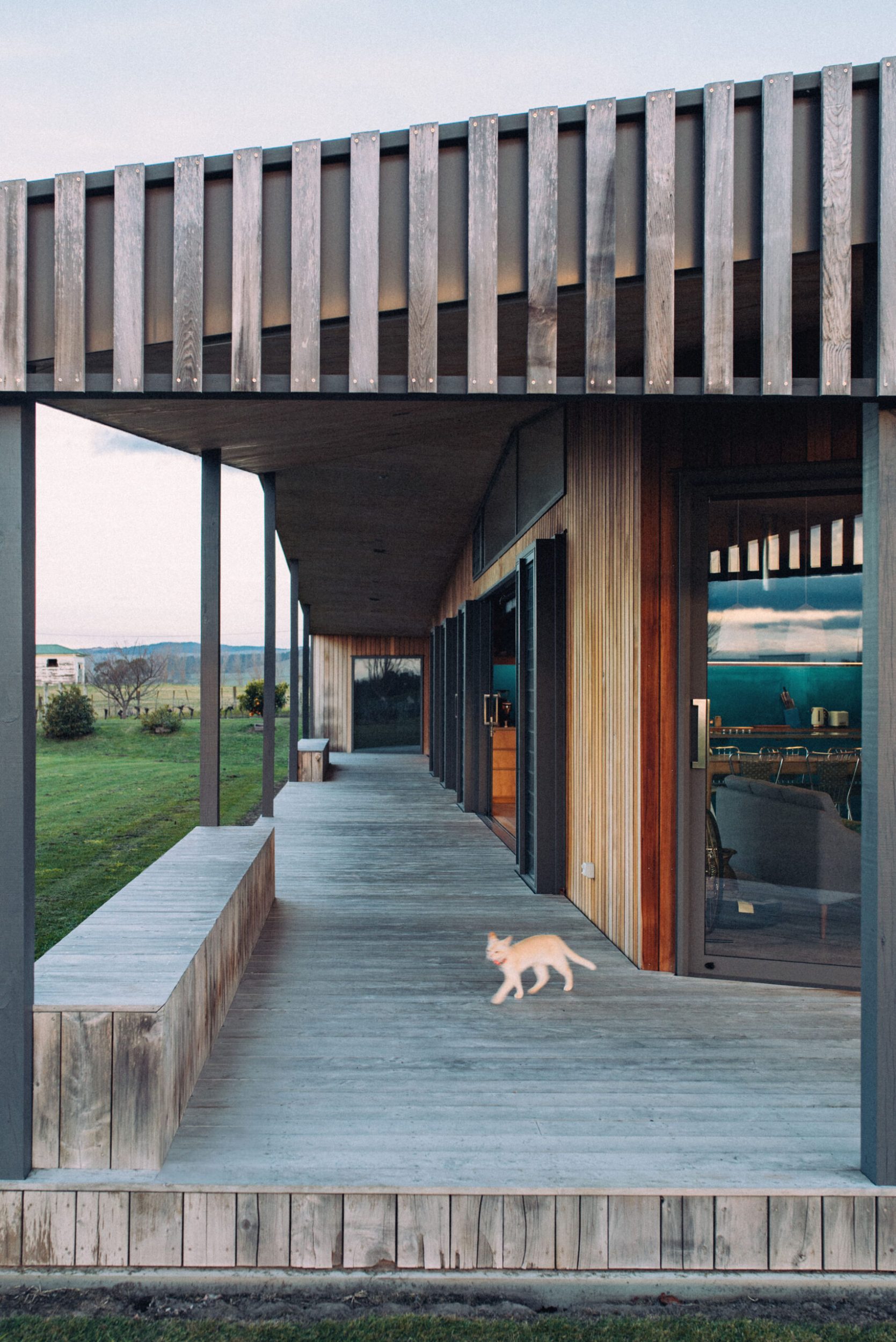 Moving into their holiday home was, says Catherine, a great decision. "As a writer, I can work from anywhere, and Dave is able to oversee the business from here. We have lots of friends who've also moved from Wellington and there's a great community here, so we don't have any regrets."
Prior to buying the land back in 2015, the couple had no real connection to the area, which is halfway between Te Awanga and Haumoana. "Dave had done a few cycle races in Hawke's Bay, so we'd visited a few times. We fell in love with the weather and how laidback it was." They'd also never had any plans to live in the country, but when a friend showed them this section, which is just shy of a hectare, they snapped it up.
"When we lived in the UK in 2000, we lived amongst the beautiful rolling Chiltern Hills. But at our last Wellington house, we were near the water in Seatoun. This property gives us the best of both worlds, because we're semi-rural but also next to the sea."
They'd renovated plenty of homes but had never built one from scratch. While having a coffee at a Hawke's Bay café, Catherine spied a magazine featuring the work of Wellington architecture firm Bonnifait + Giesen. "It was a house they'd designed for one of the architect's mothers, not far from here. I liked their aesthetic and that even though they're Wellington-based, they knew the area."
Dave and Catherine's wishlist was short: a small house they could maintain as they got older, three bedrooms, a dedicated man cave for Dave's cycles, a writing room for Catherine, and as environmentally mindful a build as possible. "We let the architects pretty much have free rein. And we changed very little from their initial plans."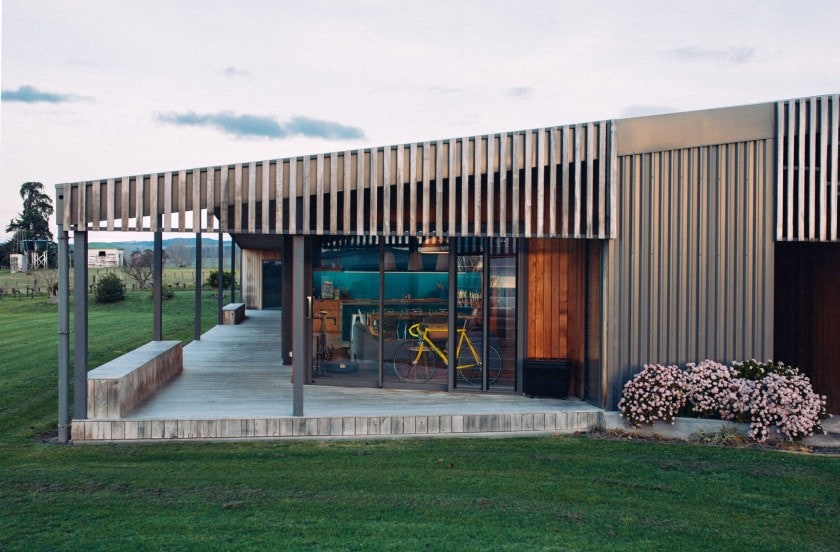 The result is a one-level dwelling with a roofline that echoes that of a white farmhouse barn in the distance. It features polished concrete floors, cedar cladding, and ply interior walls and ceilings. "It's low-key but fits well into the landscape," Catherine says. "It's also easy to live in and keep clean."
Turn right at the front entrance, where there's ample space for gumboots and coats, and you'll be in a long corridor that leads to what the couple call "the annex" – Dave's bike-storage area, a spare bedroom with bunk beds, and Catherine's writing room.
Taking a left turn at the front door will lead you past book-lined walls containing some of Catherine's 2000 or so books, into an open-plan kitchen and dining space with extensive views across the grapevines and sea.
There's plenty of built-in storage and shelving, so the couple were able to leave some of their furniture for the tenants in their Seatoun home while having ample room to display the items they've collected over the years. "I'm never going to be a minimalist because I have too much stuff," says Catherine, laughing.
There's also generous wall space to display the couple's extensive collection of mostly New Zealand art. "A friend of mine, artist Paul Forrest, came up from Wellington to help me decide where to hang them."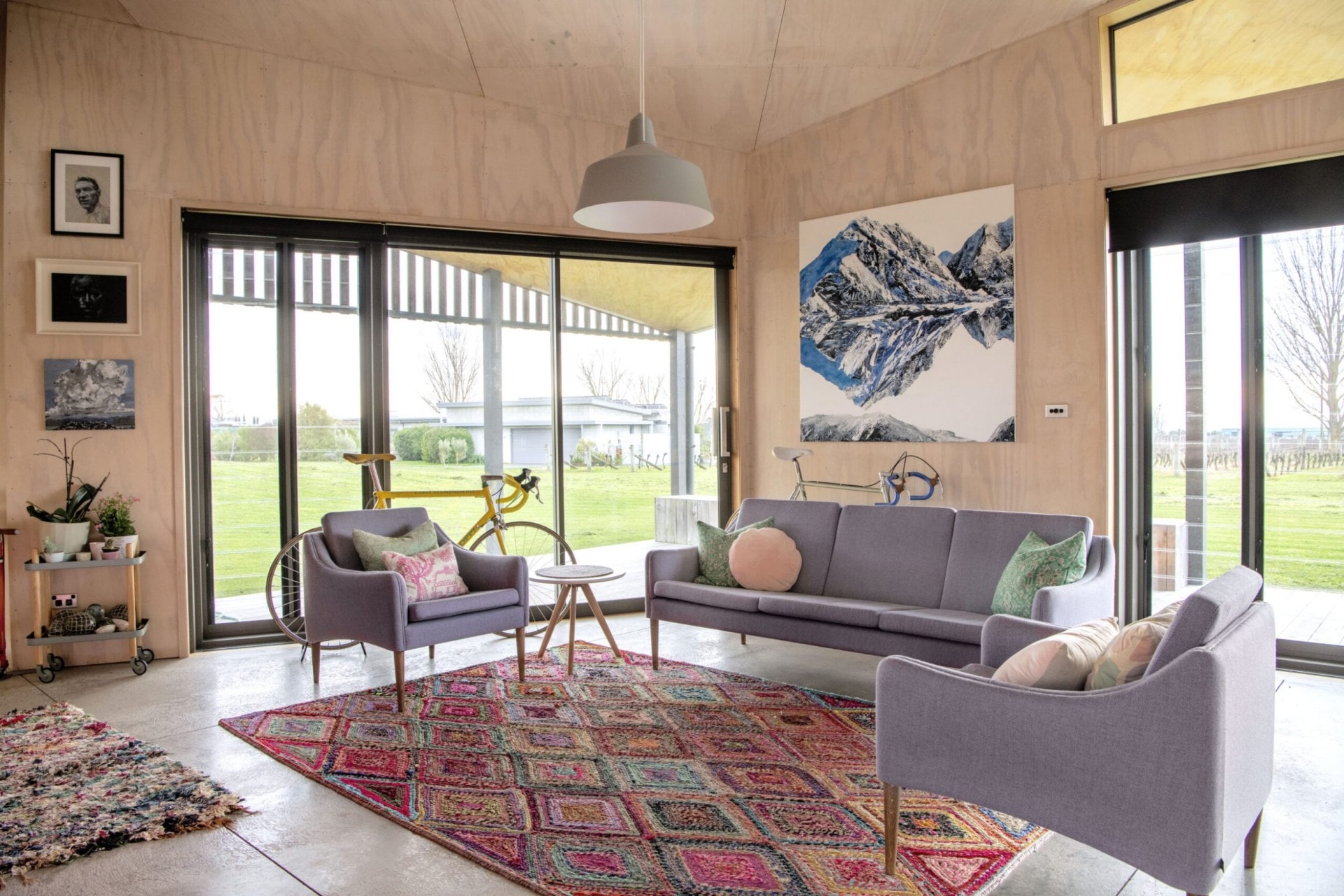 Last October, Catherine opened a bookshop, Good Books, in Wellington with author friend Jane Arthur. It's near a few art galleries, so whenever she's in the capital, she tends to come home with more art. "It's hard not to pop in and have a look!"
Something else this creative couple isn't afraid of is colour. They had originally planned to use copper tiles for the kitchen walls but when they realised they could only buy them in large quantities, they pivoted to paint. Dave chose a vivid blue, which contrasts nicely with the ply walls and ceiling. In fact, they liked the colour so much they also used it for the kitchen island.
The house also features pops of bright pink on cupboards and bedroom doors.
The three bedrooms – two in the main wing and the one in the annex – follow a similar theme: ply walls, recessed shelves above the beds, and views of the vines. The main bedroom and guest room each have an en suite and walk-in wardrobe. Next to the bath in the main en suite is a quirky artwork of a sink by artist Emily Hartley-Skudder, which sometimes puzzles visitors. "It's not a real sink!" Catherine says.
So pleased are the couple with their home that Catherine says there are only three things she'd change: "The placement of a light switch and a plug, and I'd like a sightly taller wardrobe so I can hang my long dresses. But that's it. This is a really nice house to live in and we're happy here, so you can't ask for more than that, can you?"
Swipe the style