Contemporary artist Kate Newby has returned to her family's property at Te Henga for a peaceful yet productive homecoming.
Kate Newby's childhood home was a pottery when her parents got the keys to it in the 1970s. At the time, it could only be accessed by gravel roads. They built the house up from a shell, installing upcycled materials, including windows they found on the side of High Street in central Auckland.
Set amid the Te Henga (Bethells Beach) bush, the home's surroundings seem to foster creativity. Kate grew up across the road from filmmaker Briar March and down the way from her mentor, the artist Allie Eagle. "I grew up in a creative community and both my parents have a huge interest in art," says Kate. Unsurprisingly, her own home became an inspiring meeting point. "We had a wood kiln on the property, where the whole valley would come and fire pots."
After years as a successful artist in the US, Kate is back at the Te Henga hang-out as she prepares for some of her most exciting exhibitions yet. Currently, it's home to her mum, Margaret, and cat, Wendy, as well as her old artworks, which are dotted around the place.
Kate's interest in making art was a slow burn. She took art at Massey High School before moving to ACG Senior College for her final year at school. But though she was subsequently accepted into the renowned Elam School of Fine Arts at the University of Auckland, she says she didn't consciously try to carve out a career as an artist. "I just kept going. I didn't even think about it."
Reflecting on her art school days in the 1990s, when the internet wasn't yet the depository of knowledge and news it is now, Kate says she valued the time she spent looking through Elam's library. "I appreciated that protection from the current art situation, because it helped me foster curiosity quite slowly and intuitively."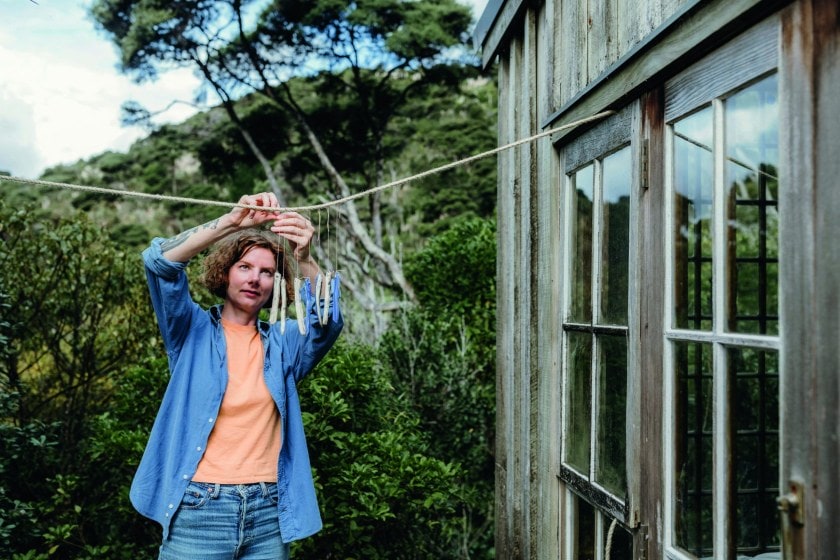 Back home, she's been sorting through old notes from art school. The photocopied pages reference art that exists in its own right, rather than as a canvas hanging in a gallery or a sculpture plonked in a public space. "It's so interesting to see what I was looking at back then and what I was drawn to. And I think about how that still really affects my work now."
Kate responds to locations by translating observations into installations, often using locally sourced materials and local knowledge to encourage people to look again – at the art, at our surroundings, at our world. She works with everyday textures – from textiles to ceramics and glass – to render our lived experiences into art.
For her doctorate of fine arts, which she completed at Elam in 2015, she explored ideas around interiors – of moving towards and away from them. "I'm very much interested in how we operate in different spaces and I think this work connects to architecture and interior design," she says. "I don't often make stand-alone sculpture. It always has this reliance on things bigger than itself."
Testing expectations on how art can be experienced, Kate often uses windows and windowsills as display spaces. "I really like the idea that my work can be lived with quite casually. The work could just be sprinkled along a windowsill, or it could be put outside in the garden."
Kate was the 2012 recipient of New Zealand's most prestigious contemporary art award, the Walters Prize. And her new home country recognised her work in 2019 when she received a grant from the New York and New Orleans-based Joan Mitchell Foundation.
Since being back in Aotearoa, Kate has held her most substantial exhibition to date, Yes Tomorrow, at Adam Art Gallery Te Pātaka Toi in Wellington. Some of the works were found objects at her home, while others were created with the help of others, including clay tiles made on people's thighs. "I'm often drawn to doing things I don't know how to do," she says, "so with clay, I bite off quite large projects."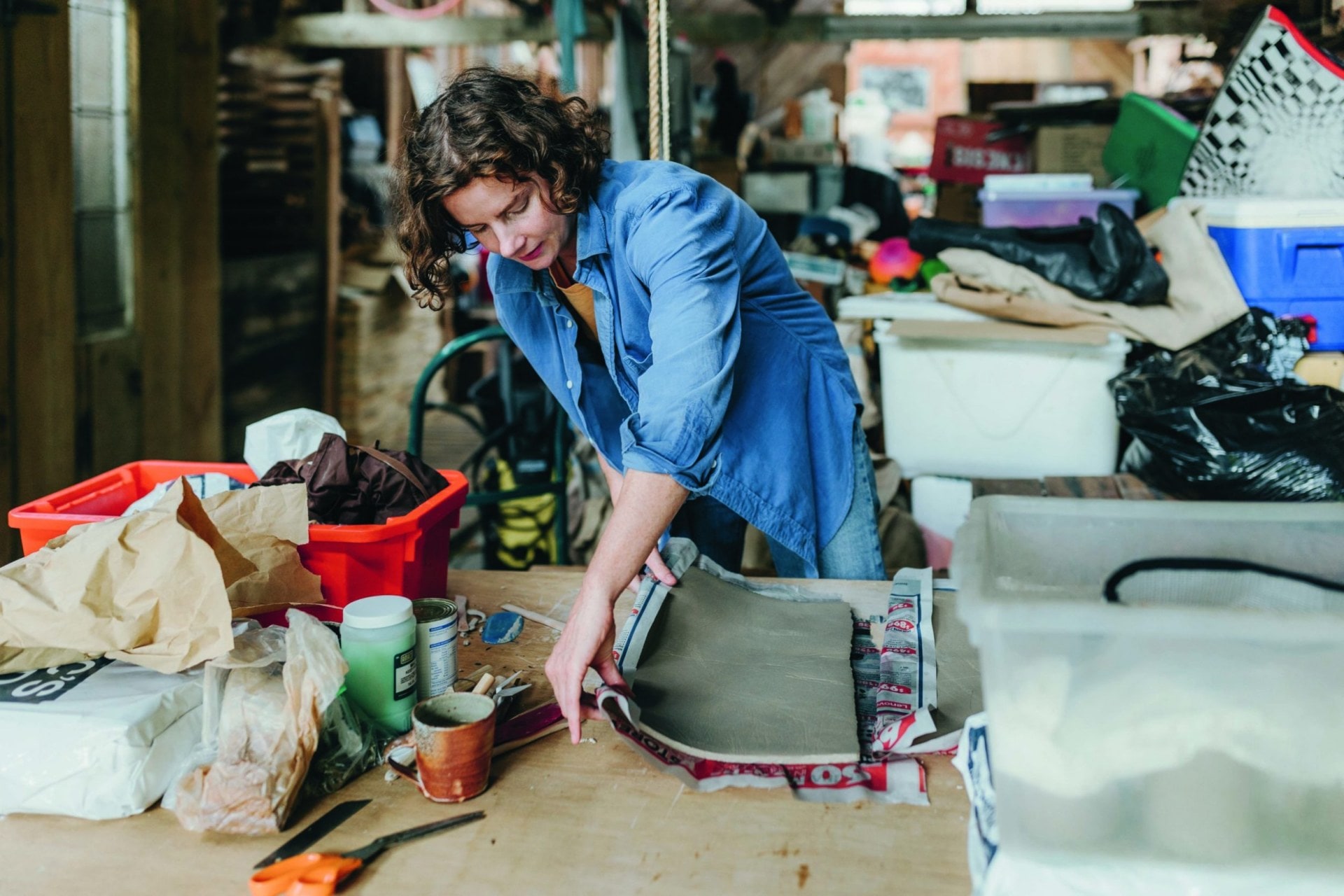 She says that creating the works for the exhibition was a humbling experience, as well as a career highlight. "Not just because of the opportunity itself, but because of how I got to make the show, which was in close communication and collaboration. What I'm doing in New Zealand is sort of typical for me, where I find myself in these new spaces, navigating these new relationships and figuring out how to make work, and I actually find it really engaging."
Her standout international exhibitions include one at the Kunsthalle Wien in Vienna, where she installed 6000 bricks embedded with objects found nearby, such as coins, bottle caps and branches. Another career highlight was a residency at The Chinati Foundation in Marfa, Texas. Kate loved biking through the desert, cruising past sculptures by the foundation's founder, artist Donald Judd, on the way to her studio
"I think the importance of art is it uses all sorts of things to make sense of the world around us," she says. "I think that's why it's really important because you can have a response to art that you might not have to other things. It opens up spaces – it doesn't close them down."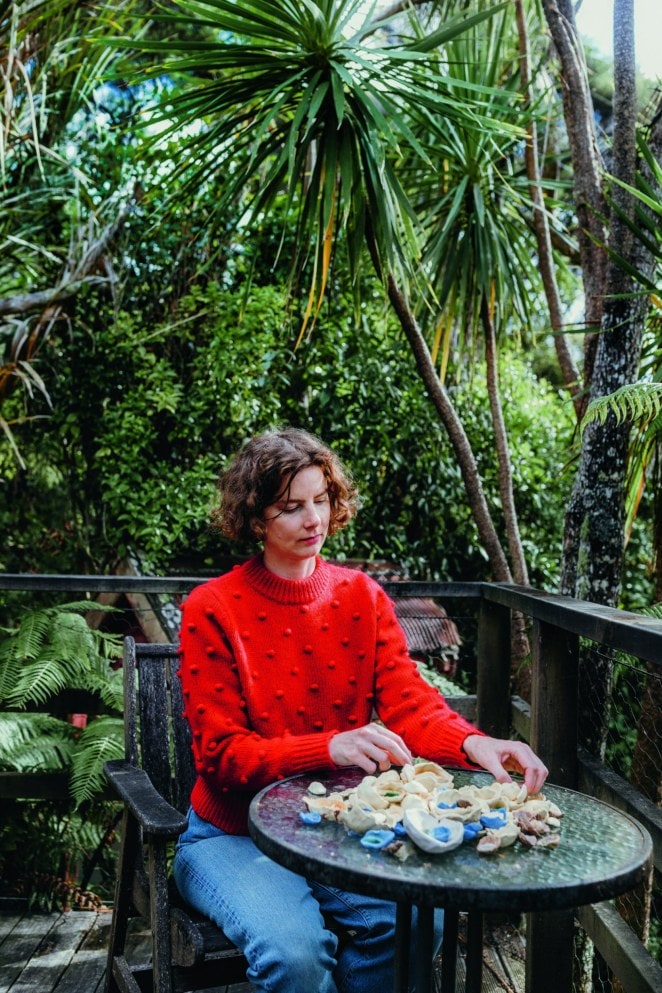 While the past year in America was challenging for many due to the pandemic, Kate has seen a silver lining in the slower pace of living. "I wasn't sad that heaps of my shows got pushed or cancelled or changed," she says. "There's a momentum around contemporary art that I'm really unsure about. I wasn't really expected to do anything in the same way. And that was actually – now I'm thinking about it – quite a relief."
Day-to-day life was still a nerve-racking experience though, and touching down in New Zealand at the end of 2020 provided a welcome respite for Kate and her partner, Rob, who are bouncing in and out of her Te Henga home base. They've gone for walks along the clifftops and on the beach, and swims in Lake Wainamu over summer. "Being here calms me in a way I'm not calm anywhere else," says Kate. "My body remembers it all in a way it doesn't know any other space."
Making the most of her time reconnecting to New Zealand, Kate is working on a September show for the Govett-Brewster Art Gallery in New Plymouth. Some of the bricks from her Vienna exhibition have made it to a New Plymouth pottery, and she's also working with Middle Earth Tiles in Warkworth. "What I've really loved is relearning about the New Zealand art ecosystem." she says. "I love that people are curious and they want to see you do your work, and they want to help you do your work. I'm having such a nice time working here. I'm not going to rush away."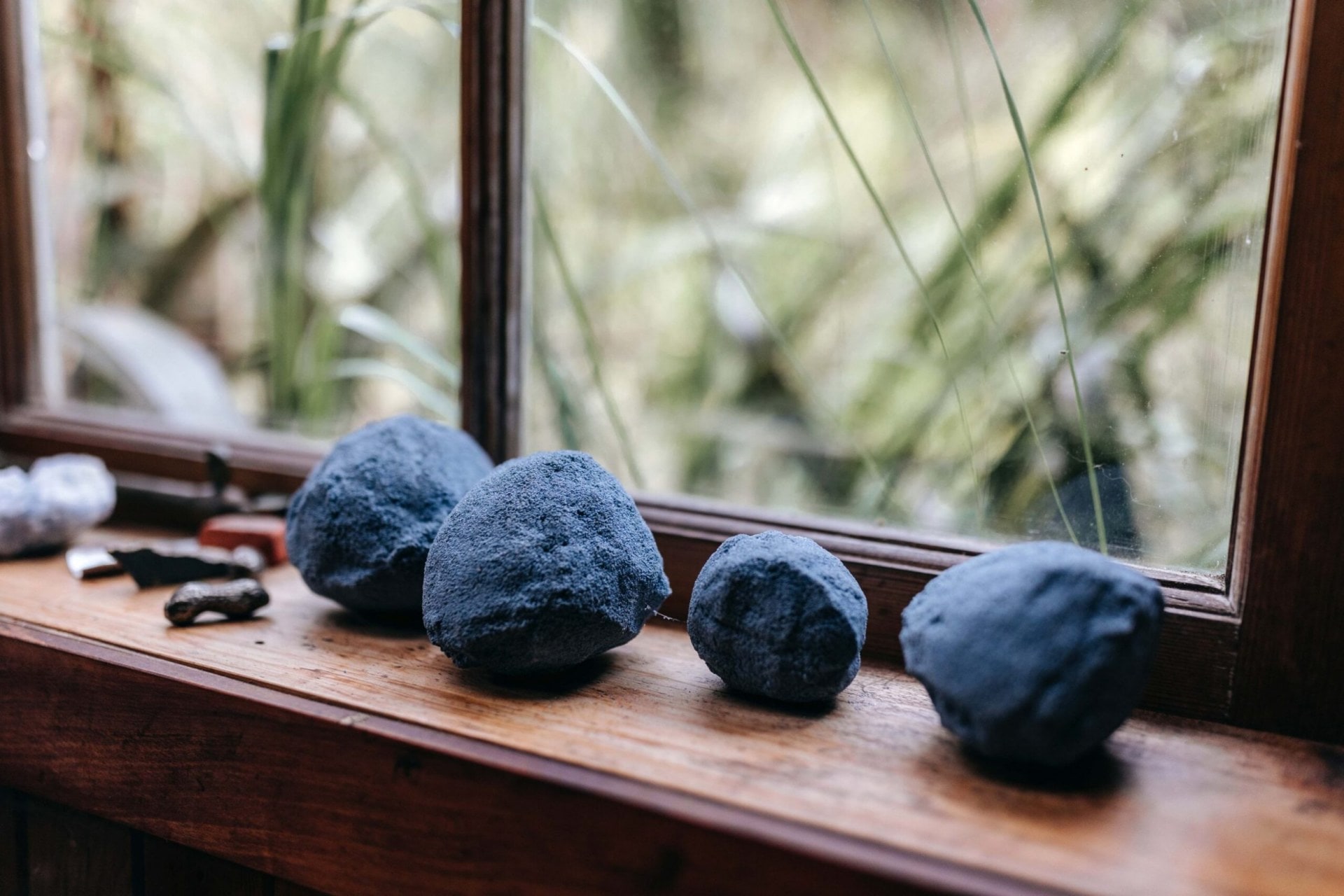 Once her work here is finished, Kate will return to the US. She used to live in a tiny New York apartment but she and Rob have relocated to South Texas. They'll be back in time to spend summer in a small farmhouse on an old ranch, which will provide her with the quiescence she craves.
"More and more, I just want to do less," says Kate. "I want to keep figuring out how to have a sustainable career, where I get to make projects that I believe in and work with people I believe in."