Life can be tough at the best of times – and we can all agree that these are not the best of times. But three Kiwi women are doing their bit to help save the world – or at least their corner of it – in very different ways. SHARON STEPHENSON sat down with them to find out how they're making a difference.
ALANAH DALTON




Not all heroes wear capes, this we know. Some wear leggings, singlets and jandals.
It's the most comfortable clothing when you're rescuing dogs in 40 degree heat on the streets of Bali, admits Alanah Dalton who founded the charity Sari the Bali Dog in 2016.
When we speak, Alanah has just come back from saving a dog that was about to be eaten.
"The dog meat trade is Bali is illegal but it does go on," says Alanah. "Someone told us the dog meat people were coming for this dog so Gusti, a lovely Balinese man I work with, rescued her. She's the sweetest dog and we're about to get her sterilised so hopefully she can be re-homed."
The Indonesian island is now home for Alanah, 45, who first visited in 2005.
"I went on a day trip to Ubud and saw a mural which turned out to be for a dog rescue. Back then there weren't many people doing this kind of work and there were so many dogs needing help. What I saw at that centre moved me to tears."
Having graduated from Canterbury University with a law degree, Alanah was busy climbing the career ladder in Christchurch's IT sector. But after that holiday, her thoughts kept returning to the plight of the Bali dogs.
She returned several times over the next few years, her suitcase bulging with blankets, towels and toys for the dogs, along with money she'd fund-raised. Each visit would be spent volunteering at the charity.
"My house in Christchurch was badly affected by the quakes so in 2015 I sold it, put all my stuff in storage and decided to travel for a year, firstly to Bali for four months then to Cuba, Mexico and Europe."
However, Alanah was offered a full-time role at the charity and stayed. "I was happier volunteering than I had ever been in a paid job. I would go home at night sweaty and covered in dirt and blood from things like pulling maggots out of a dog's wound. It was totally unglamorous but I loved it."
It wasn't long before Alanah began fostering street dogs, including a tiny bundle of brown and white fur she named Sari. Her charity, named after that dog who's now eight, is focused on rescuing and rehabilitating the street dogs she finds in her travels or that come via Gusti who's been feeding stray dogs for years.




It includes getting animals the vet care they need, fostering them, helping them find homes and fundraising mainly via social media.
As if she didn't have enough on her plate, in August this year Alanah and two friends – a fellow Kiwi and an Australian/Balinese woman – started another charity, The Undateable Bali Dogs, to provide a refuge for the kind of older, disabled dogs who often aren't winners in the adoption lottery.
Online work for Kiwi companies helps to pay the rent and Alanah is about to launch a business offering products for both children and dogs that she's hoping to launch in New Zealand.
"Everything I do is about teaching people how beautiful these animals are and how to care for them."
Despite some of the horrific things she's seen, Alanah admits that the "hundreds and hundreds" of dogs she's helped over the years are what keep her going.

"I've seen dogs deliberately slashed by machetes, ropes embedded in their necks and faces eaten by maggots. But they've done nothing wrong and I can't close my eyes to it. If I don't help them, who will?"
Although a return to Aotearoa is on the cards one day, for now Bali is home.
"People always say, the dogs are so lucky to have you but I'm the lucky one! I've gotten so much more from the dogs than I've given them because they've taught me patience and generosity. No matter what happens they still trust humans. But most of all, they've taught me never to give up. Many of these dogs have been through horrible things but they keep fighting every day to survive."
GRETTA CARNEY*




Five years ago, while writing about Hawke's Bay eateries, I met Gretta Carney (Te Ati Haunui-a-Pāpārangi), naturopath and founder of Hapi Organic Cafe.
When I told Gretta how much I liked her cold-pressed turmeric tonic, she gifted me several bottles, along with so many loaves of seedy bread and pottles of cashew cheese I was in danger of overshooting the luggage allowance on my flight home.
That's just the kind of person Gretta is. Anyone who knows the 48-year-old knows of her generous spirit, of the way she shares her passion for food as medicine with whoever is fortunate enough to fall into her orbit.
From a central Napier cafe that marries healthy with cool, Gretta's team of 15 turn out chipolte tofu tacos, vegan mac 'n cheese, organic miso and paelo bread, washed down with cold pressed elixirs and nut mylks.
Much of the produce comes from the 4ha organic farm on the outskirts of Napier Gretta shares with her children Orlando, 22, Esadora, 13, and Vida, 11.
"We're about providing fresh, flavourful, nourishing food that supports well-being and promotes a sustainable approach to food and business that benefits people and the land," says Gretta.
It's not just a line, polished to a high sheen for media: Gretta has lived experience of how nutrition can have a huge impact, having used it to solve her own health issues of epilepsy and depression.
Her story begins in rural Hawke's Bay, on a beef and cattle farm not too far from where she now lives. The eldest of three children, Gretta had her sights set on becoming a lawyer and started a law degree at Victoria University.
But while managing her epilepsy, which appeared at puberty, and subsequent depression, she became interested in the impact that food and the environment had on her health.
"I was told I'd be on epilepsy drugs for the rest of my life. But I knew I didn't have to accept that diagnosis, that I could fight for my own health."
She spent her 20s gathering as much information as she could to heal herself (she's been free of both epilepsy and depression since 1997).
Around the same time, Gretta realised that she didn't actually want to be a lawyer so switched her focus to a theatre and film degree where her classmate was Taika Waititi.
"When I finished my degree I took off around the South Island for a year and then headed to the Arizona desert where I had my epiphany."
That would be her A-ha moment among towering cactus in the Sedona desert, the wellness capital of the world.
"I had a profoundly spiritual experience where I understood that healthy food was where my future lay."
She returned to Wellington and started The Organic Catering Company with a neighbour, feeding and watering high-profile clients such as the Green Party.
When Orlando was born with significant health issues, Gretta once again switched tack, this time researching how food and the environment – particularly eliminating toxins such as industrial cleaning products and pollution – can impact ailments such as autism, asthma and eczema.
"I did biomedical analysis, started studying bio-dynamic agriculture, which takes a more holistic approach to growing our food, and qualified as a naturopath."




By now back in the Bay, Gretta juggled raising children with policy work at Te Waka Kai Ora, the national Māori organics association. "That allowed me to combine my passion for food and work as a naturopath with connecting with who I am as Māori."
Despite having a CV free of hospitality roles, Gretta decided to channel her love of food into feeding others and opened Hapi in late 2015.
While it proved hard yakka – "I didn't pay myself for years" – Gretta is proud of the wellness hub she's created.
"I could tell you 50 stories of how whole, organic food has helped people's allergies or physical or mental health issues. Creating the space for clean eating that supports our health, the kind of food our ancestors have eaten for centuries, can be a cure for many ills."
Next up for the dynamic wellness crusader is expanding her online offerings and supplying consumers directly with produce from growers.
"That allows us to support local artisanal food producers and bypass supermarkets."
And when she's not doing that, Gretta is focused on her side hustle, growing Kai Co-op, a project involving cooking classes for rangitahi (youth) that sends them home with a box of ingredients and recipes so they can recreate the dishes.
"Our food system is not something that needs to be reinvented or re-imagined, it just needs to be remembered. If I have learned one thing in my journey it's that the answers are always simple. He kai he rongoā, he rongoā he kai."
BRIDGET ROMANES*




Ever since humans learned how to pack a suitcase, mankind has been on the move. Some people relocate in search of work or economic opportunity, to join family or to study while others move to escape conflict, persecution or natural disasters.
According to the United Nations, more people than ever live in a country other than the one in which they were born: in 2020, for example, the global number of international migrants was estimated to be 281 million, or around 3.5 per cent of the global population.
If you're one of them you'll know that every move necessitates a laundry list of items to sort out, from getting the kids into schools to finding a place to live and opening a bank account.
Aucklander Bridget Romanes has been on the frontline of global moves many times, having ping-ponged between Auckland, India and Singapore.
So helping new migrants settle into Aotearoa seemed like a natural fit for the 57-year-old former diplomat.
In the time-honoured tradition of seeing a gap in the market and and going for it, in 2016 Bridget became what she calls an 'accidental entrepreneur' when she started Mobile Relocations, a business funded largely by employers that helps newcomers settle successfully in Aotearoa.
"It's in the interests of a healthy society that new migrants can settle quickly, make friends and become part of the community," says the mother of three adult children.
"It also works for the employer who has seen the value of bringing talent and their familes from offshore to New Zealand and has invested a lot of money doing so. Not only do they have a duty of care to those employees they also need them to be happy so that they can deliver, because if people can't settle they may leave and that's a huge amount of money wasted from the employer's perspective."
Bridget, who landed a coverted role at the Ministry of Foreign Affairs and Trade after finishing a politics and economics degree at Otago University, was posted to India in 1991. She loved the diplomatic and trade aspects of the role, and enjoyed travelling around the sub-continent, but found one aspect of her three years at the NZ Embassy in New Delhi particularly hard.
"It was probably the biggest challenge of my life learning to be a minority in a country. I had to learn to fit into their world rather than impose my world on theirs."
So too when she was based in Singapore working on the 1999 APEC summit and had 21 nationalities in her office.
"It taught me how to work in a different cultural environment and how to be effective and respectful in that enviroment."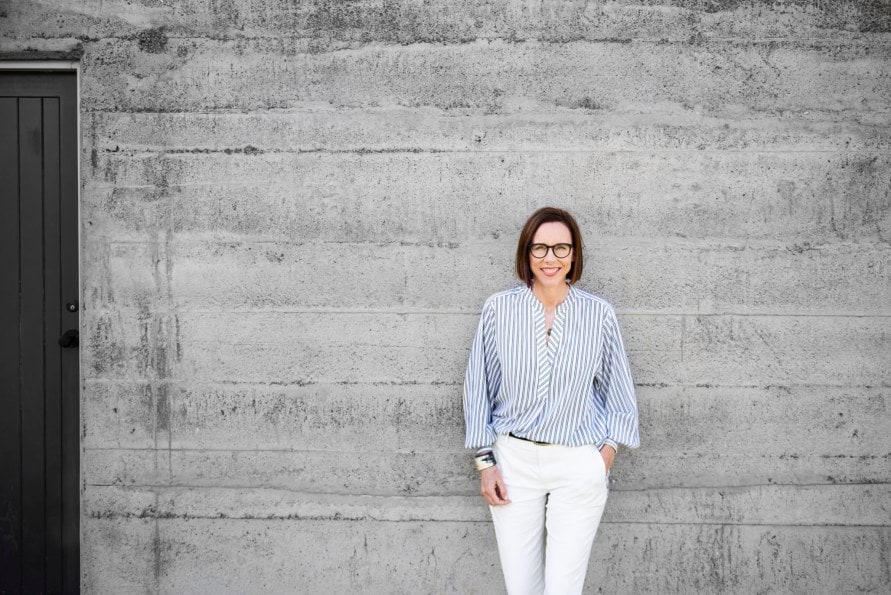 It helped that Bridget had grown up with a travel-loving father, Wally Romanes, who climbed the Himalayas with Sir Edmund Hillary and started NZ's first adventure travel company.
"We always had lots of interesting people from India, Nepal and Germany at our house."
Bridget brought all those strands together for Mobile Relocations which today employs 20 staff around the country who do everything from pick up new arrivals at the airport to help them find a gym.
Success came early, fuelled by contracts with companies such as Deloitte, KPMG and DB Breweries.
When we speak Bridget is excited about a new initiative, Kiwi Launch Pad, a digital platform for new migrants, which is funded by employers and contains all the information newcomers need to settle successfully in NZ.
"The government's visa programme makes it mandatory for employers recruiting offshore to provide resettlement support for people they bring into NZ and the Kiwi Launch Pad provides that information in one place. "
Already 2,000 or so migrants are using the portal and Bridget sees the potential to roll it out to other countries who employ talent from offshore.
"I loved being an expat but I knew others had a very different experience. Better resettlement help could have been a real solution for a lot of the unhappy expats I saw. A good resettlement service is like having a well informed friend who can make sure you're happy and fitting well into your new country."
*Gretta and Bridget were among seven 2023's recipients of five-year interest-free loans, mentoring, resourcing and support from Coralus (formerly SheEO). Launched in NZ in 2017, Coralus is global organisation that's raised $1.6 million to support women and non-binary-led businesses.
Related Article: How Miriama Smith Learned How to Love Acting