Neutral hues and organic forms can create a beautifully soft, calming colour palette, so it's no wonder they're popular in residential designs. In the year 2022, people are constantly interacting with fluorescent smartphone apps, subsequently interacting with blue light technology, bringing in neutral colours can let your mind breathe and wander.
Layering neutrals in a sophisticated and exciting way is, at times, a hard-to-achieve artform, so it's occasionally a good idea to inject colour into a space to keep your eye interested and experiment with expression. However, before thinking you should take a brush to walls, remember that painting is more challenging than it may seem. Consisting of 90% prep work, sloppy workmanship will take away from any great idea
To add colour to a neutral space without painting any walls, you can look to statement pieces of furniture, art and decor, adding to a lived-in sense of depth.



Flowers
If you like instant gratification and don't want to spend much time planning a design, floral arrangements are the perfect way to inject colour. Whether they're fresh floral arrangements you try fortnightly, draped greenery over a fireplace or bannister, or a dried sculptural assortment only needing replacing annually, you can completely change the vibe of space with Mother Earth's flora and fauna.



Furniture
Take a seat, and listen up! Chair and sofas, in particular, are amongst my favourite product types to add a splash of colour and interest. With both sculptural and functional elements, you can catch someone's eye with the right bright-hued chair – and keep it from moving.



Artwork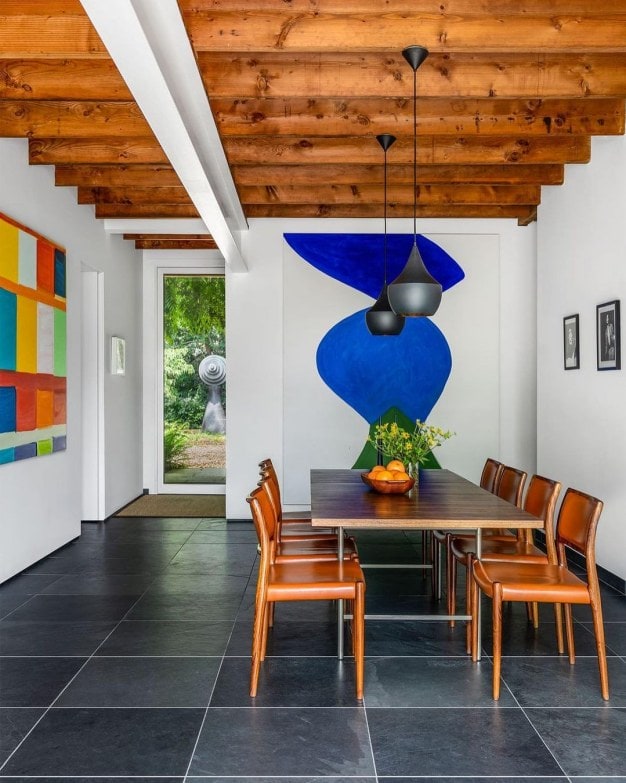 Although it seems obvious, artwork is an exceptional method of injecting colour into a space. However, despite its seemingly easy 'purchase and hang' process, do not underestimate the time and energy that goes into installing art. Scale, subject and colour have an enormous impact on what makes or breaks a space. You may find that it's best to focus on the medium rather than the subject, depending on the area you want to elevate. When choosing artwork for a space, it's best to look at the already established palette of your room and then decide if you wish to compliment or contrast the colours and tones.



Throws + Bedding
As we welcome summer warmth, it doesn't mean we need to neglect cosy throws. Weight and material play a huge part when deciding which throws are best for cooler days and warmer nights, but whether it's a coloured throw that makes you happy or a tone to elevate your space, it's a surefire way to add a dose of colour to a neutral space.



Cushions
The definition of non-committal, styling with cushions and pillows is the quickest and most straightforward way to add colour, patterns and texture to a space. You can subtly highlight a statement sofa or chair – or blow it out of the water and go crazy with a pop of colour!



Lighting
Light fittings are often left until last – if not completely forgotten. Lighting can completely change the feel of a space. It can highlight art, make a room feel larger or create ambience. There are thousands of designs available these days, from wall sconces to pendants – and plenty of options with colour.



Decor and Styling
If you want to take it slow with adding colour, consider buying small ticket items, like a candle, book, throw or a vase and put them in the space to see how you react to its presence.
With items like these, you can go for gold and be bold. When in doubt, start with a sample or ask the store manager if you can keep the receipt and return the piece you're purchasing, just in case it doesn't go – most often, they'll say yes, which gives you more freedom to be experimental.