This space-loving family swapped their city lifestyle for a country one – as did their transplanted house.
If houses could talk, this might tell you about the time it was supposed to be demolished. Or the time it was saved and moved 10km from Hamilton to a 1ha block in Tamahare. It would probably also tell you about the massive renovation it underwent, which was finished off by its current owners, Kylie and John Moody, who bought it two years ago.
"We were living in Auckland and enjoying the bungalow we'd extensively renovated," says Kylie, who previously worked in commercial real estate. But in 2018, John accepted a role in Hamilton as the chief financial officer for a mortgage lender.
For a while, he commuted from Auckland. At the time, Kylie was pregnant with Juliette (now two) and was looking after their older children, Frederick, now five, and Genevieve, three. "I didn't have the bandwidth to start looking for a house in Hamilton," Kylie says, but John began stalking real estate sites."
The couple had both grown up rurally – Kylie in Hawke's Bay and John near Whangārei – so they thought the move could be a good opportunity to give their children the country lifestyle they'd enjoyed. "We wanted them to have lots of room to move and grow," Kylie says.
The house was the first one John looked at. It wasn't just the semi-rural location or the generous 320sqm proportions that appealed but also its interesting backstory. "It was built in 1910," Kylie says. "We're not sure how badly rundown it was, but the previous owner was a furniture maker who saw it in Hamilton near the river, where it was about to be knocked down. He initially intended to recycle the timber for his projects but realised he couldn't bear to see the house destroyed. Instead, he bought it and moved to this section about seven years ago."
John and Kylie love character houses, so they knew it would tick all their boxes, but they almost missed out on buying it. "I only got to see the house the morning of the auction," Kylie recalls, "and John wasn't able to make it so I was at the auction with a five-week-old baby, trying to bid on the house!"
Fortunately, they were successful, and moved in August 2019.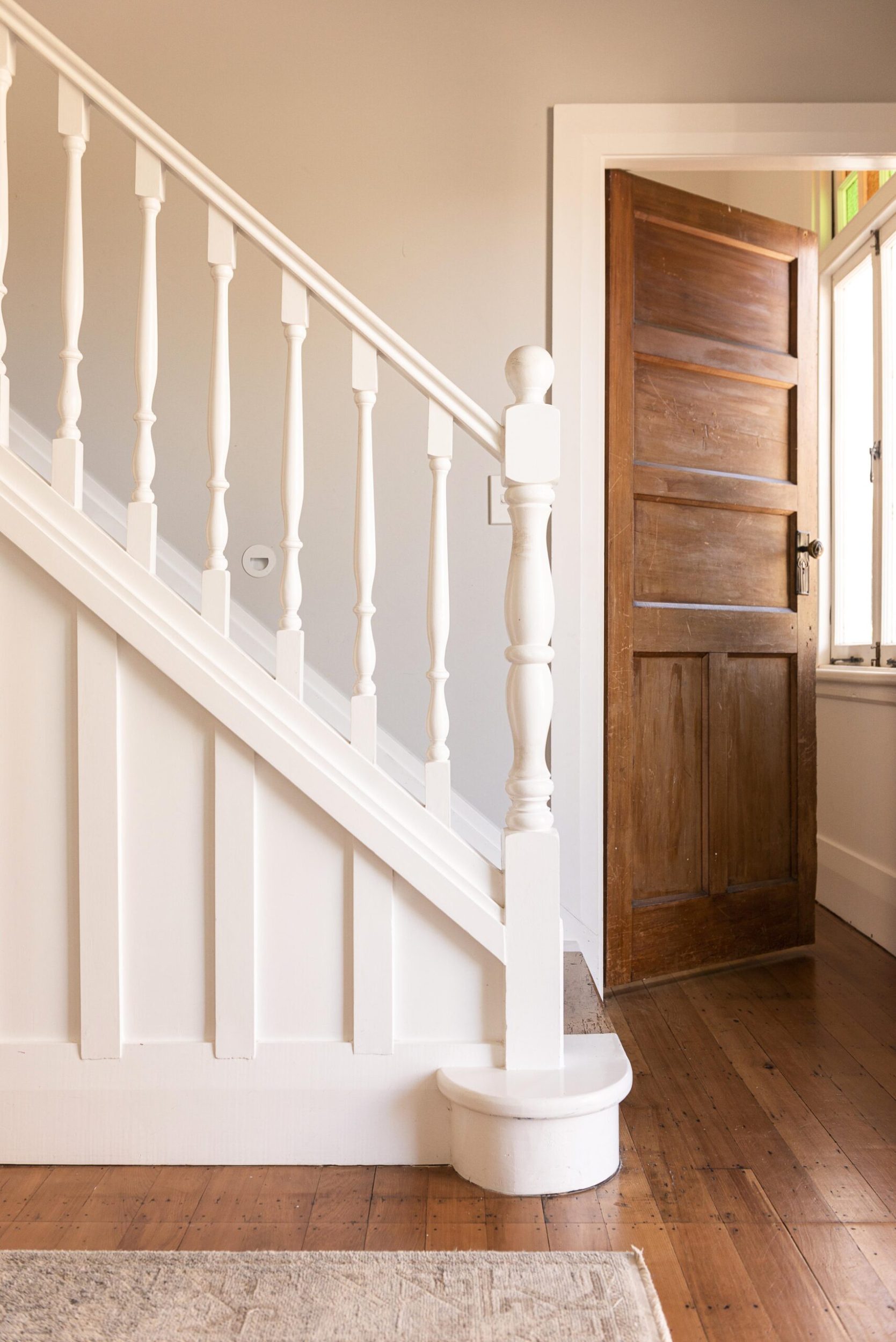 Although the major renovation had been completed – from opening up the kitchen, dining and living space to rewiring and replumbing – Kylie says there was still plenty of work to be done to transform the house into their ideal home.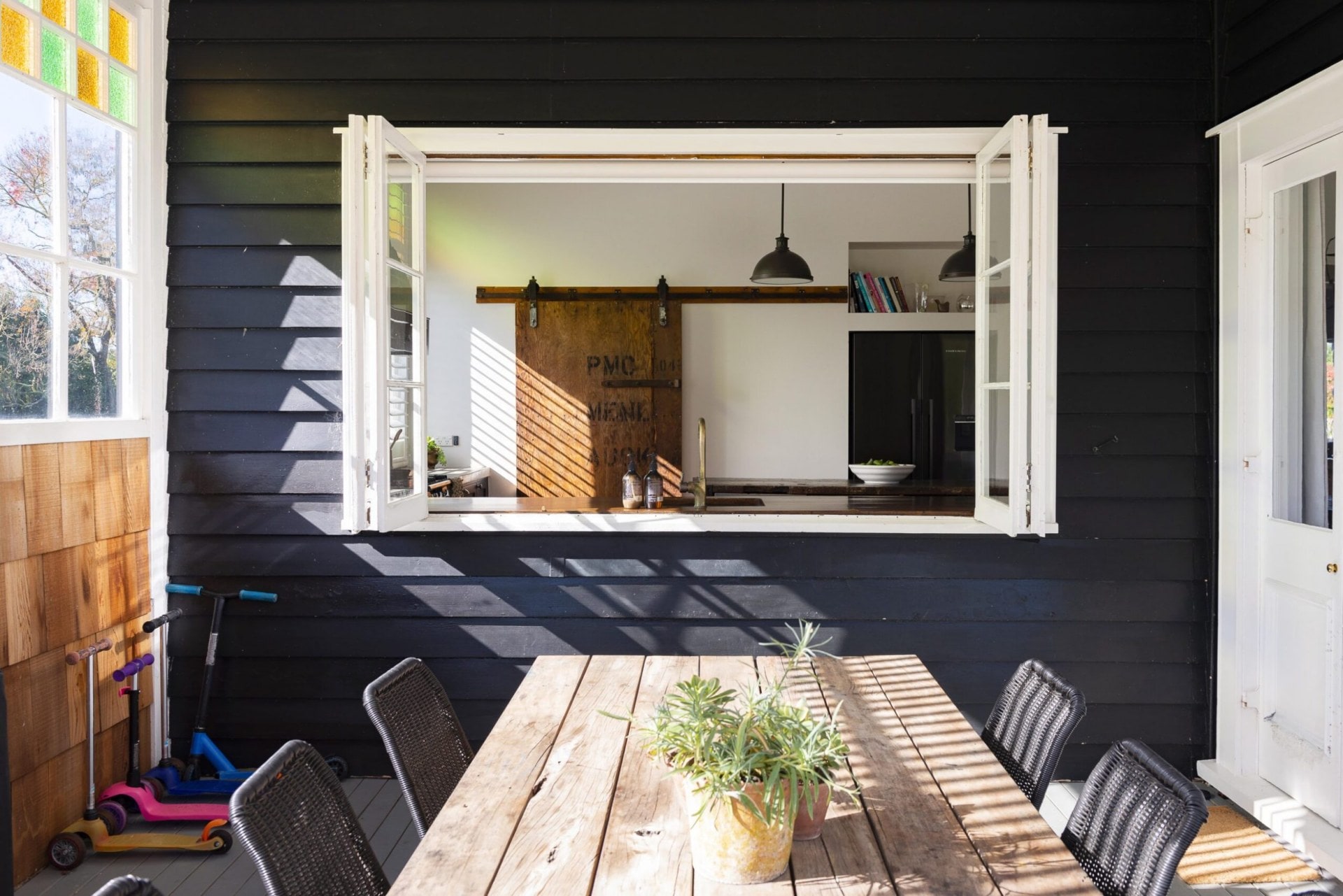 "Because almost everything structural had been done, we got to do the fun stuff. The decor was quirky and colourful, with a bright blue hallway, black TV room and pink living room. It wasn't really our style so we called in the painters to add lots of white."
That included original pressed-tin ceilings and high panelled walls. Kylie also added light grey accents, including beside the staircase, and had light fittings imported from the United States.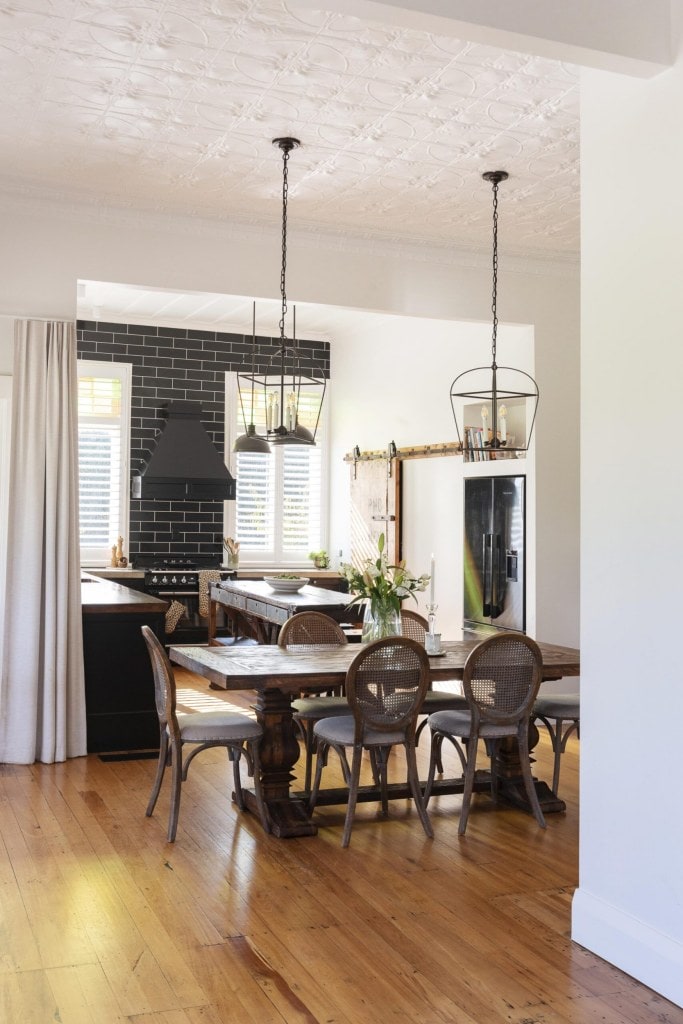 "I had a strong vision for the lighting in this house, and I love the combination of brushed nickel and white lampshades."
One of the biggest changes the couple made was to the kitchen. Although Kylie loved the rustic style – including a barn door to the pantry and a 2m long industrial-style kitchen island, crafted by the previous owner from a reclaimed workbench – they wanted to refresh the space.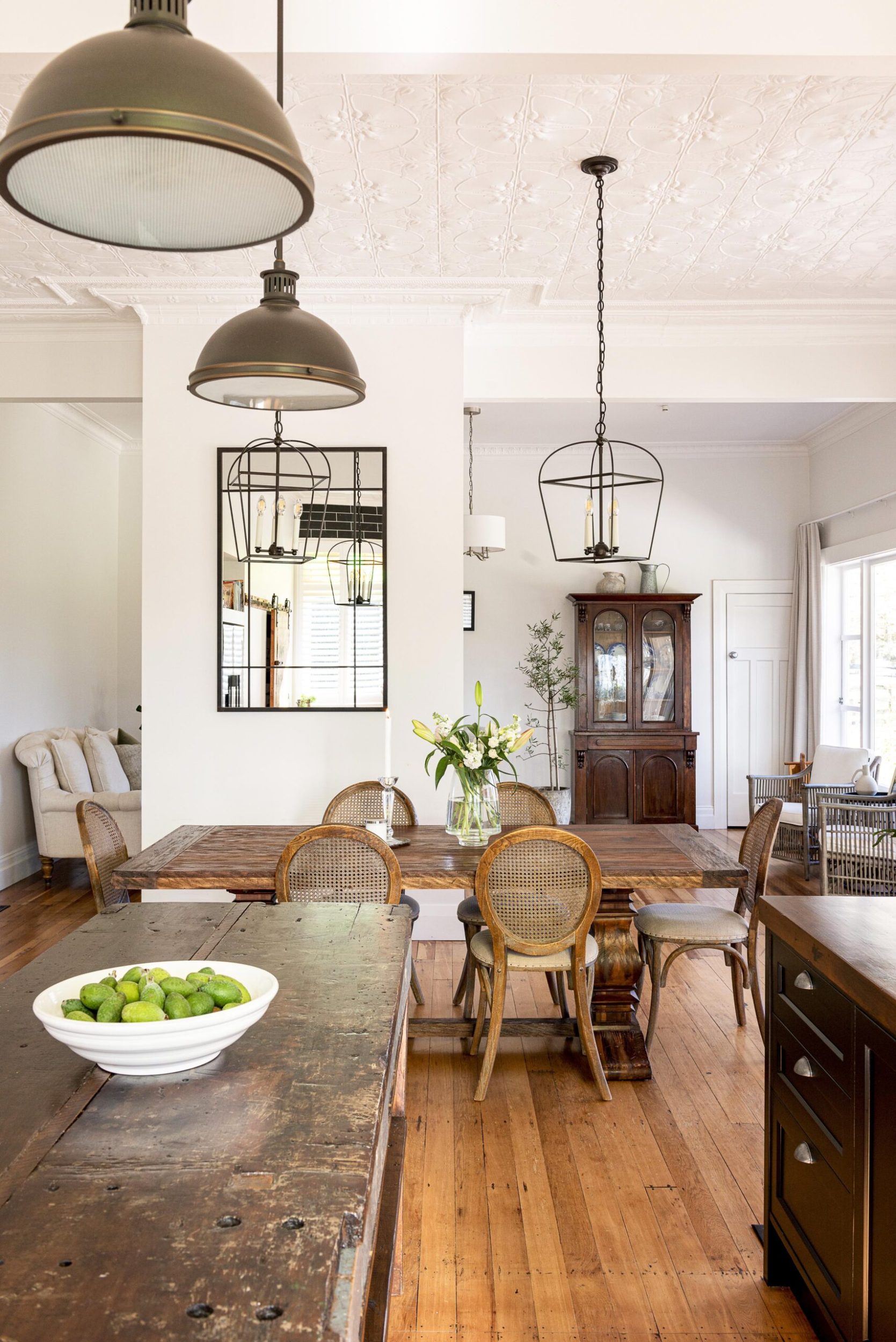 "We were restricted a bit with the black tiled wall which would have been a major to change – not a project we wanted to undertake. So instead we worked with the tiles and created a black kitchen."
That included retaining the cabinet carcasses and hiring local cabinetmakers to make Shaker-style fronts, drawers and end panels, as well as a custom rangehood.
While Kylie liked the kitchen's solid concrete benchtop, she wasn't so keen on an adjoining rimu one. "It was that typical orange rimu, which didn't work for me. So during lockdown last year, I took a sander to it and then stained it in walnut, which works much better." She did the same to a vanity in the main bathroom.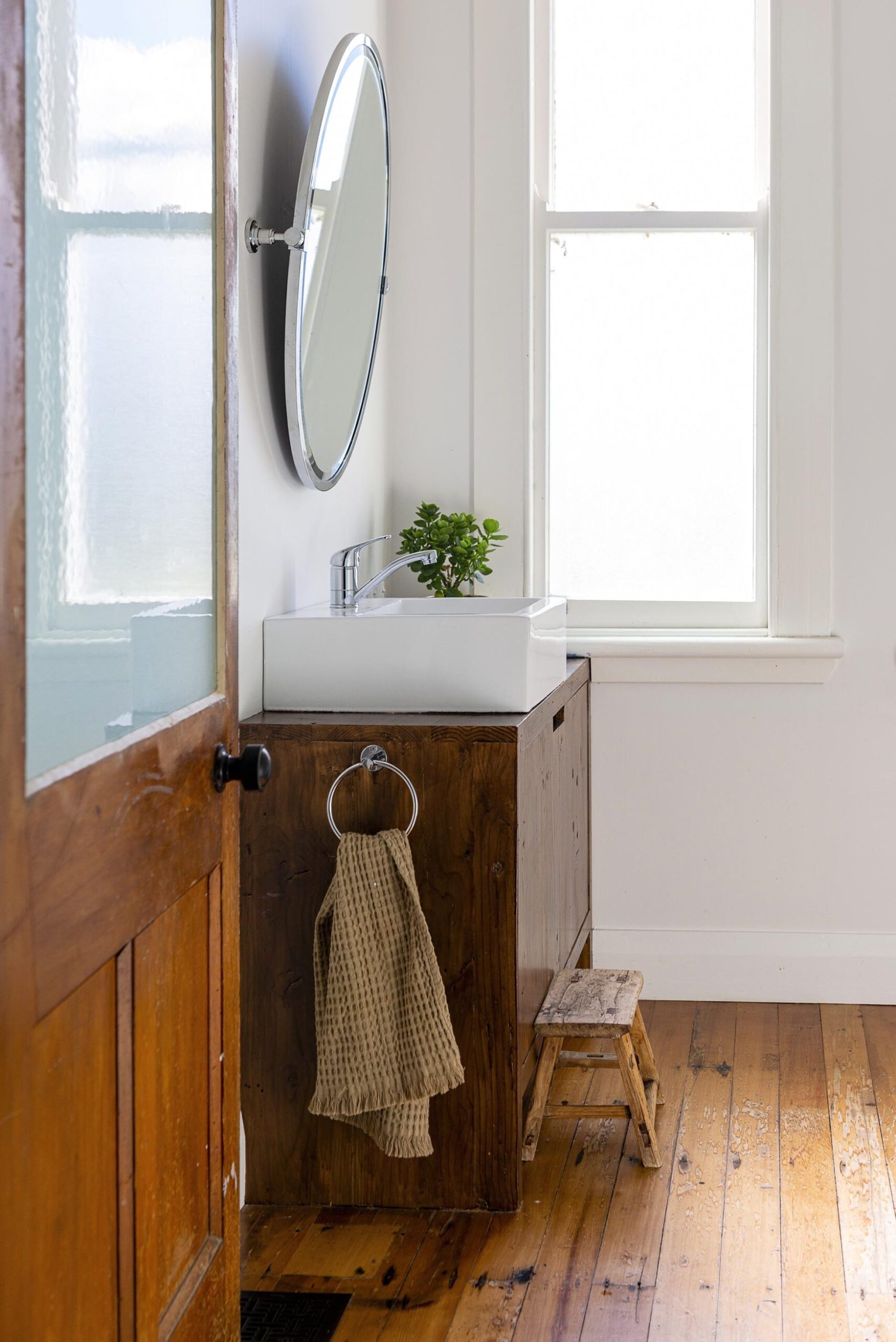 Kylie loves paring modern items with rustic ones, such as an antique French bench that sits in the entrance.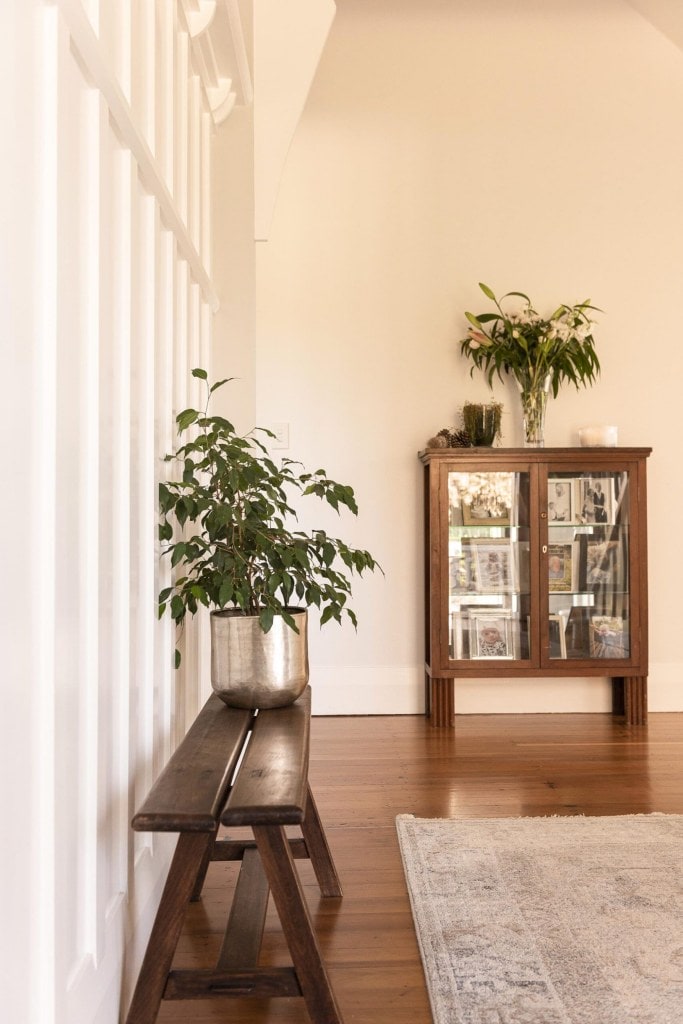 An 1886 French antique armoire also sits in the formal living room, which the couple found in Napier. It's now filled with china and glassware, much of it from John's mother, who collects vintage china.
Coming from a four-bedroom Devonport bungalow to a six-bedroom house with two living spaces, an office and ample hallways meant the couple had to buy a few extra pieces of furniture. Most were found locally, such as a mirror that overlooks the dining table.
In the formal living room, they gibbed over a modernist fireplace surround and added a classic mantlepiece.
"The kids use the other lounge more, so this is usually the adult space," Kylie says. "But they love coming in here to toast marshmallows on the fire."
An olive tree in the living room came from Kylie's first house, purchased when she was 25. "Working in property, I was desperate to buy my own place, which I eventually did, in Red Beach in Auckland. The olive tree was one of the first things I bought for that house."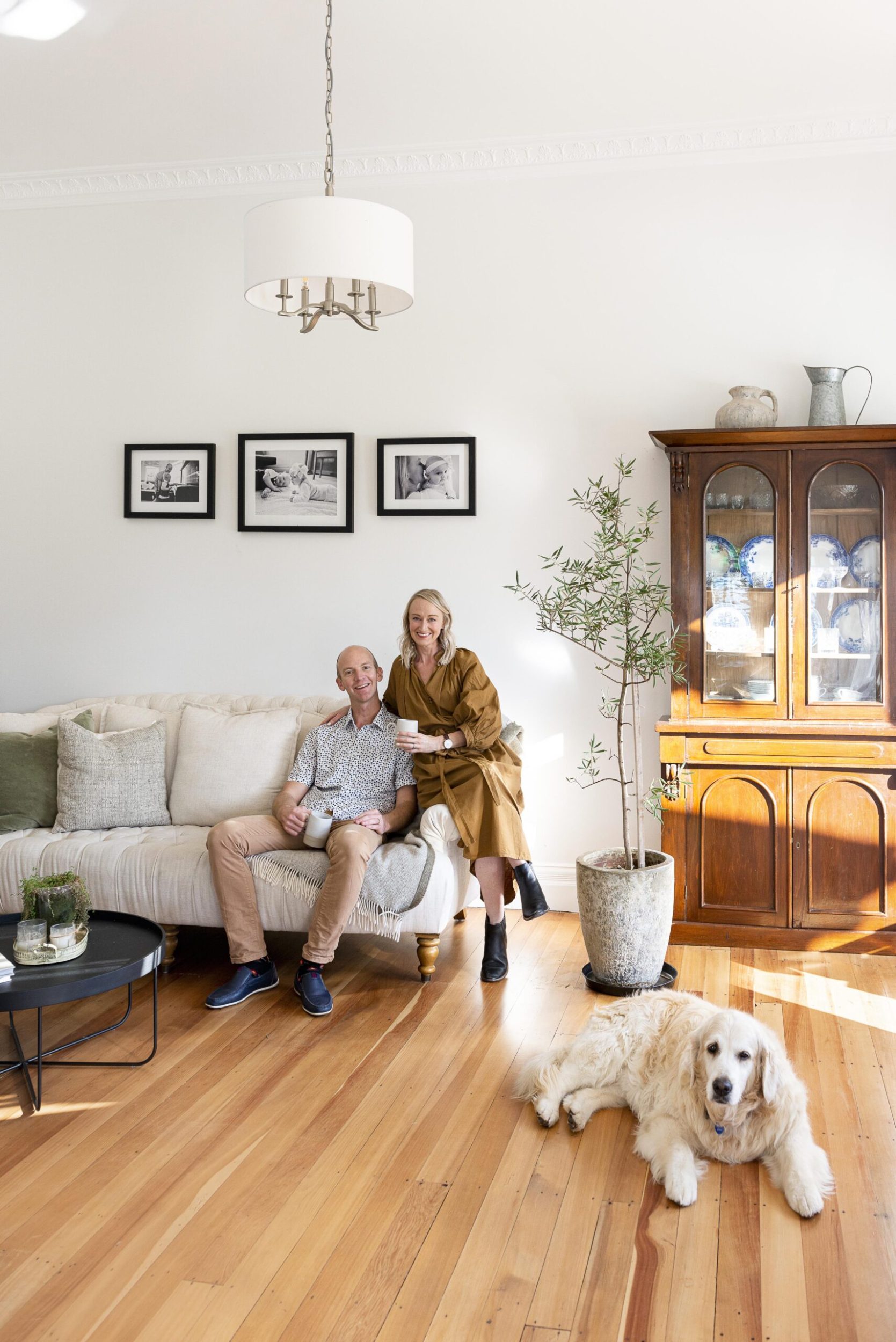 Downstairs is a guest bedroom and the main bedroom. John loved the previous owner's canopy bed so much that he commissioned him to make them one. As with all the bedrooms, there's ample storage.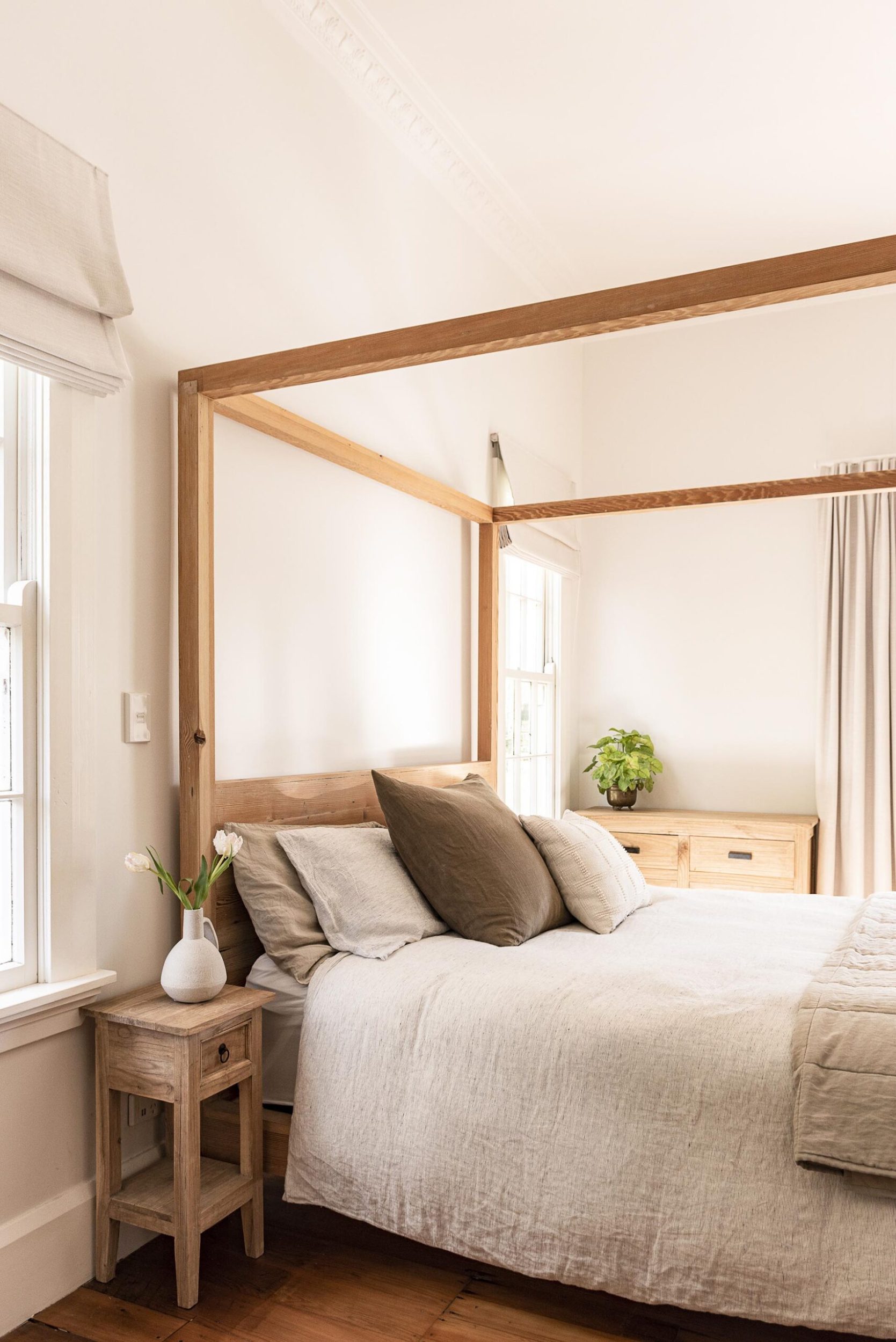 "We've got so many wardrobes, some of them are actually empty," says Kylie, laughing.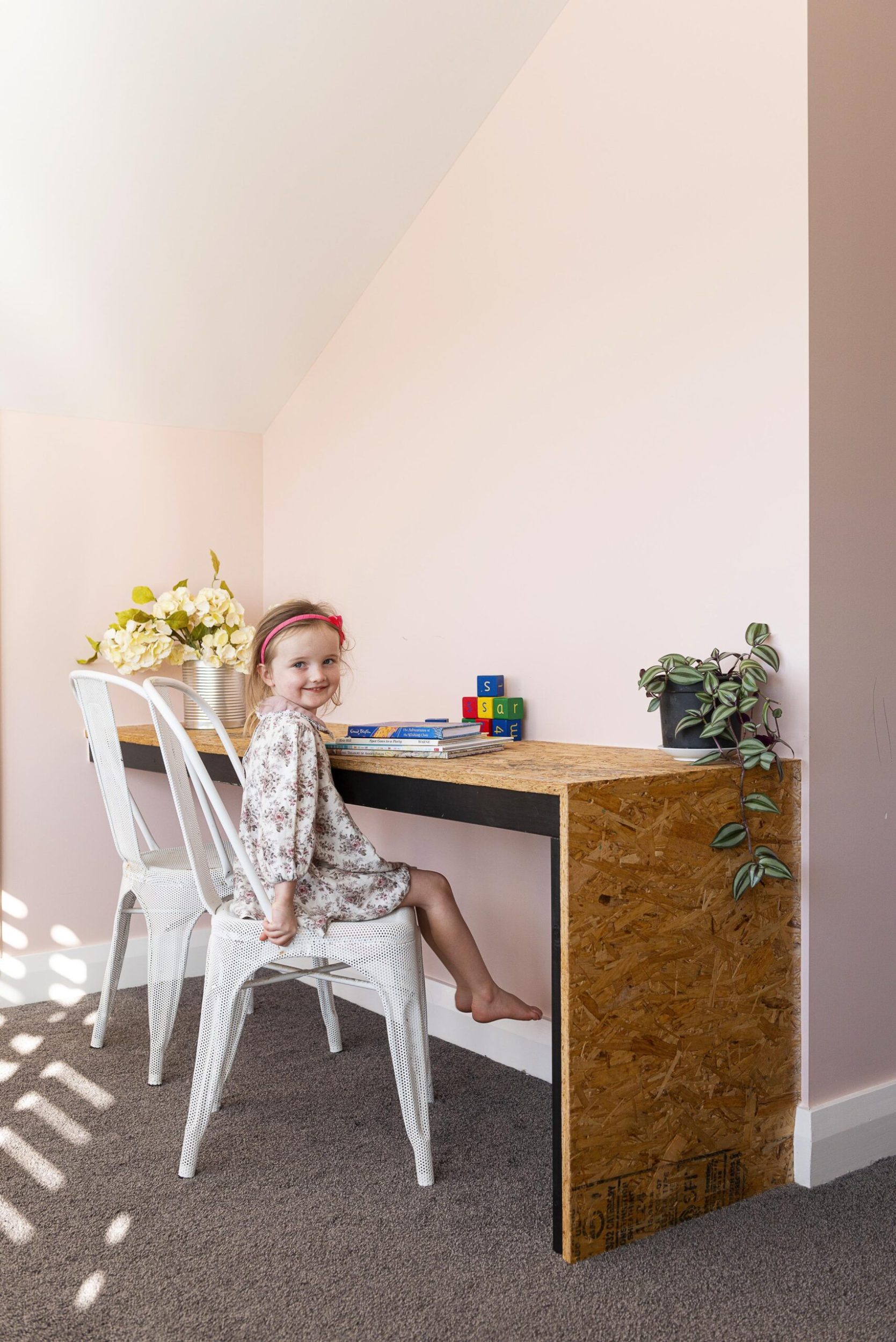 Outside, the couple added decks and paths, a vege garden and a chicken coop. They also added a children's play area. And they're not done yet – future plans include a pool and tennis court.
For now, though, they're happy with the fruits of their labour. "We love living here," Kylie says, "but we also love a good project, so once we've finished on this house, who knows what could happen next?"