Artist Cora-Allan Wickliffe is reviving the ancient Niuean art of hiapo. She talks to Dionne Christian about why family and community are at the heart of all she does.
Making hiapo – traditional Niuean bark cloth painting – takes time and energy. First, you strip bark from an ata tree, pulling it off in large pieces and taking care not to make holes in it. Then you might soak it for up to a week or spend hours beating it with an ike, a wooden hand tool which softens and expands the bark.
You can use a shell to scrape it – clam shells are particularly good for getting water out – before leaving it to dry for several days. Then you paint onto the bark, now transformed into tapa cloth, using Pandanus seed pods and ink made from foraged raw resources like clay and plants.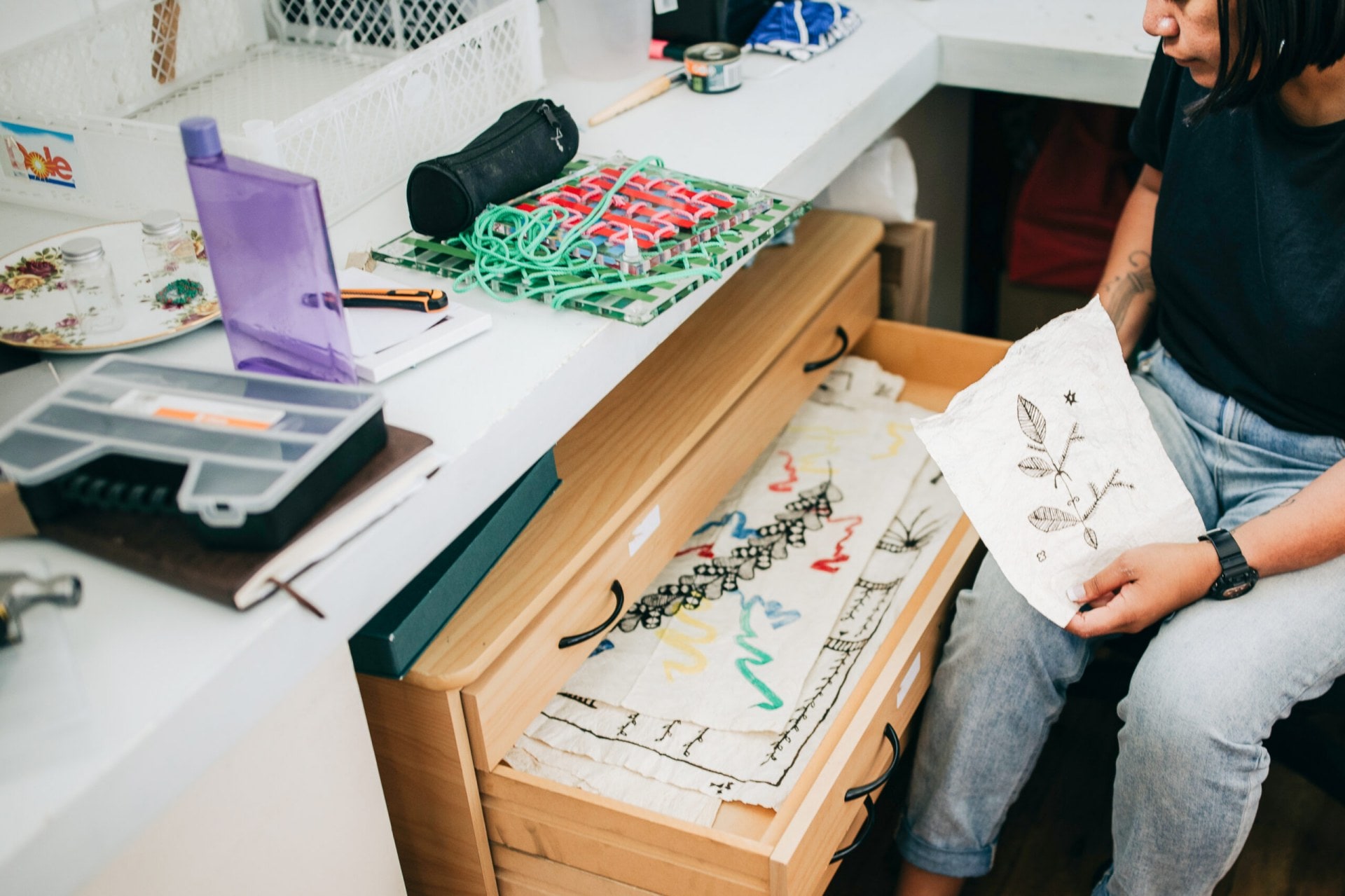 It's tough physical work that can leave the body aching. So why, having put in the back-breaking labour to lovingly create a hiapo, would you stand in an art gallery and, in just a few minutes, dowse it all in black paint? Artist Cora-Allan Wickliffe remembers the reaction well.
"There was a huge gasp," she recalls. "It was dramatic, but it was like giving those watching a sense of what it's like for me having to remember all this knowledge."
Five years ago, Cora-Allan, 34, began exploring hiapo, influenced by fellow Niuean artist John Pule. She may be the only living practitioner of hiapo using materials and methods similar to those employed on the Pacific island until the early 1900s when, through colonisation and the introduction of plants like cotton, the art began to die.
Of Māori and Niuean descent (Ngāpuhi, Tainui/Alofi, Liku) and one of five children, Cora-Allan was raised in West Auckland close to grandparents, aunts, uncles and numerous cousins. She has two sons with fiancé Daniel Twiss – Chaske-Waste, four, and Wakiya-Wacipi, one – who are named to acknowledge their Native American heritage from Daniel (Lakota, Sioux, Rosebud Reservation).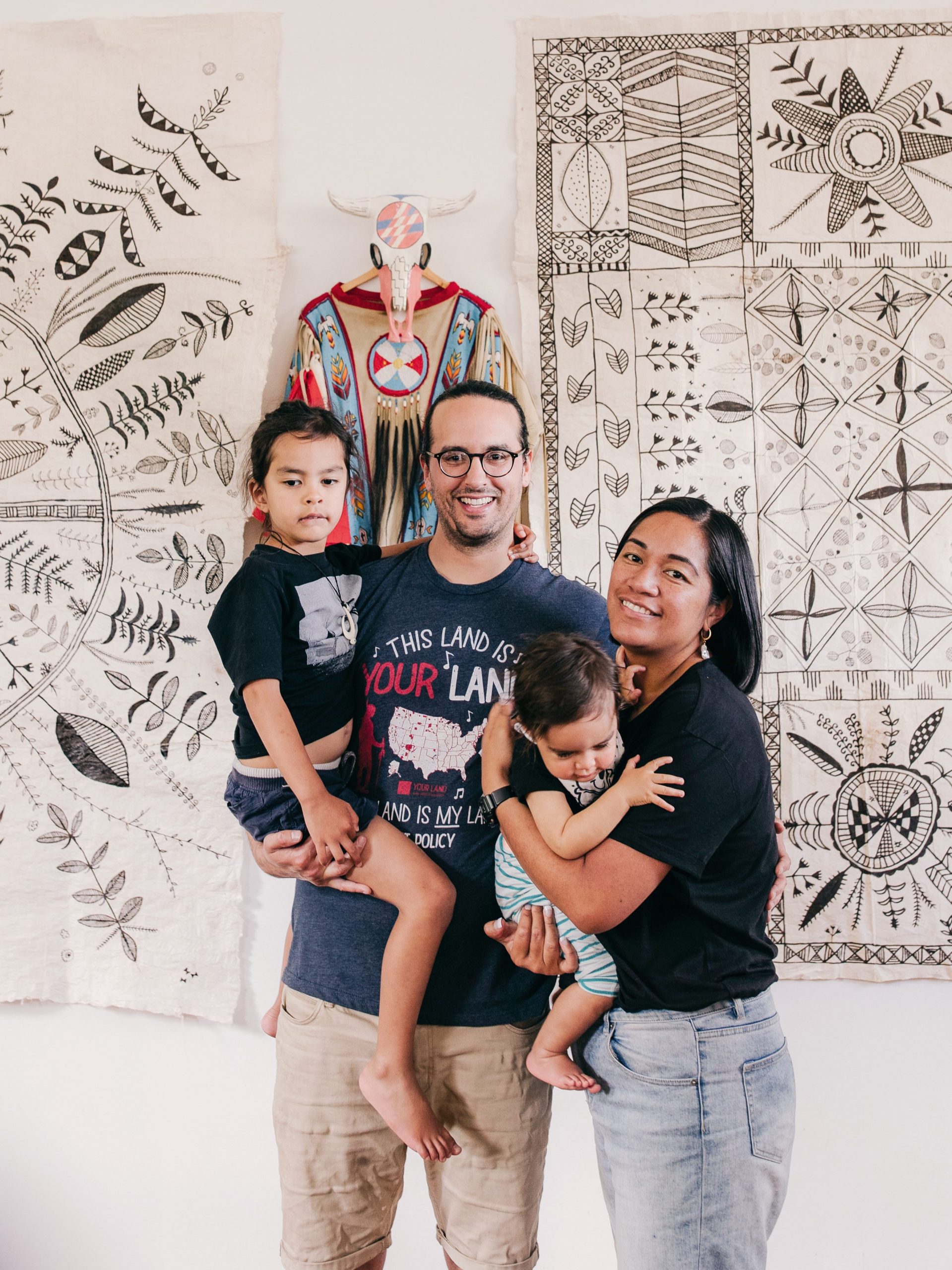 More than ever, Cora-Allan knows reviving hiapo comes with a weight of responsibility that echoes back through generations, as well as having ramifications for those to come. That's partly why she painted the hiapo black in front of shocked onlookers at an Auckland art exhibition last year. Grieving the loss of her beloved Niuean grandfather, Vakaafi Lafaiki, Cora-Allan wanted to reflect on the part he played in her hiapo making and ask questions about memory – personal and collective.
"It allowed me to go beyond what hiapo is, not just in contemporary art, but how it is experienced," she says. "I got to thinking about how I want others to create memories with it. Here's me and my family getting all these memories, but how do others? It's not just something to go up on a wall anymore, it's something to decide how it's going to be experienced."
Cora-Allan's work has featured in numerous exhibitions in New Zealand, Vancouver, Melbourne and Niue; it is in private collections and now held by Auckland Museum and Te Papa in Wellington. She received the Pacific Heritage Artist Award at the 2020 Creative New Zealand Arts Pasifika Awards and is also one of three artists who will live and work at the former Waitākere home of preeminent New Zealand painter Colin McCahon – a residency she starts in September. She also obtained an annual CNZ grant that will allow her to work full-time as an artist, resigning as Curator and Exhibitions Manager at the Corban Estate Arts Centre in West Auckland.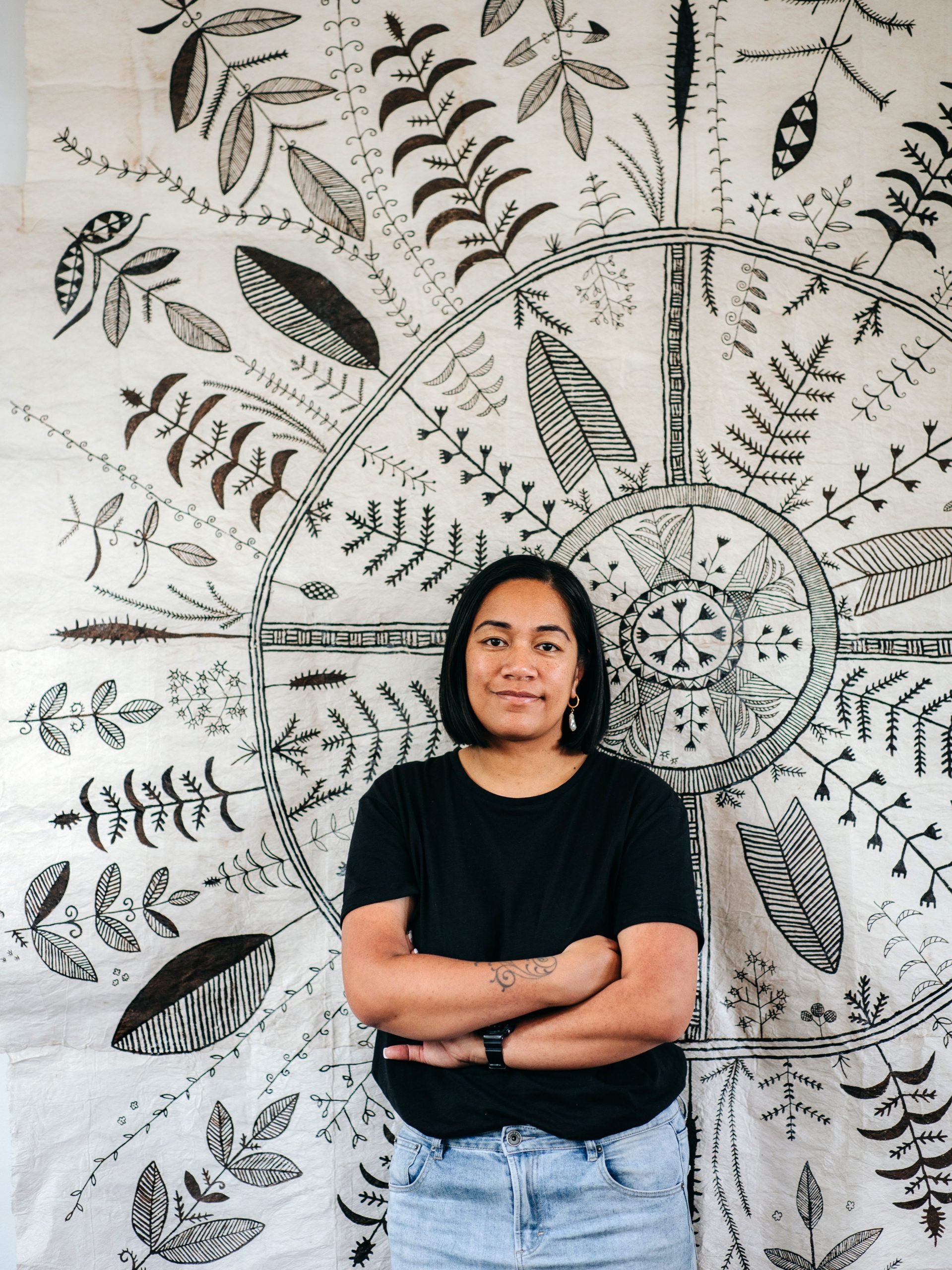 "Since I was in my mid-20s, I have always wanted to spend a whole year drawing so, for some reason, the universe has gifted me this time and it feels like a complete blessing to be the main income earner and to have two kids!" she exclaims. "That's not real, right? I remind myself of that every day and I want to make my best work ever."
That desire to make her "best work ever" isn't driven by ego, although she admits receiving trophies is nice – but childhood experiences explain that.
"I just really like trophies. It sounds terrible, but I grew up playing sports and everyone in my family always got awards," she recalls. "I always got the Fair Play award, but I had sisters who got MVP and stuff like that. Maybe that should have been a first indication that I should stay with the arts. But I was head sports prefect at Massey High School and was lined up to do a sport and rec degree, then I ended up getting a Keir Trust Scholarship to study art at AUT – so that's what I did because it could all be paid for!"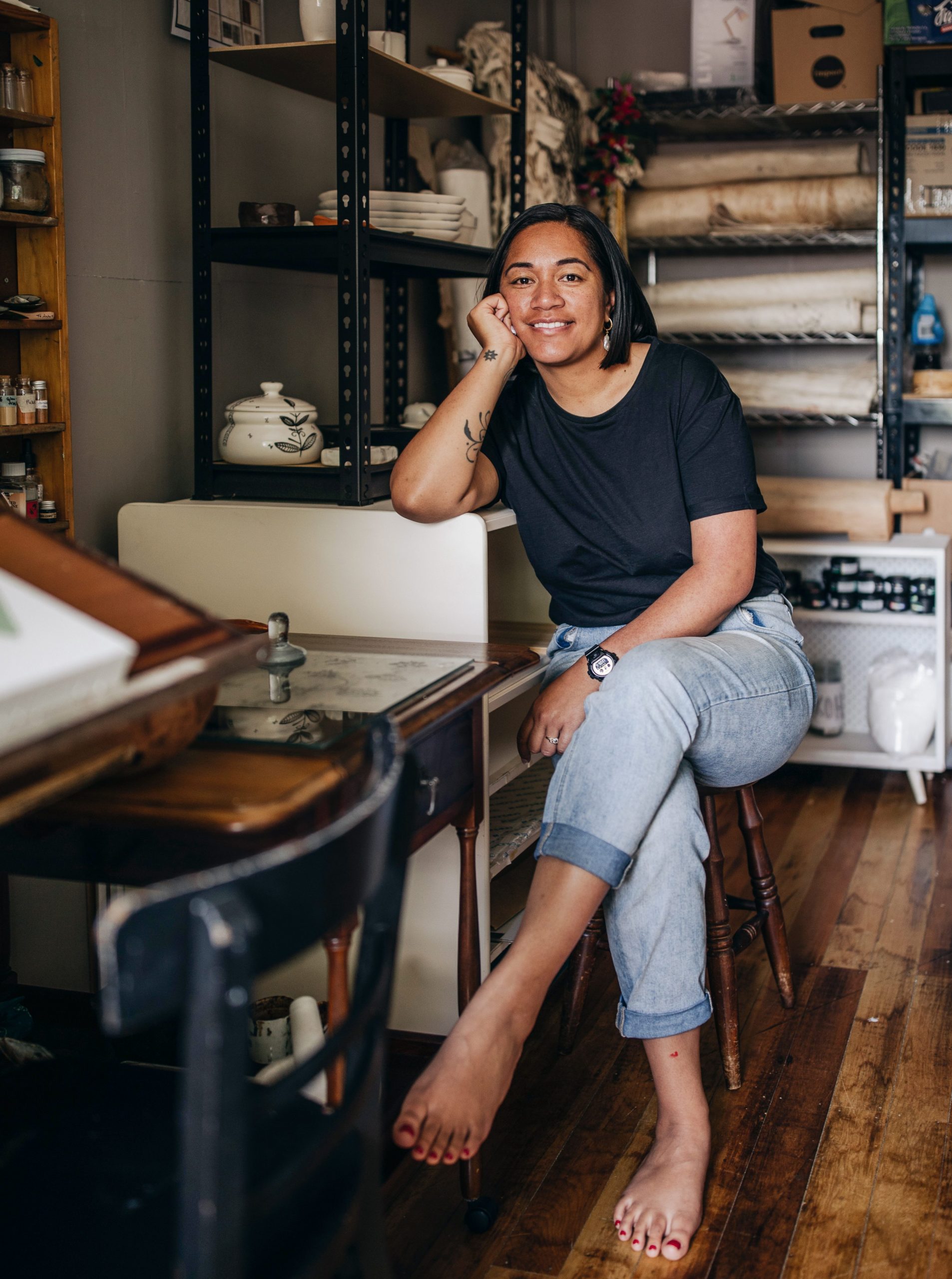 Graduating as a photographer and film-maker, Cora-Allan later became an art teacher at Massey High before returning to AUT to complete a masters in Visual Art and Design in 2013. She then travelled to Banff, in the Canadian Rocky Mountains, and worked as an art preparator at the renowned Walter Phillips Gallery.
These days, making her best work means fulfilling what Cora-Allan believes the role of an artist is: to serve the community. "For me, being useful is important."
In 2016, after returning from Canada to have her first child, Cora-Allan's grandparents introduced her to hiapo, signalling the start of a sharp learning curve. Vakaafi and Fotia, who came to New Zealand in the 1960s, explained hiapo was often made for household use and ceremonial occasions. They asked her to make hiapo large enough for them to be buried in, and when Vakaafi passed away in 2019, Cora-Allan was able to do so.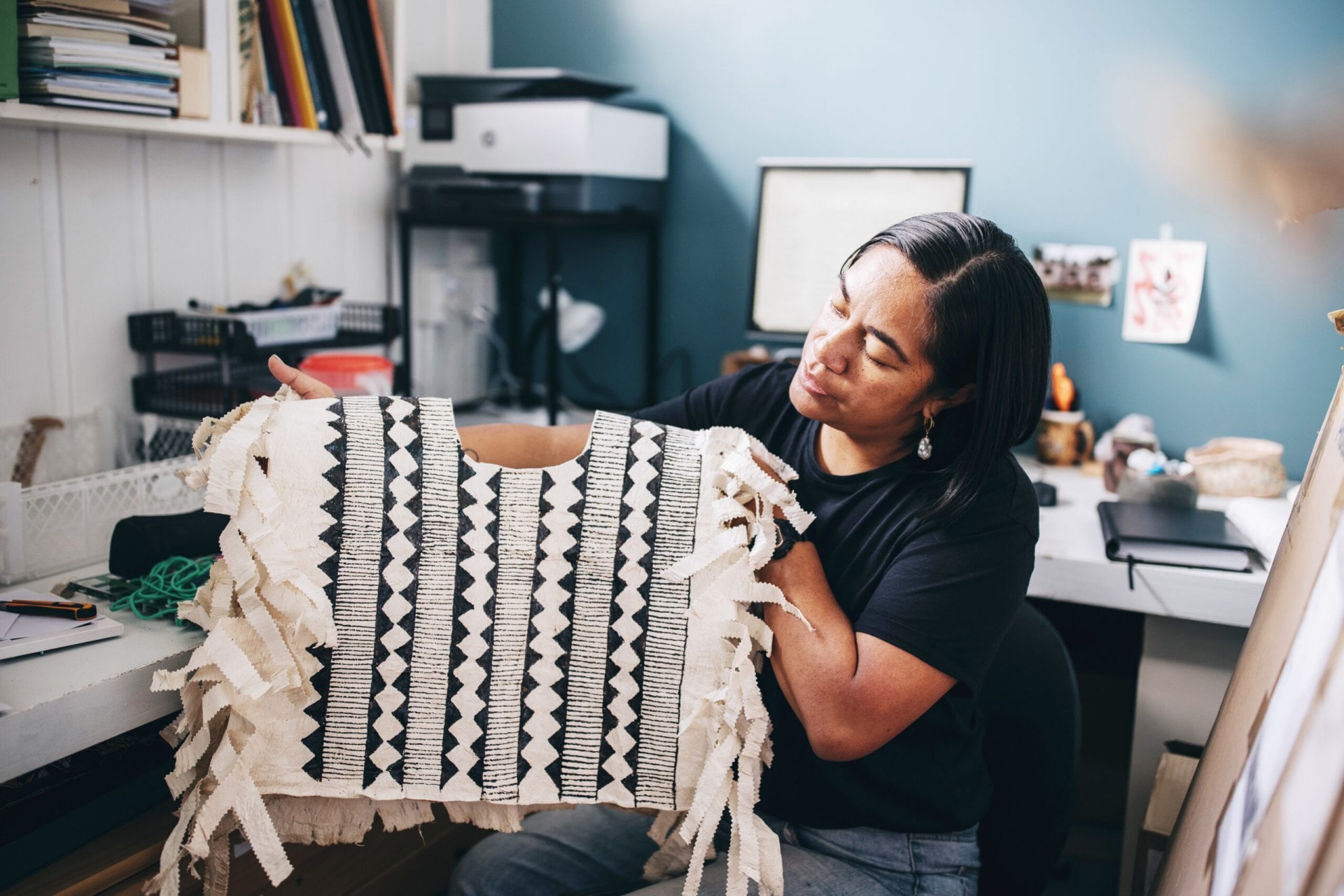 Had she stumbled across hiapo herself, she may not have started making them, saying that, as a heritage artist, one should be invited into an artform because it's a privilege, not a right. Seeing her grandparents' request as an invitation – and deeply touched by it – Cora-Allan agreed, but soon discovered there were few examples to look at and no one in New Zealand to teach her. Describing herself as a "go big or go home" kind of person, she headed first to Auckland Museum with Fotia to look at the fewaged examples in their collection, then travelled to Niue for the first time.
"Before I started looking at patterns, I looked at the plants because I wanted to create a sustainable practice. I didn't want to engage with anything that I couldn't sustain myself," Cora-Allan explains. "I visited Niue, looked at the plants and couldn't locate a harvestable crop, so I went to Samoa."
In Samoa, Cora-Allan found a mentor, Fa'apito Lesatele from the island of Savai'i, and, returning to Niue with newfound knowledge, slowly started to hear from older members of the community their memories of hiapo.
"Along the way, I met friends who had little bits of information that they might not have shared with their kids, but were willing to share with me. So I felt like I must be on a good path because I had elders opening up. When I started researching, I was like, 'It died out. Do people even need it? Do people still want it?'"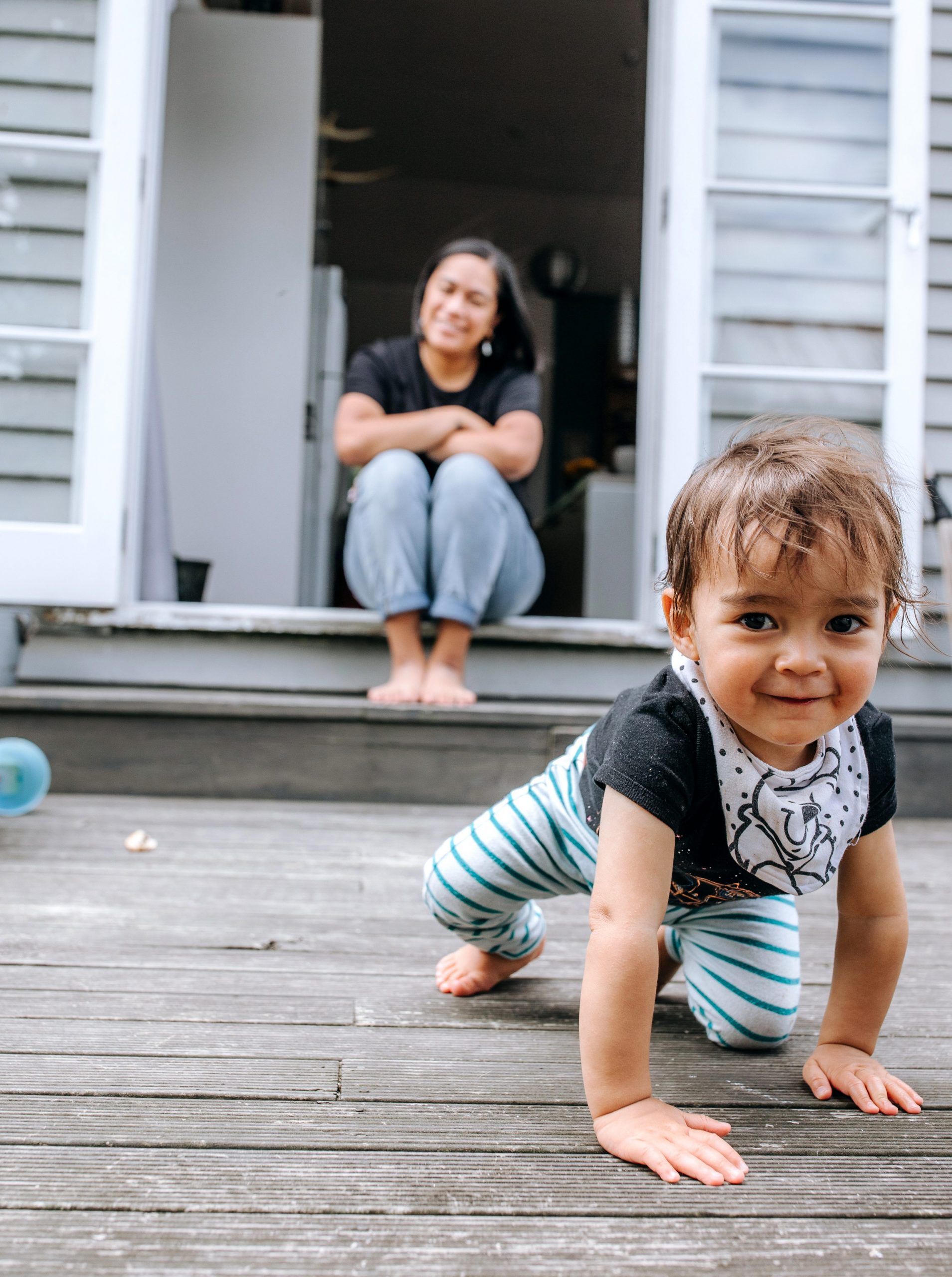 Their willingness to share their knowledge and interest from the wider community has encouraged Cora-Allan to keep learning, making and adapting the artform so that her traditional and contemporary works are separated. She wants to ensure there are other practitioners, but is judicious about who she teaches, saying she wants to engage with key community knowledge holders and foster lifelong, sustainable connections.
Now living in a converted church in West Auckland, Cora-Allan has space for a pigment room – Daniel calls it her "witchy room" – for creating her own inks.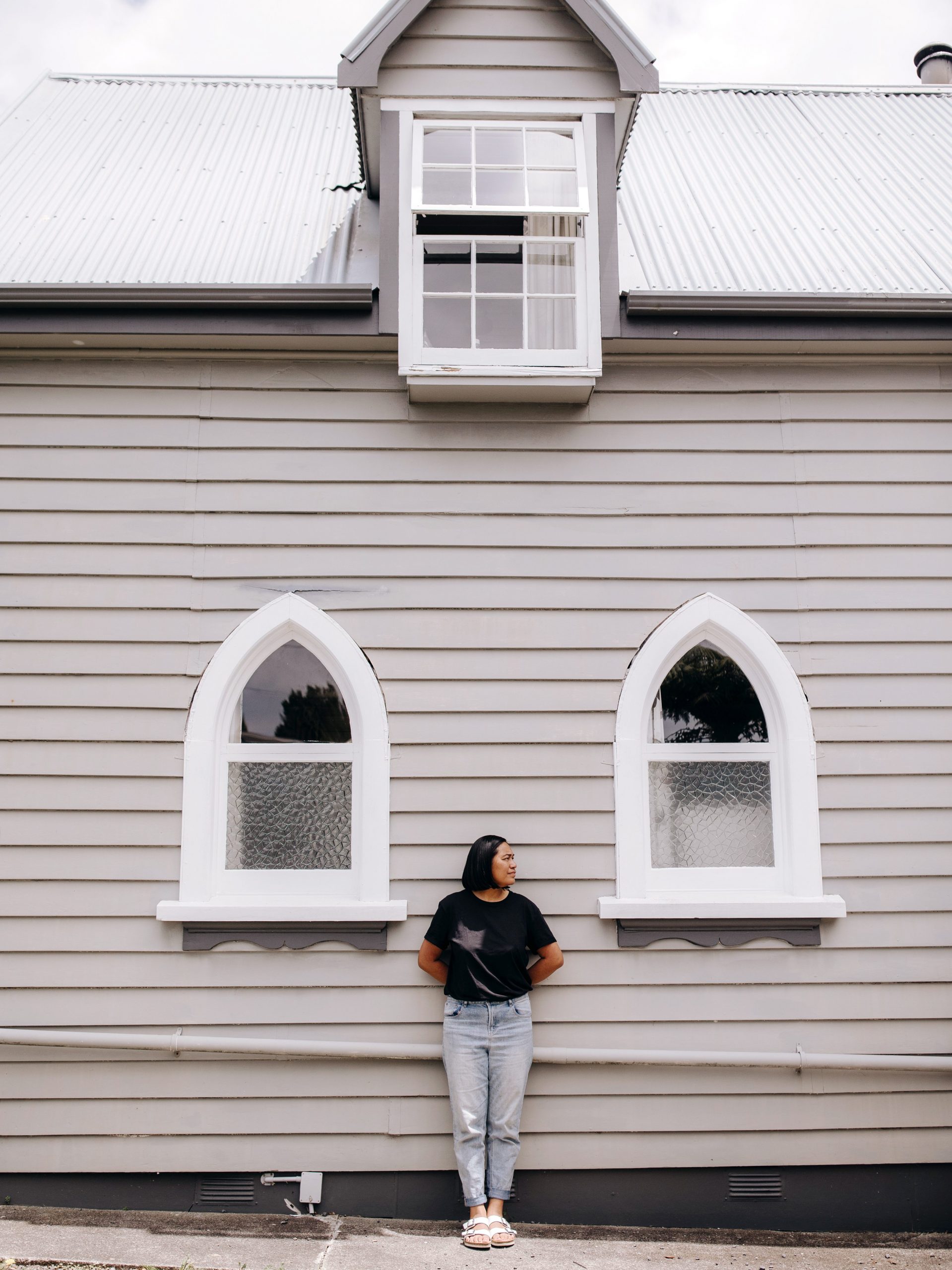 "Imagine that being made into paint!" she says, pointing to a bright green plastic bucket full of tawny clay from Cornwallis Beach, which was gifted to her by a co-worker. "I mix it with gums and local honey – I like Niuean honey because it's very floral, the scent. I also use Beam Paints made by an indigenous woman from eastern Canada.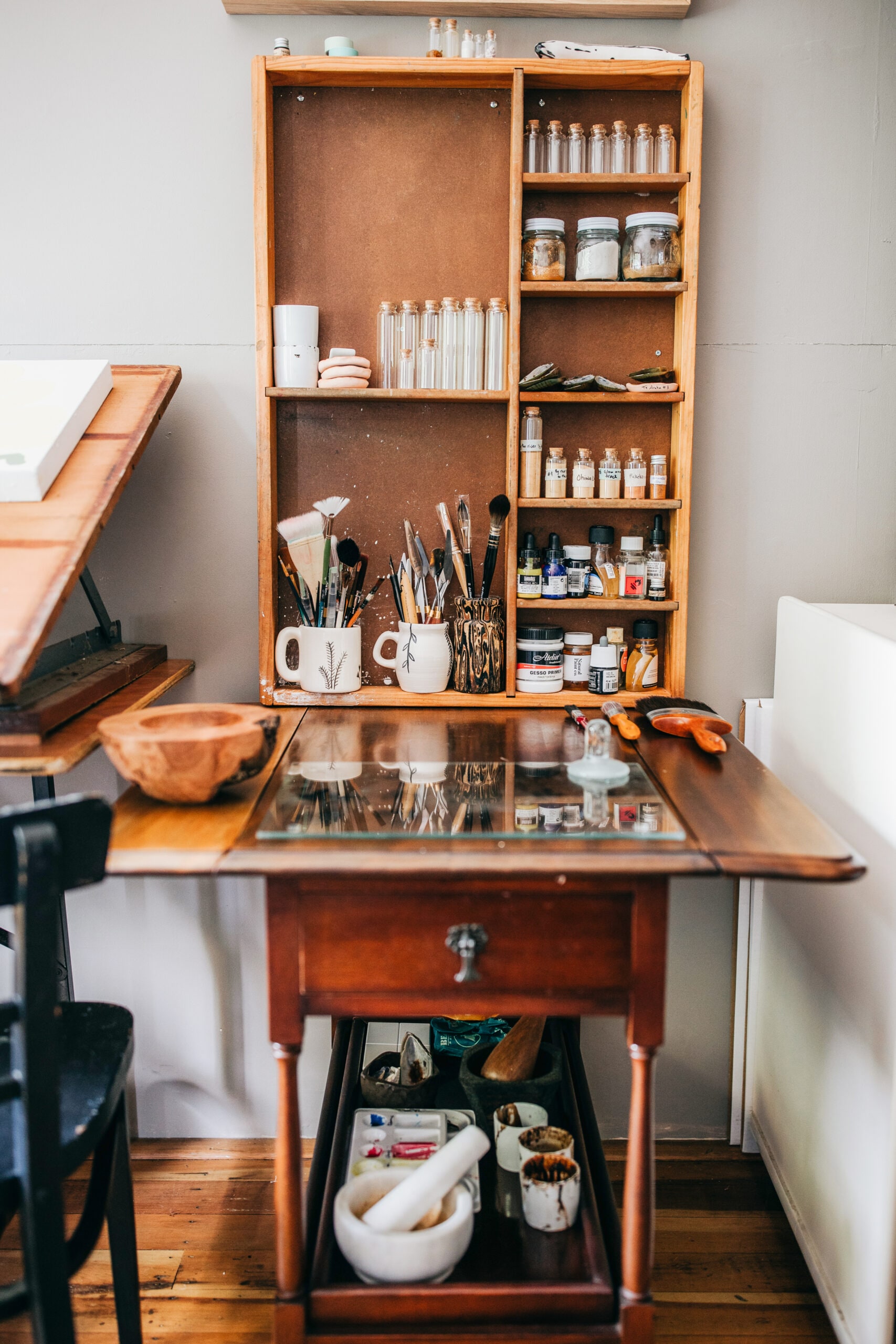 "She's a huge inspiration because she uses a lot of traditional methods and is very environmentally friendly. For me, her small business is a representation of passing down knowledge because her father taught her. Hopefully, my sons will engage with that when they're older Because, 'my mum taught me this', so they will have these memories."
Saying she has "itchy hands" and "can't stop making," Cora-Allan is painting a whale tail for a public art trail in Auckland in February, while a giant 3m x 3.8m mural she created will be displayed at the South British Insurance Company building in downtown Auckland.
Then there's the BC Collective – Before Cook, Before Columbus – which she and Daniel started to continue their own art and encourage other indigenous artists. That might be through working with the collective or through means like funding an artist's residency for a Niuean artist to visit the island. It also offers an Indigenous Art Award for an AUT graduate, where Cora-Allan studied.
"We create these little pockets of helping; sometimes we fundraise for money for that. If we get gifted with a sale or something, I'm like, 'we can use it for this,'" she says. "For me, our money isn't necessarily our own – it goes back into the hiapo practice or into supporting someone else because, I think of how much that would have helped me."