In a little love nest among fruit trees just outside Hastings, art, food and friends are always in season. Lizzie Beere shares why she chose a relocatable home.
Lizzie Beere owes a lot to the girlfriends who, back in 2003, insisted she try online dating. The accomplished painter was freshly back from overseas and living in Wellington. She laughs as she recalls that she was "divorced, nudging 40, and the idea of drinking my way down Courtenay Place and dancing around my handbag was frightfully unattractive."
So, summoning some courage, Lizzie popped a profile up, and it wasn't long until a (literally) fine man appeared in her world.

Martin Fine, a commercial lawyer and dad to two grown children, was living in Hamilton when he and Lizzie first started chatting. Hawke's Bay was an obvious halfway point between their two residences, and also where Martin's parents lived, on a picturesque apple orchard on the outskirts of Hastings. "We took it pretty gently to begin with," says Lizzie. "We'd see each other weekend-about, and if we met in Hawke's Bay, a lot of that time would be spent wandering the fields and saying 'It's pretty cool here, isn't it?'"
As love grew between the pair, and Lizzie relocated to rural Waikato where she and Martin ran a B&B, ideas began percolating. "One evening we were sitting on our gin porch, and Marty said, 'Shall we give the market a prod?' It was just an idea, but within three weeks, our big old villa had sold and we were ready for our next move.'"
Establishing themselves in Hawke's Bay, however, wasn't without its challenges. Lizzie and Martin have three elderly dogs – not always an appealing proposition to landlords – so finding an appropriate rental took time.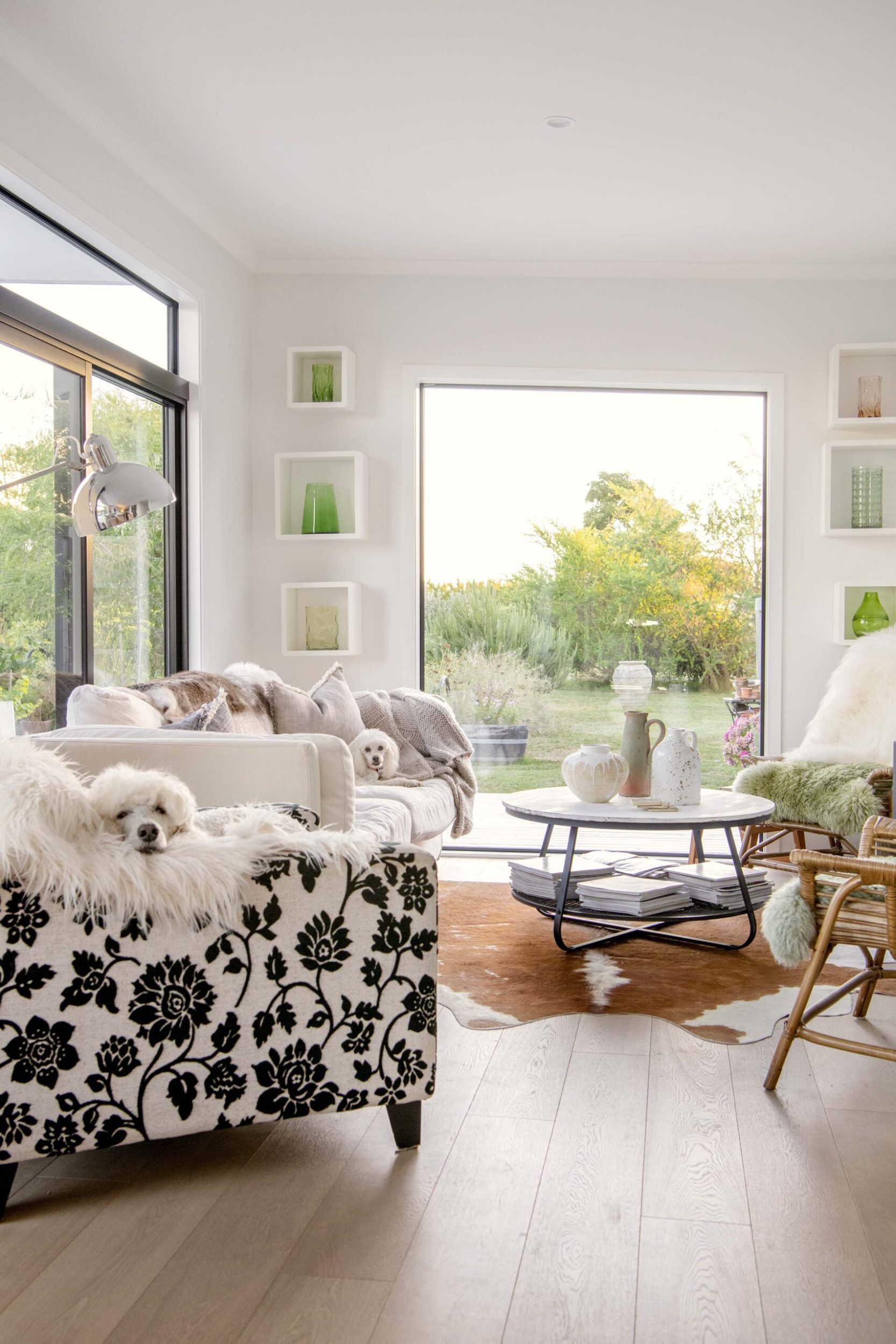 Meanwhile, Martin was commuting up the island to see clients each week, and Lizzie, who has a background in hospitality, briefly toyed with the idea of opening a café. The question of where (and how) to live remained unanswered, but the orchard was never far from their minds. "Martin's father had passed away back in 2007, and before he died Marty had said to him, 'You know, I'd really like to do something with this bit of dirt, one day.'"
Lizzie and Martin took the plunge in 2016, moving onto the four-acre plot that also remains home to Martin's mother, now in her nineties. Council bylaws meant that any secondary dwelling would need to be 100sqm or under, so the pair purchased a transportable home from a company called Leisurecom Homes, and just a few months later, they watched it being unloaded onto the land.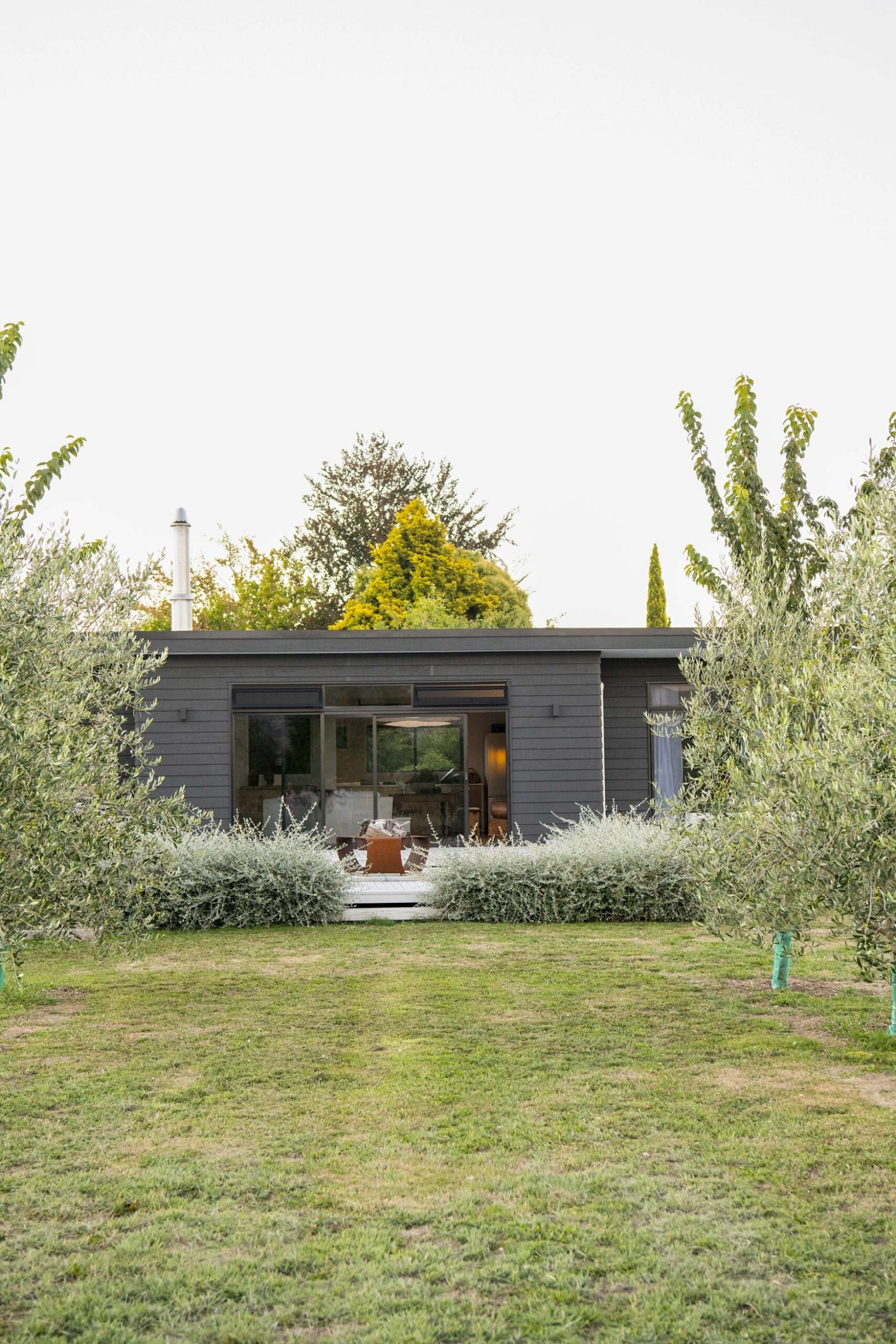 "Initially, we were a bit nervous about the integrity of a relocatable," admits Lizzie, "but just like any home, it has to pass all the regulations and remain sound and watertight. Also, we weren't entirely sure how we'd be able to live in a small space after having three times the room up in Tamahere. We just thought it would be temporary, until we built something else."
Four years on though, any thoughts of increasing their footprint have been well and truly banished.

The two-bedroom, two-bathroom bungalow is perfect – light and airy, surprisingly roomy, and positioned to drink in the hypnotic views of Te Mata Peak.

Decking to the east spills out into lush gardens, a pretty olive grove and – the pièce de résistance – an outdoor kitchen that keen cook Martin has built.
The compact home feels inviting, established and expansive. "Living big in a small house" is how Lizzie describes it – entertaining friends, growing herbs and vegetables in a garden buzzing with insect life, and painting.

'Starting with a blank bit of dirt can be really challenging, but we have vision and can see how things – with work – might be.'

While Martin now rents one corner of an office space in Hastings and commutes north on a fortnightly basis, Lizzie has transformed the property's three-bay shed into a working studio.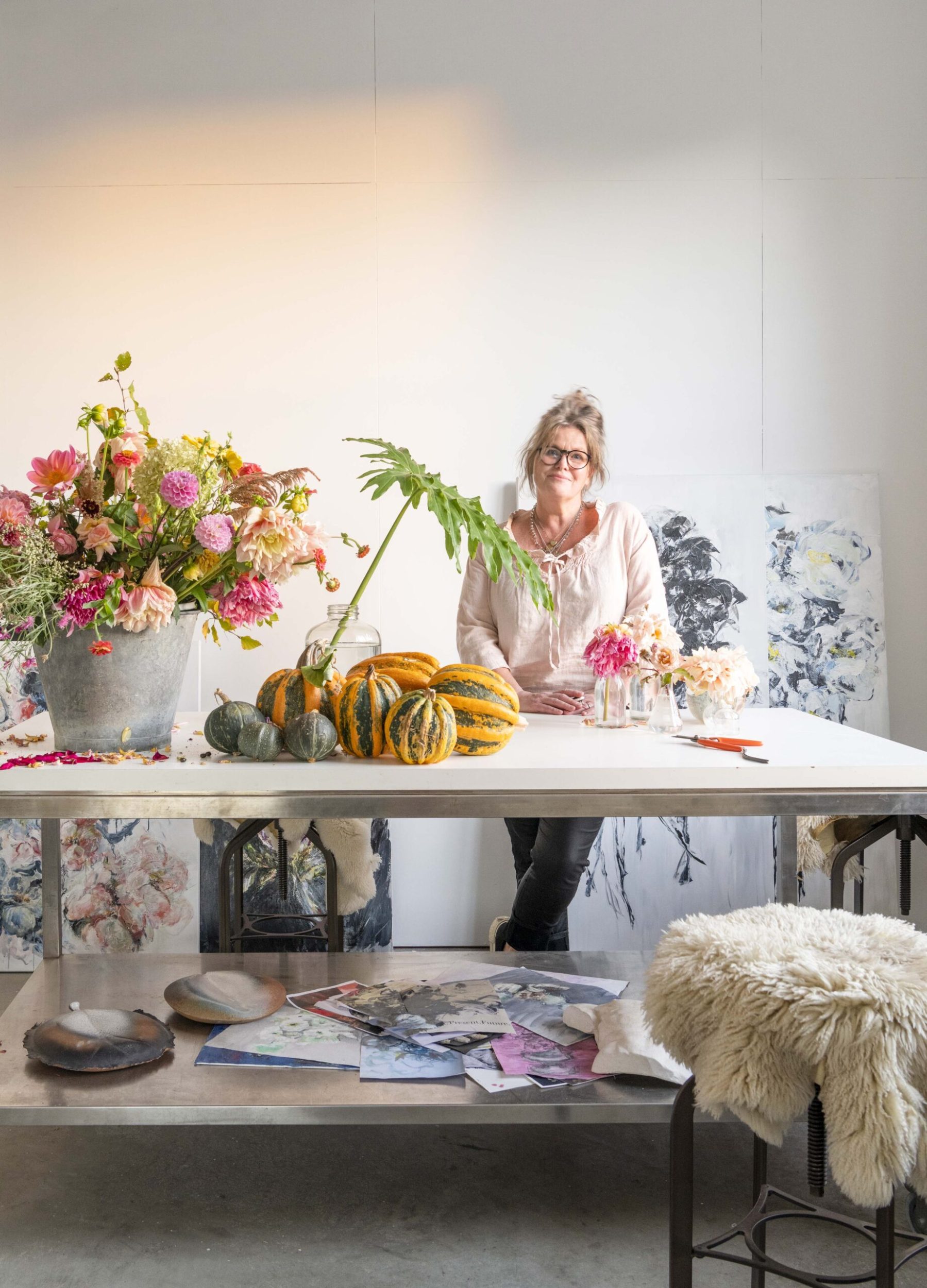 It's here that her stunning and often thought-provoking canvasses are created. Having studied at both the Elam School of Fine Arts in Auckland and East Surrey College in the UK, Lizzie held her first local show just a few months after arriving in Hawke's Bay, quickly establishing herself among the thriving art community in the region.

Her work is large "and a bit messy, wild and loose," she says. "I've always been drawn to blooms – I think I get that from my mother – and I'm into a bit of decay."
Using brushes or palette knives, Lizzie observes the splendour and fragility of flowers as they change, sometimes adding in personal elements.

Six new floral paintings depict her Māori whakapapa, represented by images of her grandmothers, great-grandmothers and herself.

When Haven visits, a huge vase overflowing with unruly blooms sits on a steel workbench that once belonged to the nearby Whakatū meatworks, which closed its doors more than 30 years ago.

Brightly striped pumpkins Lizzie has gathered from a friend's garden are scattered nearby.
Lizzie admits she's also a hunter and collector when it comes to the house. "When I travelled back from London, I arrived with a 20-foot container of treasures," she says, smiling. Vintage filing cabinets are Lizzie's pick for storing a lot of small items in bedrooms and bathrooms.
Old knobs and handles are easily replaced to spruce up sets of drawers, and larger pieces of furniture found on her travels often get a bit of Annie Sloan chalk paint to breathe new life into them.
And there's plenty of art – Lizzie's own, pieces she inherited from her late mother, and works from those she admires. In the master bedroom, a Tracey Emin drawing sits proudly above a refurbished tallboy, and delicate Robin Ranga ceramics hang in a trio.

In the open-plan kitchen and dining area, there's plenty to catch the eye, including Lizzie's moody photographs of wilting flowers and an expressive sculpture by Havelock North artist Kay Bazzard.
Lizzie says white walls provide the canvas for their taonga and trinkets. "We find colour on the outside of the house – it's what we see all around us when we look out."
They often do their looking from the land itself. Two seats positioned at the edge of the garden and facing fields currently planted in lucerne are the couple's "What the fk?" chairs – "because we'll waddle out there with a glass of wine, and sit, and think, 'What the fk are we going to do with that?'"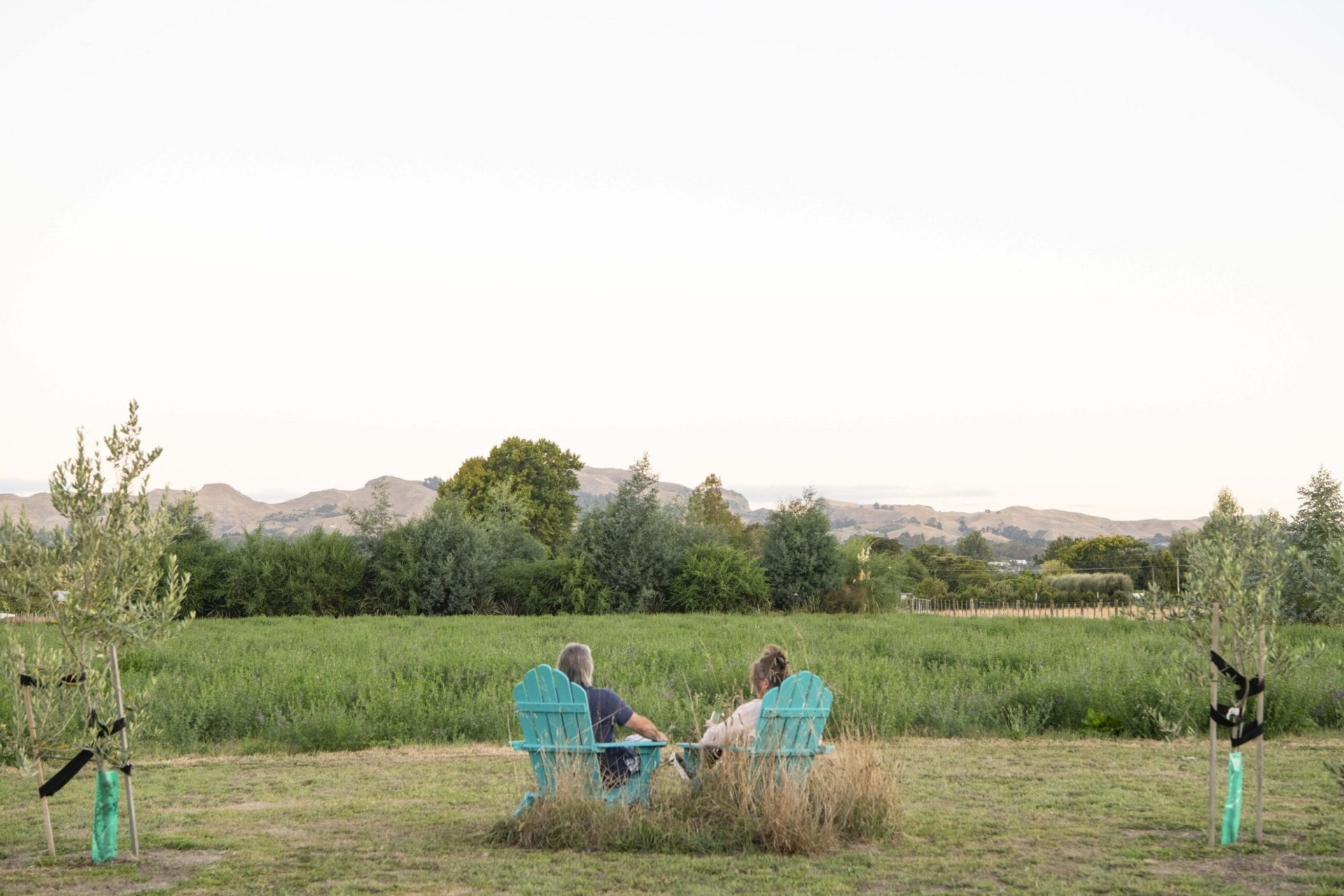 Weekends are spent watching the way the light fades over the hills or entertaining over hot pizzas pulled from the outdoor oven.
Everything they do, says Lizzie, is "casual and convivial", centred around food, friends and Martin's excellent cooking. "He's a whizz in the kitchen, brilliant at pasta, seafood, sourdough… It's a really nice way to express love. At one stage we floated the idea of farming goats out here because Marty had been getting into cheesemaking. But there were decks to build and gardens to be dug instead!"

While it's still uncertain just how Lizzie and Martin will eventually use the cherished family land, she's ready for whatever comes next. "Starting with a blank bit of dirt can be really challenging," she says, "but we have vision and can see how things – with work – might be. It takes grit, it takes a lot of patience, sometimes it's exhausting, and often it's far from perfect. But I love the nicks, the scars and the beauty of it all."

Swipe the style