Whether you're after some inspiration or fancy a bit of a nosy into your favourite celeb's home, WOMAN+ is here to help.
There's something so satisfying about peeking into people's lives, and it's especially hard to say no when powerhouse musician Alicia Keys, or fashion designer Tommy Hilfiger willingly invite you inside. Human beings naturally have some sort of voyeuristic quality when it comes to having a gander at how the other half live. So let's delve into some of the most opulent houses on the market.
Top 5 Favourite Celebrity Homes


David Harbour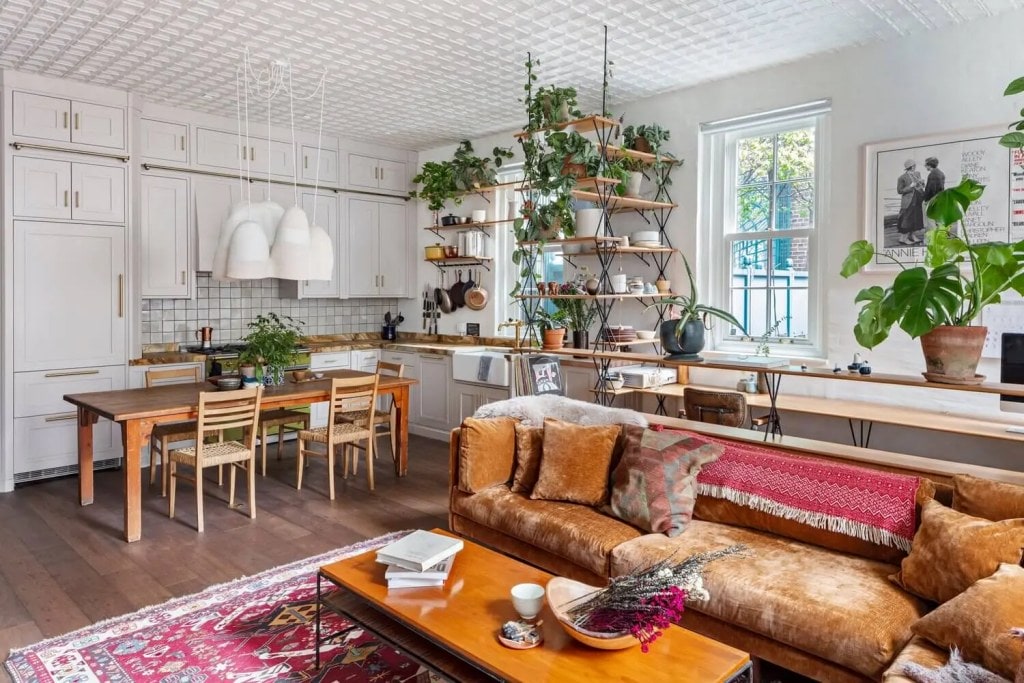 Stranger Things star, David Harbour lives in this beautiful reconstructed New York apartment with his wife, singer, Lily Allen. This light and breezy 1,400 square-foot loft features an open plan layout with a mix of modern and old school wooden furniture. David has really done this space justice, scattering lots of books and plants everywhere. With the walls a cool crisp white and the floor Persian rug galore, David Harbour's home is chic, sophisticated and fun.


Gwyneth Paltrow

Featuring a classic monochrome colour palette with soft blue accents and gold fixtures, Gwyneth Paltrow's modern style home in Montecito, California feels blissfully peaceful. However as you move into the more casual living spaces of this home like the lounge room, you're greeted with warmer tones. Beiges and soft yellows stir feelings of tranquillity and playfulness. Filled with geometric designs, and plants dotted here and there, each aspect of decor and delineation come together in harmony to create Gwyneth's family sanctuary.


Tommy Hilfiger

Tommy and Dee Hilfiger spend the days they're not working, lounging, in a beautiful Mediterranean style pad in Palm Beach, Florida. Sprawling bougainvillaea flowers climb up the coral stone walls and add the perfect flora detail to their bohemian yet modern vibe. Their divine dining area works with the arched ceilings and grandiose columns that are found all throughout the 2006 build. The Hilfiger's have filled their outdoor area with cane furniture and an outdoor fireplace. The back porch looks out onto their personal dock where they keep their boats and jet skis. The indoor-outdoor flow of this house is truly flawless. Talk about luxury!


Flea – Red Hot Chilli Peppers

Is there anything that screams, "I am a rockstar" louder than your own private movie pavilion? How about three separate structures spread over 5.7 acres? Or perhaps a lap pool in the hills of California? Well, Flea has it all. Australian-American musician and actor, Flea (Michael Balzary), best known as the bass guitarist from The Red Hot Chili Peppers, stays in a USD $8.8million home in La Crescenta-Montrose, California. The two houses on this property are different architectural styles – one is a modern structure, and the other is mid-century. Our favourite of the two (pictured), is the mid-century style house, built in 1953. The sun rushes in through the floor to ceiling windows and floods every room of this mansion with light.


Alicia Keys

Alicia Keys and husband, fellow musician, Swizz Beatz hang out in their circular house in Los Angeles. The USD $21 million house, which has been referred to as an architectural masterpiece, was used to film the Iron Man movies. With stunning ocean views, it's no surprise a lot of the house is made up of giant floor to ceiling windows. However, nothing about the space feels clinical, like glass can often be. Alicia Keys' marvellous mansion is clean and warm with a casual, laid back vibe. The pair have taken a lot of inspiration from every place they've travelled around the world which you can see shining through in the decor. Everything was curated or designed specifically for the space.