They're one of the most intimate items we own, yet undergarments are an often overlooked element of an ethical and sustainable wardrobe. Jessica-Belle Greer gets down to the basics.
It's a dirty secret in the underwear industry that our smallest of garments are creating a huge problem for the planet, and for people.
A 2012 Greenpeace report revealed lingerie companies, including Victoria's Secret, produced garments with detectable levels of the toxic chemical nonylphenol ethoxylates (NPEs), which are known to harm the environment and disrupt human hormones. As a result of the study, all EU member states voted to ban NPEs from textile imports, and individual companies started detoxes. And yet, the global market still leaves a lot to be desired.
"A lot of women don't realise that lace, mesh and tulle fabrics found in most bras are made from plastic-based fibres – polyester, polyamide and nylon," says lingerie expert Chloé Julian of Videris. "Not only are plastic-based fibres stifling against the skin, but there's also a hefty amount of toxic chemicals used in the production process. Some of these toxic chemicals, such as NPEs, remain in polyester-based lingerie and clothing, and are nearly impossible to wash out … Azo dyes – a cheap, versatile dye used by many clothing manufacturers – are known to contain heavy metals such as cadmium, lead, mercury and chromium."
After a successful international career, Chloé has the chance to change the industry from the inside out with her Auckland-based label Videris. Designed using her technical skills, the bras offer a more natural shape, without underwires, but still with the necessary support, in natural and durable Tencel fabric. The garments have Oeko-Tex certification to ensure every inch is harmless to human health. "A lot of lingerie is about how you look in it, not really about how you feel in it," says Chloé. "So it's shifting that whole mindset."
Local love
Local fashion labels are also turning their attention to what lies beneath. Rachel Mills' French briefs, in organic and recycled cotton, are made in an old sportswear factory in Auckland, which came with specialist sewing machines. Undies are a seasonless, necessary product and manufacturing them offers a chance to revive this side of the industry. "We have the potential to relive how the industry used to be, but with a much more ethical approach," says Rachel. "I have hope that our factory- direct model will enable the New Zealand manufacturing industry to grow in what is otherwise a very small (and diminishing) side of the local industry."
Meanwhile, Loclaire's scallop-style briefs make the most of small organic cotton offcuts (with a touch of spandex) from its sustainability-minded main line. Post-lockdowns, all styles are available via pre-order, removing the need to hold excess stock and allowing those who are not a standard size (basically everyone) to customise their garment. "I think the pandemic has been a huge wake-up call to the way we shop – and I feel like it is every New Zealander's duty to do what they can, in their means, to keep our beautiful country above water," says founder Frances Lowe.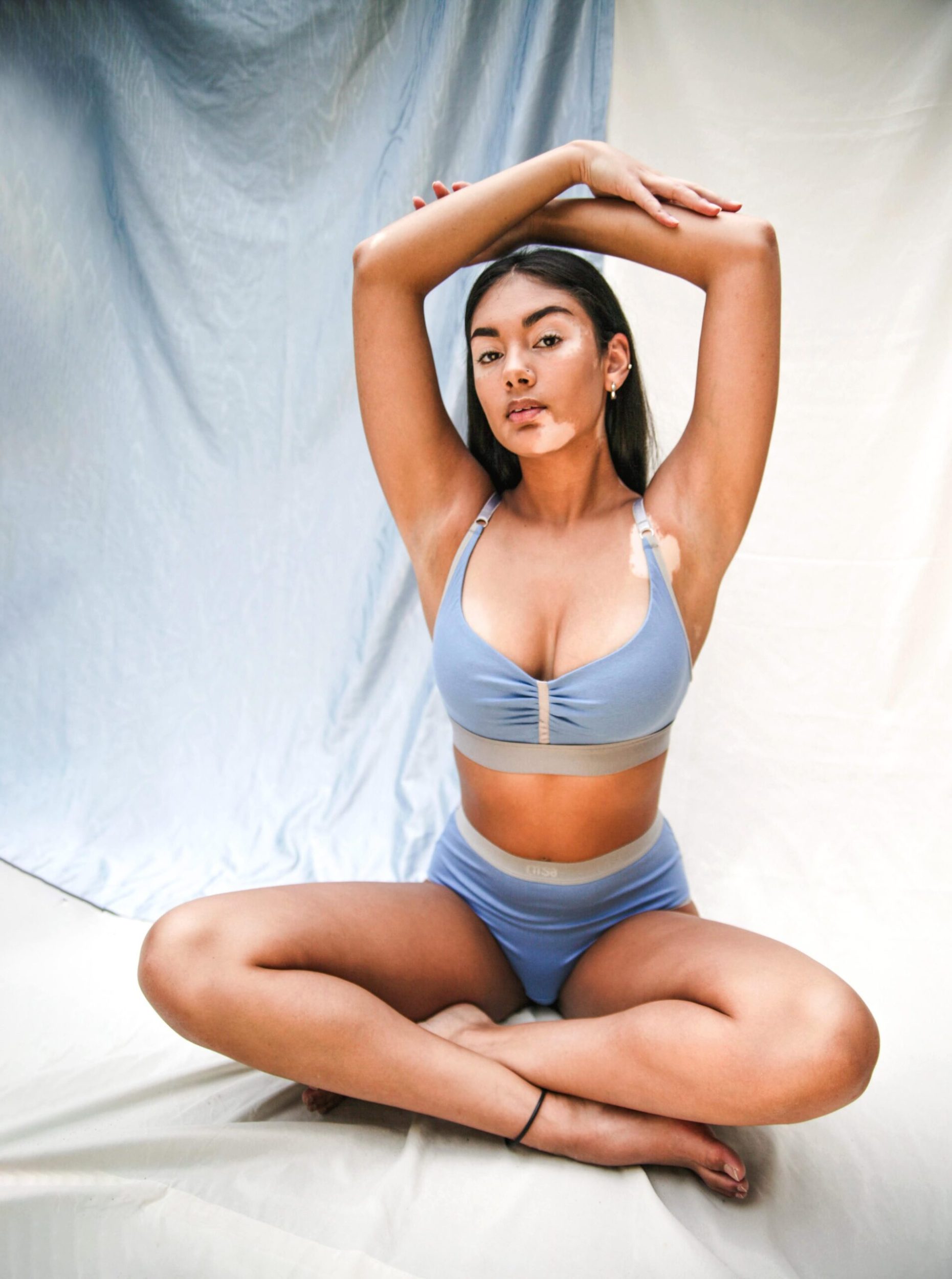 Pay it forward
Sustainability, in a business sense, is essential for brands that hope to continue improving garment-worker welfare. Wellington's Nisa provides employment for women from refugee and migrant backgrounds, and their product happens to be organic cotton underwear. "We started with a very specific goal around employment, but since then our values and sense of purpose have evolved," says founder Elisha Watson. "Every day we think about how we can create a brand, a workshop and a product that exemplify the values of inclusion and belonging." The intimacy of undies creates a unique opportunity to connect with women. Actor Robyn Malcolm's pop-up business Robyn's Undies (created in association with Yellow NZ) is raising funds for The Aunties charity, helping women and children who have experienced domestic violence. Robyn has collaborated with artist Karl Maughan for confident prints with painterly water-based inks on eco-certified bamboo fabric. "Every pair is thoughtfully designed to make every woman feel like she's got a friend," she says. "The vibrancy and deliciousness of Maughan's patterns will make you smile at your own bum every morning!"
Elisha says she is proud to be part of the move towards local and ethical production, but warns about big brands jumping on the bandwagon without significantly changing practices. "Customers do need to do their research and make sure that brands put their money where their mouth is."
Cora Harrington of The Lingerie Addict blog says, as a shopper, the best you can do is buy something you love that will last. "Lingerie is about you first and foremost." She suggests feeling the fabric as well as the quality of the stitching and finishes. Finding the right fit is also important, considering many brands do not accept undergarment returns.
Some local brands make it easier to get our hands on labels leading the sustainable underwear industry on an international scale. Penny Sage stocks the French- Danish label Baserange, which works with innovative fabrics suppliers. "The pieces are comfortable and unfussy … and complement our own range perfectly," says Penny Sage founder Kate Megaw.
Online store Made Good brings us Organic Basics, a carbon-neutral Copenhagen-based brand also using organic and recycled materials. "We believe that finding a good sustainable underwear brand is particularly important, as underwear is one of the most thrown away pieces of clothing," says director Natasha Moore.
Breaking it down
It's understandable that undergarments are hard to on-sell. With even well-meaning makers feeling the need to use a mix of natural and synthetic fibres, it's difficult to recycle them as well. Decomposing delicates are a promising development, especially given composting standards require no harmful chemicals to be released in the process. Options include the Very Good Bra from Australia and Daylight Lingerie's beautiful biodegradable bra from London, but they are still the outliers.
On-gifting bras is good for now. Zonta collects bras for women inmates and The Uplift Project sends bras to women in need worldwide, from several drop-off points. Women supporting women – sounds like a sustainable option to me.