Heading to the coromandel this Easter? Renowned for its natural beauty and pristine beaches it's also the home territory of artists making some incredible work.

*This is a voiceover created by AI and therefore some of the words or pronunciations may be incorrect. We hope you still enjoy this listening experience

Artist Caitlin Moloney is Australian-born of Celtic, Iberian and north-west European descent and from her Coromandel home she creates ceramic works that speak of the care of both people and place.
As a middle child of five, Caitlin grew up in West End Brisbane, a part of the Kurilpa Peninsula, originally inhabited by the Turrbal and Yuggera tribes. Her parents had both eschewed their conservative upbringings, meeting in a community house in Fitzroy, Melbourne. They were intent on pursuing social justice and travelled widely, children in tow.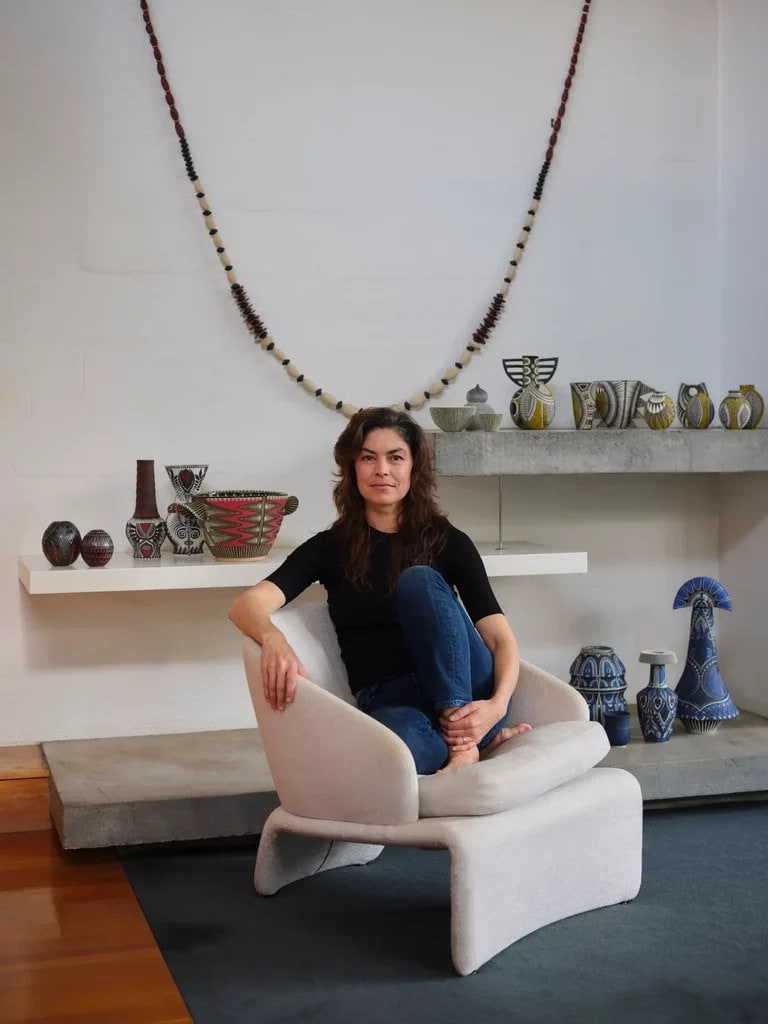 In the 1980s, West End was eclectic and alternative and their character home, "a big old rambling Queenslander", had a large herb nursery tended by her father. She now sees the gift this was – as a means of understanding the world through nature and finding solace in it. Various people from the community "living their beliefs" often dropped into their open household, including a former inmate, all bringing an awareness of people actively trying to make changes.
Conformity was not a parental expectation in their family and there was "never a mould to fit into, rather to take yourself where you wanted to go." This philosophy is evidenced in the career choices of their five children, from her eldest sister, Christy, a lawyer, to her youngest sister, Hannah, who actively champions permaculture and climate action. She acknowledges that she and her siblings were given huge freedom by their parents with the challenge, and sometimes burden, to "become that thing for yourself."

As a highly sensitive child, Caitlin didn't easily find her pathway, and after schooling went on an adventure fruit picking and exploring many remote and beautiful parts of Australia. In her mid-20s she travelled to Aotearoa, New Zealand, backpacking with her WOOFING [willing workers on organic farms] booklet in hand. Recognising she was intent on getting out of the city, her first Auckland hosts suggested she head to the Coromandel. Caitlin had felt the aggressive undercurrent of Australia's political and social climate and her feeling of arriving in the Coromandel was one of "great peace, as if the universe had laid this path for me to arrive through a series of events that happened and got me here."
She soon accidentally discovered Driving Creek Railway [DCR], which had been established in the 1960s by Barry Brickell, one of New Zealand's most celebrated and original ceramicists. Her learning took a watch and apply approach which added a new dimension to her previous study at Queensland College of Art in Brisbane. For Caitlin, being an artist was always there and once she discovered the medium of clay, she found she could slowly immerse herself into its various dimensions. Her ideas were formed, but she knew instinctively that she had to settle in for the learning with patience.
Over time Caitlin has honed her skills and found that the repetitive, meditative connection she feels through making is integral to her identity. "If I dig deep, I can see that the work I do can do a lot of the work for me and be powerful."
She and husband, Matt Sephton, a sound engineer, share an enchanting rural setting framed by the Coromandel ranges with Matt's parents and fox terrier Riley, who happily meanders between their two houses and three studios. Having chosen an alternative path, she has employed considerable resourcefulness and resilience to figure out how to live purposefully.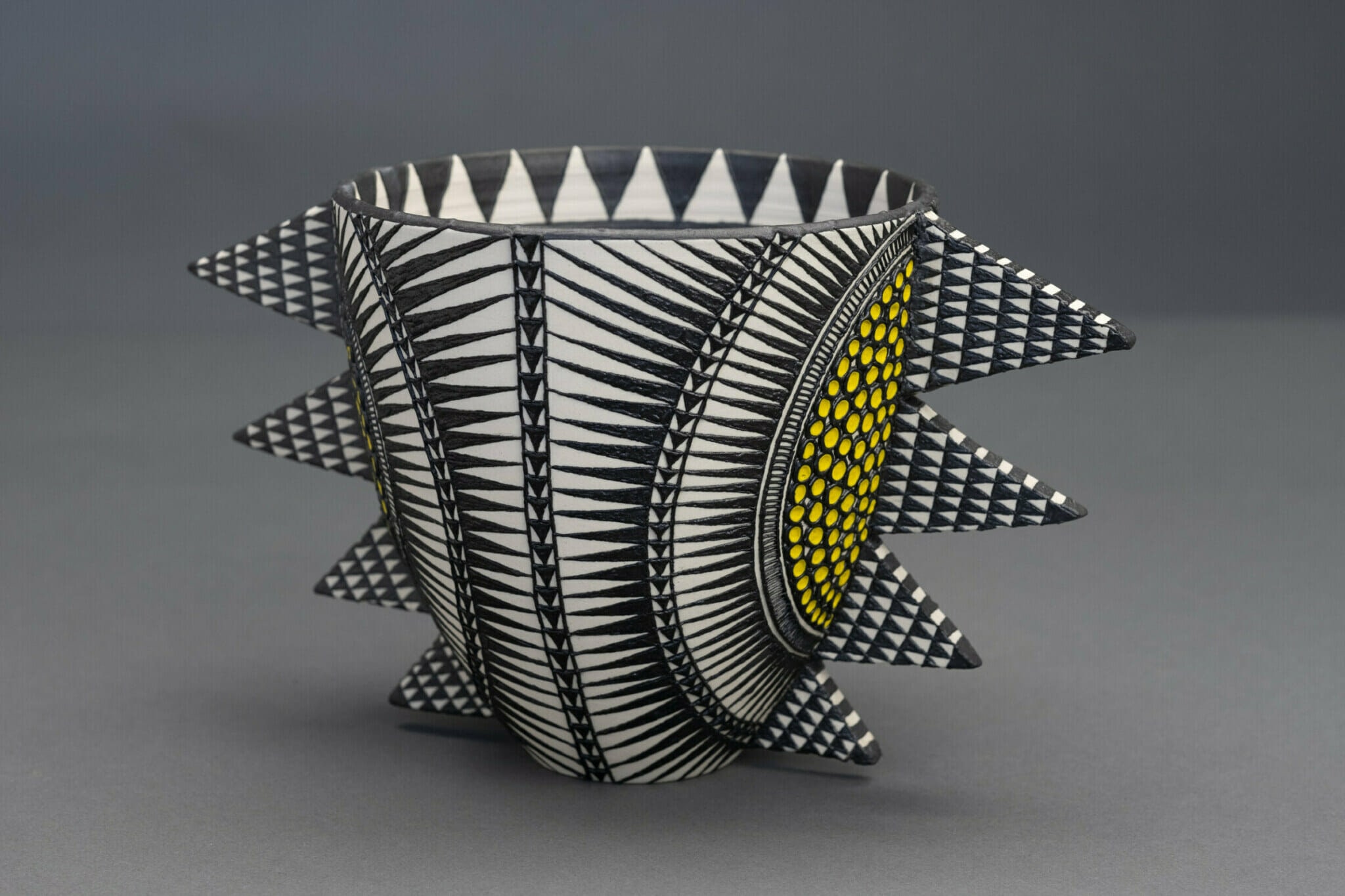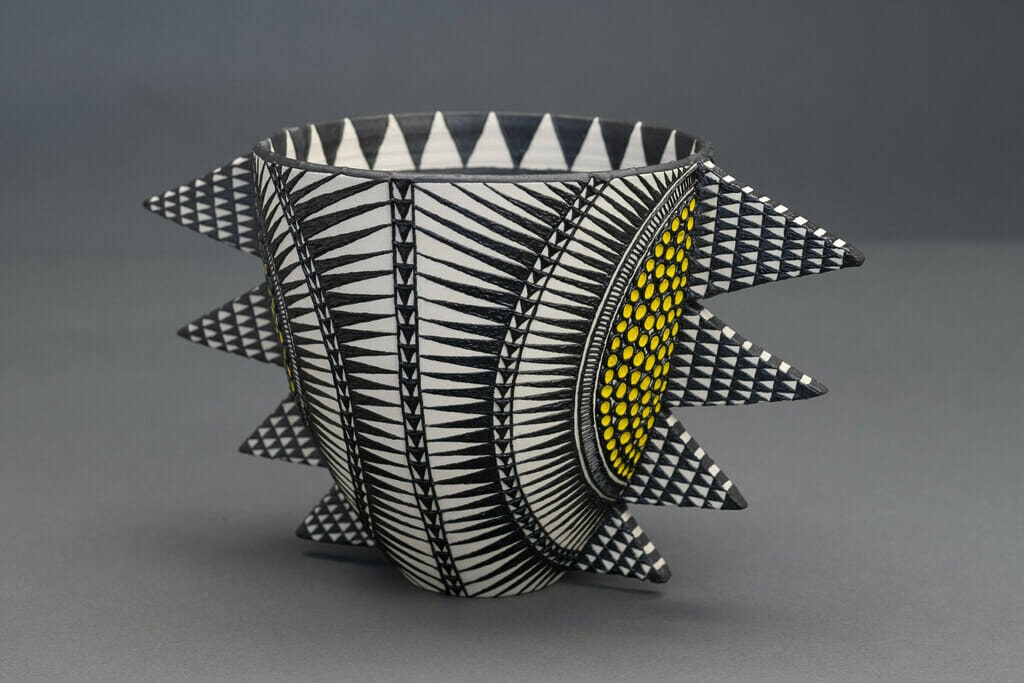 In this small community, she has turned both hand and mind to a multitude of roles – journeys which made her feel braver in the world. These include roles as Collections Assistant then Potteries Manager at DCR, co-curating the Coro Summer Fest, amalgamating nature, music and art in an interactive experience outside the gallery walls.
She is now working as a ceramic tutor through Arts Access Aotearoa in a programme bringing creativity to people who would otherwise experience barriers to participation and community connection. She has found raising the mana for other people in an authentic way aligns with her own values and experience and, importantly, grows wellbeing through community.
Caitlin is interested in the different ways that art can be in the world and she has also turned her hand to other mediums, such as street art, with a striking work in Hamilton East, Kirikiriroa, commissioned by Boon Street Art Festival.
Caitlin's highly refined ceramic pieces and mark making have been intuitively developed. With her characteristic sensitivity and thoughtfulness, Caitlin recognises how the influence of both Australia and New Zealand's indigenous cultures, as well as her own heritage, has shaped her practice. Her distinctive pattern language takes cues from the natural world, especially in referencing those brilliant hues that often seem unreal.

She is motivated to make works that feel powerful and stem from her core belief in the care of people and connection to place. "Of course, we are inspired by indigenous culture and design because they emulate and exude their connection to the earth and to each other, the health of their community and the connection to the natural world. This is what we crave."

Postscript;
During her time at DCR, Caitlin formed a relationship with ceramicist Anneke Borren. This two-year long collaboration has culminated in an exhibition called Two Birds, showing from Friday 24 March to 9 April at Driving Creek Railway and Potteries Gallery in Coromandel township.