Activist and writer Emma Goldman famously quipped she'd rather have roses on her table than diamonds on her neck, but Lynda Hallinan is simply happy to have these romantic blooms brightening up her garden.
A revolution, according to the late Cuban president Fidel Castro, is no bed of roses. Neither, it has to be said, is a pandemic, although the extra time I spent at home this spring means my actual bed of roses is in spiffing nick.
For the first time in years, I've lavished my organic rose garden with the care and attention it deserves. Not only have I weeded, mulched and fed my prickly companions, I also pruned them all before they burst into bud. (Granted, by "pruning" I mean I ran a pair of electric hedge trimmers over the top of my white carpet roses and attacked the rest with secateurs, loppers and a miniature chainsaw. The sharper the tools, the more satisfying this task is.)
I adore roses. Who doesn't? Ever since the 18th century Scottish bard Robbie Burns first compared love to a red, red rose in 1794, these picture-perfect flowers have been synonymous with lust and affection.
Roses, like the daffodil bulbs we bury in autumn for a spring display, are symbols of eternal optimism, and not just for contestants on The Bachelor.
In winter, denuded of bud, bloom and leaf, rose bushes are bare-legged ugly ducklings. But when the soil warms again in spring, they burst back into life and, come summer, they are the epitome of floral exuberance – and that's even before you sink your nose deep into their scented petals.
In my garden, the first rose to bloom each spring is the fragrant French heirloom tea rose 'Jean Ducher', which was bred in France in the 1870s and has stood the test of time with blushing apricot-pink blooms like crumpled handkerchiefs.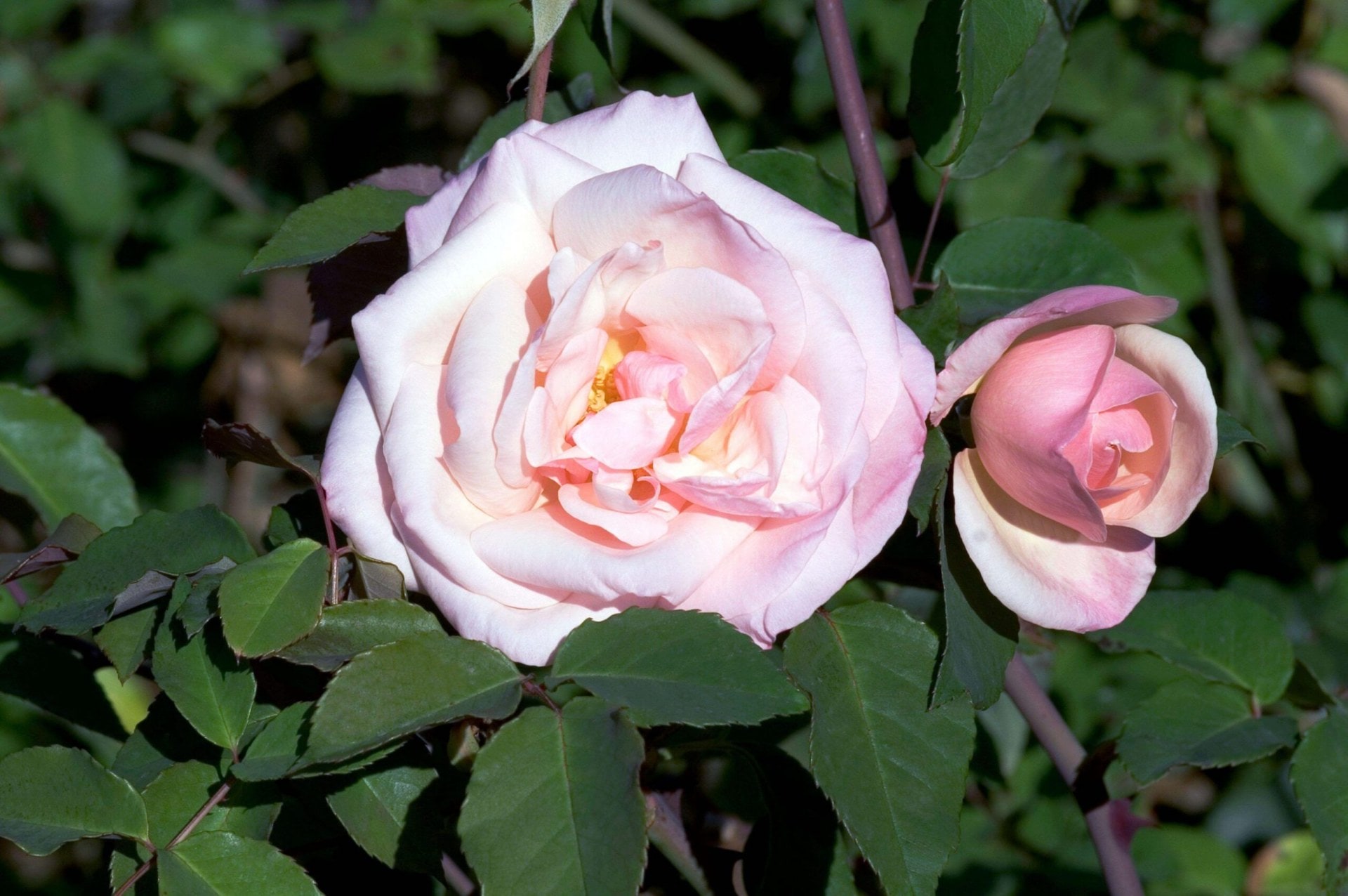 'Jean Ducher' keeps company with a posse of other old French dames including salmon-pink 'Albertine' (introduced in 1921)…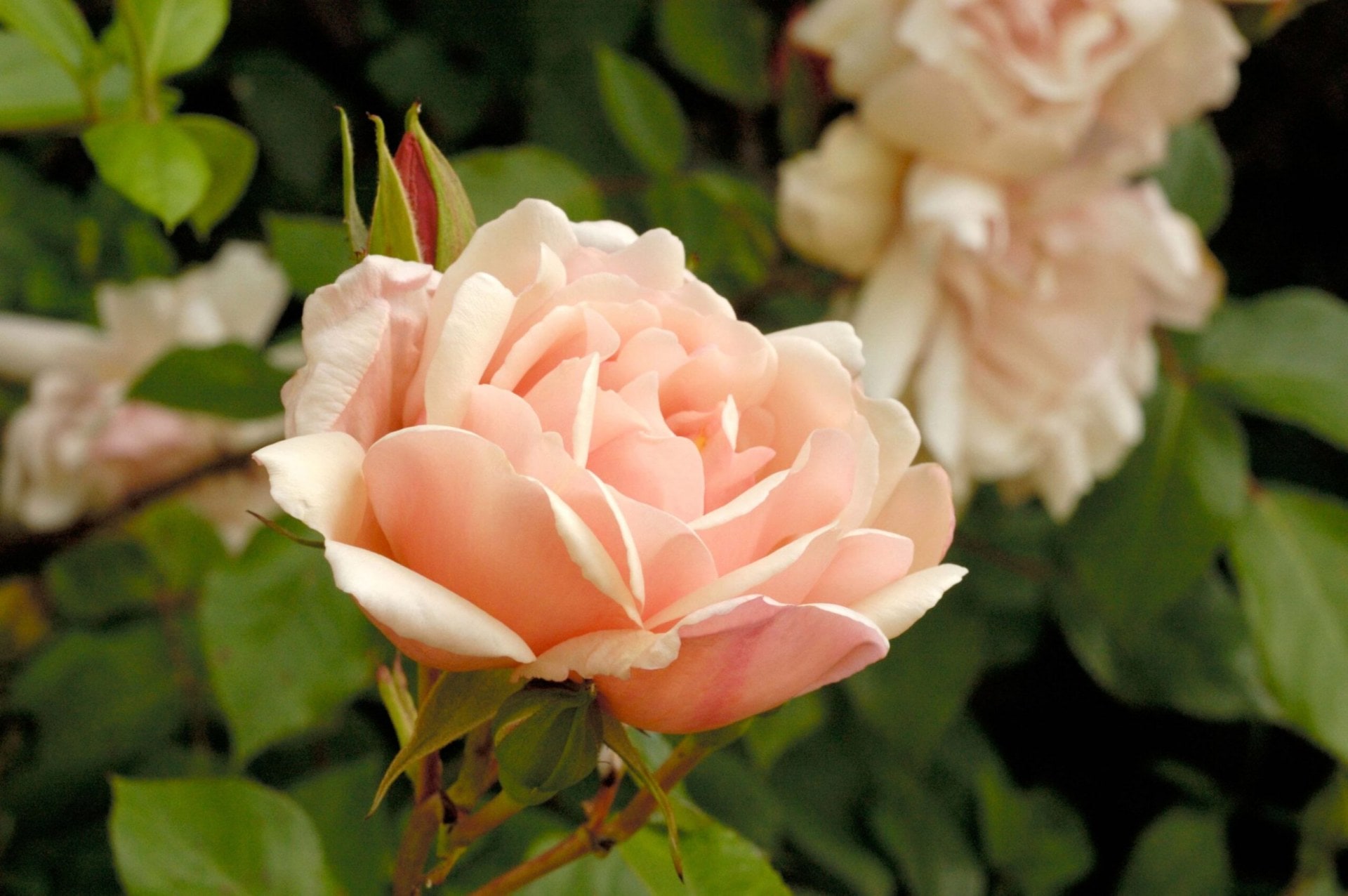 …as well as the coppery-pink climber 'Souvenir de Madame Léonie Viennot' (1858), which is better known, albeit rather less salubriously, as "the bog rose" in New Zealand.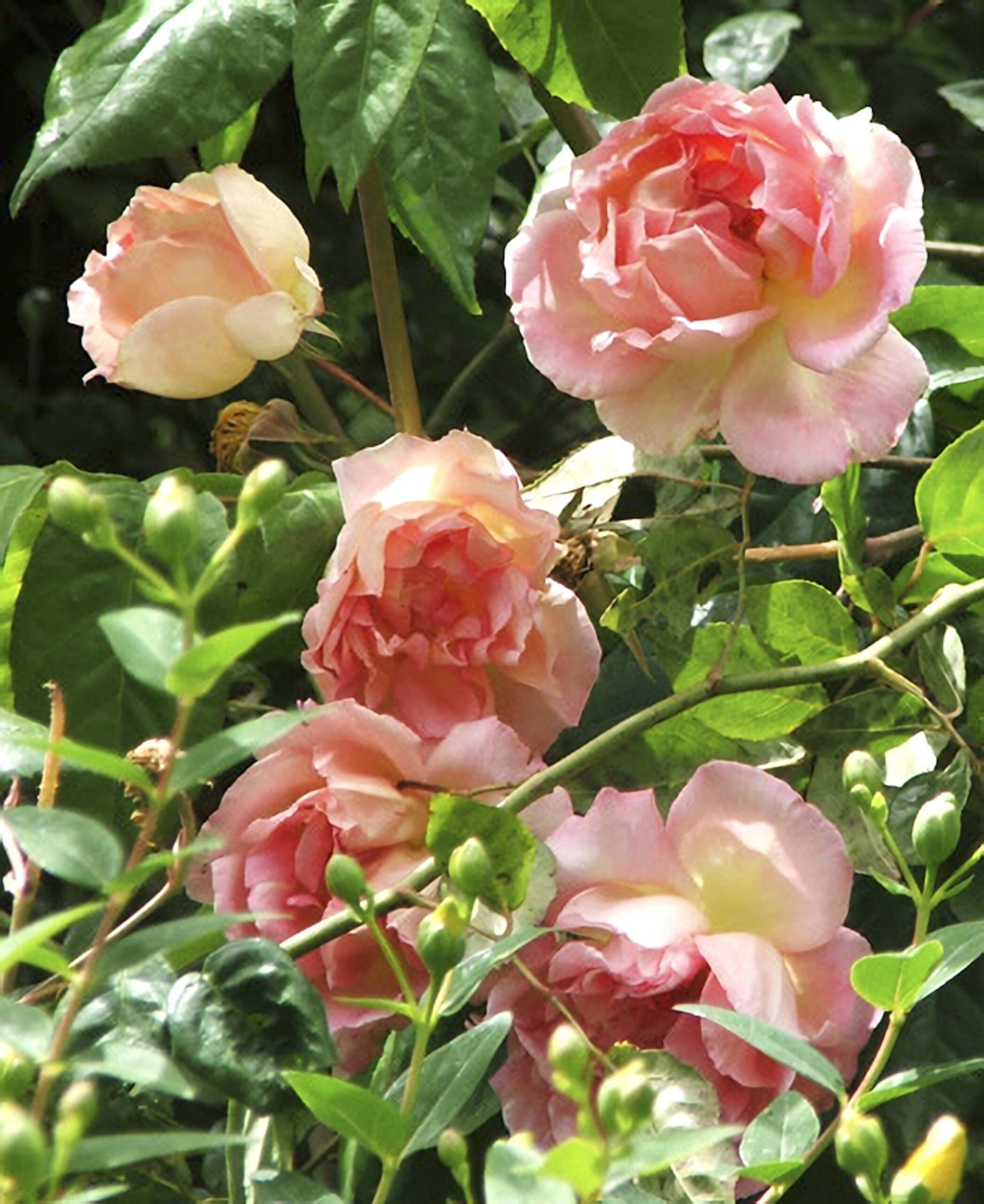 Early Kiwi settlers proved fond of draping Léonie's lanky limbs over their outhouses, and many an abandoned farmhouse sports this charming rose to this day. On our farm, she grows happily at the front gate, where her lichened branches are routinely pruned by possums and rabbits.
Heritage roses ooze romance and charm and tend to be quite resilient in country gardens and small town cemeteries. However, most flower only once a year, in a spectacular spring or early summer display, whereas modern hybrid teas and floribundas have been bred to repeat bloom from spring until autumn. Lop off the old flowering stems after the petals have faded, as this process of deadheading encourages a second or third flush of flowers.
Although dahlias are currently top of the pops among flower gardeners, roses will never go out of fashion. They haven't always been easy, however, as rose breeders formerly focused on exhibition success, leading to show-off blooms on sickly plants that required a military spray regime of alternating pesticides and fungicides. But these days, the breeding emphasis is as much about healthy foliage as it is flowers.
Best of the bunch
I have at least 50 rose bushes in my garden, some more worthy of praise than others. Last summer my favourite for picking was 'Columba's Rose', a hybrid tea honouring the Dunedin school of the same name.
It is as tall as me, with large fragrant flowers of clotted cream.
The small-flowered but vigorous rambler 'Chevy Chase', grown from a cutting I was given, is a superstar and a sentimental favourite along a farm fence, as is the tall David Austin rose 'Tess of the d'Urbervilles', with large flowers in the exact same shade of crimson.
I love the richly scented deep purple blooms of 'Charles de Mills' (bred in 1786) and the candy-striped 'Variegata di Bologna' (1869) but both succumb to fungus and, by summer's end, are black-spotted mongrels.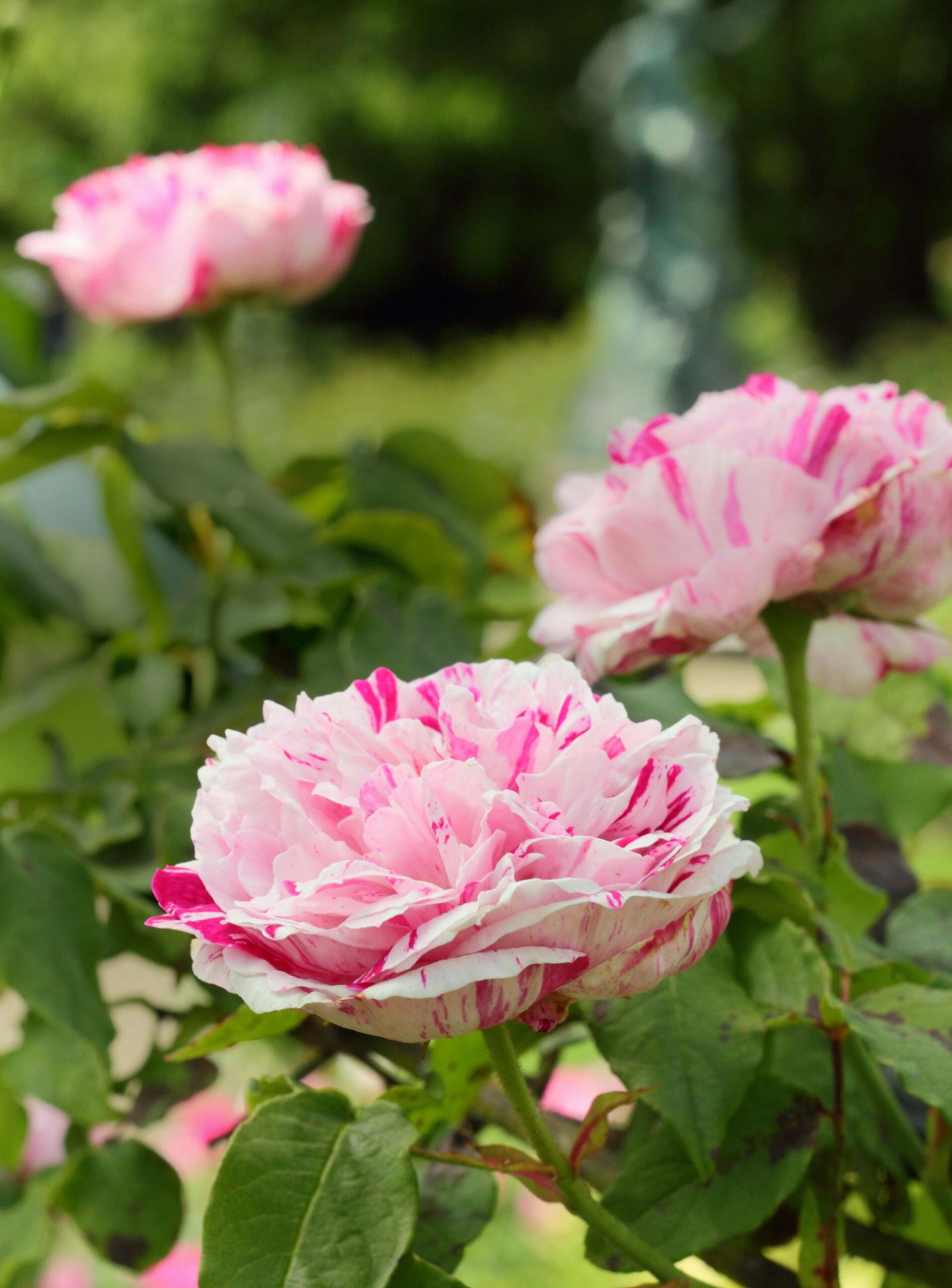 It's possible to grow gorgeous roses without chemicals, and so we should. The Auckland Botanic Gardens has spent more than 20 years trialling roses that perform beautifully despite the city's humid summers. Varieties to get the thumbs up include the free-flowering ground cover rose 'Flower Carpet Scarlet', the miniature pink polyantha 'The Fairy', and 'My Mum', which Whanganui rose breeder Bob Matthews named for his mother, Pearl.
'My Mum' always sells out at my local garden centre, and for good reason. She's absolutely gorgeous, with ruffled blooms of vintage coral-pink centred with glowing apricot. Delightful in a vase, she has all the prettiness of a David Austin English rose but with proudly "Made in New Zealand" credentials.
A charitable beauty
Every month, the New Zealand Rose Society chooses a highly recommended Rose of the Month. In October, that rose is the floribunda 'Pink Ribbon', bred by Bob Matthews in Whanganui. A sumptuous repeat-flowering bush that produces clusters of soft girly-pink cupped flowers, 'Pink Ribbon' is a beauty queen with a purpose, as $2 from the sale of every bush is donated to Breast Cancer Foundation NZ.
"It's a simply fantastic variety," says Bob. "It's one of the first to flower and just keeps on going. It's also very compact, so well suited for today's smaller gardens. It requires no deadheading and the petals drop cleanly, which all adds to its easy-care nature. It was a standout for many years in our spray-free trials."
Last winter, when I was impulse shopping for roses at my local garden centre, I was told I simply must pop 'Pink Ribbon' into my trolley. I'm so chuffed I did, as it's already covered in buds.