Subtlety is not a prerequisite for stimulating cinema. Some of the most satisfying political films trumpet their significance from the rooftop. Think An Inconvenient Truth, or We Need To Talk About Kevin. Women Talking from MGM has the subtlety of the Hollywood sign, but this is not one of the film's problems writes film critic Theo Macdonald.
Set in 2010, writer-director Sarah Polley's film takes place in the barn of an isolated Canadian Mennonite colony. The community's women have discovered that the men have been using cow tranquilliser to sedate and rape them. For years, these women have woken to bruised thighs and bloody nightgowns, and the town elders have dismissed their suffering with insistence on ghosts, the devil, and female hysteria. But the women catch one of the men, the police arrest him, and the other men head into town to post bail. While the men are away, the women vote. Should they stay? Stay and fight? Or leave? The latter two possibilities draw, so eleven women from three families bunker down in the barn to resolve what action the collective shall take.
Women Talking is a dialectical fable that restages the history of Western feminism, from Mary Wollstonecraft through Kate Millett, Susan Brownmiller, and Judith Butler. The film opens: "What follows is an act of female imagination," establishing a philosophical intent liberated from the storytelling goals of Hollywood realism. The mothers with young children, Ona (Rooney Mara), Salome (Claire Foy), and Mariche (Jessie Buckley), guide the discussion. As none of them can read or write, the colony teacher August (Ben Whishaw) joins them to take minutes of this burgeoning feminist campaign. August, tender and sympathetic, has an unrequited love for Ona, a sorrow gliding underneath the debates.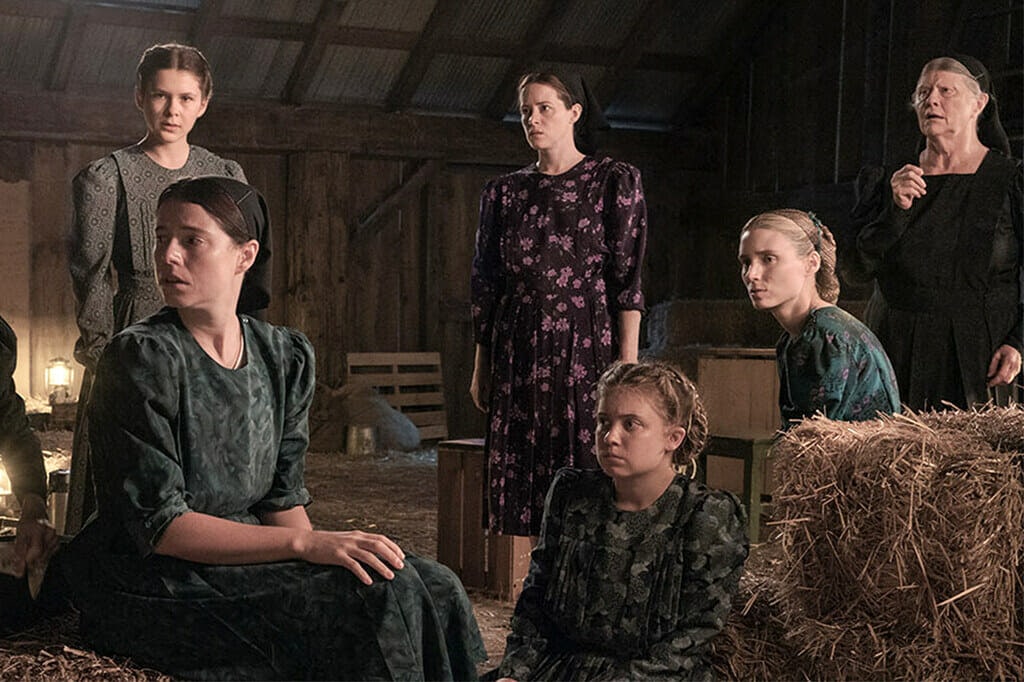 This film is a morality play so crude in its need to assert contemporary relevance that at one point, a character says, "Not all men," the hashtag used by feminists to spoof men who become defensive when women discuss sexual violence. Another character's assault flashback includes shaky cam footage of the victim smearing blood on the wall, like a Slipknot music video. Rooney Mara gives a simpering smile and a rub of her pregnant belly with a regularity that suggests the editor is re-using the same footage. Much of the film has this modular quality, as if the scenes could be shuffled without meaningfully impacting the destination. Sometimes the women all break into laughter or song, moments of catharsis so calculated it makes you wince. The camera is supple, gliding alongside the women as they ponder and frown. A pity, then, that the colour is washed out and digital, making each moment distractingly resemble a television flashback.
Through their discussion, the women of this religious community develop principles concerning freedom from sexual violence, protection of children, access to learning, and the value of women's labour. For the audience, this remembrance of 20th-century feminism could be a historicisation, a bolstering of the canon. Ona, Salome, and Mariche clash over thorny contemporary issues such as the moral responsibility of male children raised by a patriarchal society. Their mothers and younger sisters punctuate these debates with anecdotes and admissions of guilt. A highlight is seeing Sheila McCarthy, the star of indie-feminist classic I've Heard the Mermaids Singing, as elderly Greta, who likes to talk about her horses.
Unfortunately, the lead performances have the truth of an insurance commercial. Each character delivers their lines in an identical thudding intonation, and the notion that these women are encountering their differing beliefs through conversation is rendered thinner when each woman speaks the same way, in lists, trailing sentences into streams of synonyms, as in, "We shall walk, wander, meander, step". A generous viewer might interpret this idiosyncrasy as a consequence of an oral culture, but it also sounds like the screenwriter's contrived idea of poetry. You can imagine Sarah Polley high-fiving herself as the characters deliver whammy after whammy. Sometimes one of them will cry to demonstrate the power of what another has just said.
If this is a political film, we should evaluate it on those terms. The German playwright Bertolt Brecht, whose theories clearly influence Women Talking, believed political storytelling must educate the audience on the conditions under which they live. Yes, in its hamfisted way, Women Talking depicts the violence and disempowerment men subject women to. Whether these ideas demand this expression in 2023 is murkier. Women Talking is a film for people who have been so out of the loop the past five years of MeToo, let alone the decades before, that these ideas will be enlightening. But are these people buying tickets to an arthouse drama called Women Talking?
Eschewing Hollywood maximalism is a worthwhile experiment, and the impulse to express this story through the devices of minimalist theatre is a good one. Unfortunately, Women Talking stumbles on its execution, overwhelmed by cliched images, turgid dialogue, and clumsy performances.
Related article: What's Love Got to Do With It? Movie Review