Aroha Awarau travelled to the Cook Islands for a holiday and felt a strong connection.
In 2018, former Whakaata Māori journalist, Mania Clarke-Mamanu, travelled out of Aotearoa for the very first time to visit the Cook Islands. On her first overseas holiday, she went on a stand up paddle board excursion on the island of Rarotonga and met and fell in love with the experienced tour guide, Ngame Mamanu.
Ngame was raised on the island and is a champion coconut tree climber who knows how to live off the land, an experienced hunter who builds shelter, catches fish, and has expertise in the medicinal and culinary qualities of the native plants in the area.
Mania, a Christian, said she had visions directing her towards Ngame, and the couple had a mutual spiritual connection. Following the signs – and her heart – Mania eventually quit her job as a journalist and a year later she left New Zealand and moved to the Cook Islands to marry Ngame, at the very lagoon where they first met.
"She literally chased me," Ngame laughs, describing how Mania was the most determined in the paddle boarding group who worked up a sweat trying to keep up with him as he was leading the tour.
For Mania, she didn't expect to go on holiday and fall in love.
"The holiday changed my life," Mania admits. "When I came here, I didn't expect to find romance. I feel very privileged."
Today, the couple owns and operates one of the most popular tourist attractions on the Cook Islands. Tumutoa Tours is an award winning hands-on cultural experience based at the family home where Ngamu grew up in the village of Inave in Rarotonga.
They offer walking tours to learn about the history of the area and explore the fruit, vegetables, and medicinal plants. Their most popular attraction is a fire show and feast, where tourists are taught to make their own dinner in the traditional Umu, husk, open and grate their own coconut to then squeeze coconut cream for the ikamata (raw marinated fish), and even create their own plates and food baskets by weaving them using banana leaves.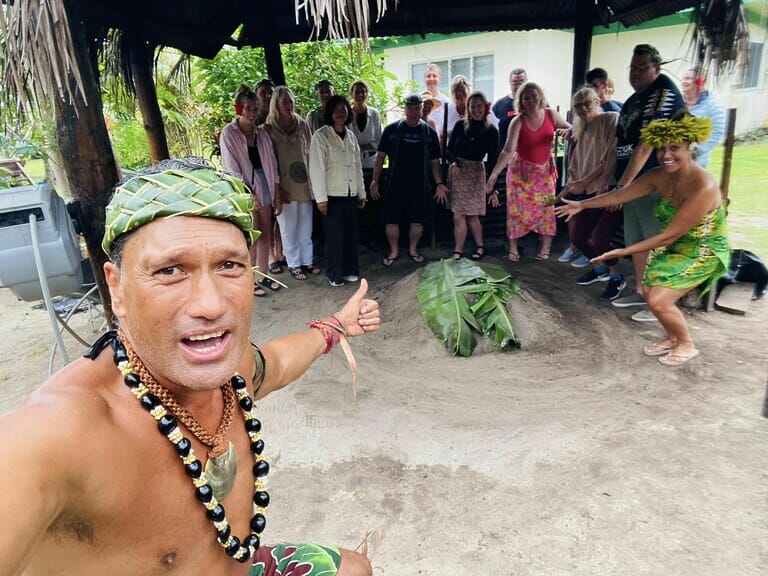 During the feast, Ngame, Mania, and their staff entertain guests with storytelling, music, traditional dance, and a fire show.
"We welcome people into our homes and into our hearts and make sure that they go away feeling part of the family and connected to the island," says Ngame.
Ngame's expert knowledge of his culture and his surroundings had been passed down from his ancestors. After many years of working for other local companies as a tour guide, Ngame decided to start his own business.
"He was raised here, he knew the history, he knew the culture, and everything to know about the Cook Islands. So I asked him why don't we create our own venture," Mania says.
Ngame takes pride in showing visitors around the TumuToa premises next to his modest family homestead. He is especially proud of the main pavilion that he built himself using local materials.
"Ngame brings a degree of passion and energy to his work and loves to inform and engage our visitors from the very beginning. People just love it. It's a great time," she explains.
TumuToa Tours started with 2 people on their walking tour, and they aimed to cater to 40 people for their traditional feast and fire show. Today, the walking tour has grown to 80 people and their night show can have up to 60 guests.
Mania, who grew up in Auckland with strong ties to Tainui waka, came to Rarotonga with the knowledge that her ancestors originated from the Cook Islands, making her feel like she has returned home. Māori migration to Aotearoa began from Rarotonga as early as the 5th century AD and the Māori and Cook Island cultures are closely linked in terms of language and traditions.
"I feel like I'm reconnecting back to how our ancestors lived, how they breathed, how they ate before they left these shores and made Aotearoa their home. I feel it's a wider extension of our Māori world. I don't feel like I'm in a strange land. I feel like I'm home." she says.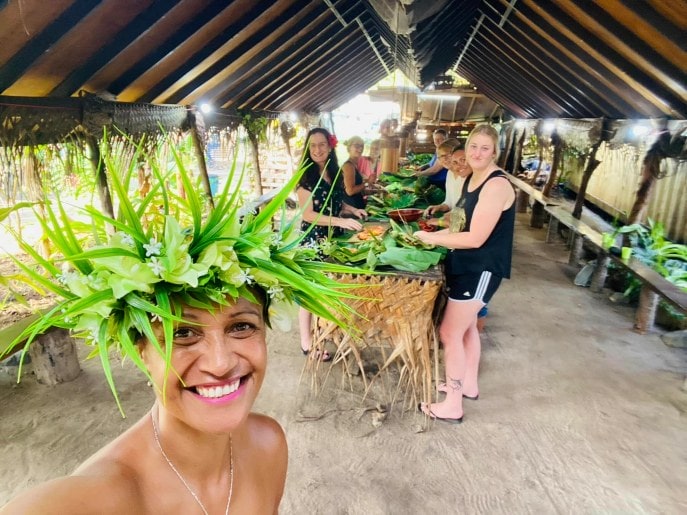 Mania is one of many Kiwis who have moved to the Cook Islands and found work in the growing tourism sector. The industry makes up 60 percent of the local economy, although those in the tourism industry believe that figure is higher.
In 2019, Cook Islands tourism figures peaked, with the nation hosting and catering to more than 171,000 tourists with a local population of just over 15,000. Their number one market is New Zealand, followed by Australia, then the US, Europe, and the UK.
The country consists of 15 Islands with Rarotonga and Aitutaki being the most popular tourist destinations. After visiting the Cook Islands, you can understand why the location is an ideal holiday destination for Kiwis.
It's a relatively untouched paradise and a safe destination, with plenty of golden sand beaches, turquoise waters and activities that cater to a diverse range of visitor types, including turtle and snorkelling experiences, bike tours, and cultural and fire dance presentations.
There are plenty of accommodation options for visitors as well. These can cater to large groups and families or more private, and intimate villas for peace and quiet. I had the opportunity to stay at two very different venues, the popular Edgewater Resort, the best-known Cook Islands resort on the West Coast of Rarotonga, and the luxury and private Motu Villas, in the village of Titikaveka.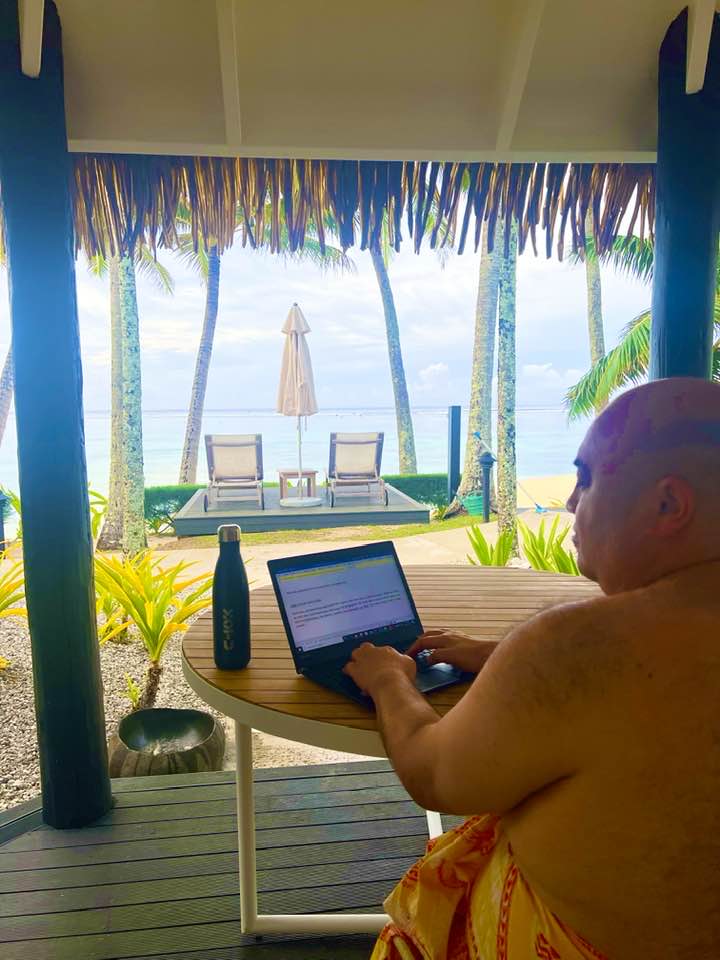 The Edgewater is ideal for groups and families, as its dining and bar area is perfect for catching up with friends and family enjoying great food and a wide range of drinks. The largest Cook Islands resort also offers a kid's club of fun activities and a health spa. Motu Villas is the opposite and is one of many luxury private venue options, with your own villa that leads out to the beachfront, giving you the space and freedom to do work in the most beautiful environment imaginable. There are also private paddle boards and snorkelling gear if you want to venture out into the water to explore.
While in the Cook Islands, it's highly recommended to venture off Rarotonga to explore other Islands in the area, with the most popular being Aitutaki, which is about an hour's flight from Rarotonga.
I experienced the day-long Vaka Cruise, where you get to explore the many islands in the lagoon aboard the 21-metre Polynesian style Vaka, Titi ai Tonga.
The excitement began at the very beginning of the tour when the sound of the conch shell signalled the departure of the six-hour sightseeing experience around the lagoon. We enjoyed snorkelling and seeing the many different marine and coral life underneath the blue waters and dined on an island feast for lunch of freshly caught ocean fish and fruits. The experience was heightened by the entertainment on board, with the crew playing music and singing traditional songs while we explored each island.
Fans of the popular TV reality show Survivor will recognise many of the islands that we visited in Aitutaki, as they filmed season 13 of the franchise in 2006.
As Mania mentioned, for Māori, there's a sense of familiarity when visiting the Cook Islands, with many of the place names and local language and culture similar to Māori. There's a strong feeling of belonging, that we have returned home.

More information on Cook Islands Travel here
Related Article: A Rail of a Good Time
This is public interest journalism funded by NZ on Air.