Do you value flavour and love cooking at home, but you're either too busy, or thanks to the rising cost of living, can't afford to pull together a meal from scratch? Continental and Polly Markus from Miss Polly's Kitchen are partnering up to make some delicious meals using Sensations Stock Pots.
The popularity of home cooking has been on the rise since the pandemic, as the subsequent rise in the cost of living has forced people to reduce how often they go to a restaurant, or order take-out. Markus, who has 57,000 followers on Instagram, is known for her flavourful yet simple approach to cooking, an ethos shared by Continental that resulted in the creation of Sensations Stock Pots. Available in beef, vegetable, chicken, and chicken salt-reduced, Sensations Stock Pots are real concentrated stock and have been designed for all cooks as a simple way to elevate nearly any meal.
"One of my three cooking rules is 'flavour, flavour, flavour' and incorporating Continental Sensations Stock Pots into a dish is such an effortless way to add an explosion of taste," says Markus.
"My favourite thing about cooking is that it always finds a way to bring people together, through memories, sharing recipes, entertaining at home, or attending a dinner party. Food is the main character. It is a simple way to get together, to build and maintain connections."
Try the below winter recipes to warm up your home and satisfy your tastebuds. Check out these preparation and cook times as well, perfect for those of us who are time-poor and need a low-effort delicious meal!


Vegan Thai Curry
Prep: 10 mins
Cook: 15 mins
Serves 4






Ingredients
1 tablespoon oil
1 onion, chopped
1 garlic clove, crushed
1 tablespoon Thai green curry paste
500g golden or orange grape tomatoes, halved
400mL coconut milk
1 Continental Stock Pot Sensations – Vegetable
120g packet baby spinach leaves
¾ cup roasted cashews
¼ cup unsweetened dried coconut flakes
Steamed brown rice, to serve
Method
1. Heat oil in a wok, or large deep frying pan, over medium heat. Add onion and cook, stirring occasionally, for 5 minutes or until softened. Add garlic and cook, stirring, for 1 minute. Add curry paste and cook, stirring for 2 minutes or until fragrant.
2. Add coconut milk and bring to the boil. Stir in stock pot until dissolves.
3. Add tomatoes and cook, stirring for 3 minutes or until tomatoes are heated through and just starting to soften.
4. Stir in baby spinach and cook until just wilted. Sprinkle with cashews and coconut. Serve with brown rice.


Cod Curry with Chickpeas & Lentils
Prep: 5 minutes
Cook: 20 minutes
Serves 4






Ingredients
3 tablespoons oil
500g cod fillets
2 onions, finely chopped
3 garlic cloves, crushed
50g fresh ginger, finely grated
1 tbsp turmeric
1 tbsp curry powder
200g white cabbage, roughly chopped
2 x 400g cans chopped tomatoes
1 Continental Stock Pot Sensations – Vegetable
500mL boiling water
400g can chickpeas, rinsed, drained
400g can lentils, rinsed, drained
1 lemon, zested and juiced
2 tablespoons roughly chopped coriander leaves
Steamed rice, to serve
Method
1. Heat 1 tablespoon of oil in a large deep frying pan over high heat. Pan-fry cod fillets for 2-3 minutes each side or until golden. Remove and set aside.
2. Add remaining oil to the pan. Add onion and cook, stirring occasionally, for 5 minutes. Add garlic, ginger, turmeric, curry powder, cabbage and stir to combine. Stir in canned tomatoes, Stock Pot and water. Bring to the boil. Reduce heat to a simmer and cook for 10 minutes, stirring occasionally.
3. Add chickpeas, lentils and cod. Cook slowly for 5 minutes or until heated through. 4. Finally stir in lemon zest, juice and coriander. Serve with steamed rice.
One Pot Spicy Jamaican Beef
Prep: 15 mins
Cook: 2 hours
Serves 4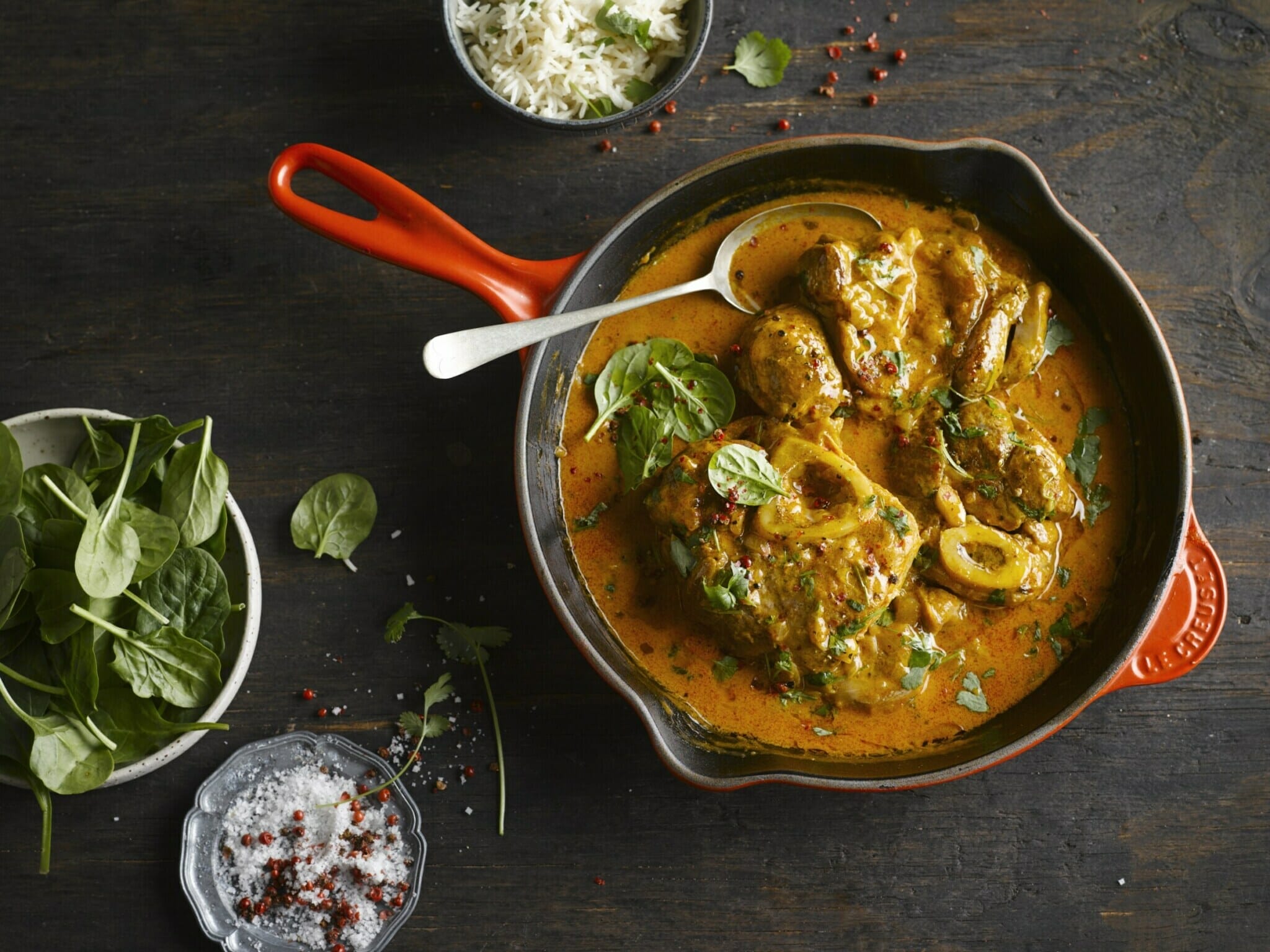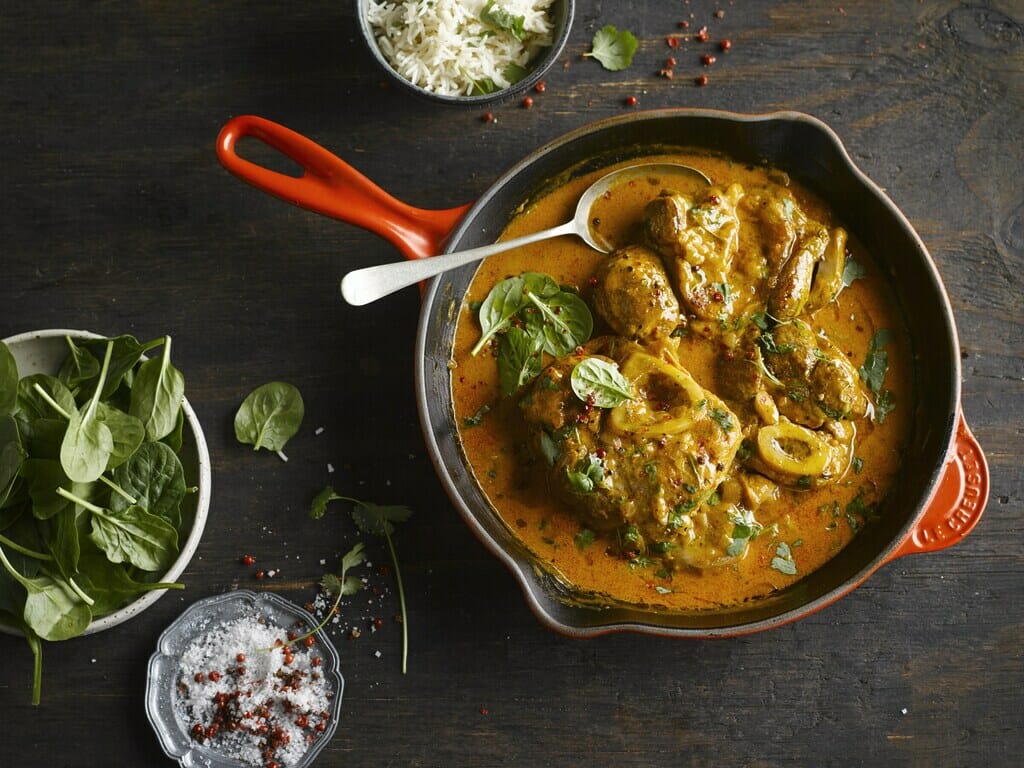 Ingredients
2 tablespoons oil
700g beef shin (osso bucco) pieces
2 onions, diced
2 tablespoons spicy Jamaican jerk seasoning paste
1 Continental Stock Pot Sensations – Beef
2 cups (500mL) boiling water
300mL crème fraîche
Roughly chopped coriander, to garnish
Steamed basmati and baby spinach leaves, to serve
Method
1. Preheat the oven to 160℃ (140℃ fan-forced).
2. Add oil and Jamaican jerk paste to a large heavy based flameproof ovenproof casserole pot. Cook gently over medium heat for 2 minutes, stirring constantly to release the oils from the spices. Add onions and cook, stirring, for 8-10 minutes until golden brown. Combine stock pot and boiling water in a heatproof jug until the stock pot is completely dissolved. Add 1⁄3 of the stock to the pan and stir to deglaze the pan.
3. Add beef, and the rest of the stock, to pot. Cover with a lid. Place into a preheated oven and cook for 2 ½ hours, or until beef is very tender and almost falling off the bone.
4. Stir in crème fraiche. Remove the lid. Return to the oven and cook, uncovered, for 30 minutes or until the sauce has reduced and thickened slightly. Season to taste.
5. Garnish with coriander leaves and serve with rice and baby spinach leaves.


Related Article: The healing power of food