Whether you like margaritas, Aperol spritz or mojitos, you'll want to call your friends immediately after seeing these summery cocktail recipes.
Margarita
When you produce a jug of these perfect slushy margaritas to share, your guests will sing your praises.
Serves 6
Ingredients
300ml blanco tequila
180ml freshly squeezed lime juice
135ml Cointreau
135ml simple syrup
180ml water
Lime wedges (optional, for serving
Coarse salt (optional, for serving)

Method
In a pitcher, mix together the tequila, lime juice, Cointreau, simple syrup and water until well combined. Pour the mixture into a heavy-duty zip-top freezer bag and seal carefully.
Freeze for at least 2 days, taking the bag out and gently shaking it a couple of times over the course of the freezing time to ensure the ingredients remain incorporated. Because of the alcohol, it won't be frozen solid but will be more of a thick slushy consistency.
To serve, smush the mixture around to break up any large crystals, then divide the cocktail among 6 cups. If desired, you can rim your cups with coarse salt first by running a lime wedge around the edge of each cup and then rolling the edge in salt.
To make the simple syrup, just combine equal parts sugar and water (for example, 1/2 cup sugar and 1/2 cup water) and stir until the sugar dissolves. You can do this over heat to make it dissolve faster but you don't have to.

Mojito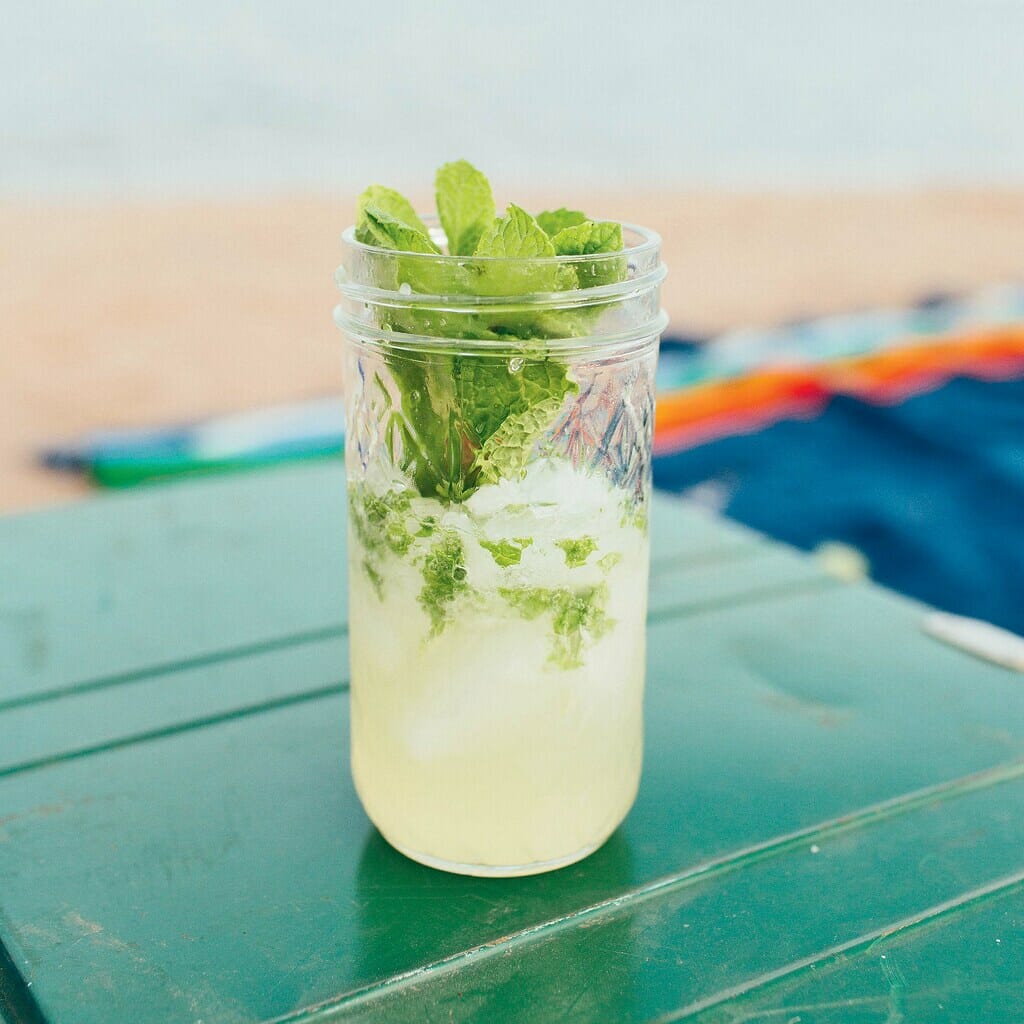 This mojito recipe is bright but not overly acidic with a generous amount of cooling mint. Alternatively, you can try basil leaves instead and/or gin instead of rum, or use a couple of sprigs of thyme with lemon juice and vodka instead of lime and rum.
Serves 1
Ingredients
6 fresh mint leaves, plus a sprig for garnish
1 tablespoon sugar
15ml water
30ml freshly squeezed lime juice
60ml white rum with crisp, light flavours
Method
In a shaker or water bottle, gently muddle the 6 mint leaves. Add the sugar, water and lime juice, and stir or swirl until the sugar starts to dissolve. Add the rum and about 3/4 cup of small ice cubes. Shake vigorously but briefly – just 10 seconds – then dump the cocktail, ice and all, into your cup. Garnish with a mint sprig.


Aperol spritz

The one, the only, the iconic spritz. With an Aperol spritz in hand, relaxation cannot fail to be complete.
Serves 1
Ingredients
60ml Aperol
90ml dry Prosecco or dry apple cider
30ml soda water or dry apple cider


Method
Add the Aperol to a wine goblet half filled with ice. Top with the Prosecco and soda water, stir gently and serve.
Summer Spritz
Makes 1
During the day, coffee keeps you company, but as late afternoon rolls around you can switch out the coffee for a Campari aperitif.
Ingredients
2 ounces (60 ml) orange juice
1 ounce (30 ml) Campari
3 ounces (90 ml) dry Prosecco
Method
Add the orange juice and Campari to a wine goblet half filled with ice. Top with the Prosecco, stir gently, and serve.