Literary detectives, historians and Katherine Mansfield enthusiasts have much to gain from Redmer Yska's latest book. Using Mansfield's letters and diaries as his guide, Yska embarked on a journey along the rail trails of Germany, France, and Switzerland between 2017 and 2019 and the result is a treasure trove of previously unknown information about Katherine Mansfield's life presented in an accessible and visually stunning manner.
Among the fascinating revelations in the book are the details of Katherine Mansfield's unexpected role as a gunslinger during her time in a remote Italian location in 1919. She was loaned a small revolver as protection against marauders and became adept at handling it. Mansfield's love for her gun was such that she kept it even after leaving Italy, referring to it as part of her world in Switzerland in 1921.
The book also reveals evidence that Mansfield was likely an opiate addict, having started taking morphine daily in 1918. This habit continued throughout her life, and she was likely taking a common preparation, 'Red Cough Mixture', containing both hydrobromic acid and morphine. Perhaps it explains Mansfield's extreme mental confusion and hallucinations in Italy in 1919. Despite this, she managed to produce some of her finest work.
We asked Redmer how he came to tackle the facts and legends of this great writer and what he found in her traces.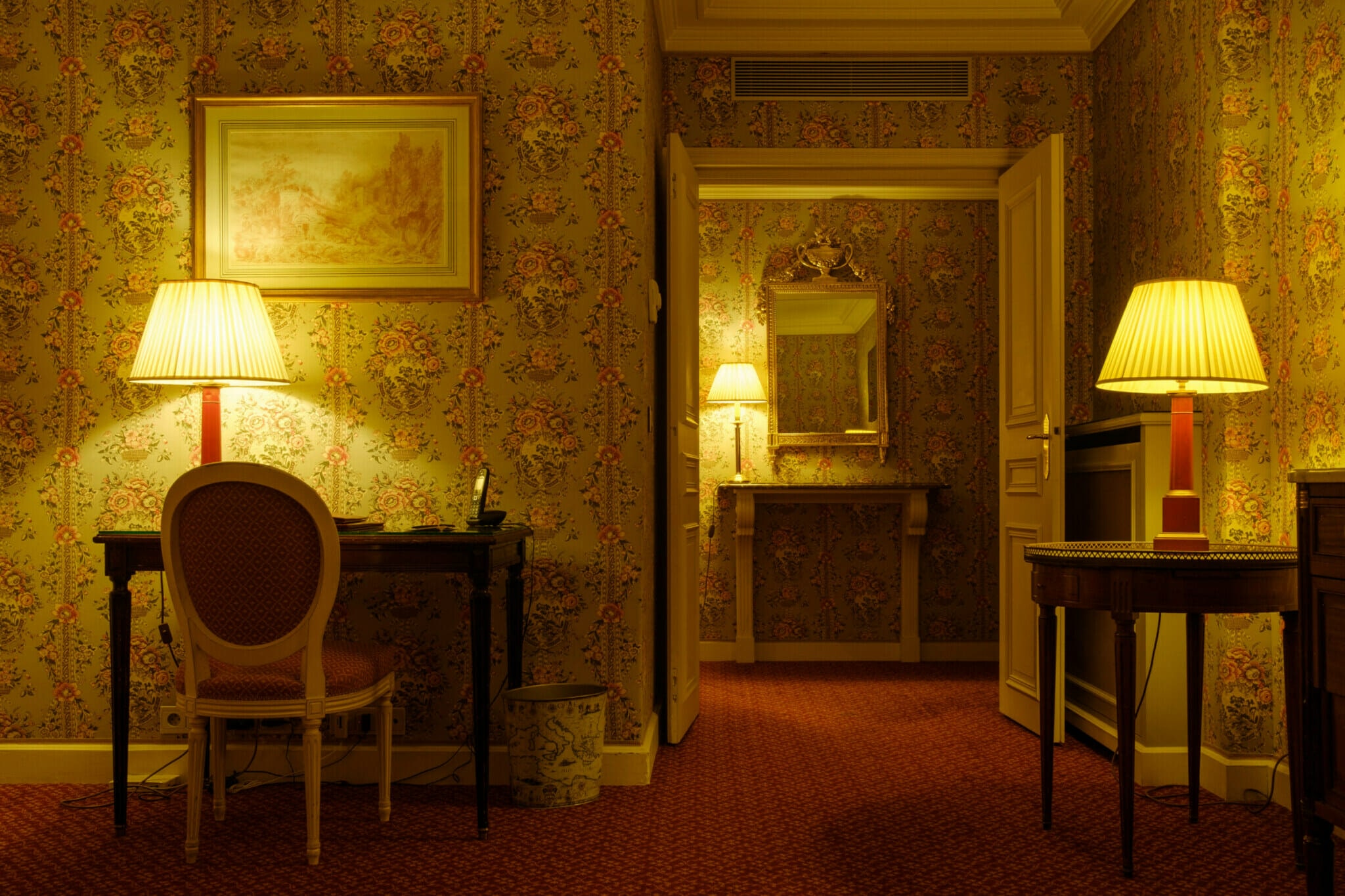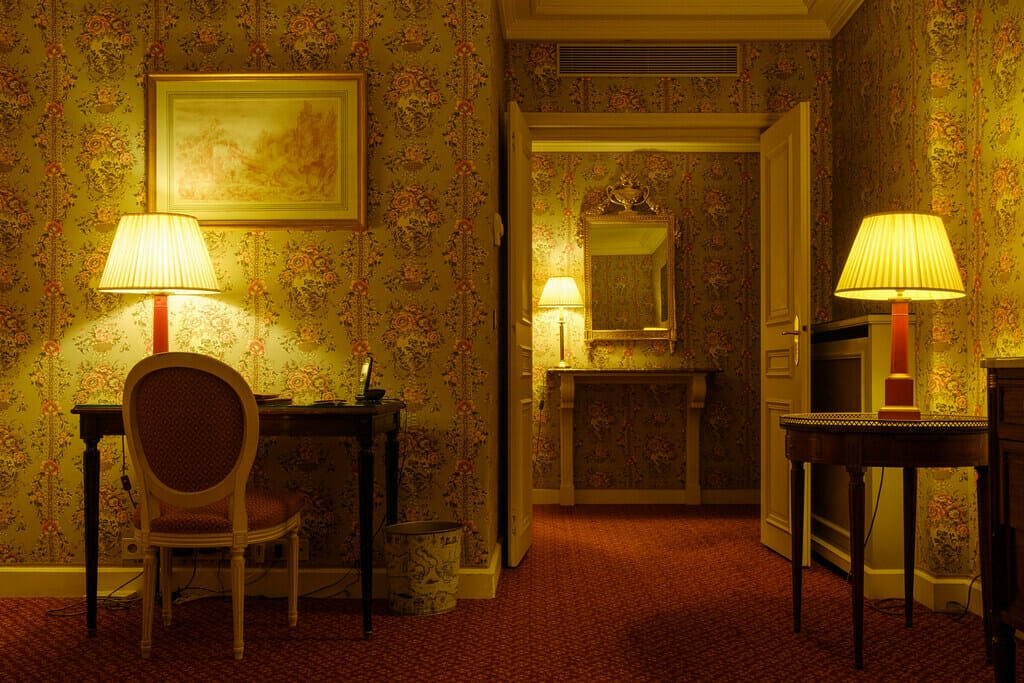 What was the genesis of the book?
During a 2017 visit to Europe it hit on me that the Continent – not literary London – was truly Katherine Mansfield's happy place. I'd never known drafts of 'Prelude' emerged in a garret above the Seine. No one told me that Kiwi classics 'At the Bay', 'The Garden Party' and 'A Doll's House' were born in a chalet high in the snowy Swiss Alps
And when I dug a little deeper, I saw that little had been written about her European legacy, the varied continental landscapes she kept crisscrossing by train on budget tickets in third class carriages. Her husband John Murry once put it well: 'Once across the English Channel, inspiration will run free, thought be profound, and word come back to the speechless.'
So I decided to learn more about her constant travelling across the landscapes of Germany, Switzerland, Italy and especially France. These were the landscapes that fired her creativity. She'd pause and write, but never for long, she was such a restless spirit. She struck me as the original backpacker, her travelling world a blur of night trains, channel ferries and cheap, grimy hotel rooms.
Her life was packed into three black tin trunks. Once checked in, out came her folding bookstand with Shakespeare and Chaucer, a black Japanese fan, and her trusty revolver. She'd unfurl her travelling photo folder in leather with silk lining, laying what she called her 'old wild jackal skin over the counterpane'.
And her continental voyaging only speeded up in her final years as the killer disease tuberculosis progressively ruined her health. Katherine Mansfield kept chasing doctors up and down the continent, signing up to all sorts of expensive and agonising cures. Nothing helped in this scary era before antibiotics.
How long has the process taken you? Did you fill thousands of notebooks like your subject did or were you all digital?
Between 2017 and 2019, I set out on her rail trails into Germany, France and Switzerland, absorbing and recording what I saw out the carriage window, mostly using her many letters and diaries as my maps. The book is not an account of a single journey. Rather a composite: dispatches woven from a stack of A5 notebooks, interview transcripts, misty photographs snapped on a cellphone, email and text message printouts, and a bulldog clip of boarding passes and hotel receipts. My aim was to report back on what's left of the landscapes Mansfield knew a century ago and how she is remembered, if at all, in those places today. I completed the book during the Covid-19 pandemic.
Locked down at home in New Zealand with my books and papers as Covid-19 circled the world, it was sobering to think that close to a century earlier, she too, witnessed a pandemic, catching – and surviving – the killer influenza virus as she crossed Europe in a wild bid to prolong her life. Equally lethal but slower moving, TB would finally overwhelm her, at 34.
Having already immersed yourself in Katherine Mansfield's Wellington, did you find corners of Europe came alive with her writing in the same way or was it a different process?
Mansfield's Europe effortlessly came alive for me. My stay at Victoria Palace Hotel in Paris, for example, gave many insights into KM's world in 1922 while being treated for TB. I gained access to her jewel box of a suite where she spent days by the window. I looked out across the same enclosed internal courtyard where KM, at her window, watched the woman in an apartment directly across putting out her canaries. This inspired her final story. Within weeks of my stay in October 2019, extensive renovations of the hotel began and the rooms were gutted. Fortunately I'd arranged a beautiful photographic record, all of which is featured in the book.
In the basement of a hotel in the sunny Swiss town of Sierre I found another of her treasured haunts: the old low-ceilinged billiards room. At one end loomed a fireplace made from a piece of marble so large and rough-hewn that it is like an iceberg adrift. Extending to the ceiling and edged with lion-topped columns, the marble is mottled like blue vein cheese. Today the billiards room has been repurposed as the Sierre town council chamber. She and husband John Murry shared hours here together in the summer of 1922, chalking cues, knocking balls around a baize table under a bright light. Katherine felt herself transported back to convivial schooldays in Wellington. She recalled crouching around a full-size billiards table at the prime ministerial residence on Tinakori Road, the family home of a classmate. In a letter to her father, she wrote: 'There is a splendid table here and we are both very keen. It's a fascinating game". Nine months later, Mansfield was dead.
Is there one particular fact in this retracing of Katherine Mansfield that totally surprised you?
I was amazed and delighted to find that a company of European 'foot soldiers' is ensuring she's not forgotten. The world of these patient historians, literary sleuths and shameless admirers shaped my understanding of the imprint she left on their countries, and how they formally (and informally) commemorate her. Notable among these is Bernard Bosque of Fontainebleau/ Avon in France, who tends the cement box of flowers at the end of Katherine's tomb, arranges her annual graveside birthday commemorations, and has devoted years to tracking her movements across France and Switzerland.
And memories of Mansfield are fresh. In Germany, I met Henning Hoffmann, who recently persuaded the Bavarian spa town of Bad Wörishofen to erect a Mansfield statue in 2018, nearly 110 years after her six month stay there. And there was Italian novelist Roberta Trice, who persuaded the San Remo municipality to erect a 'belvedere' after she curated a 2008 exhibition there.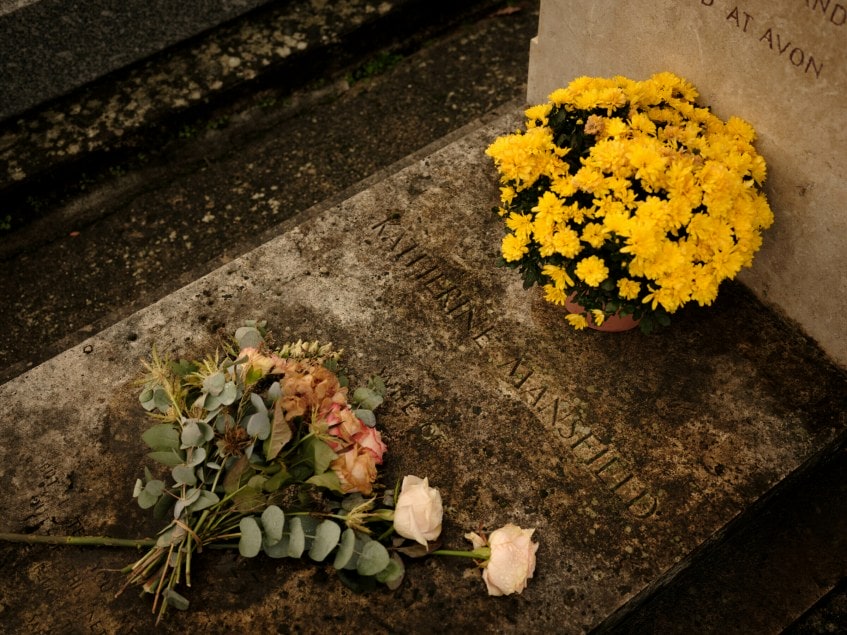 KM wrote and set her stories in so many European countries – which European place had the most fertile soil for her writing and in which country did you feel her most alive?
That would have to be France, a nation to which she kept returning, even during wartime. We especially associate her with Menton on the warm Riviera. She once wrote: 'I never feel indifferent to France… there is a wonderful spirit here … one cannot see it all & not think of the strange cement like state of England.'