Once a mechanic's workshop, this converted barn in Hawke's Bay is now an expertly curated home filled with treasures hunted down from across the world.
Any seasoned traveller has those moments, far from home, when they wonder if they should risk sending back that vase, those chairs, a precious artefact haggled over at a quaint market or roadside stall. More often than not, they'll walk away because it's too hard or too pricey or precarious to do so.
Not George Gaddum. His treasures tell a wonderful story of a life lived to the full – his twenties spent working in Africa and travelling in Europe before returning to New Zealand to establish himself in the events industry. His home – dubbed Tiger House – is a wonderful amalgamation of his life story, his values and his indefinable taste.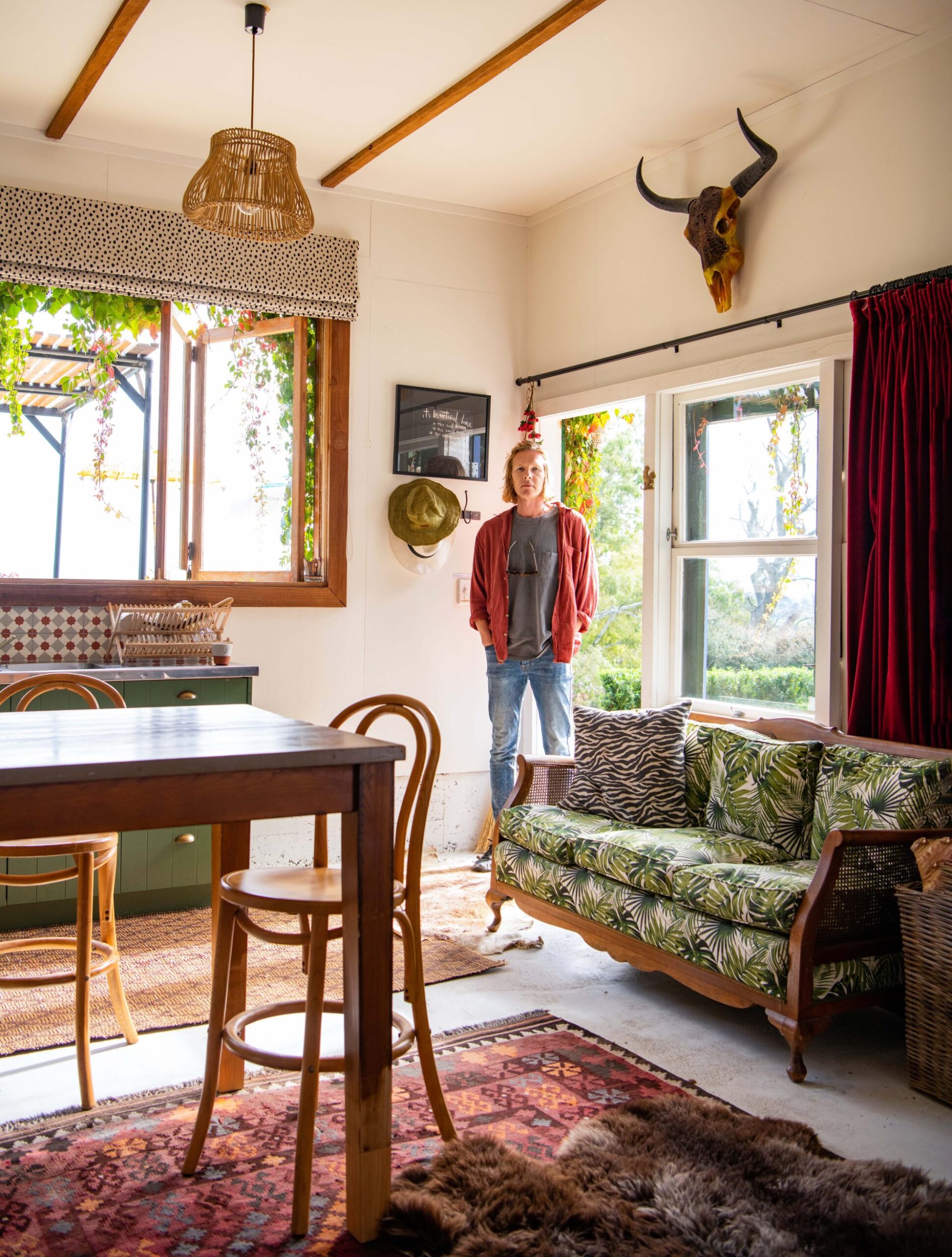 Stepping into the vine-clad concrete shed he's spent the past three years reclaiming is like taking a trip around the world. You could be in the Balinese jungle, a dusty Italian olive grove, or camping out in a safari tent in the desert. Where you are, in fact, is a converted mechanic's workshop on the family farm, just a few kilometres south of Havelock North.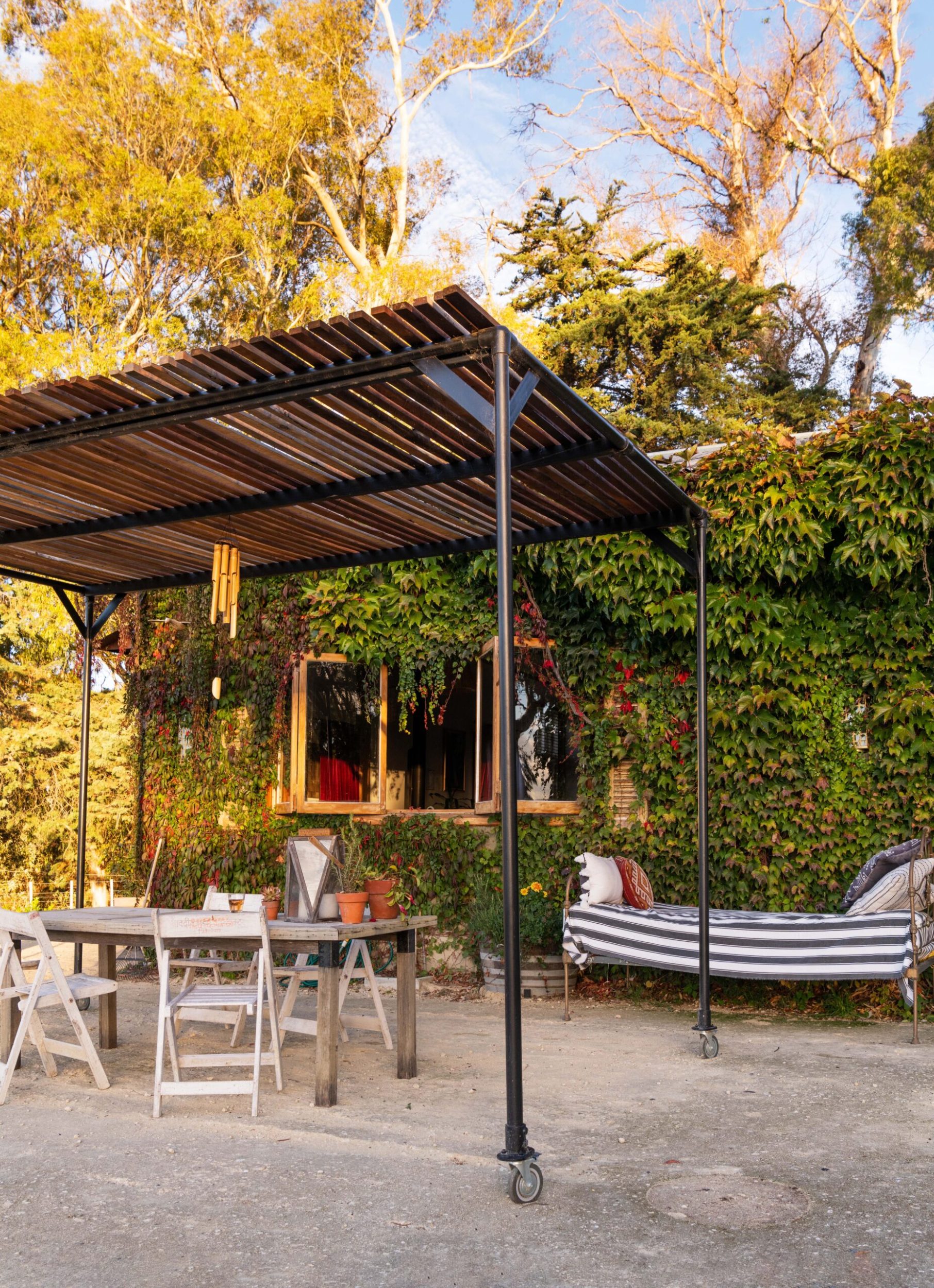 Upon arriving back in 2018, after many years of adventure and abandon, George asked his family if he could move into the barn, which he then set about cleaning, lining and refurbishing. The vehicle inspection pit was covered over, and George camped on-site as he began to painstakingly create his dream.
"This barn was initially built to service the farm vehicles," begins George, speaking to Haven on a bluebird Hawke's Bay morning. "And for me, it was really important to retain the integrity of that, particularly on the outside. For example, I've kept the green exterior. If you're looking up at the hill towards my place, you might never guess what is in here."
Every single piece chosen for Tiger House has been recycled, repurposed, shipped back from overseas, hunted down, won at local auction houses, or thrifted, often via Facebook Marketplace or Trade Me. A photo of an Indonesian fisherman was snapped by George's friend Scott Goldsbury.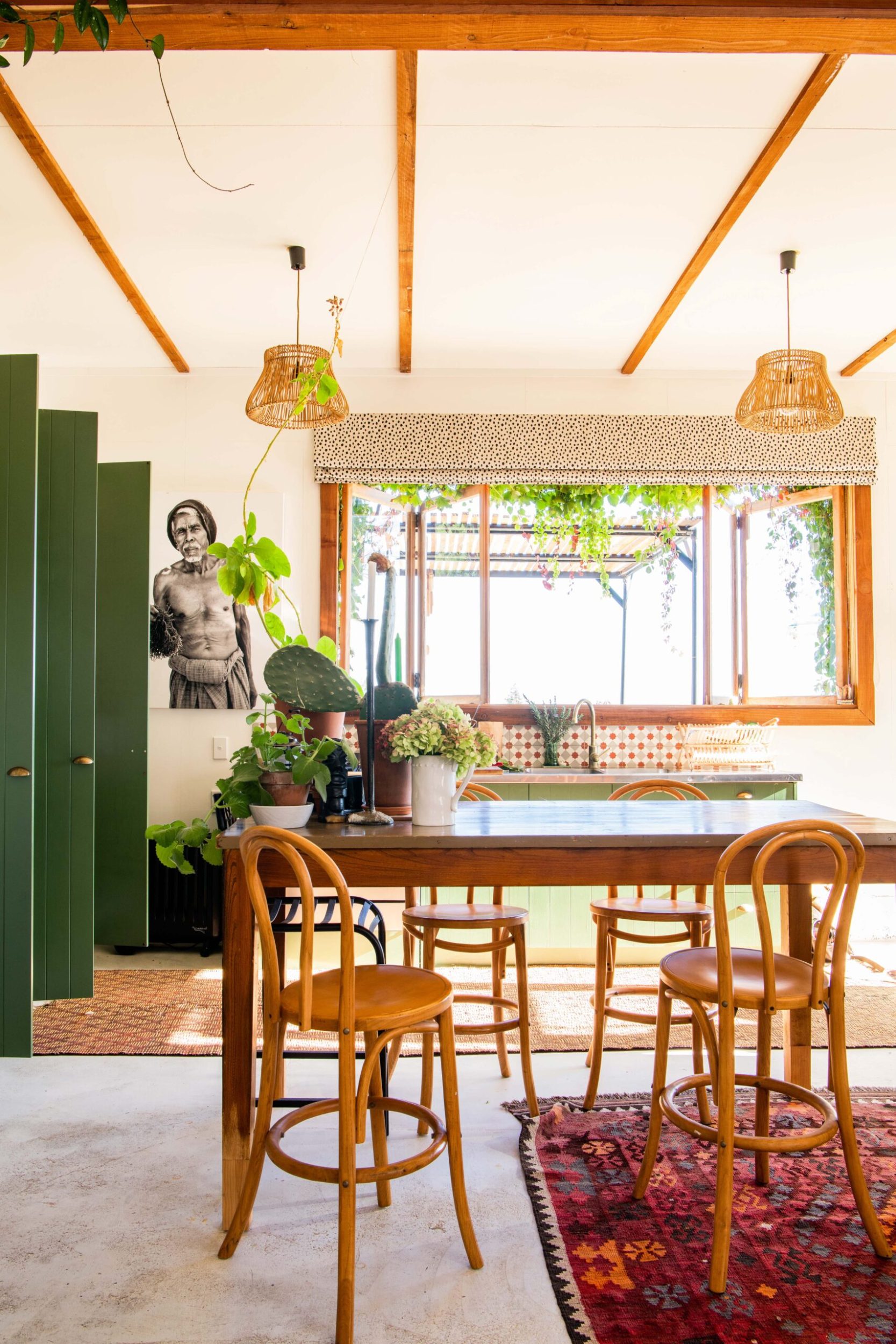 A table from Morocco, rugs from Iran and India and an Egyptian armoire take pride of place in a studio space, with huge, ornate doors – also from Egypt – leading to a spacious dressing room.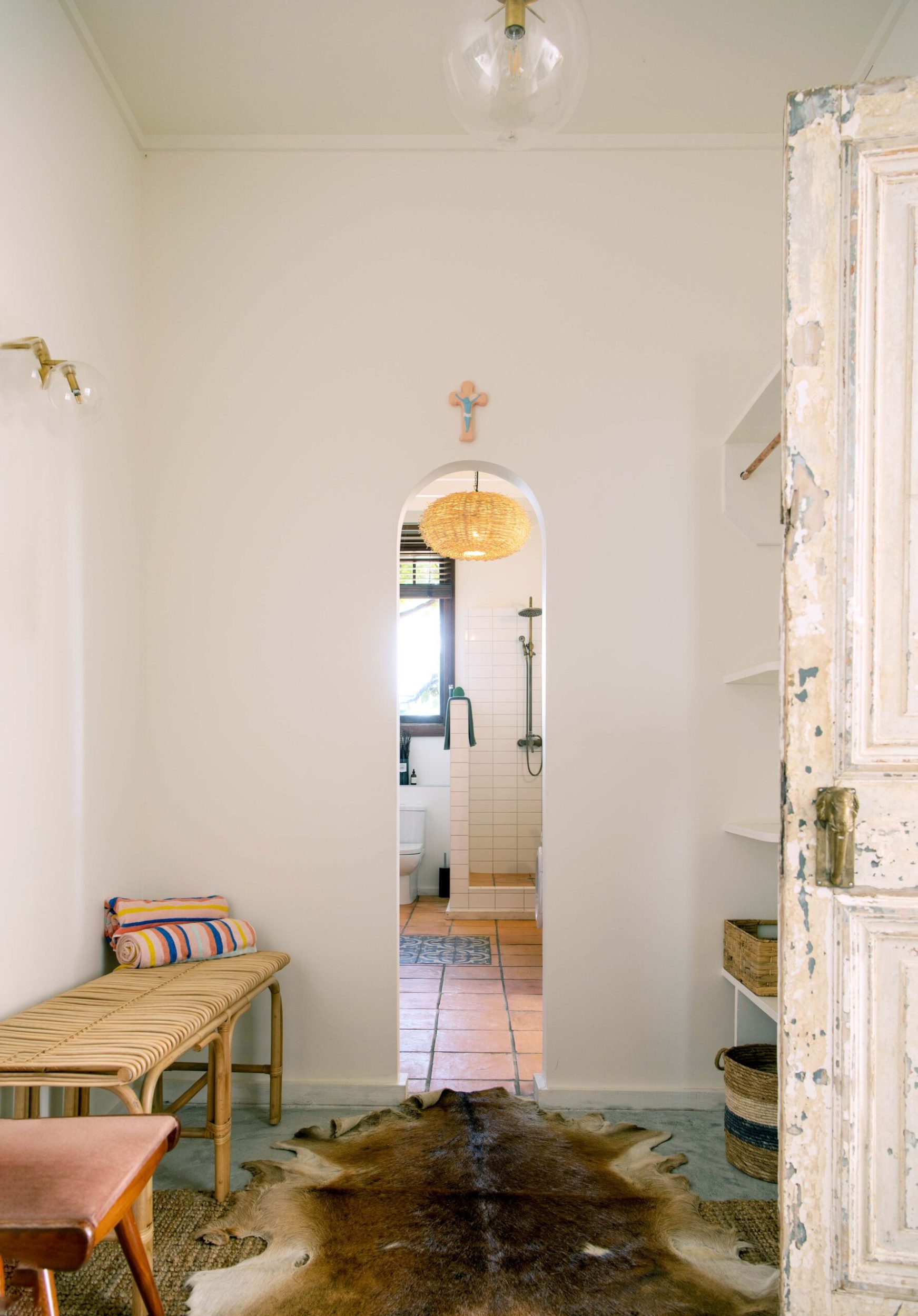 "My builder was a bit gutted when he saw them," says George with a laugh. "He said they were wonky, heavy, uneven, that they weren't even a pair and were a nightmare to work with. But he took all the hinging off them, re-swung them, and they're great."
In the kitchen, appliances and tapware are all second-hand, the shelving is built from pine milled on the farm, and the island bench is a gift from George's sister Benita, who owns Hawthorne Coffee Roasters with her husband, Tom. "They used it to pack coffee orders on," says George. "I raised the legs and now it's the perfect workbench for the kitchen."
The bathroom "vanity" is in fact a concrete sink from an old woolshed, and needed to have about six different layers of paint stripped from it.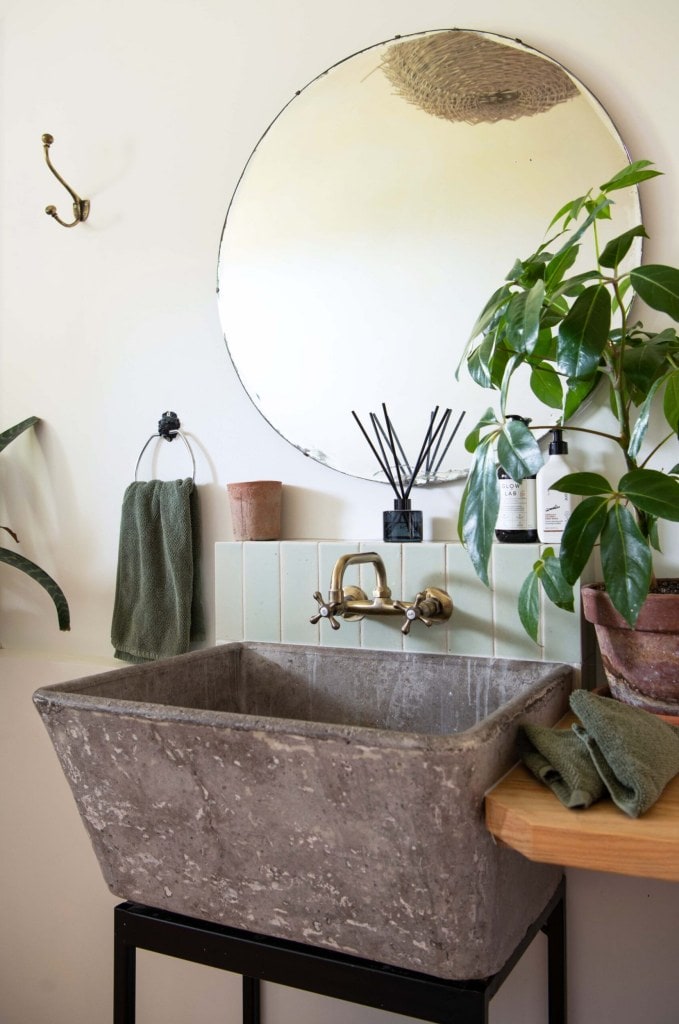 A vintage electric wooden organ, with a fishing rod from Takapuna Sunday Market propped up behind it, doubles as amplification for George's Spotify playlists.
Outside on the terrace, where George's ducks Tofu, Jemima, Fernando and Congo roam, there's a claw-foot bathtub with a hot-water tap for a relaxing soak under the stars, and plenty of space to eat and entertain.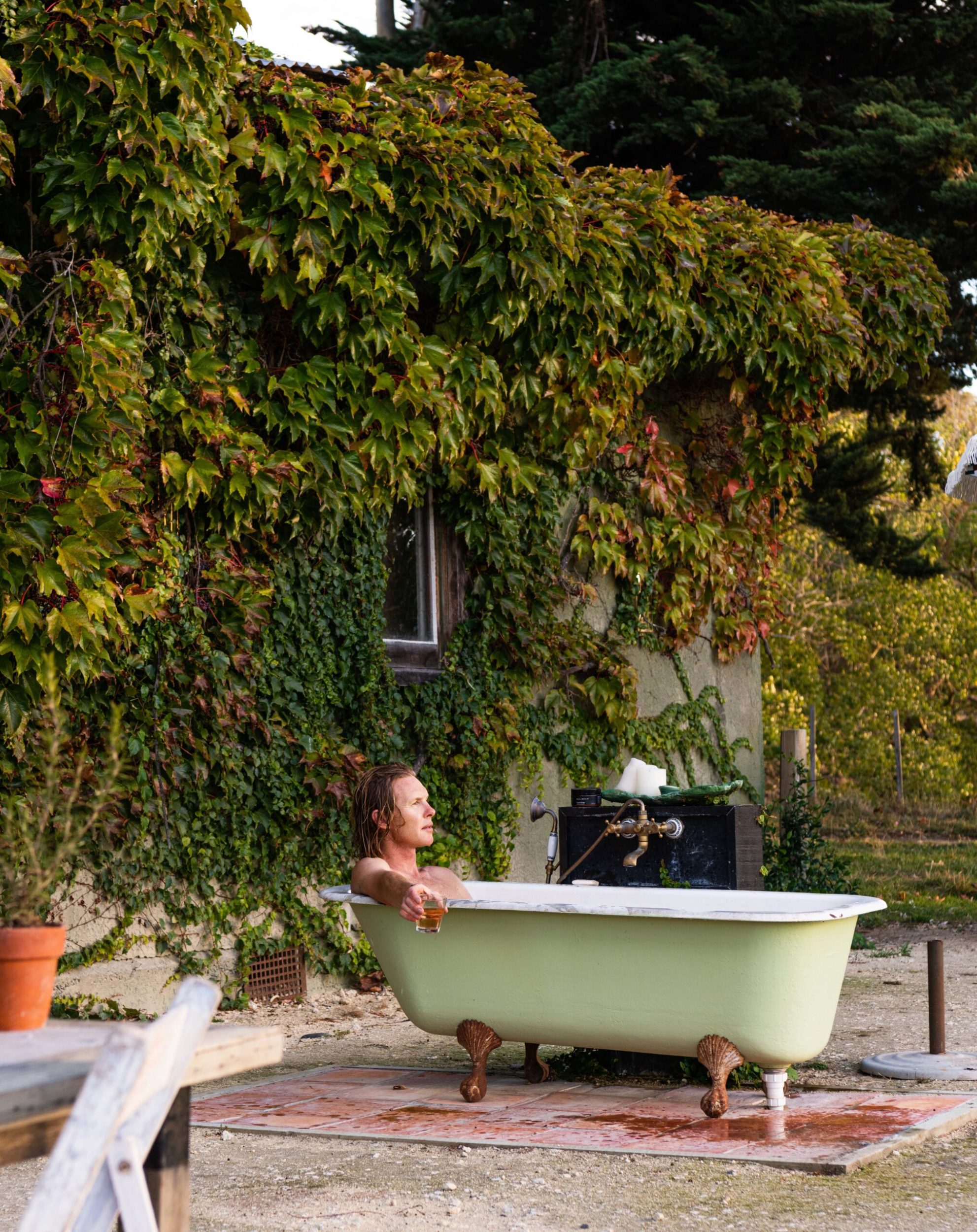 Even the sun lounger has a history. "My great-grandfather's bed, which is why it's so short – people were so much smaller back then! It was completely buggered, so I had some slats welded to the base, bought a mattress, and now it's the day bed."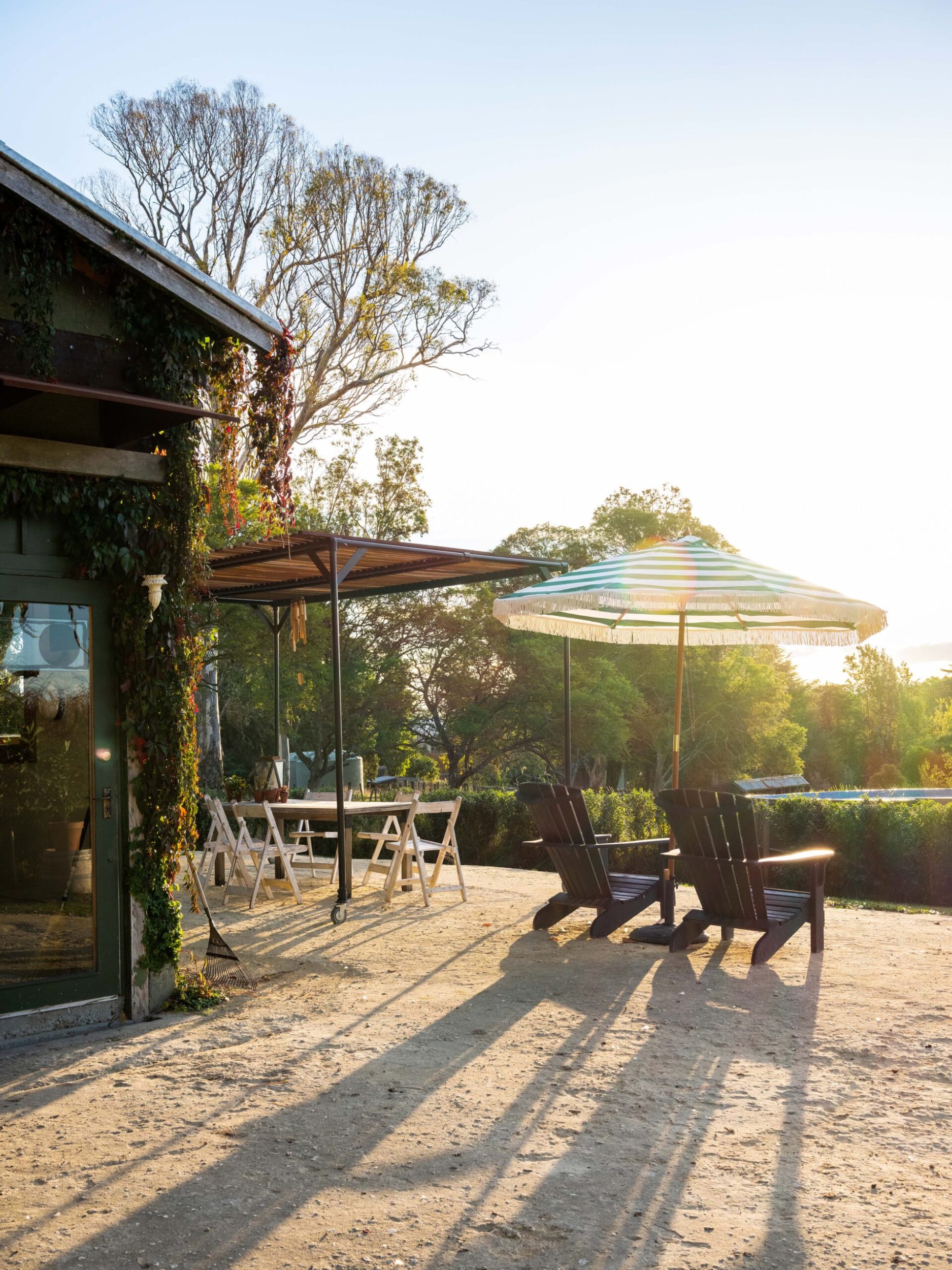 During lockdown, George taught himself how to make a rollaway shade cover to keep the sunlight off faces as friends gather at the open-air dining table. Last summer was spent gardening – there are still more natives and a field of some 200 peonies to plant – and swimming in the pool he fashioned from an old water tank, which he sunk into the ground, cut in half and tiled.
Most recently, he's finished rewiring what was the stables into a second bedroom – he rents out the barn and stables on Airbnb when he's away.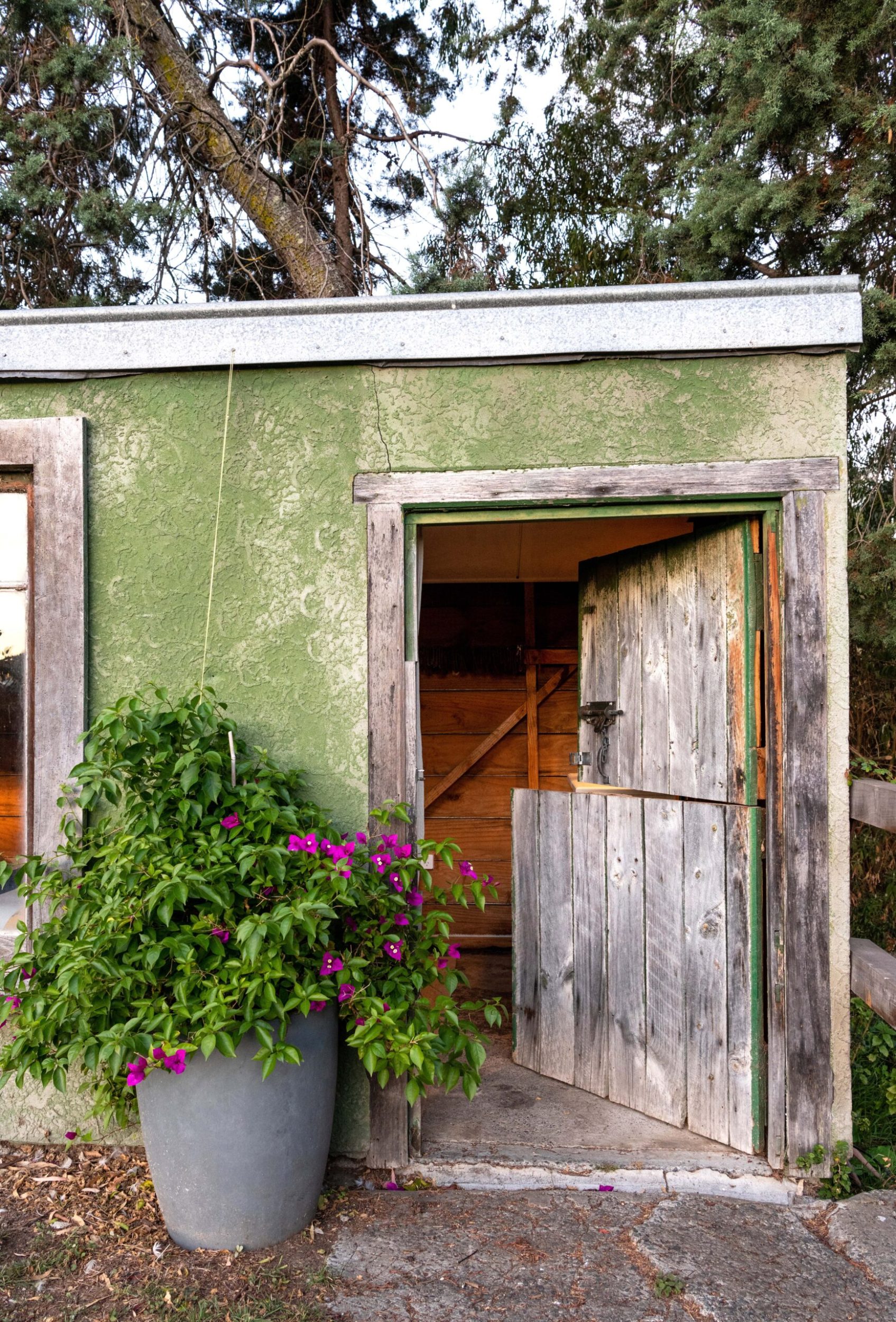 What does Tiger House mean to this modern-day nomad, who says the pull of the family land became too strong to ignore? "It's a retreat – a place for me and for others to enjoy, to live in and to love."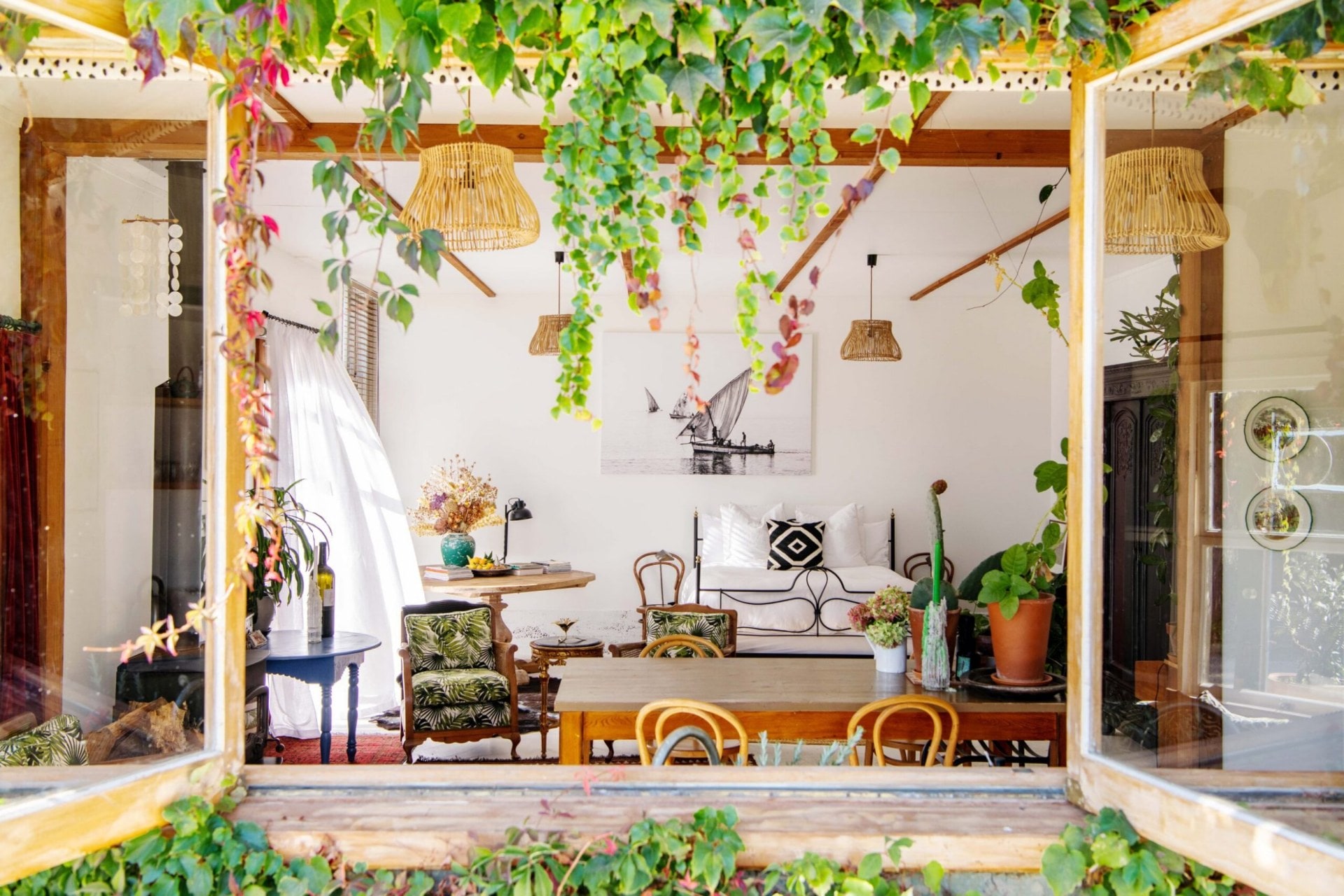 He says he chose the name after "stumbling into a bookshop in Rome. There was a small area where the books were in English, and I grabbed one called Tigers in Red Weather. It was about a post-war American family who had a summer house where they would throw these amazing parties. So when I moved home to New Zealand and started converting this old barn, I just knew what I was going to call it."
But he's not quite done yet. Just through the bathroom door, there's another huge, fairly naked space ready for George's deft hand. He's still undecided as to what it will eventually become. "Some days I think I should put in another couple of bedrooms. And other days, I consider turning it into a big gallery or co-working space, or a really cool showroom. Or," he muses "it might just be a shop, where I can sell my peonies for three weeks a year!"
George says this space will also become part of the story of Tiger House – "a project of trial and error, successes and failures. But it's been an amazing experience, and I think everyone in my family is really happy to see this barn resurrected and repurposed – just in quite a different way."
Swipe the style