A gallery owner's Ponsonby flat makes up in spark what it lacks in square metres.
For many of us, work has always been clearly separated from home, either by location or preference. But last year, when the world tilted on its axis, working from home became a reality – one that appears to be here to stay.
Pandemics aside, for some people, living in the same real estate as they work simply makes good sense. People like David Alsop. Since early last year, David has rented the compact apartment above Suite, his art gallery on Ponsonby Road in central Auckland.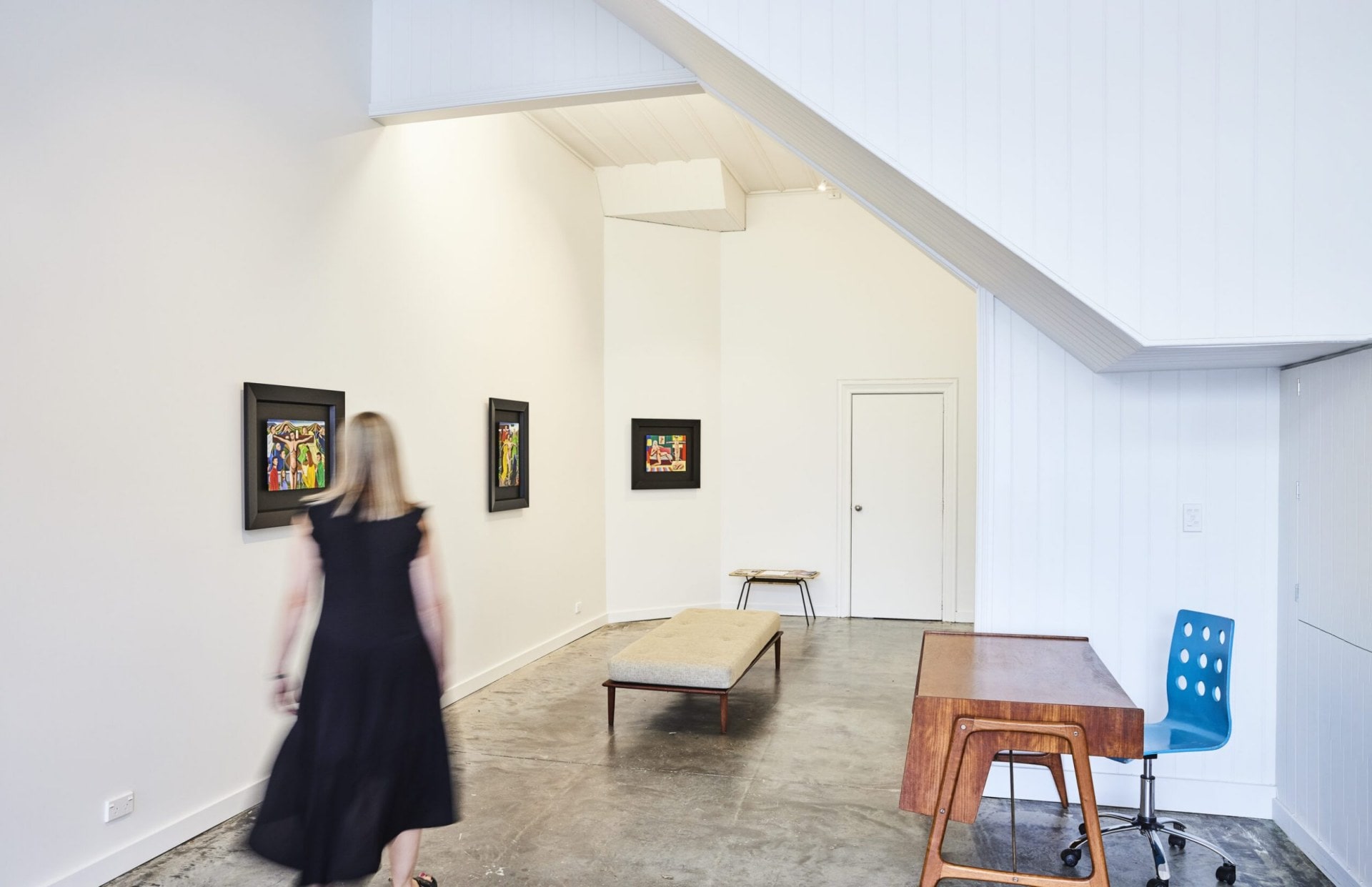 For David, the meshing of his work and life is seamless. "It makes total sense for me to be close to the business as I build it in Auckland," he says. "I've run Suite in Wellington for 14 years and had been looking to open a gallery in Auckland for the past three years. This site's location and its proximity to many of the artists I represent is important. And it's close to cafés, which makes networking much easier."
Tucked between a doctor's surgery and a clothing store at the top of Ponsonby Road, about where it intersects with Franklin Road, the two-storey site has been home to many things including, David believes, a former art gallery.
David looked at numerous sites before settling on this one, sold not only on the location but also on the courtyard, which provides ample room to display sculptures by the artists he works with.
By painting the fence, the former lawyer added a pop of brightness to the courtyard. "The courtyard is used for gallery openings and functions, so the colourful fence adds more character to the space."
Walk though the courtyard and you'll be greeted by dark green walls, which run up the stairwell to the 70sqm apartment.
"I wanted to create the feeling of walking through a forest, of evoking nature," says David. A large spiderweb artwork by Amberley artist Wayne Youle, one of the artists David represents (whose work features heavily in the home), greets visitors as they make their way up the stairs.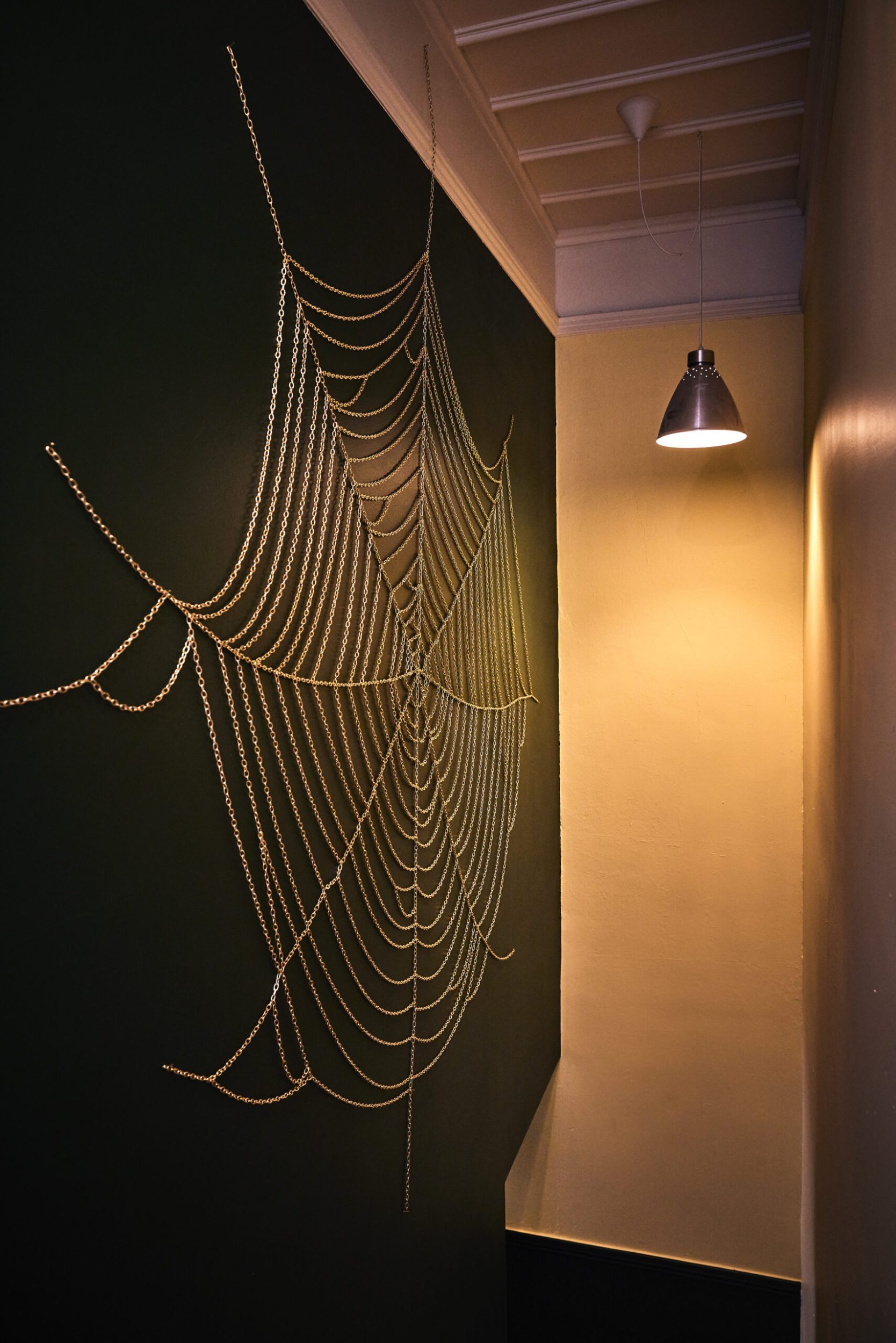 At the top of the stairs is a gallery-style wall that features an extensive collection of Ans Westra black and whites (David has represented the Kiwi photographer for more than 10 years).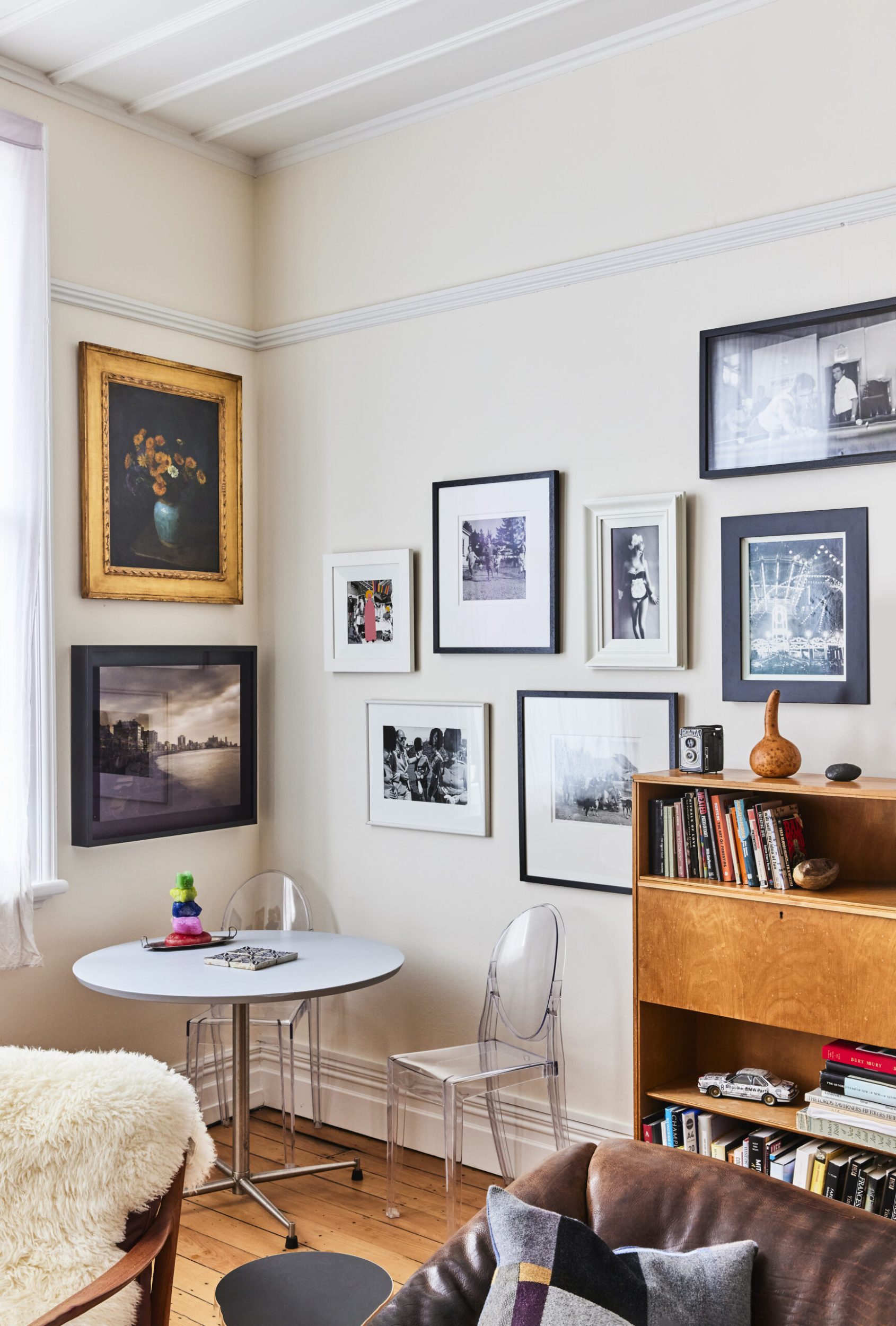 Take a few steps and you're in the living room, where David had the walls painted in a light colour to make the artwork pop. Here, another wall features work by artists such as Peter Peryer, Richard Lewer and Tia Ansell. "It's not a large room but I often get clients up here to show them that you can have 20-plus pictures on a wall and make it work."
David was delighted to finally find a suitable space – above the fireplace – for a sunflowers painting he bought during a four-year stint in Amsterdam. "It was painted in 1926 by an acquaintance of Van Gogh and I've never really had the place to hang it before."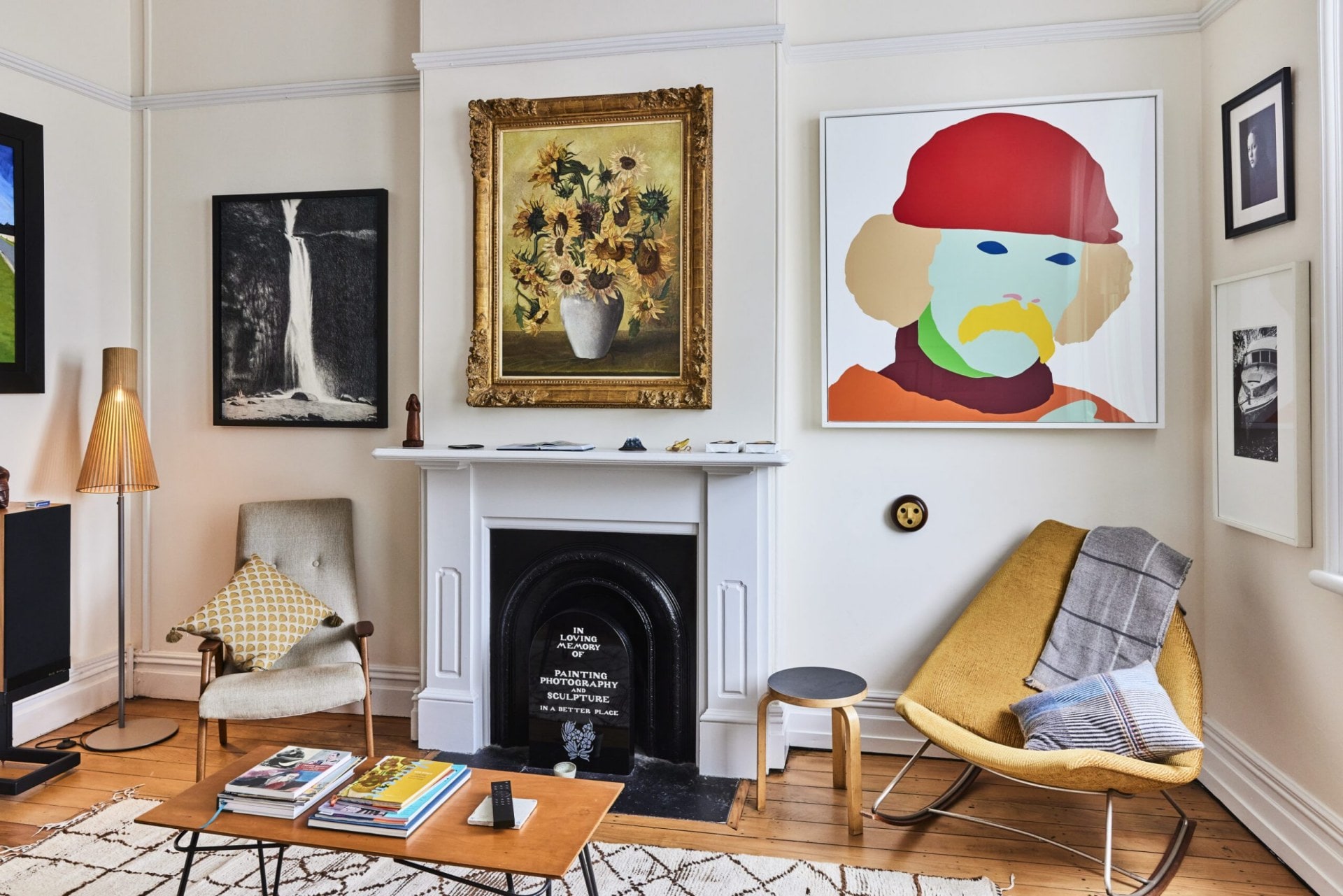 There can't be many apartments that feature a tombstone, but a pop art marble tombstone, also by Wayne, has found the perfect spot in front of the fireplace, which isn't in use.
As for the furniture throughout the apartment, it's a mix of old and new, with David big on both form and practicality. "Furniture needs to look good but there also has to be a good degree of function in it," he says, pointing to a 1965 Danish chair he found at The Vintage Shop in Auckland. "That chair will outlive me."
Ditto a round dining table that David bought in a Levin second-hand shop for $80, while his stereo speakers were inherited from his father.
In the compact kitchen, David's stylish dinner set was made in 1972, his birth year. "I have a thing about collecting items made the year I was born, from watches to furniture. It's become an expensive habit!"
Although a sleek Agnes & Edith shelving unit that holds crockery and wine looks vintage, it's actually new, created by two English designers. David bought it for the space from Auckland store Bob & Friends.
However, he did persuade his landlord to fit a new, compact kitchen before he moved in, and he says it works well for one person.
His G-Plan table and chairs were found at Add+Vintage in Wellington, and are framed by more art, including works by photographer Brian Brake and a cluster of small ceramic canal houses David collected when he lived in Amsterdam. "I was working as a lawyer in the aviation industry back then and was travelling quite a bit. The Dutch airline KLM would give one to business-class passengers and I managed to collect quite a few of them."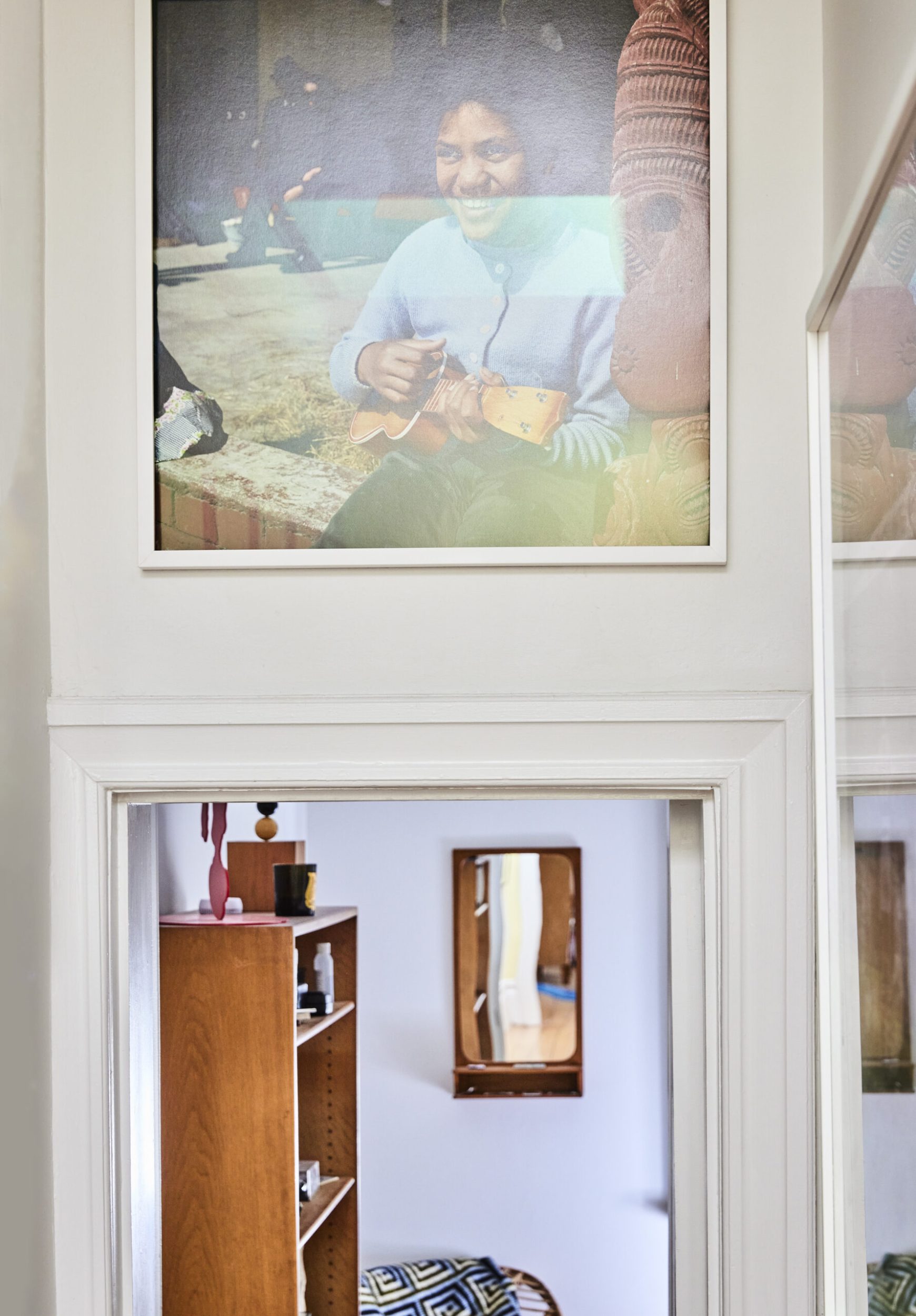 Go down a few steps and you'll reach David's bedroom, for which he bought a wardrobe and repurposed a wooden bookcase to store his sneaker and watch collection. It's also home to a glass cabinet featuring a collection of model coronation coaches that once belonged to David's father.
David enjoys cooking but he says the small kitchen isn't suited to the big dinner parties he once threw.
In among a 1940s Danish mirror and a rattan chair hangs the first piece of art David bought, by painter Trevor Moffitt. "I was a law clerk and should never have bought it because I couldn't afford it but I paid $5000 for it. I sold it a few years later to a friend for $6000 and then a few years later bought it back for $10,000!"
A steel sculpture that stands next to the bed has special significance – it's a cut-out of David holding his late mother's hand. "That piece is incredibly meaningful to me."
While renting a flat above his gallery is a big change from the three-bedroom suburban Wellington house David lived in for eight years, he says the set-up works.
"This won't be my forever home but renting here has been a breeze – except when my 12 and 14-year-old children come to visit from Wellington, and then it's a bit of a squeeze!"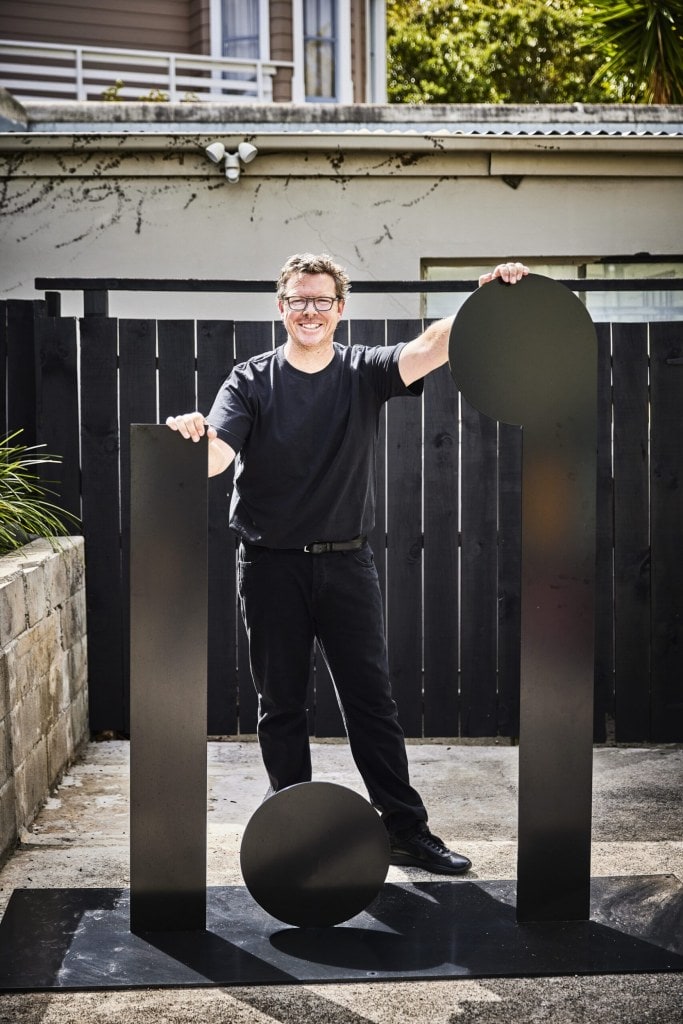 Swipe the style