What's the secret to second-hand shopping? You'll need patience and dedication, and the ability to spot treasure among the trash, says vintage fan Fiona Ralph.
Even though I rarely buy anything now, I was surprised when I looked around my house while writing this story and realised that every piece of furniture and nearly every plate, cup, ornament and object – and even a few artworks – were second-hand.
I've had most of these items for years. Some were purchased on Trade Me, others from op shops and vintage stores. A few things were picked up from the side of the road, and many were inherited from family or friends. While the effect may not be perfectly styled, each piece is unique and meaningful, and I find it's a more sustainable and affordable way to shop.
I also love that my home is full of stories. My bed was purchased from a local woman on Neighbourly, my dressing table came to me after many years in my grandma's bedroom, my blankets followed me from my childhood home, and my coffee table, a Trade Me purchase, has moved from flat to flat with me. And then there are the many pieces I've op-shopped over the years whose stories I can only imagine – colourful cushions and vases, retro Crown Lynn plates, a fabulous gold drinks trolley.
Although there have been many times I've bought a second-hand item because I couldn't afford to buy new, this hasn't always been the case, and I'm aware there is an inherent privilege in op-shopping for the aesthetic rather than because of necessity. There is ongoing debate around the ethics of people buying items from op shops and reselling them online or at vintage stores for a higher price. The concern is that there won't be enough left for people who genuinely need lower-priced goods, and that it encourages op shops to raise their prices.
In my opinion, as long as you are paying a fair price when op shopping, as well as not buying more than you need, and being respectful of the products as well as staff, volunteers, and other shoppers, then you are supporting a charitable cause and shopping sustainably.
A few years ago, I took my second-hand obsession to new heights when I co-managed an op shop and Trade Me store for the Auckland City Mission. The charity receives a lot of donated goods, and since not all of these are needed for clients, surplus stock is sold to generate income and make room for more donations. The mission always ensures it caters for its lower-income clients before selling things to other consumers.
Due to our consumerist culture, there will always be surplus goods that need new homes. And though resellers might receive more for an item than the op shop did, they might rely on this job for their own income – and they put a lot of work into sourcing, curating, cleaning and restoring items – so it is usually worth the extra money to support these sellers. Buying on Trade Me can also provide an income boost to someone who needs it, and it contributes to a circular economy.
So vintage shopping is a no-brainer in my book. But what's the secret to finding the good stuff?
Top tips
If you're looking for a piece of furniture for a particular spot in your home, make sure you measure the space first, and keep a tape measure handy while you're shopping, whether in person or online. Things can look much bigger or smaller in photos!
Check the pick-up location or shipping options if buying on Trade Me or another website, and factor in travel or shipping costs.
Test a couch or chairs for comfort before you buy, if possible.
Before buying anything, check the item, either in person or by asking the seller. Is it solid? What is it made from? What condition is it in? Check for damage or marks, and work out if it is worth putting in the time to repair or restore it or if you are happy with it as is. Some wear is to be expected and is part of the charm of a vintage item.
If you would prefer to buy something that has already been restored, head to higher-end vintage shops – Auckland's Mr Bigglesworthy and Christchurch's Mr Mod have good selections of mid-century furniture.
Save searches on Trade Me if you are looking for a specific item. And don't forget to check the "antiques and collectables" category if you are looking for a vintage piece.
Other websites to check out include Etsy and eBay. Some local vintage traders sell on Etsy, and some international Etsy and eBay sellers will ship to New Zealand. Neighbourly and Facebook Marketplace are also great resources – join a Facebook buy and sell group for your area to keep it local.
Locate the op shops in your area and visit them regularly, as stock changes often. Be patient – some days you won't find anything, but others will prove more worthwhile.
Always be on the lookout for second-hand finds – you never know where your next vintage treasure might turn up. Don't be afraid to get your hands dirty. I'll always stop for something good that's been left on the side of the road or thrown in the trash.
While on road trips, keep your eye out for second-hand shops, and factor in time for stops. You can also keep a copy of the Collectors Anonymous guide in the car, with its extensive list of shops around the country.
Keep a list on your phone of things you are looking for, so when you get to an op shop or vintage store you can look for specific items without getting overwhelmed and making ill-advised impulse buys.
Shopping second-hand doesn't just mean buying vintage styles – if you prefer a more current look, you'll still find plenty of newer items on Trade Me or in some second-hand shops. You can also purchase new items made from upcycled materials.
If you really want to stop items ending up in landfill, go straight to the source – you can find amazing things in dump shops and reuse shops. You just have to be prepared to clean things up a bit.
Other places to hunt for second-hand bargains include auctions, garage sales, fairs and markets, such as the Central Flea Market in Balmoral, Auckland.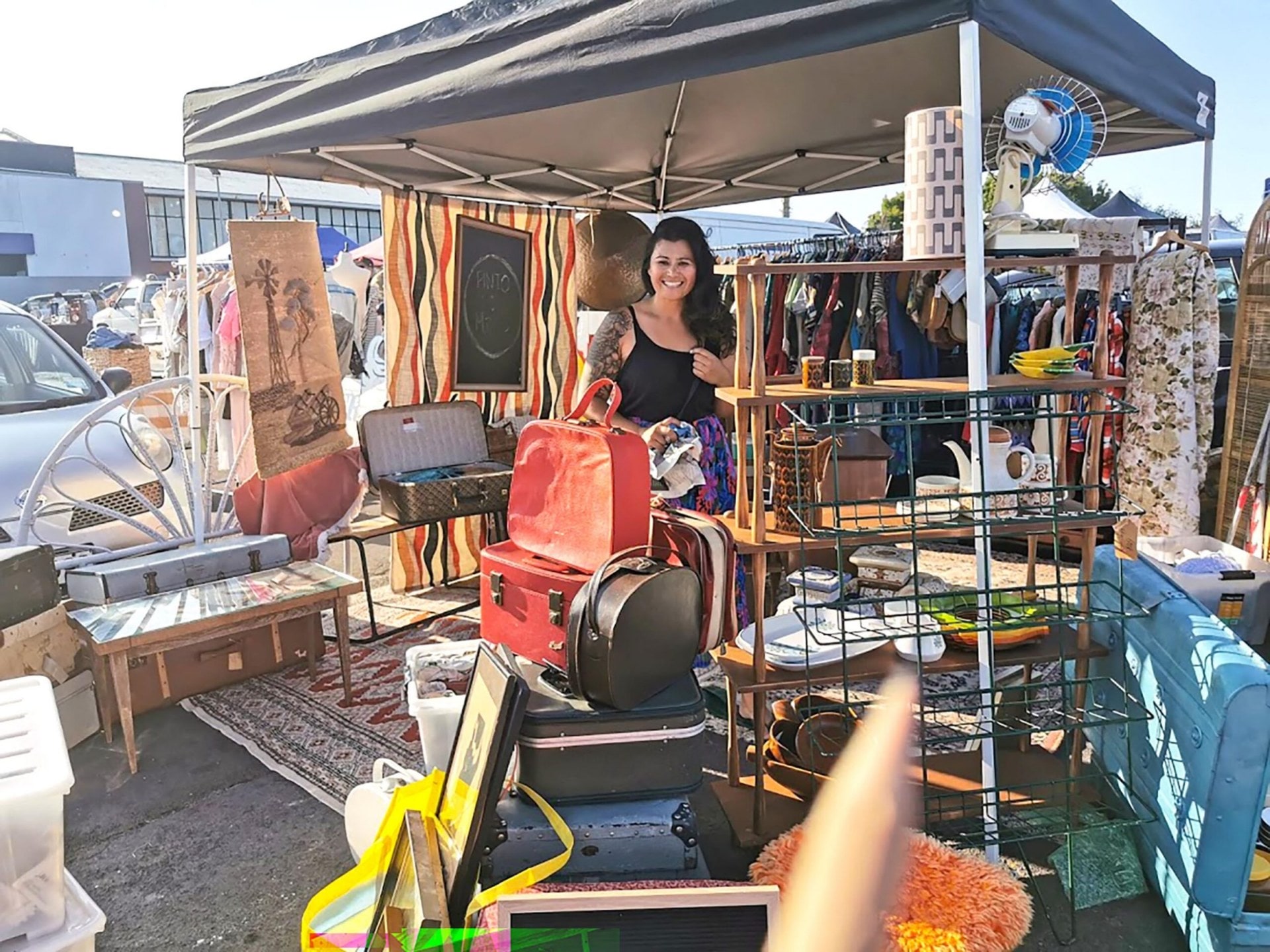 Where to shop for a good cause
Support charities online as well as at your local op shops: