Tired of the same weekend routine? If you're looking to shake things up a bit this summer, we'll steer you in the direction of the greatest weekend markets New Zealand has to offer. An excellent market is loved by everyone. We've chosen only the most vibrant and best-stocked markets to visit. Sipping iced coffee on the weekend while watching a swarm of happy people who are in the same situation is soup for the soul. Productivity is best served with an armful of fresh produce and scrumptious pastries, so here's to starting your weekend right!



Catalina Bay Markets, Auckland
Open two days a week, the Catalina Bay Markets in Hobsonville is always buzzing with people and good energy. Fresh farm goods, baked goods, meats, cheeses, eggs, organics, coffee, honey, and even flowers can all be found here. I tend to beeline for the crepes that always have a queue (but for good reason). With my lemon cinnamon sugar in hand, off we go to enjoy live music alongside the picturesque wharf. You'll meet heaps of dogs as many marketers finish their shop with a short walk along the waterfront. Huge win.



Central Flea Market, Auckland
The Central Flea was founded to honour the urban diversity that makes Balmoral one of Auckland's cultural hubs, and it draws inspiration from flea markets around the world. Traders in vintage goods and antiques, as well as designers, artists, food trucks, and live music, populate this bustling outdoor market. "At the Central Flea, we feel confident saying that boredom is not an option." Each stall you meet will be slightly different from the last, and it will always have finds that will make your friends green with envy.



Harbourside, Wellington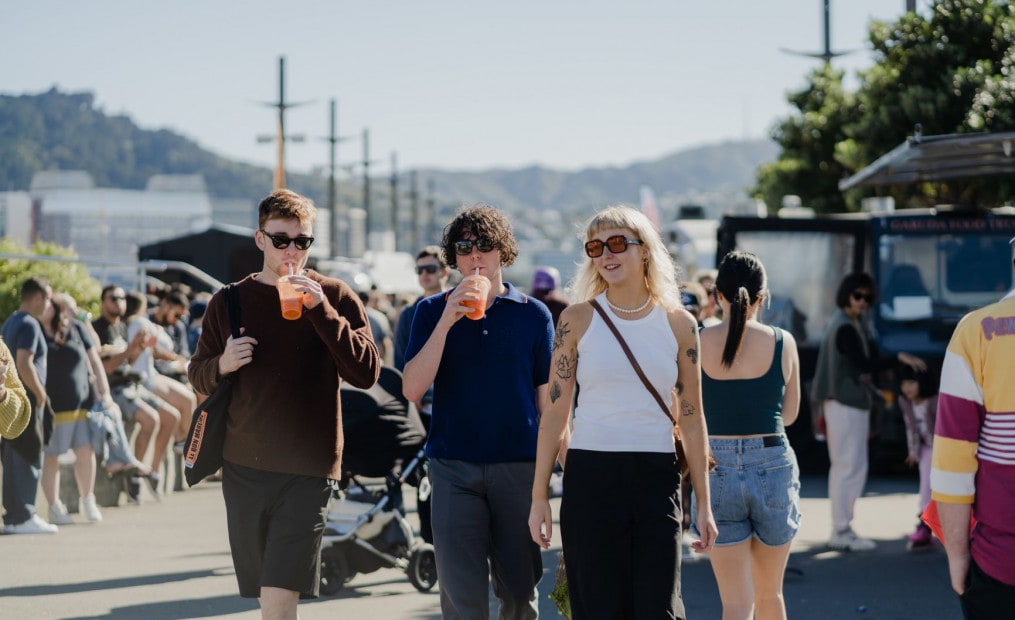 Sunday mornings are best spent at the Harbourside of Wellington. Get ready to stock your fridge and freezers with their assortment of deli meats, ready-to-go dumplings, and fresh fruit and veg bursting with colour as you stroll against the windy harbour.



La Cigale, Auckland (it's back)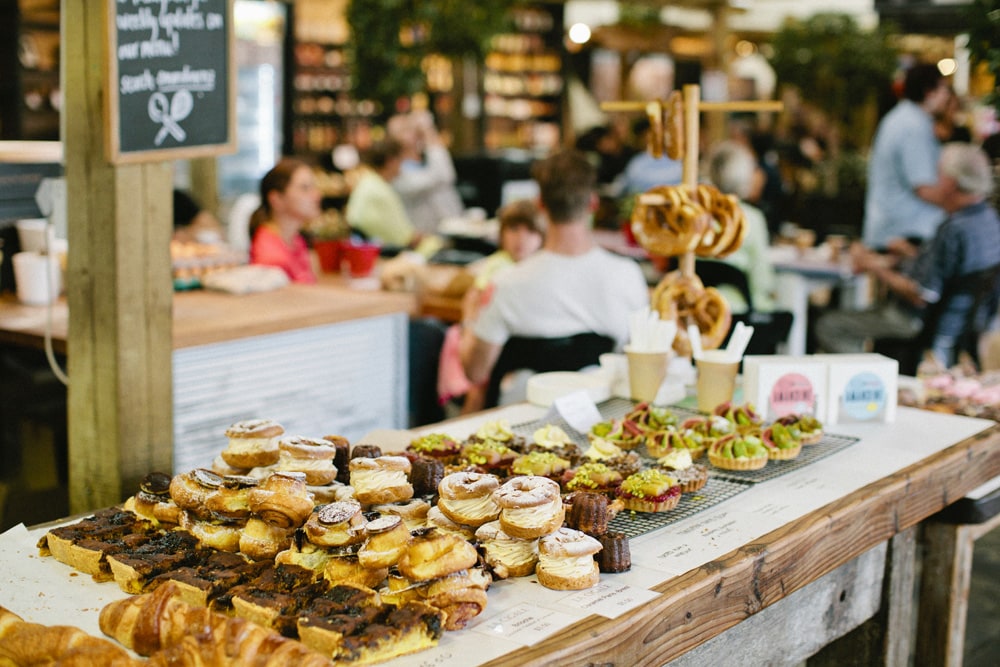 After a short covid hiatus, the La Cigale markets of Parnell is back! The very popular market is a treat for anyone involved. You can choose from a wide variety of items made by local artisans and all sorts of imports from around the world. Fresh fruits and vegetables, baked goods, meats fit for export, smoked Akaroa salmon, salads, flowers, orchids, Italian pasta, salamis and sausages, the list goes on and on. You can expect to smell paella cooking and rotisserie chicken roasting, just like you would at a French market. Get your weekly shopping done with the rest of Auckland!



Matakana Village Market
For Aucklanders wanting an escape from the big smoke or any kiwis heading North to get away, the Matakana Village Market is an absolute must-do. There's a wide variety of tasty treats to try, from award-winning coffee to scrumptious brunch options. Listen to local musicians as you kick back on the riverbank and let the kids burn off some energy in the natural treehouse and playground.
Matakana Market is proud to be a waste-free zone, so shoppers can fill their baskets or bags to the brim with locally grown fruits, vegetables, breads, deli meats, and sweets without worrying about the mess. Ideal for a weekend at the bach with friends or a gourmet picnic.



Queenstown Market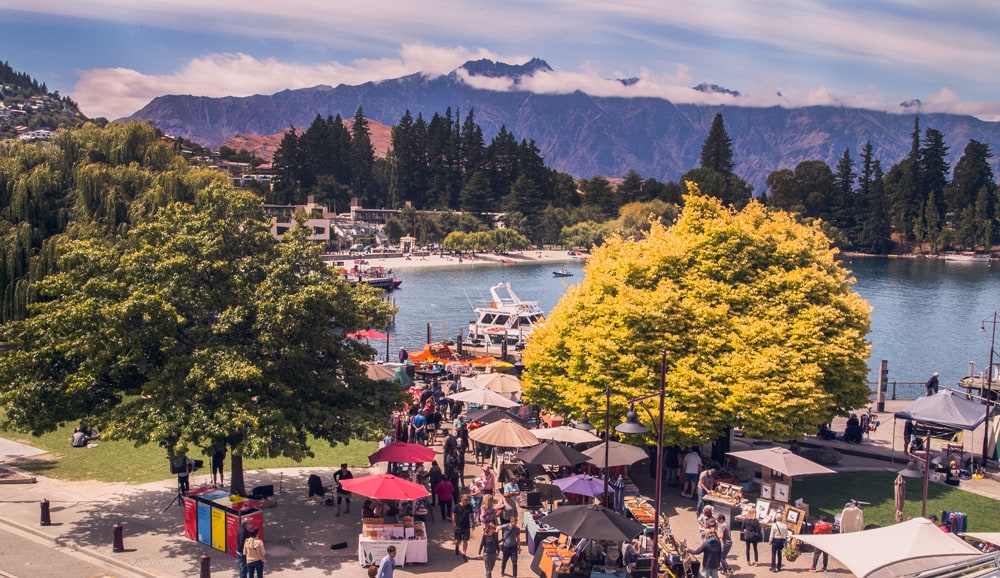 For the excitement of locals and tourists alike, the Creative Queenstown Arts and Crafts Markets are held in the city's colourful and lively setting, where visual and performing arts come together. All over the South Island, from as far away as Nelson, Christchurch, Dunedin, Invercargill, and the West Coast, artists and crafters travel to showcase and sell their unique works. The market takes place every Saturday with some special Friday dates as the summer season approaches. You can see their website here to book this into your wonderful laid-back weekends in QT.



Porirua Saturday Market
Visit the Porirua Market on a Saturday morning to experience a plethora of different foods, sounds, and vibes. Rain or shine, the Waitangirua Mall parking lot hosts clothing stalls, fresh produce and hot food. The market comes alive with music buzzing from all corners. Its infectious energy will kickstart your weekend.



Riccarton Market, Christchurch

Riccarton Market is Christchurch's biggest market, hosting over 10,000 people every Sunday morning. You can expect good food, great entertainment and many stalls selling all the good bits. You'll spend hours meandering amongst the sea of stalls that seem embedded into the racecourse. If you're visiting for the first time, you'll recognise the unique connection between store holders and their devotion to bringing everyone together for a great time.



Titirangi Village Market, Auckland

Live music and the lush location by the Waitakere Ranges create an exciting ambience. In addition to picking up your week's supply of fresh produce and a few new outfits, you can also spend some time perusing the stalls selling a wide range of one-of-a-kind handmade goods while sipping on a delicious coffee.