After losing her ocean-loving dad last year, teen surfing sensation Saffi Vette couldn't face the sea. She tells Cloe Willetts what helped get her back on the board.
Perched on the shoulders of her cheering teammates on Auckland's rugged Piha beach, grinning from ear to ear, Gisborne surfer Saffi Vette knew this win was like no other.
Awarded the title of Surfing New Zealand's national women's champion at just 19 years old – bypassing some of Aotearoa's best talent – tears of gratitude flowed down her cheeks. But amid the celebrations, she was thinking about more than the coveted trophy.
Four months earlier, following an intense battle with bowel cancer, her father Andrew Vette, a legendary surfer in their hometown of Makorori, passed away at 52, leaving behind wife Vanessa, 50, Saffi and her brother Finn, 16, as well as a grieving surfing community.
When his daughter took to the waves at the national championships at Piha on January 16, it was for him.
"While I was out there in the water, I remembered Dad telling me I had nothing to lose and I could do anything I want," says Saffi, whose brother won the men's under-18 division on the same day. "Those words were going through my head the whole time and it made me really want to win. I thought, 'I've made the final, now I can just go for broke.'"
While I was out there in the water, I remembered Dad telling me I had nothing to lose and I could do anything
Among her competition was Paige Hareb, 30, the first New Zealand woman to qualify for the ASP Women's World Tour. Ella Williams, 26 – the 2013 junior world champion – was also in contention, alongside last year's national champ Ava Henderson, 15.
"I was kind of on the fence about who'd win because the last wave Ella got was a great one, but then I got a great wave and had a really good feeling I'd won," Saffi smiles. "It was probably the toughest finals ever in Surfing New Zealand's history because of the competitors. Hearing my name was crazy. It's still surreal!"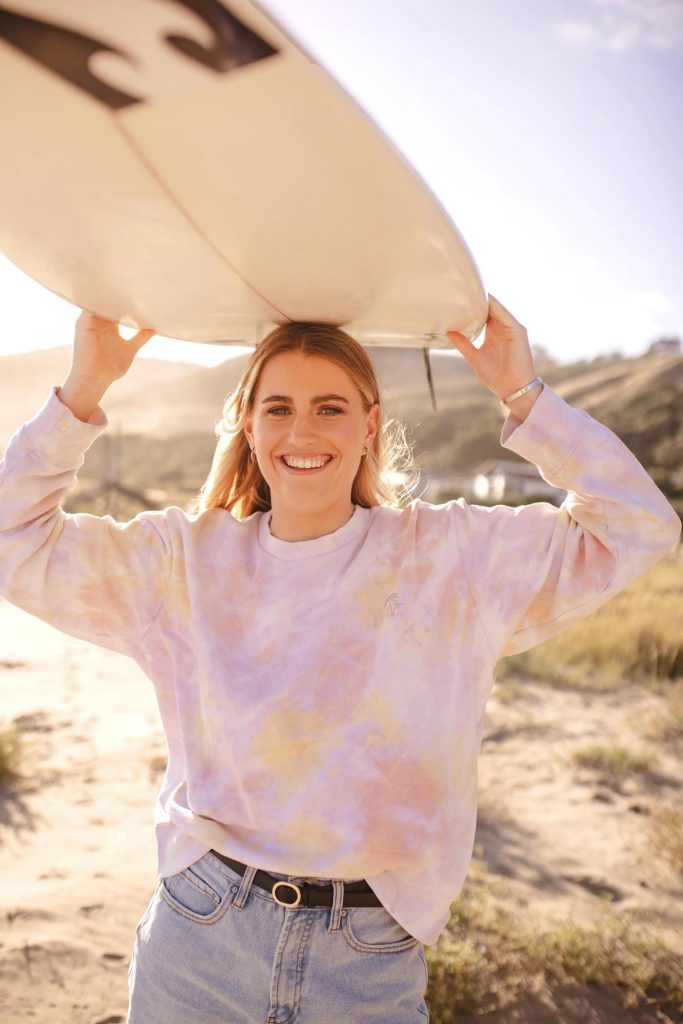 For the bubbly teen, who lives at Makorori Beach, a popular Gisborne surf spot, success isn't new. She also has one under-16 and two under-18 titles under her belt. In 2019, she won the Australian girls' Pro Junior Final at the Hydralyte Sports Surf Series, held in Victoria.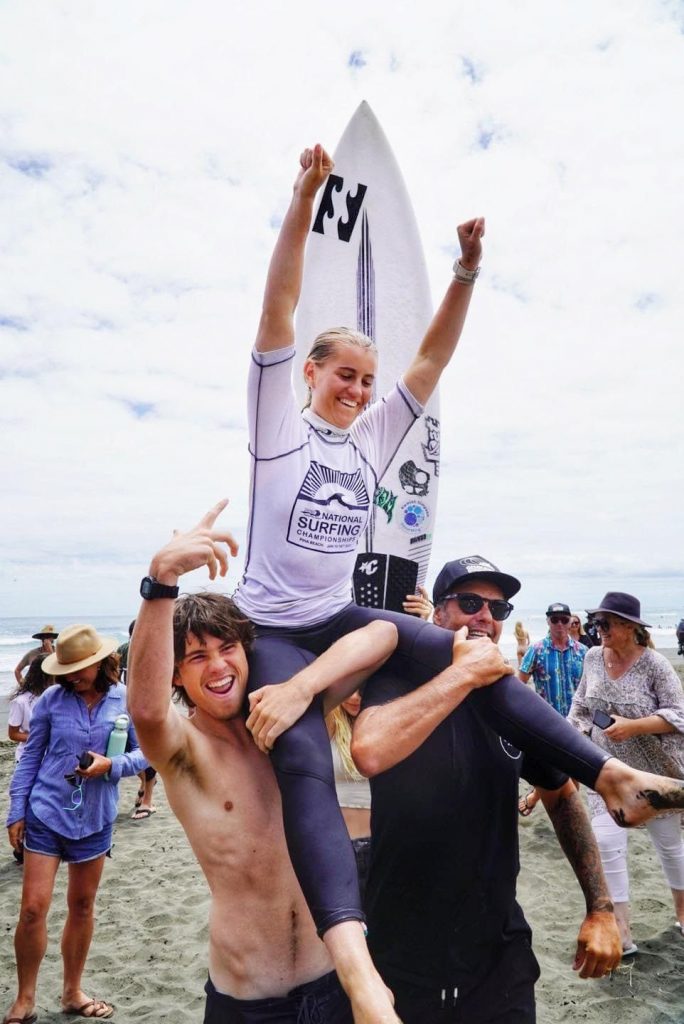 "I've done acceptance speeches a few times, but this one was extra special, that's for sure," Saffi says. "Finn and I also got the most outstanding performers award together, which was special. Mum was over the moon and said it couldn't have been a better written script."
Their trophy, a big wooden surfboard, is now in the family lounge, "cruising by the doorway" for everyone to see. It's fitting in a home where sandy surfboards and wetsuits are plentiful.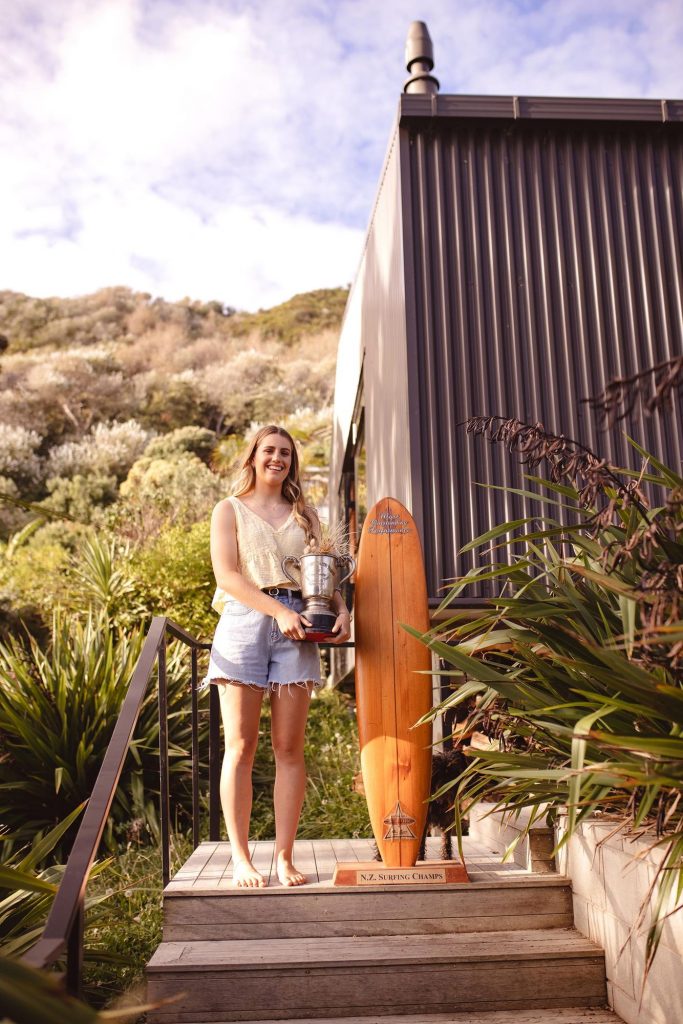 "Dad taught Mum how to surf, as well as Finn and me," Saffi tells. "He bought me a boogie board for Christmas when I was about two, and I didn't ride it the right way; I stood up on it! The next Christmas I think, I got a surfboard."
Andrew was a teen when he found and fell in love with the sport.
"His father was an accountant, so didn't really understand the whole surf thing. But my dad loved the freedom of being in the ocean," Saffi enthuses. "He used to say the best feeling is going to bed with salty eyebrows. I was like, 'You're nuts, that's the worst feeling!'"
In his early twenties, after studying agriculture and business at university, Andrew lived in Sydney, Australia, selling watermelons on the beach.
"Dad travelled the world surfing with his mates and did all this crazy stuff, getting stories to tell," Saffi enthuses. "There's one from when he was in Sumatra, in Indonesia, and they boarded a boat at night that broke down." For days, Saffi says, they drifted on the ocean, worrying about the very real possibility of pirates.
"The captain had stepped off and they'd had no idea! They had rough seas and managed to get the boat going a few more times, but then it'd break down again," she tells. "He said they had to tie a friend, who was really seasick, to a pole because he was getting thrown around. They thought they were going to die."
Miraculously, they returned to shore. "Apparently they went back to the guy who sold them the tickets for the boat and the owner ran them out of the shop with a machete!" Saffi laughs. "Dad was definitely a go-getter and always there for his mates. He wasn't afraid of anything."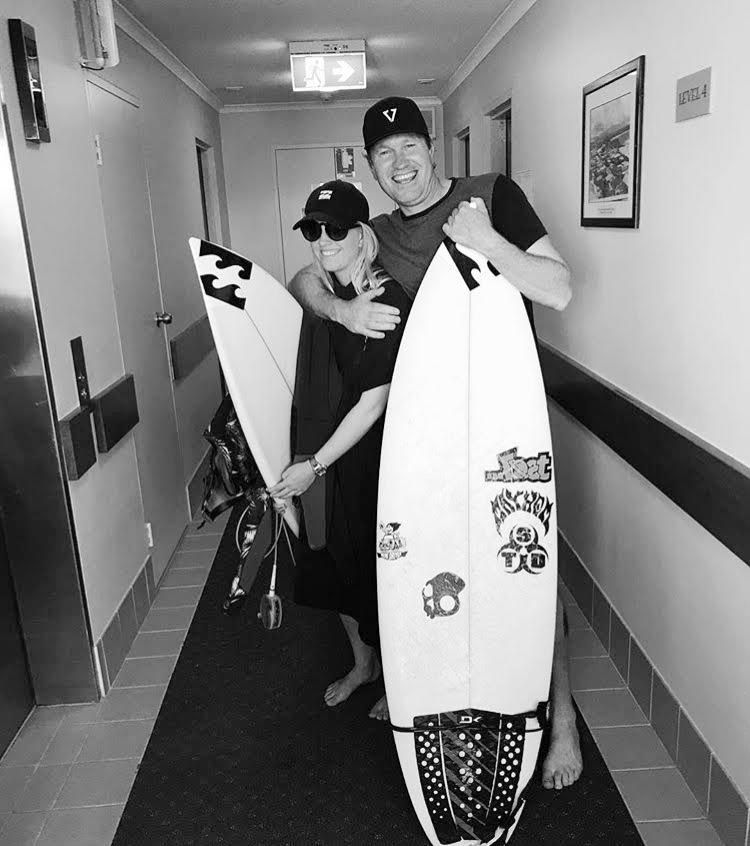 Between working as a marketing director and business manager, Andrew put a lot of energy into Surfing New Zealand, where he was on the board and helped launch its High Performance Programme.
When he was diagnosed with bowel cancer in May 2019, his infectious positivity didn't waver. "We were surfing when Dad got really bad pains and we had to go and drop him at A&E," Saffi shares. "He stayed a couple of nights in hospital and when he came home Finn and I were so excited to have him back."
But their excitement faded when Andrew asked them to sit with him at the table. "I thought that was weird and Finn joked he hoped it wasn't cancer. Then Dad said, 'Well, actually, guys, it is cancer and we're going to win this battle.'"
Saffi explains the lengths her dad went to in order to beat the disease. "He changed his diet and ate only raw fruits and vegetables, which was tough. But he did really well in keeping to it for so long because he knew it could help him, which it did because it shrunk the cancer a lot," she says. "He even went back to work and was surfing again while he was still doing chemo. He was gnarly."
Andrew took advice from family friend and Raw & Free cookbook author Sophie Steevens, the wife of Gisborne-based World Tour surfer Ricardo Christie. He hoped that, like Sophie – who reversed her autoimmune disorder Graves' Disease through a raw diet – he could recover.
"Dad lost a lot of weight and in the last six months of his life he switched to just eating light meat like chicken and fish, because he got down to 65kg," Saffi tells. "I weigh 65kg and he's 6'4", so he was pretty much just a frame."
The optimistic family man also took up meditation. "He never once complained and there was a sense of hope Dad was going to survive. As a kid, seeing your parents so strong and positive, with something so negative happening, was really eye-opening and outstanding."
Sadly, during surgery to remove his tumours, surgeons found the cancer had spread to his liver. Saffi recalls, "I realised I didn't have a lot of time with this guy anymore, so I made the most of it."
She spent the Covid-19 lockdown at her dad's side, rather than in South Africa for a series of surfing competitions as planned. "I was thankful I could cruise at home with him and he could watch me surf still," Saffi admits. "He was positive right until the end and that pretty much sums up his life. Finn and I were very lucky to have such a good role model."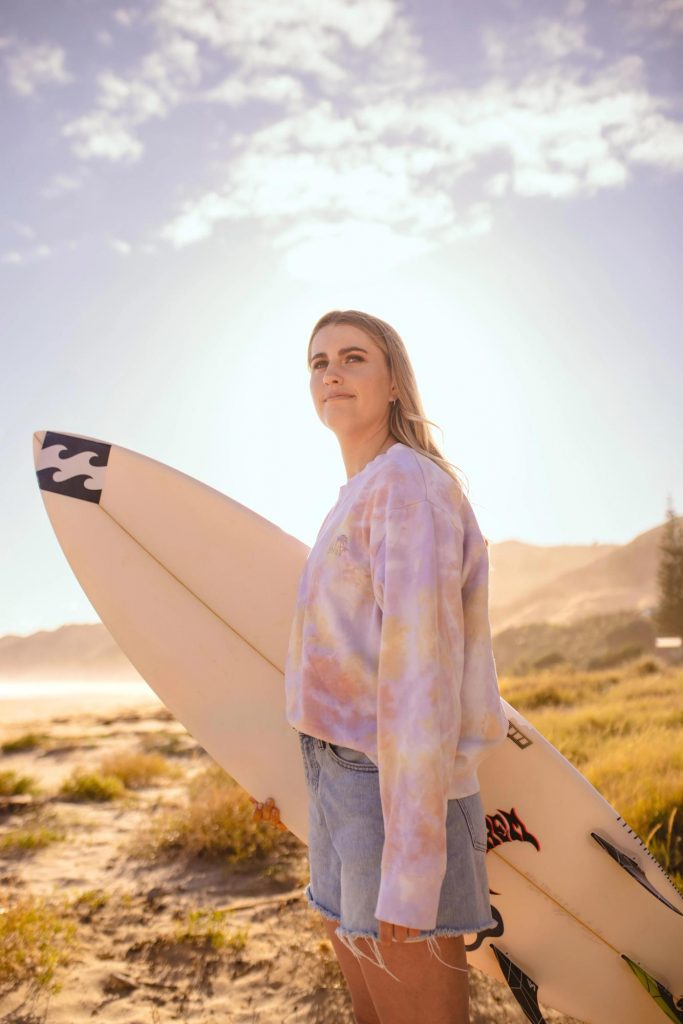 Andrew passed away on September 22. Three days later, thousands of people gathered for his funeral, followed by an honorary paddle-out at the beach across from the Vette home. "In the surfing culture, when someone passes away who is a part of the surfing community, you do a paddle-out. Family sits in the middle of a massive people circle and they all hold hands," Saffi explains. "My coach, who is Māori, did a karakia in the water and after that we threw flowers up in the air and splashed water up. It was crazy to see so many people there. I was like, 'Wow, my dad was really cool.'"
Afterwards, Saffi didn't surf much. "I just wasn't motivated. In those first four months, I surfed about 10 times," she tells. "I entered a comp, but it was too early for me and I had an absolute shocker because my head wasn't in the game. It was so uncomfortable to be there for the first time without Dad."
Gradually, she started training at the gym again. "I thought about nationals and figured I had nothing else to do, so I put my head in the game. But I didn't put any pressure on myself," she says. "When I ended up winning, everyone was beaming and people were crying and I thought, 'Oh my God, this must be something huge.' Dad was definitely there on the day, sending me the best waves."
Dad was definitely there on the day, sending me the best waves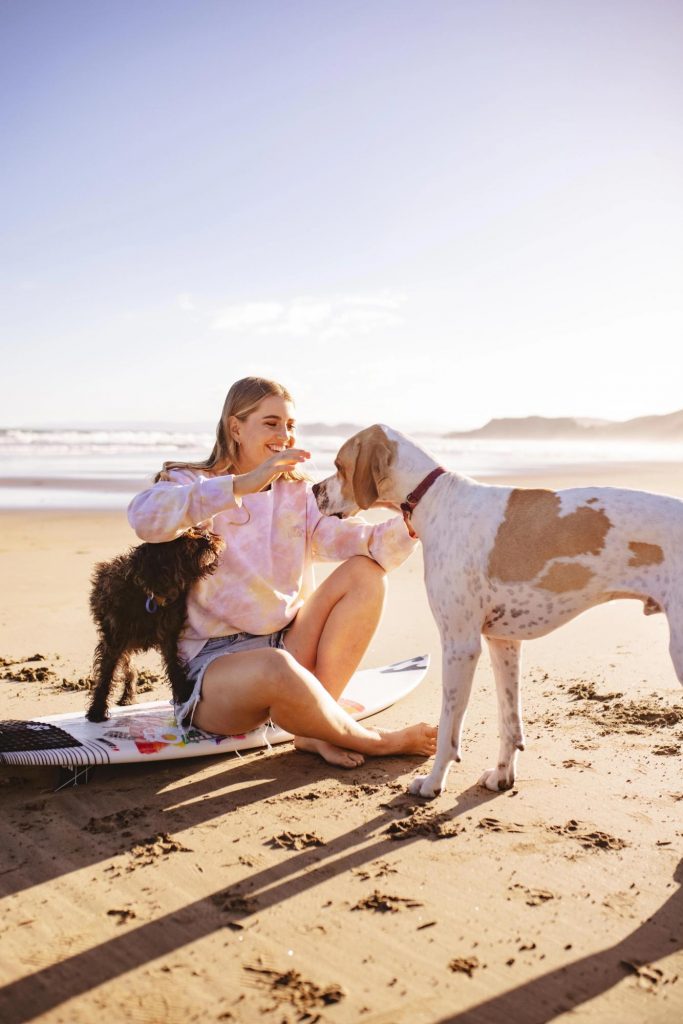 Saffi doesn't plan on travelling to the Olympic qualifiers in El Salvador this May. Instead, she wants to stay with family, exploring New Zealand and competing nationally.
"After a tough year, winning was a huge turning point for me and my family," she smiles. "It kind of made us realise it's not always going to be really tragic and sad with Dad not being here. We're going to be happy."