One of the original supermodels, Helena Christensen talks to Sonia Haria about her home-made beauty tricks (hint: don't throw away your coffee grounds) and getting back to nature during lockdown.
The window cleaners are just leaving Helena Christensen's New York apartment during our WhatsApp call. "Would you hold on for a minute while I pay them?" she asks.
"I could not even look out of my windows – they haven't been cleaned in a year and a half. I'm so excited, it's so much brighter in here now," she explains, in a voice brimming with genuine delight.
She can be forgiven for the clouded windows. The model and photographer, who is now more often behind the lens than in front of it, has spent much of the pandemic at her other property in upstate New York, with her son Mingus, 21, and a couple of friends. "It has been a really fortunate situation. The fact that nature was just outside, and we could do treks, cook a lot and feel safe was life-saving, mentally and physically."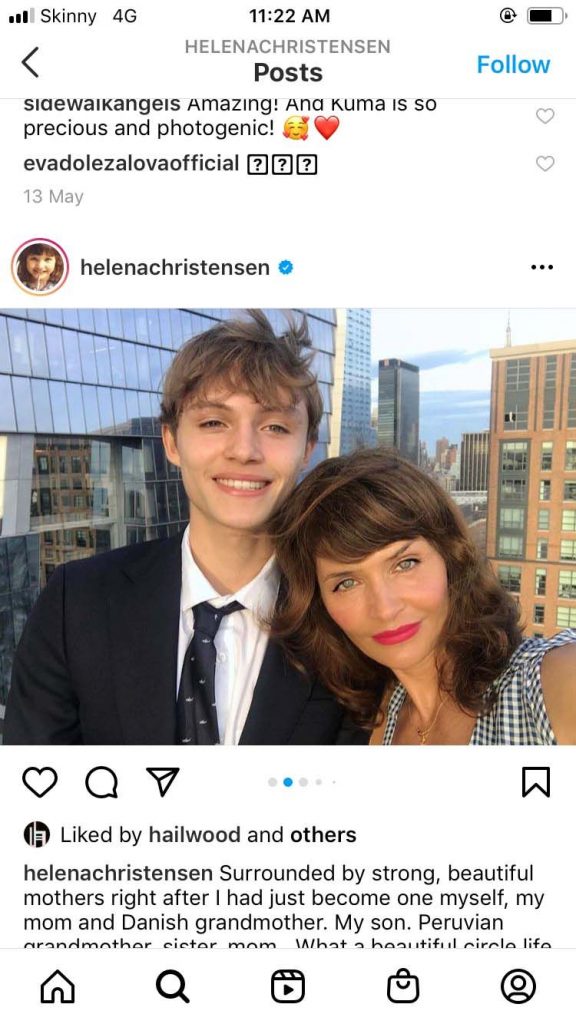 This "yearning for the outdoors", as she describes it, is a point that Helena keeps coming back to throughout our conversation, and it goes right back to her time as a supermodel in the early 1990s – a period that catapulted her on to the world stage.
Born in Copenhagen to a Danish father and Peruvian mother, Helena started modelling in the late '80s. In the '90s she appeared on countless magazine covers and was booked for fashion shows all over the world. In 1996, the New York Times dubbed Helena, Naomi Campbell, Linda Evangelista, Elle Macpherson, Christy Turlington, Cindy Crawford and Claudia Schiffer "the Magnificent Seven".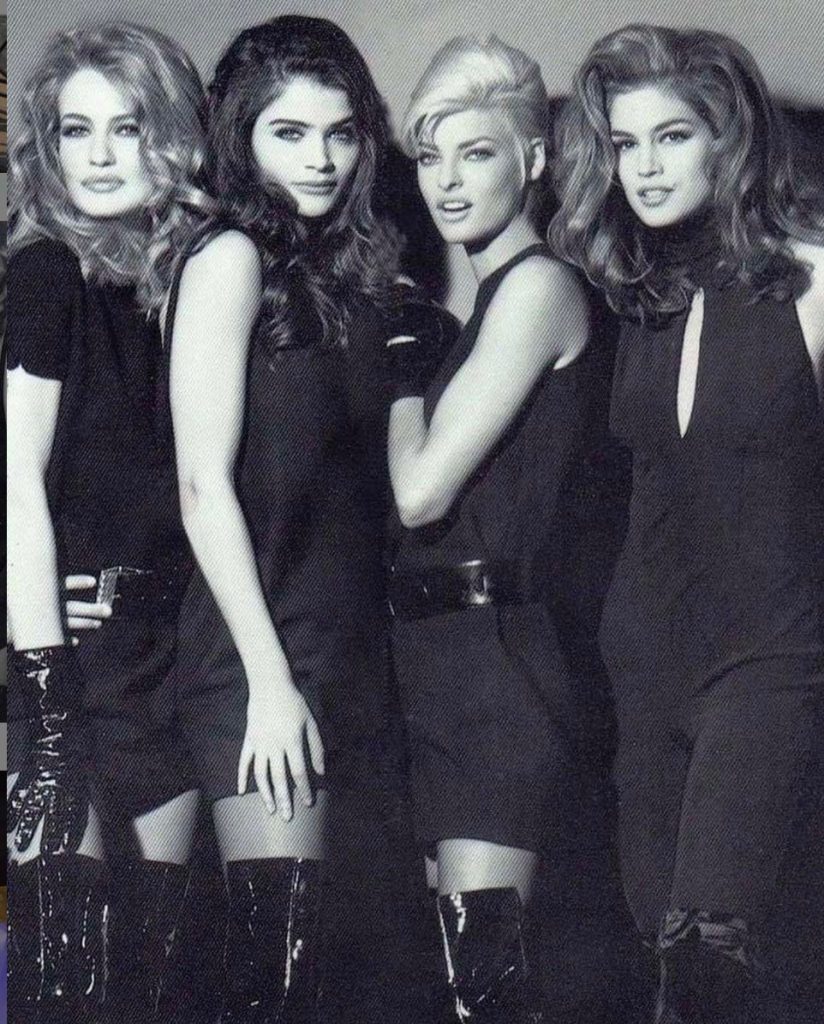 Although she continues to work on shoots and shows, her most notable appearance in the past few years was in 2017, when a group of "supers" reunited in an epic runway tribute to Gianni Versace.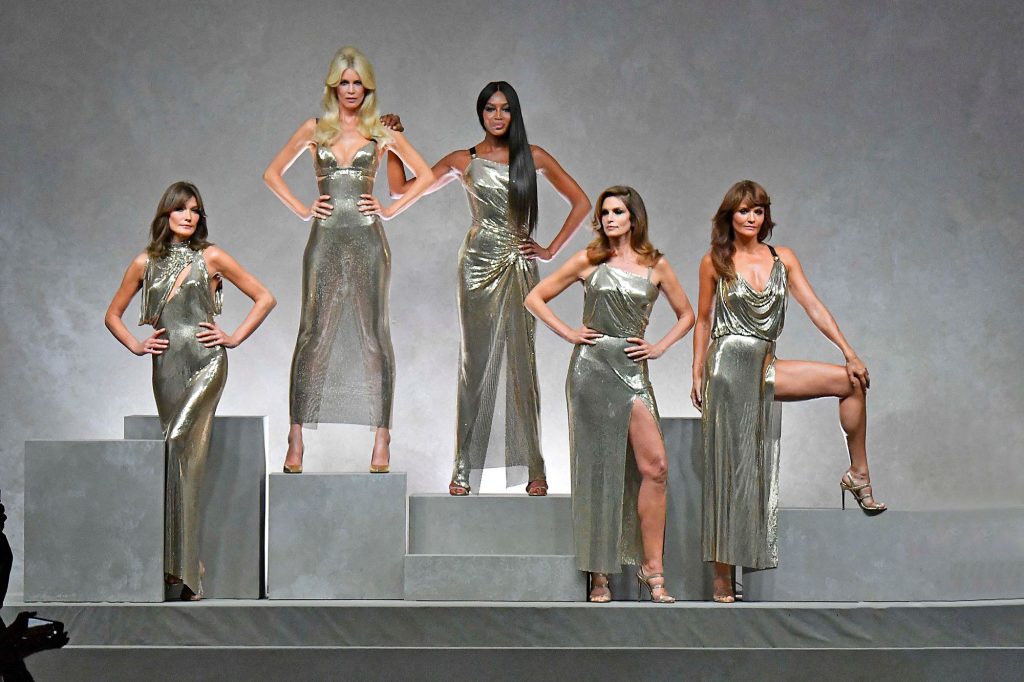 But more about modelling life later. What I find from Helena now is that simply describing her as "outdoorsy" would be doing her a disservice. She's like Bear Grylls, only cooler, with an enviable floaty blouse collection, a softly tousled, sun-kissed deep brunette mane and a knack for masterfully applied red lipstick. She takes being outdoorsy to a whole new level.
Nature is "almost like a therapist to me. It's everything," Helena says in her reassuringly level, straight-talking Danish accent, peppered with Americanised questioning lilts. "I literally don't know how I would function without having nature around me. Every morning I get up and get out.
I'm outside all day doing everything – eating outside, doing whatever task I have to do that day. Wherever I am in the world, I always find the little parks, the green spots. I have a little terrace here in my apartment and I have the doors open almost all year, unless it's way below freezing. I need to hear the birds, I need to see green. Nature recharges me in every possible way. I like to think I was a mermaid in my last life."
Mermaid is a more than adequate description. Videos of Helena swimming in freezing cold waters – which will send virtual shivers down your spine – have had hundreds of thousands of views on Instagram. She has always been drawn to nature and water since she was "very little. Being in water is just something I do intuitively; I feel it in my tummy, sort of?" she thinks out loud. "Now, immersing myself in water isn't me thinking, 'Oh, I should do this because it's healthy.' I have a yearning to be in the water. If there's a pond or a river or a stream or the ocean, it's calling me. I just have to get in. I don't come prepared, I don't come with a bag of swim clothes or a towel – I hardly bring a towel anywhere I go to swim. I take my clothes off, I go in, I come out, I put my clothes back on. I just have to be in the water when I see it."
I have a yearning to be in the water. If there's a pond or a river or a stream or the ocean, it's calling me
Helena's love for the outdoors extends to her beauty routine, too. There's her "river-side exfoliator", for starters: mix your coffee grounds with coconut butter and a few drops of herb or flower essential oil. "I mix it all together and use that as a body exfoliator. I take it with me down to the river when I'm upstate, and I sit there on a rock and scrub. It makes you feel good and gives you a rush in your body, which definitely makes it better when you jump into the river straight after."
For someone with such a physical connection to the real world, maybe it's surprising that Helena has become something of an accidental social media star, with 800,000 followers on Instagram. Scroll through her feed for a heady mix of her modelling vintage pieces of clothing from her own fashion line Stærk & Christensen, the aforementioned wild swimming and beautifully captured photographs of her eclectically styled homes.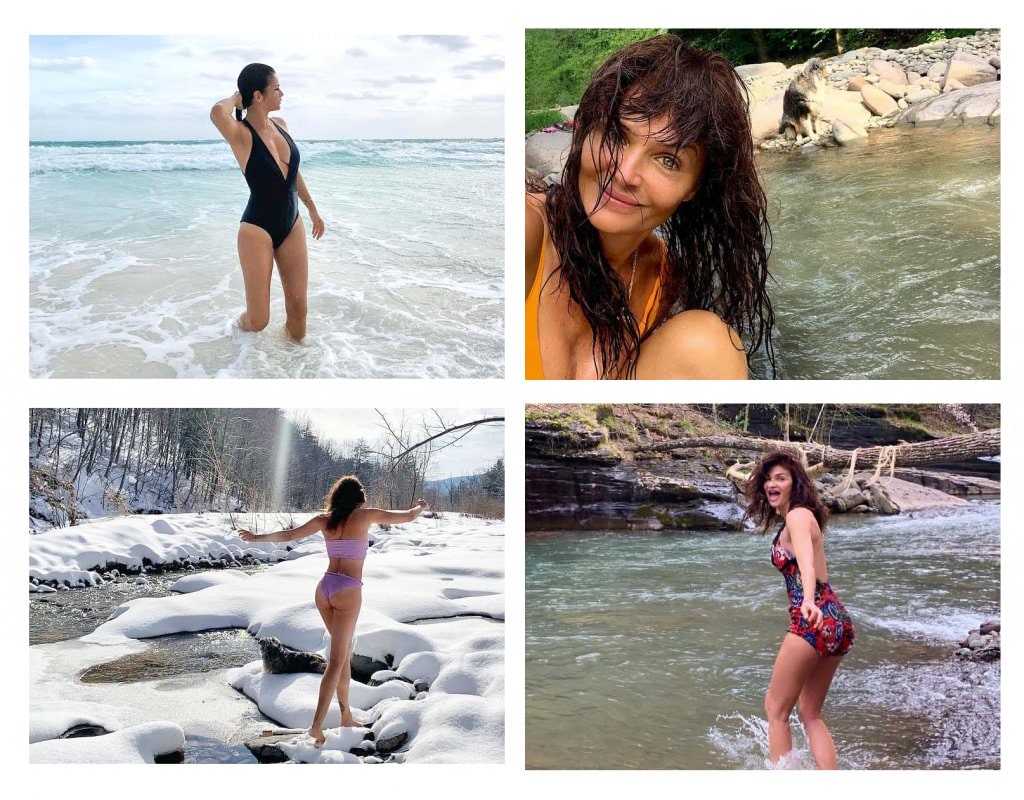 But while many stars use Instagram as a lucrative branch of their business, Helena's purpose is very different. She has a very thoughtful, almost romanticised, outlook on social media. "For me, taking photos, organising them and creating this visual diary on social media is like a way of meditating. I don't meditate like you're perhaps meant to do, by sitting still for a certain amount of time, blacking everything out from your mind and finding peace. I see social media as a way of collecting all of these little daily visual diaries."
It's important for her not to be consumed by digital life, however. "Human beings have a certain amount of addictive nature in them towards anything. There are, of course, a lot of benefits of your phone. But there are obviously as many obstacles that have a negative influence on you."
She explains that just before our interview she had been unsubscribing herself from "hundreds" of mailing lists. "You know, sometimes you just want to have a clean out in your life from the constant onslaught that comes with you every day." I ask her if she's glad social media wasn't around when she started her career. "I think everyone is!" she laughs. "But I'm grateful to have it now."
What does she remember of that time? "I was this free-spirited, hippy girl and I was like, 'What is modelling?' I had graduated from school and I had hitch-hiked around the world. I had the offer of trying out modelling for a little bit. I was not very interested – I wanted to be a photographer or an archaeologist, or to combine them both. But I tried out modelling and I was so fortunate that I got to immediately work with some incredible talents in the business."
But even at the height of her modelling career, Helena tells me that at the end of a shoot day she would leave to find the nearest park or pond and take a bit of time to explore wherever in the world she happened to be.
"At some points it was deeply frustrating for me. I'm such a gypsy at heart. Wanting to explore the world was one of the main reasons why I even found modelling interesting at all from the beginning. That was my first incentive of actually opening up to it. It's funny because I'm such a mix of a homebody and an explorer. Where I live and my nests are really important to me, but when I leave them, I'm so excited and curious as to what is out there."
Helena describes her mother, Elsa, as her greatest inspiration. "She is an absolute magical unicorn in my life and in so many people's lives. I hope I have some of her qualities and I hope my son has grown up feeling some of her magic through me."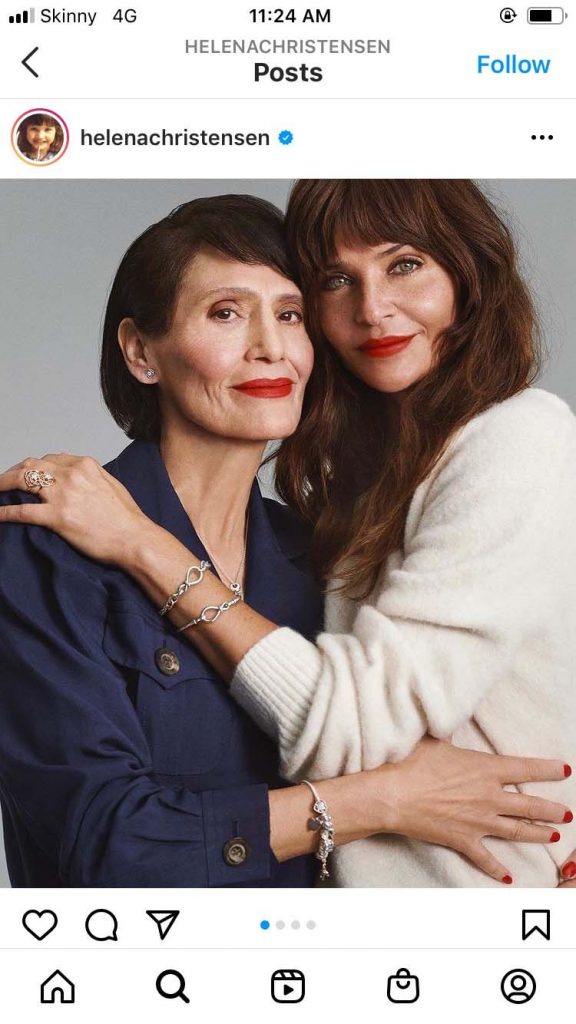 She tells me how, when she was a teenager, her mother would make special meals to help Helena put on weight, as she was naturally "extremely skinny".
"It was because of whatever, maybe my fast metabolism," she says. "I was just really tall and skinny from a very young age. I was hungry and constantly eating. And that was an issue because when you're young, however you're different, is just not nice. You're so vulnerable."
Helena comes across as self-assured and strong – and very comfortable in her own skin. I ask if the word "diet" ever came up for her as a young model?
"Never. The whole [idea of] dieting was not in my universe. For me, having anyone tell me when I was in my twenties, 'Oh my God, you look so great and you're so skinny,' I would actually be so upset. I'd say, 'I've just put on weight,' and people would look at me in a baffled way. That made me aggravated.
"Anything you are teased about or even bullied about in your teens just really puts an imprint on you. When you're tall and skinny you hear as many remarks about your appearance as you might get if you're overweight. It really is something that teachers and parents need to be aware of – and I say teachers because I absolutely heard it from teachers, too. For me, it was about gaining weight by eating, being active and gaining muscle."
From cooking family feasts to simple dinners, Helena tells me about how food has always been a huge part of her life. "I think even as a newborn I loved eating so many different varieties of food, and a big part of that is growing up with a South American mother who was in the kitchen all day cooking for me and my sister and my dad. We ate everything from the moment we entered this world, and I've been like that ever since. That's how I brought my own kid up – there is nothing we don't eat.
"His love for food is one of the things I'm most proud of. I remember even when he was little, he would find the strangest food on the menu. He would be three and in a restaurant ordering escargot and oysters. I knew I had done something right," she laughs. As a woman with a whole catalogue of triumphs under her belt, does she find it annoying that women are often still judged just on how they look?
"I mean, yes, in many ways," she breathes a heavy sigh. Helena makes a conscious effort not to talk about age in any interviews, because she feels – rightly so – that men are not asked in the same way.
"Women are talked about regarding their looks and accomplishments, and in a physical way, whereas for men it's mostly their accomplishments. Inequality, in any way, is just effed up. It's strange because it's so hard to fathom why there is even a difference between any human being in any way. Yes, women have come a long way, but I feel like we've said that for so many years and yet there's still such a long way to go. I don't know what the solution is. I guess we are sort of on the right path,' she tells me, in a tone laden with quiet frustration.
"We don't need to look beautiful for anyone else, it's just to make ourselves feel good. That's what it really is like now. I don't care if I look beautiful to anyone else – and it's not even about looking beautiful per se, it's about just feeling and looking healthy. And having an inner contentment and self-confidence."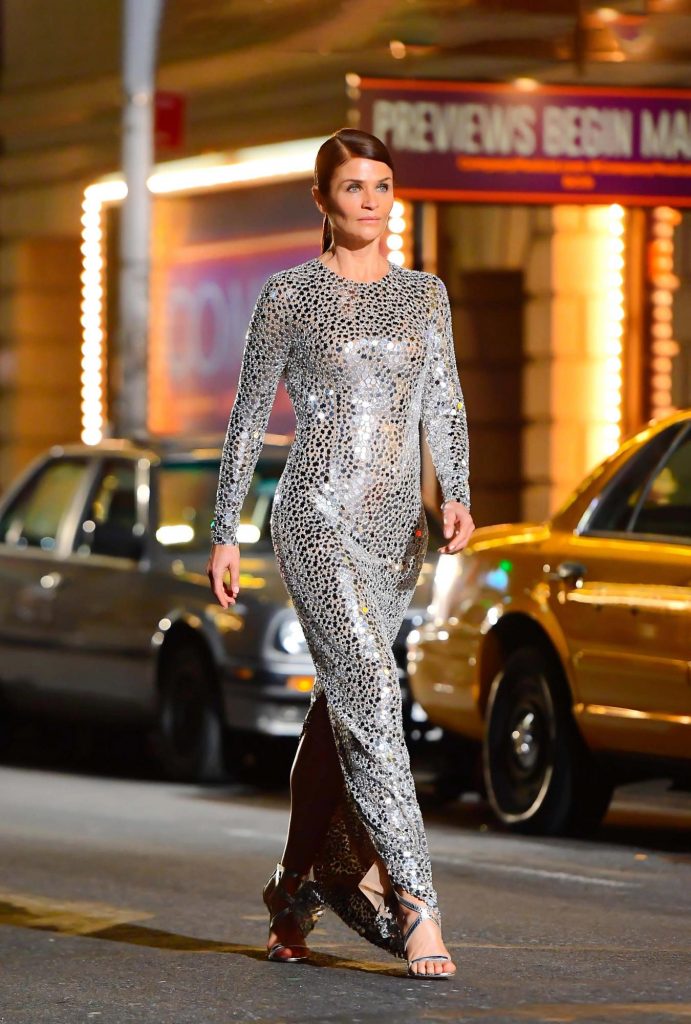 Part of this comes from looking after her skin. As well as a love of walking around her house in hair masks and face masks, she tells me how she recently tried a treatment called Ultherapy, which is non-invasive and uses ultrasound technology to tone and tighten the skin on the face.
"It really makes a difference, and the results get better and better, I feel," says Helena. "Just as you're taking care of your body and trying to eat healthily, work out and be active – which I am a lot – it's as important to do the same for your face. Your face has a ton of muscles and you need to activate your muscles and take care of your skin as much as your body. And that's why I think non-invasive treatments are great, because they actually activate your own collagen and the muscles in your face."
Helena regularly sees the facialist Joanna Vargas in New York, mainly for microdermabrasion, and has laser treatments once or twice a year for sun spots. In Denmark, where she travelled back to as often as she could before the pandemic, "I go to a place called N'Age, which is such a beautiful salon that does all the same treatments. That's where I tried Ultherapy."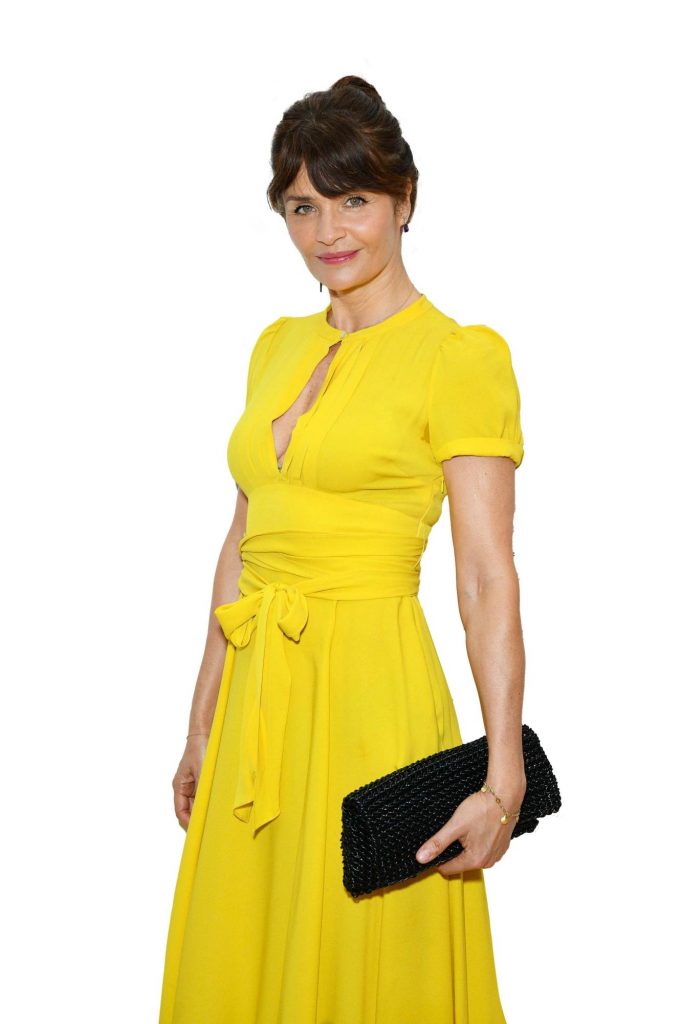 Whatever she's doing, it's certainly working. And while I may have only had a glimpse into Helena's reality,
in all its sparkling-windowed glory, over the course of our interview, I tell her I will be following her "visual diary" on Instagram.
"I only went on to social media about four or five years ago, because I have endless amounts of photographs and I thought it could become a journal for me. It's just like a story that follows your life. I hope I can sit down when I'm over 100 years old with my grandchildren and just tell stories."
I have a feeling she's just getting started.