I find Sarah Balle in the make-up room preparing for the cover shoot looking fresh-faced and incredibly young. Indeed, she is only 34, and her DNA harks back to Ireland, hence the pale skin and dark eyebrows. She's one of a family of six children whose parents were (and still are) market gardeners working the land out in Pukekohe where she grew up and has recently returned to live. She looks every bit the child of Irish immigrant parents, brought up, she says, "in a hardworking, humble environment where everyone pitched in and privileges were earned."
I ask her if this is the first time she has been forced to sit still in front of a mirror and she laughs and agrees that it's kind of nice to succumb to being pampered. I interview her while the make-up artist hovers over her because I'm pretty sure that being interviewed at the same time as doing a photo shoot would make perfect economic sense to her.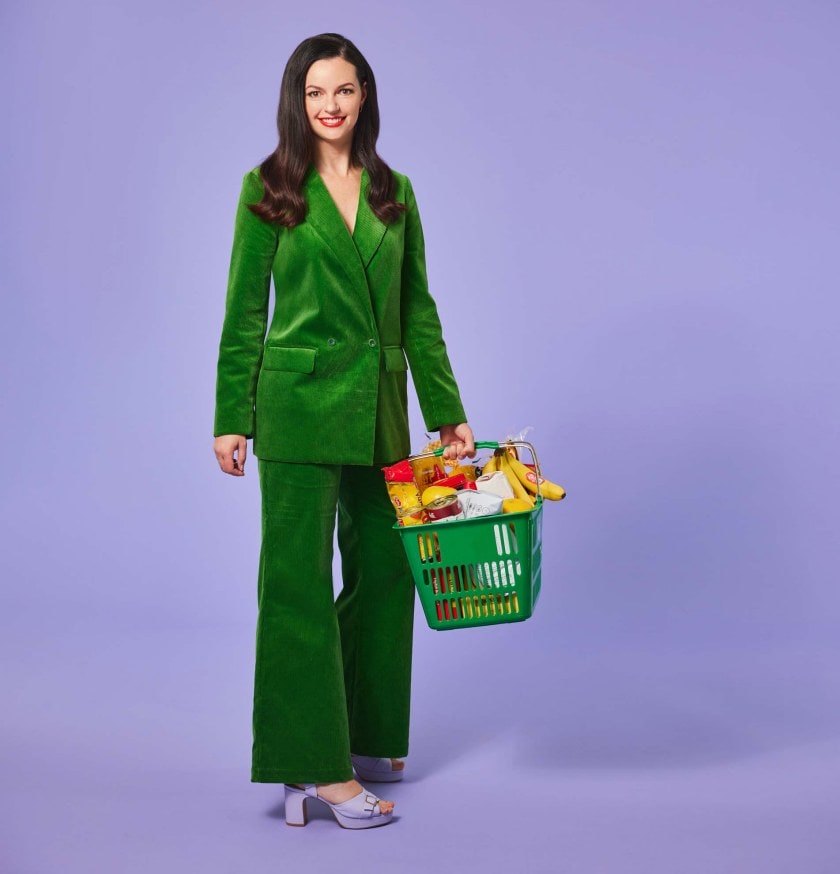 Her phone is out and her hands flutter across the screen, replying to texts and sending emails. I don't need a reminder that I have captured a very busy person. I am already fully aware that founding an online supermarket and raising $2.5 million in seed money to compete with a duopoly dominated by the "big boys" (Foodstuffs and Countdown) kind of undersells the word "busy".
Supie, an online supermarket, is Sarah's dream child. An idea born out of a "collision of ideas" that arose in her mind while trying to solve a problem. "I wanted to find a way to redirect some of that food destined for waste to the people who need it most," she says. "I wanted to find a better way in which food producers can win and customers can win. More than 170,000 people live in food poverty, not knowing where their next meal is coming from. Food producers struggle and consumers face very little choice in purchasing for their day-to-day needs, so how can we have a better system? That was the problem I was driven to solve."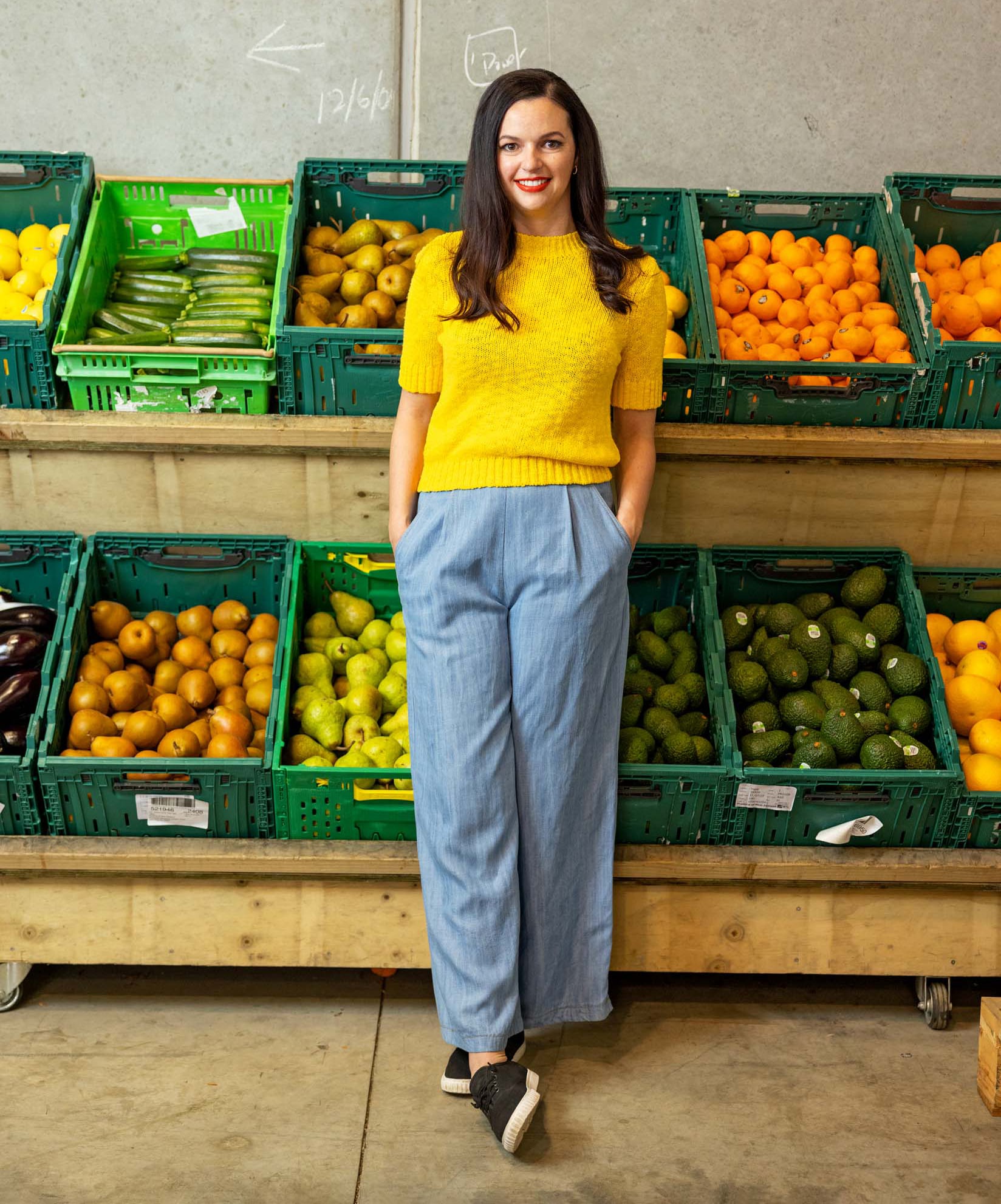 The problem also became personal a couple of years earlier when her sister gave up her job at an Auckland law practice and moved to Matamata to grow asparagus. It was a lifestyle change, albeit one with risks. Sure, crops are subject to weather, weather is subject to the whims of the Gods but it was none of these factors in the end that undermined the venture. The local New World had ordered 80 crates of asparagus but rejected them all because the stalks were a centimetre too short.
"The entire crop was wasted," Sarah says. "It was devastating. Not just a waste of food but a waste of all that labour. My sister's business was no longer viable because of the inefficiency of a system that was unable to be flexible and that induced waste. That just stayed with me."
Last year Kiwis spent more than $22 billion at grocery stores and supermarkets. It's a behemoth industry, in which astonishing profits can be made but the amount of waste is staggering.
"Forty percent of fruit and vegetables grown here effectively get dumped," Sarah says. "I just felt I urgently needed to solve that problem."
Solving problems is something that finds Sarah in her happy place. "Having brunch and doing yoga on a Saturday has never been my thing but give me a nut to crack or a solution to find and I'm in my element."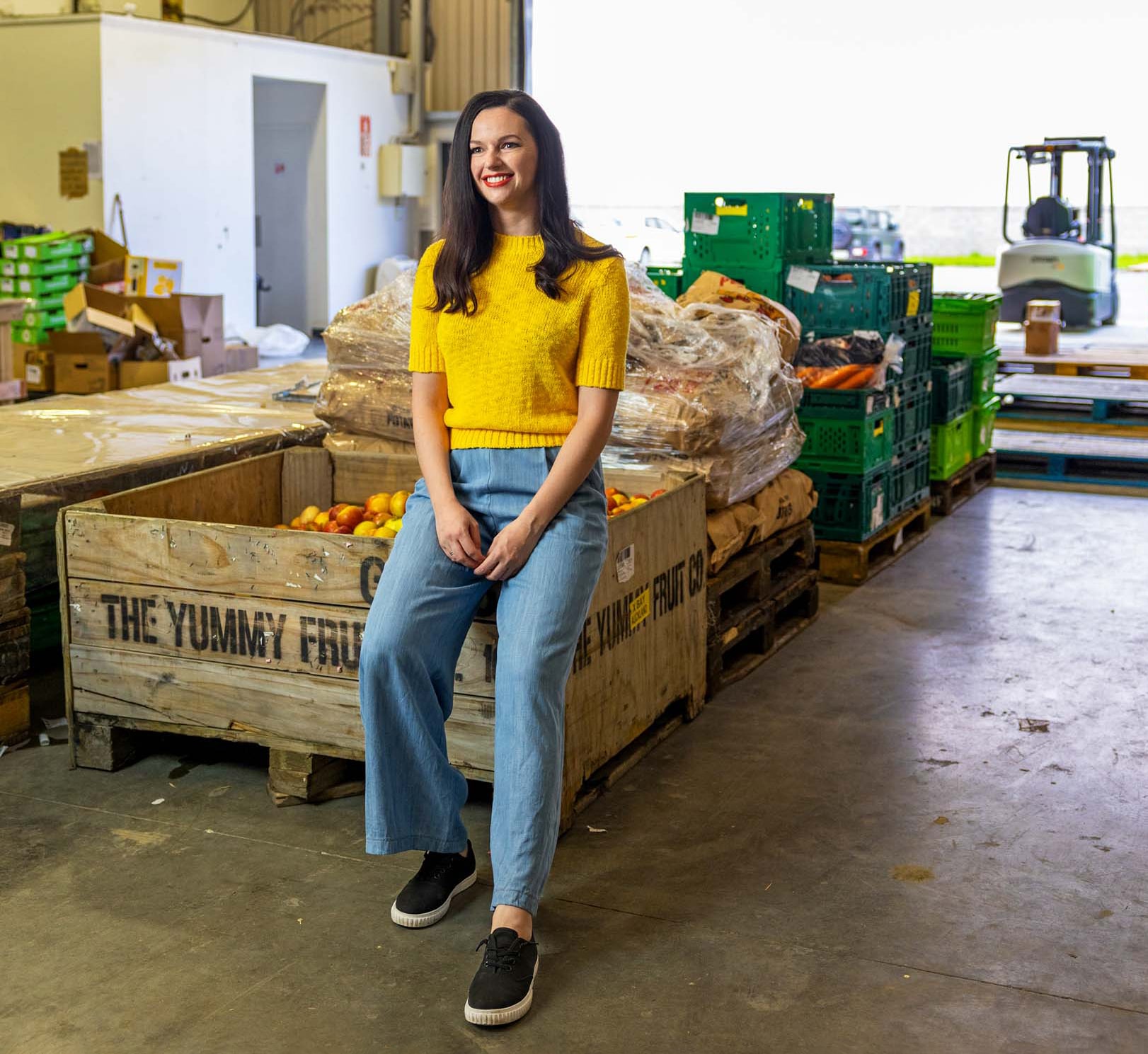 I get the feeling from Sarah that not only has she done due diligence on her company's needs, but she is also refreshingly well-informed about her own psyche and mental well-being.
"I know my personality," she says as though discussing a new product she's considering stocking. "On the Myers-Briggs personality test I align with Elon Musk.
"Not that I'm going to go to Mars! My version of that is wanting to have an impact, and the supermarket industry in New Zealand is so broken. I want to fix it. I am also neurodiverse, like Musk. My parents would disagree but I found it a relief to get a diagnosis."
Growing up, she had jobs during the holidays, worked in the local supermarket and her upbringing instilled in her the desire to do the right thing. When she discusses Supie and the vision of the business you get a sense of her yearning for a fulfilment through being the change she wants to see in the world.
Sarah is wise to the Facebook and Instagram aphorisms that litter the road to start-ups; still, our conversation is peppered with inspirational quotes. "Start with your why but know your how," she says, quoting leadership writer and guru Simon Sinek.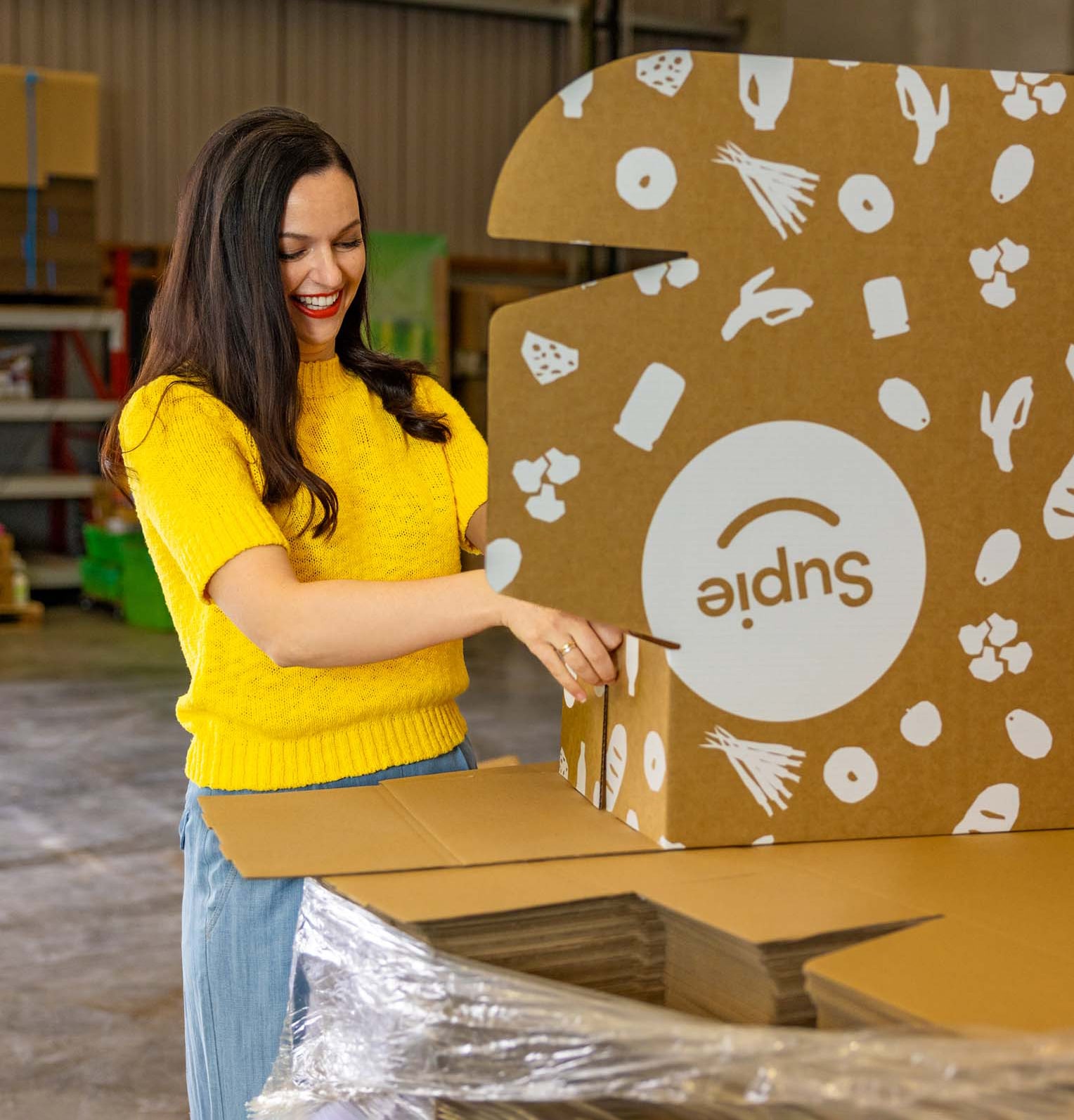 It's hard to get her to talk about herself. Every ounce of her being is invested in this business and any other topic is a distraction. I have never been in the company of someone whose absorption and focus on their path is so total.
Her Irish Catholic parents, she says, are "super humble" and raised Sarah and siblings to be the same.
"Doing this shoot? My parents would freak out. I have been brought up to put your head down and do your work and every time someone says to me, 'Oh, you're doing such a great job,' I feel like saying, 'No, we haven't done anything yet, we are just starting out'."
She started out studying accounting at Auckland University and ended up doing an MBA and working in the corporate sector, but says she always knew from a very young age that she wanted to run her own business.
Supie is built on the experiences of Sarah's corporate career, where she worked in a variety of places, from fashion to hospitality, always solving problems and finding new directions.
"At Moochi they gave me the reins to try out new ideas and if they worked we doubled down on them," she says. "At Nando's I learnt how important it was to have values – the owners do so much good in Africa with peri-peri farms and trying to eliminate malaria."
It was while working at the ASB Classic tennis that she met her Supie co-founder and tech support genius Marco Marinkovich, while they were trying to solve a hospo problem. "Getting refreshments to courtside customers was problematic. There were excessive queues and a limited time frame in which you could serve," Sarah says. She came up with the idea for an app which meant customers could order from their phone and have it delivered to their seat.
Her work experience has been invaluable to her, but having what she calls a financial mind and a love of numbers form the base on which her business abilities rest.
"It's just me looking at spreadsheets but I love it," she says. "I think sometimes what is missing with traditional accountants is that they just prepare the numbers and get someone else. I am like, 'I know how this process works, so how do we get better results?'"
As part of her MBA, Sarah travelled overseas and visited a range of supermarkets. She saw first-hand how effective online supermarkets were. She found the consumer experience in Aotearoa lacking by comparison. "Internationally, 40 percent of grocery shoppers purchase online," she tells me. "That's more than one in three. It's better now, but before Covid we were at two percent so it was definitely obvious that online would be the way to go."
Supie was launched last year in June. It had taken just 18 months to launch. "We raised $700,000 from friends and family and we got to launch on that but it was no small feat to do this on the smell of an oily rag. "I would take my hat off to someone else doing it. We had to build our order fulfilment centre and we needed chillers and freezers and we had to build a website and back-end processes and you need people, so yeah – I haven't taken a cent."
To start Supie, Sarah quit her job at Collective Hospitality (the hospitality partner of the ASB Classic), sold her car, left her house in Herne Bay, moved in with her mum and dad in Pukekohe and put her entire life savings into the business.
"I don't own anything. It's been quite a change going from a nice corporate salary to being as frugal as possible. It's shown me that when times are tough you can just make do and it's been really cool showing the team that we don't need flash offices or office furniture.
"When we needed tables I just went down to Bunnings and bought some doors and put them on trestles, all of which cost about $40. We've been as creative and innovative as we can. The Kiwi ingenuity thing; we were good at this in the '70s and '80s and now we're bringing it back."
Reducing food poverty, reducing food waste, helping suppliers and helping consumers – how exactly does that work? With the cost of living crisis, Sarah says one way to save money is to shop online so you're not tempted by snacks and treats. Supie also provides "No Waste Bundles" with food that is coming up to its expiry date. The food is frozen – milk, bread and the like.
"A lot of people, when we started selling frozen milk, had no idea that you could freeze it. I think Kiwis have got into the habit of going to the supermarket all the time. My parents had to feed a family of eight, so everything got chucked in the freezer and they did the 'weekly shop'."
Supie partnered with Freightways to deliver goods because, "We only had $700,000 and you cannot buy a fleet of vans and hire people on that amount of money."
For the business to grow and to make the positive contribution Sarah yearns for, it needs to be nationwide. Each day she tweaks the spreadsheet and does the costings because the more money she can extract, the more money she can reinvest into the business.
"We want to reach all Kiwis, no matter where they live. Some places like the West Coast and in Northland, they only have one supermarket and no choice on prices or on product range.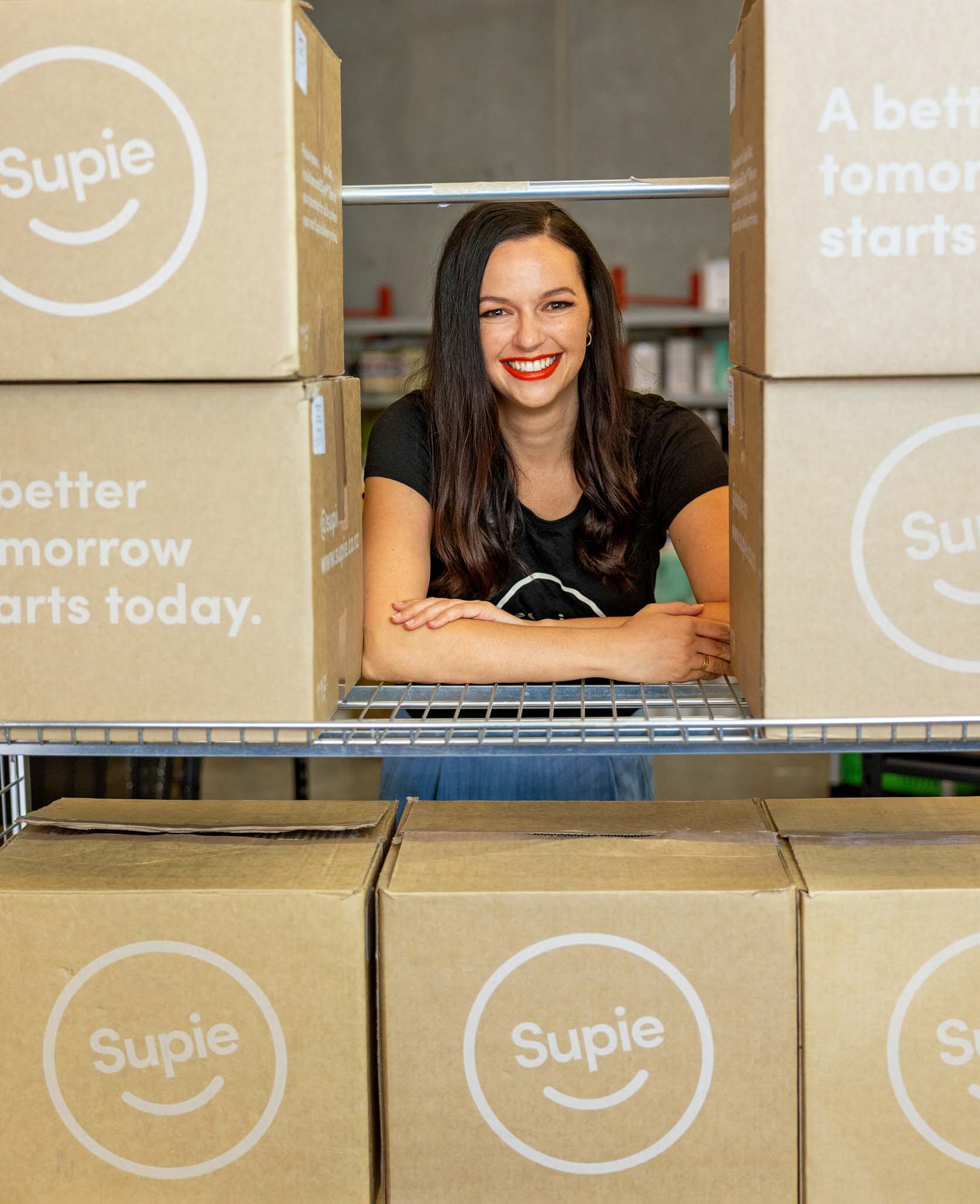 "Our being able to reach those regions is so incredibly important. Every day the question is, 'What can we do better to get us there quicker?' "
The day before we met, Sarah and Marco flew to Wellington to meet with David Clark, the Minister of Commerce and Consumer Affairs. The Commerce Commission report into the retail grocery sector found competitors wanting to enter the market face significant challenges, but Sarah is not willing to talk politics. In fact, she is under a non-disclosure agreement (NDA) with Foodstuffs and in negotiations with the government but she can tell me that she believes businesses should work to change the sector, not the government, and that businesses have a moral responsibility to work for the social good.
"It's not just about breaking up the duopoly, it's also about how our food gets produced, and where it gets produced, because we know that it's becoming cheaper to produce food offshore and increasingly the duopoly is bringing in offshore suppliers because it is cheaper," she says.
"They have different standards and different animal welfare standards. New Zealand's standards are higher, our minimum wages are higher, our capital requirements are harder.
"Do we want to keep food production in New Zealand? It all comes down to how we pay suppliers and how we support them so that they can keep innovating and making sure that their packaging is sustainable and their businesses are viable."
Recently, Sarah's business was awarded $2.5 million for seed funding from Arc Angels, Icehouse, Enterprise Angels and Private Investors who all support the Supie mission. It was a huge learning experience for Sarah, who had never been involved in raising capital for a start-up.
"I ended up presenting to 1000 potential investors," she says. "It was really intense. You spend a lot of time talking to people; you will be told that your idea won't work.
"Some people will see the vision and will invest. You have to truly believe in what you are doing. If you talk about what you believe, you'll attract those who believe."
Her advice to anyone thinking of starting a business? "Share your ideas. I think people are terrified of someone stealing your ideas but collaboration is a true game-changer. Countless times when I've been chatting with someone about a problem, they solve it just by drawing on their own experiences. Passion drives a business forward. Just 'know your why' and act."
The "know your why" part is crucial and it can't be about profit, she says. "That's an outcome, not a 'why'. You have to know your true purpose, what you want to achieve for the world, and what your cause is."

Every business owner who has created something will understand that you are always "on" but for Sarah it appears that she is never "off". She scrutinises herself all the time. "I do self-care. I don't try to put too much pressure on myself. I get asked all the time, 'How's your mental health?', 'Are you getting enough sleep?'"
Which was, of course, my next question. "I sleep in stints," she says. "My sleep pattern is based on how productive I can be. Some days I can get an eight-hour sleep. Some days I go to bed at 10pm and then I'm awake and I'm like, 'Cool, I'm awake,' and I'll get up and do a couple of hours of work and then I'll go back to bed and have another nap but it really depends on my schedule. I just know that if I'm at work and I'm feeling tired I'll jump in my car and have a nap. I have found that I can sleep anywhere, including on planes."
She flew from Christchurch to Wellington yesterday morning and found she had fallen asleep before take-off. What about exercise? "I don't exercise. I've had to cut it right out because if I had to put pressure on myself to go for a run three times a week I couldn't cope. I know I just have to peel it right back. Get enough food, enough nutrition and enough sleep and then I'll be okay because if I try and do anything more it's just another thing on my to-do list. I do self-care in another way, which is 'to not do it'.
"It comes back to the founder of Apple who had 10 shirts and 10 pairs of the same pants. This is my version of simplifying everything so I don't have to think about when I've got time to go to the gym."
Today there won't be any napping. The photo shoot takes some time and then it's back out to the fulfilment centre (which, in my day, we would have called a factory) at the sprawling industrial estate in Wiri. She kindly shows us around the warehouse, which is massive. Just one side of the building is open – the fresh produce, but we're prevented from seeing the live action next door as it's commercially sensitive.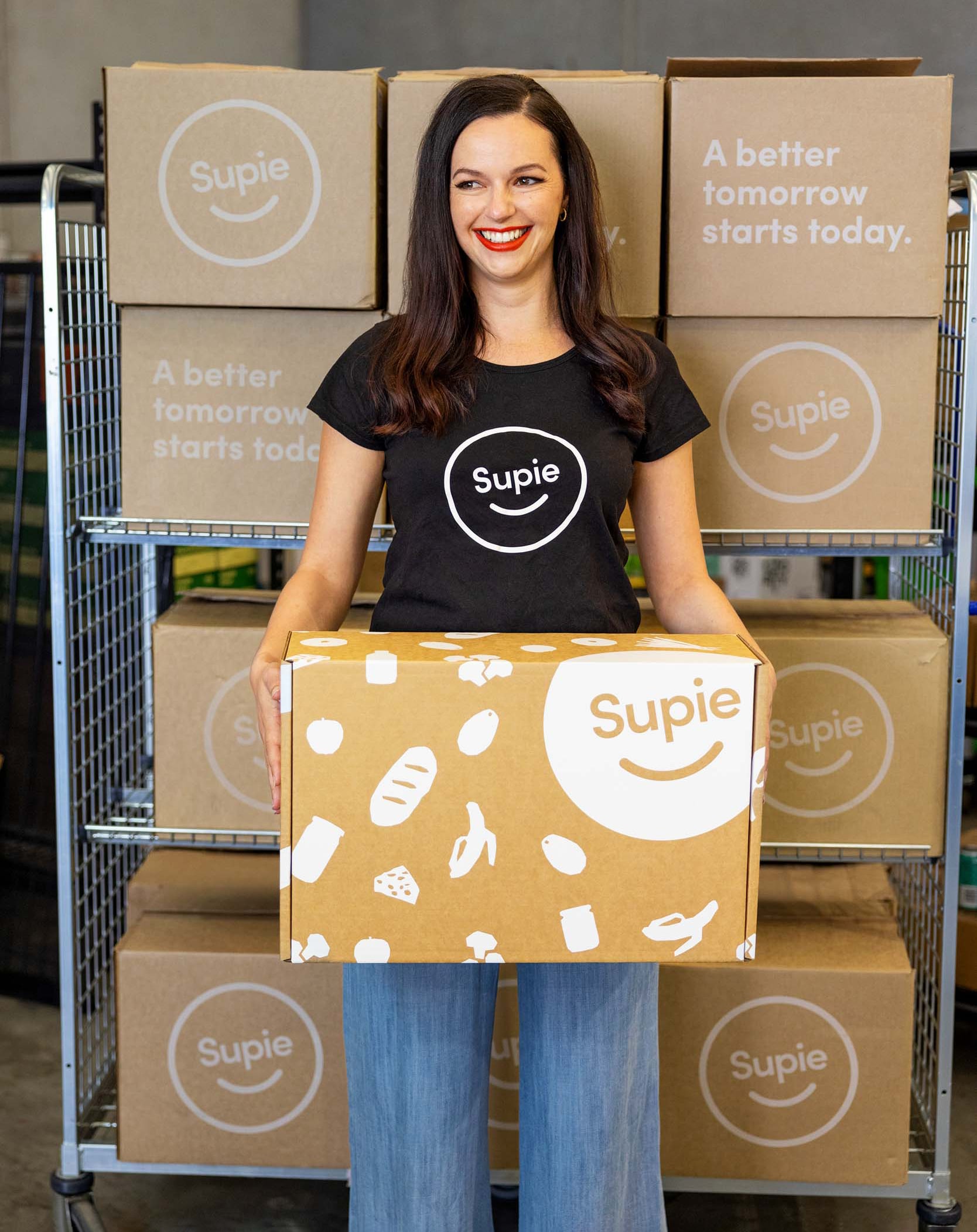 Obviously, if you can order something today and have it delivered tomorrow the system must work with meticulous efficiency. I imagined a Charlie and the Chocolate Factory-style system of conveyor belts and robotic arms. Like the space race, it's the technology used in improving ordering online productivity which is where the real competition lies.
Sarah gave me an example of how tech has made them more efficient by using a tracking device that showed how many steps the team were doing when they were filling orders. Armed with that information, Sarah could improve the process. "There have been thousands of adjustments that we've made and are continuing to make in the system."
The staff move about using tiered trolleys and checking off orders. There is a huge articulated chiller which is ready to expand when the business grows. In the midst of the grey concrete hangar the fresh fruit and vegetables provide a stark contrast in colour. Jewelled lemons and oranges, an enormous pallet of apples.
"We have a saying – when you order the broccoli from us it should still be in the ground," she says.
There is a forklift in a corner, pallets and a mountain of cardboard boxes. Sarah is not happy about the cardboard, ever in pursuit of more sustainable operations. She is sculpting and moulding a business with her sights on her dream child succeeding and flourishing. The scale of it all is impressive.
"What I am finding,'' she says, "is new thresholds that I can push through. I check in on myself because
I know what it is like to burn out and I don't want that happening.
"I am listening to my body and being really aware and that's something I have figured out for myself as part of my therapy journey over the last five years. Finding out who I am and unlocking how I can perform the best."