Step into the world of smoothie-making, where the intersection of nutrition and refinement awaits. The art of crafting a smoothie is an exquisite opportunity to showcase your creativity and elevate your palate to new heights.

Firstly, let us consider the foundation of any great smoothie: fresh, nutrient-rich fruits and vegetables. Think of the elegant vibrance brought by kale, spinach, berries, bananas, and avocado. Not only do these ingredients provide a wealth of vitamins and minerals, but they also impart an elevated visual and gustatory experience.

Yet, let us not stop at mere sustenance. Let us strive for refinement by incorporating superfoods. These are nutrient-dense foods believed to possess health-promoting properties, such as chia seeds, hemp seeds, goji berries, and spirulina. Not only do they contribute to the nutritional value of your smoothie, but they also add a tasteful and fashionable twist.

Texture is also an essential consideration. While the essence of a smoothie is, undoubtedly, its smoothness, adding ingredients such as nut butter, coconut flakes, or cacao nibs adds a delightful crunch, while simultaneously imbuing your creation with elevated flavor profiles.

Presentation is everything, and a smoothie deserves to be appreciated in style. Consider decorating your smoothie with fresh fruit slices, edible flowers, or a delicate drizzle of honey. Not only will this enhance the visual appeal of your smoothie, but it will also add a touch of sophistication to your morning routine.

Lastly, but by no means the least, is the vessel. The importance of a well-chosen receptacle cannot be understated. Whether you opt for a sleek glass tumbler or a timeless mason jar, the vessel can provide the finishing touch to your smoothie masterpiece.


Berrylicious Antioxidant Smoothie for Radiant Beauty




Ingredients
1 cup mixed berries (strawberries, raspberries, blackberries)
1/2 cup plain Greek yogurt
1/2 cup almond milk
1/2 banana
1 tsp honey
1 tsp chia seeds
1 tsp goji berries
Instructions
Combine all ingredients in a blender and blend until smooth.
Pour into a stylish glass tumbler and top with fresh berries and a sprinkle of chia seeds.
This smoothie is packed with antioxidants from the mixed berries and goji berries, and the chia seeds add a boost of omega-3s. The honey adds a touch of sweetness while the yogurt and almond milk make it creamy and satisfying.


Zen Boost Smoothie: A Fashionable and Nutritious Blend with Matcha Powder




Ingredients
1 tsp matcha powder
1/2 avocado
1/2 banana
1/2 cup coconut water
1/2 cup almond milk
1 tsp honey
1 tsp hemp seeds
Instructions
Combine all ingredients in a blender and blend until smooth.
Pour into a trendy mason jar and top with sliced banana and a sprinkle of hemp seeds.
This smoothie is not only packed with the antioxidants and caffeine from matcha powder, but also healthy fats from the avocado and protein from the hemp seeds. The combination of coconut water and almond milk makes it light and refreshing, while the sweetness comes from the honey.


Sun-Kissed Radiance Smoothie: A Tropical Blend for Glowing Skin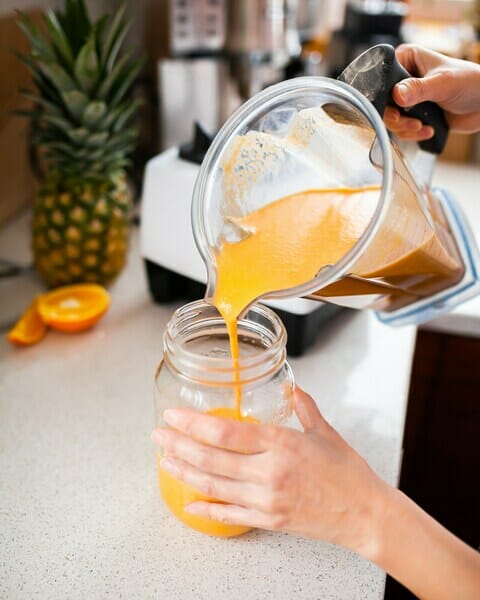 Ingredients
1/2 cup frozen pineapple
1/2 banana
1/2 cup orange juice
1/2 cup coconut milk
1 tsp turmeric
1 tsp ginger
1 tsp bee pollen (available at your local health store)
Instructions
Combine all ingredients in a blender and blend until smooth.
Pour into an elegant glass and top with sliced pineapple and a sprinkle of bee pollen.
This smoothie is a tropical delight that is also packed with anti-inflammatory benefits from the turmeric and ginger. The combination of orange juice and coconut milk makes it creamy and delicious, while the bee pollen adds a nutritious touch.