It is no secret that pastry holds a special place in my heart. Whether short, flakey or buttery, each has its own divine role in the kitchen. Today, I'm delving into the two I use the most – puff pastry and sweet shortcrust pastry. Puff pastry is exactly what it sounds like. Most commonly seen in sausage rolls, pastries and croissants, butter weaves between wafers of thin pastry for a delicate yet crunchy texture with a puffy, pillowy look.
Sweet shortcrust pastry is reminiscent of shortbread and all the buttery goodness is compacted into a dense crust to allow for a substantial bite, vesseling the accompanying ingredients. Either found sweet or savoury, as one would with a sweet pie or quiche. Wrapping your head around these two pastry types will not only save you a lot of time in the kitchen but also allow for an infinite amount of recipe creations
Arguably, the best way to eat puff pastry is in a Danish form, with sweet crème pâtissière and a fruit of your choice. There are only a few things in the world that sound fancier than that. I highly recommend making homemade puff pastry for your Danish. Here's the link to the recipe. If you're in a pinch, choose a rough puff and if you're in a bigger pinch, store-bought will work just fine!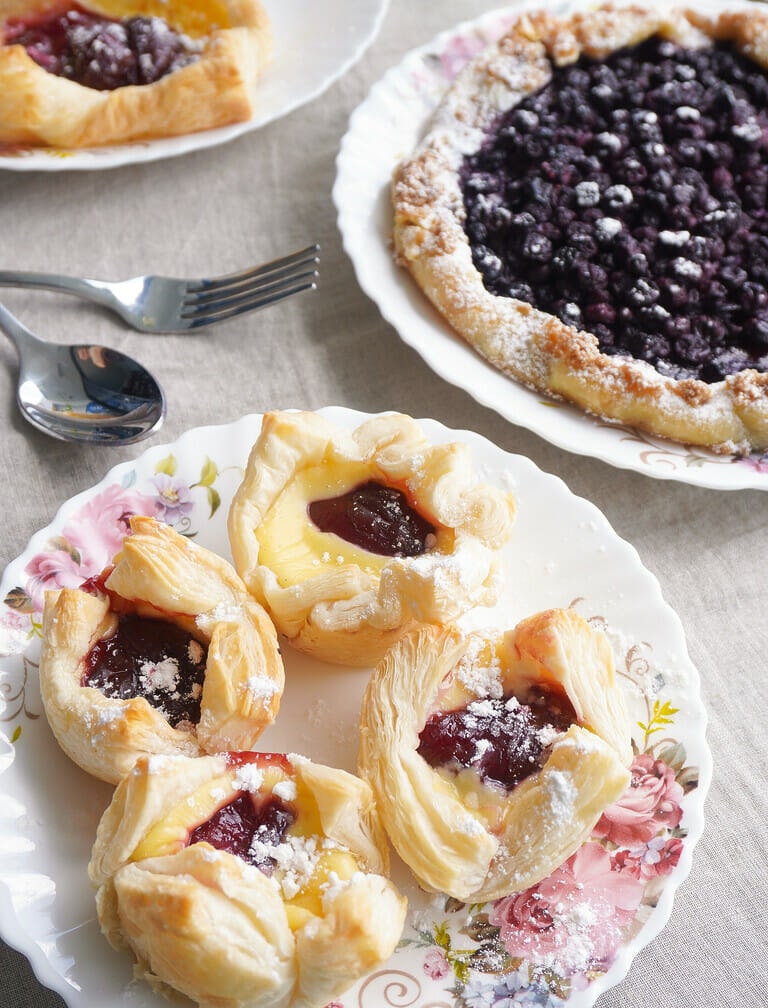 The second best thing about this dish is the crème pâtissière – or pastry cream. This sounds complicated, but again, its reputation precedes itself and is much simpler than you'd think. This is a recipe that is extremely easy to learn and something you will find yourself whipping out time and time again. The French-inspired thick custard stands on its own, literally. The viscous nature allows itself to form within other ingredients without the need for support. This makes it the perfect thing to put inside a creme puff, or Danish.
There isn't a lot of variation in recipes, but this is my tried, tested and guaranteed way. Crème pâtissière in and of itself is essentially milk, eggs and cornstarch.
Hot Tip – please source the best ingredients you can for this. The more unprocessed your milk is, the creamier your crème pâtissière will become. Also, opt for larger eggs, as they equally have larger yolks – and always whisk at room temperature!



Plum Danish Recipe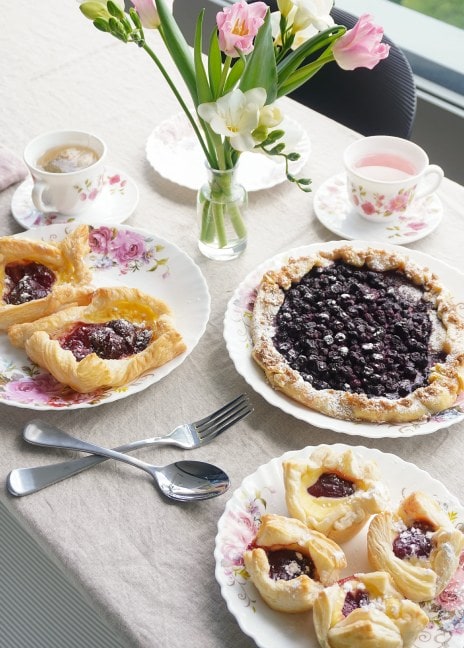 Ingredients:
1 sheet of puff pastry
1 cup crème pâtissière
1 cup fruit of your choice – I prefer tinned or fresh plums
1 egg – as an egg wash
Method:
Line your baking sheet with baking paper. Cut your pastry into squares.
Trace out a small square, within your pastry square. Pick up two opposite corners, and swap over. Press down on any cut marks to reform. The inner will be the base for your custard, and the outer will puff up delightfully.
Spoon crème pâtissière into the middle of your pastry, enough to cover. Top with your favourite fruit. Egg wash the corners of your pastry.
Cook in the oven for 15 minutes until golden brown.
Eat hot or cold.



Crème Pâtissière Recipe
Ingredients:
480ml whole milk
1 vanilla pod
115g granulated sugar
4 large egg yolks (at room temperature)
4 tbsp cornstarch
2 tbsp butter (diced)
Method:
Choose a medium saucepan, preferably one with a thicker base. This aids in regulating the heat and protecting the milk from overcooking.
Combine milk, vanilla and ½ the sugar (57.5g). Place over a medium-low heat until the mixture starts to simmer – stir regularly.
Separately, whisk together the egg yolks, cornstarch and remaining sugar. The cornstarch is going to stabilize the mixture and stop the milk from over cooking.
Once combined, slowly add ¼ of the egg mixture into the warm milk, whisking constantly until it is fully incorporated. This is going to 'temper' the egg mixture, meaning it will bring it up to the heat that the milk is at. This is what stops the eggs from cooking and splitting out. With the heat on low, add the rest of the mixture and whisk until it is thickened.
Remove from heat and whisk in the butter. You can pass it through a fine sieve if any lumps form, but if whisked correctly, it should be perfect.
Immediately transfer into a dish you can put in the fridge. Cover with cling film, so it touches the crème pâtissière – this will stop a skin forming. Refrigerate for a minimum of four hours to chill (however, it is perfectly safe to eat right away).
This will be spoonable or pipeable, depending on your preference.



Blueberry Galette Recipe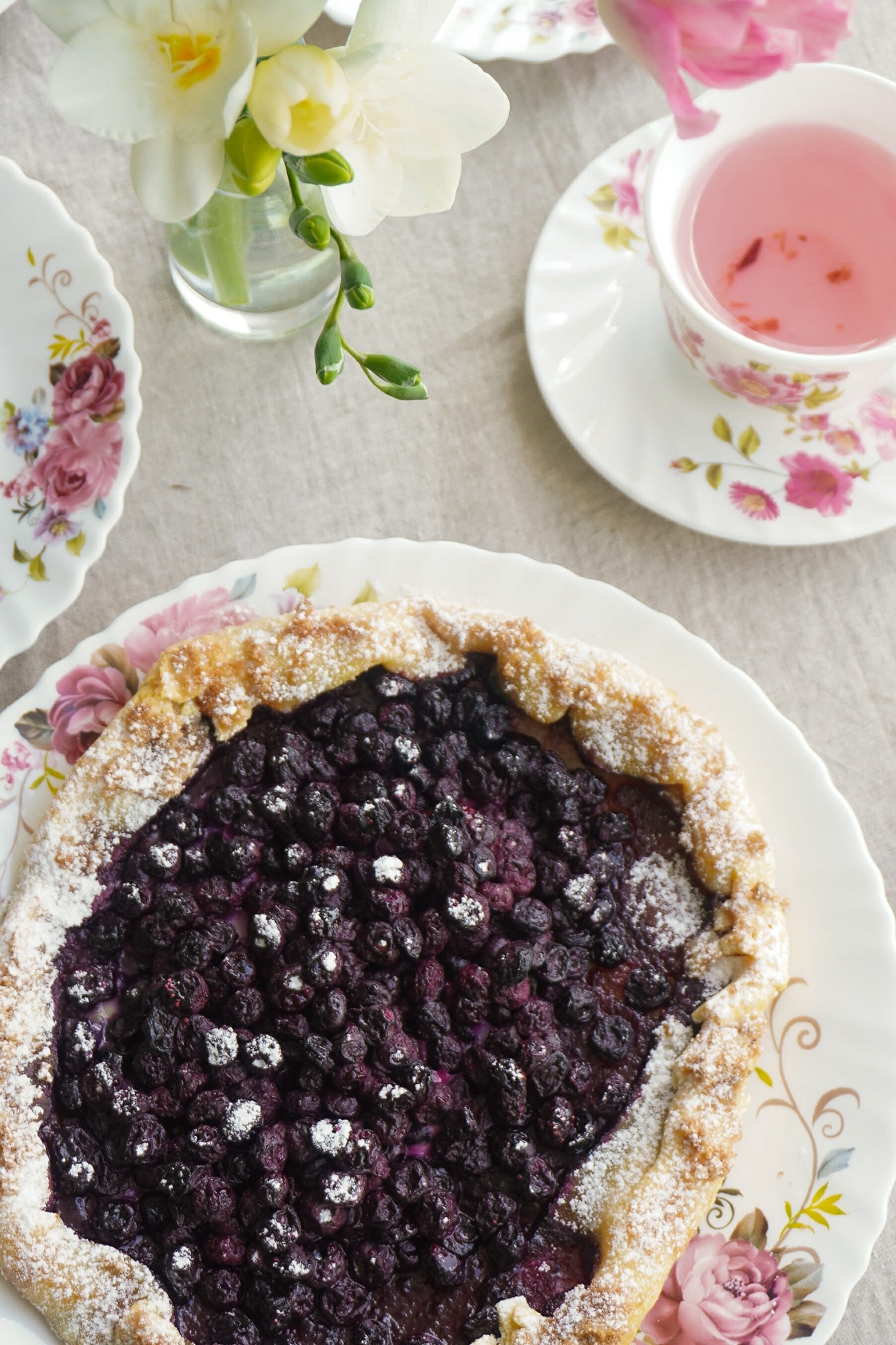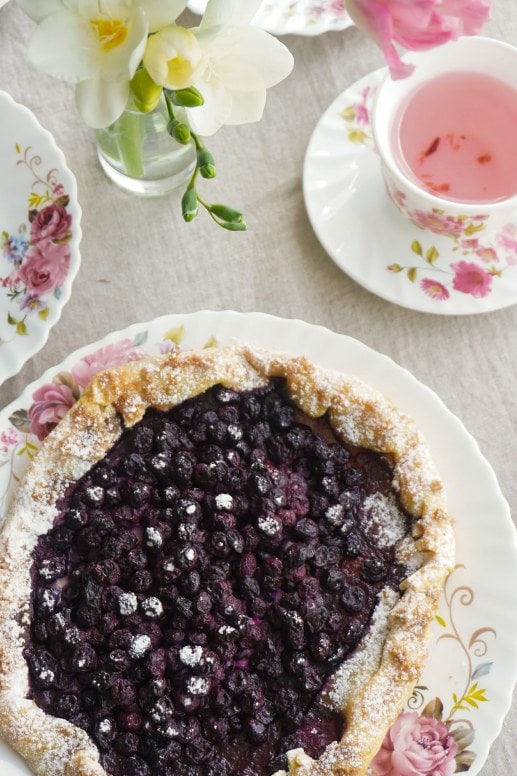 My heart sings whenever I hear the word galette. Essentially, it is an open pie with about 20% of effort required. It compromises on time, but it tastes and smells like the real deal. This one is for those days where you're craving something sweet, but are already halfway through a movie on the couch. Blueberry is my weapon of choice, but raspberries or peaches also work very well!



Blueberry Galette Ingredients:
1 sheet shortcrust pastry
½ cup crème pâtissière
1 ½ cups blueberries
Icing sugar
Lemon juice
¼ cup granulated sugar



Shortcrust Pastry Ingredients
Please invest in a kitchen scale – it will completely change your baking quality. Everything rises and cooks well if you have precise quantities.
250g all purpose flour
125g unsalted butter, cubed
100g caster sugar
1 egg



Method:
Use your fingers to smash the butter into the flour. Once the flour coats the butter, add egg and sugar, then combine using your hands. Roll out the pastry on your kitchen bench into a circle. Lay the pastry on top of the rolling pin and transfer to a lined baking tray. Place in the fridge for 30 minutes to chill.
Hot Tip: having a dough scraper will be a life saver when baking – any mess is gone within minutes!
Preheat your oven to 180C and line a baking tray with paper.
Take your pastry out of the fridge and indent a large circle with the back of a knife to create a guide for your crème pâtissière and blueberries. You want to leave a 1 inch crust.
In a bowl, combine blueberries, lemon juice and icing sugar to coat.
Add ½ cup crème pâtissière to the base of your dish, within the circle and top with the blueberries. The crème pâtissière will stop the blueberries from spreading out too much.
Lift the surrounding pastry on top of the blueberries to mimic a crust.
Brush the crust with a little water and sprinkle on the granulated sugar.
Bake for 35-40 minutes until the crust is a sunkissed brown. Remove from the oven and cool down a little. I won't tell anyone if you add ice cream to this as well! Enjoy!