Summer is approaching and it's finally time for the peachy season! In this colour series, we wanted to share the best makeup products in this feminine hue that's oh so flattering. From bright oranges to subdued peaches, we have searched for the top performing products that will satiate your craving for juicy, vivid and vibrant peach tones.



M.A.C That's Peachy
If you haven't felt the texture of this blush, go do it now. It has the most unique pillowy texture that is creamy and bouncy. The formula melts into the skin and blurs any texture while depositing the perfect amount of blush. Whether you use a brush, sponge or fingers, this product is effortless to blend. Due to its light reflecting quality, this blush will make your cheeks look dewy and youthful without leaving a sticky residue.
The shade 'That's Peachy' is gorgeous and vibrant. It isn't as neon as it looks in the pan and is a universal shade that will look absolutely beautiful on the palest to the deepest of skin tones. If you are looking for a more subtle variation of this coveted shade, check out 'Cheer Up' for a modest pop of warm peachy pink.



Hindash Rising
Hindash is an eponymous beauty line by the award winning makeup artist Mohammed Hindash. Coming from an artist background, he has an incredible depth of knowledge about colour theory. Coupled with his years of experience of working in beauty, Hindash formulations are professional grade.
In today's edit, we wanted to shine some light on the Hindash Colour Fluid in the shade 'Rising.' Although it seems like an intimidating shade of neon orange, the Colour Fluids are super versatile due to its multipurpose friendly formula. It is an ultra matte product that can be used on the eyes, lips and face. Mixed with foundation or applied straight onto the skin, the blendability is absolutely insane – not to mention the longevity.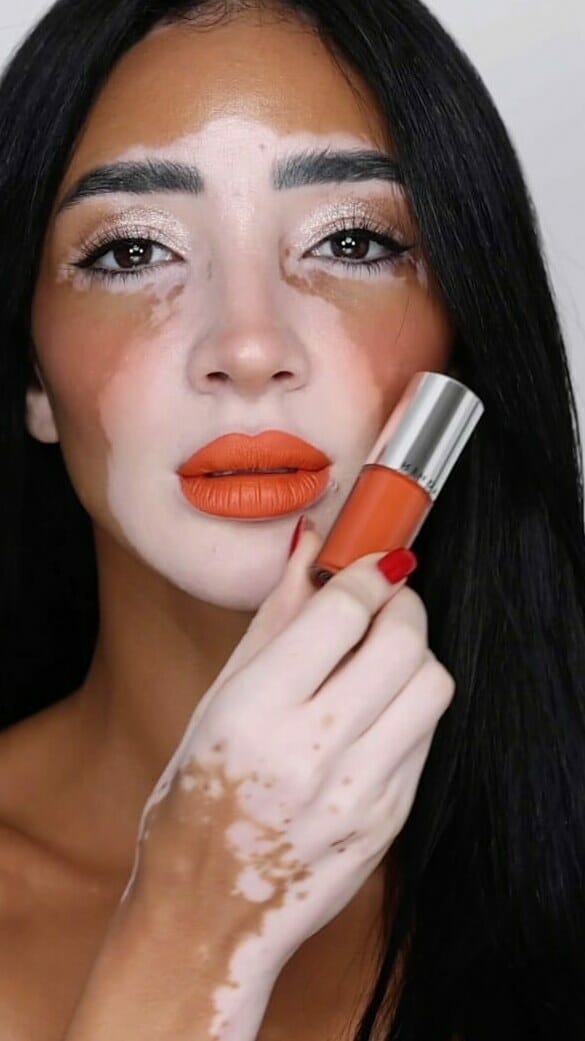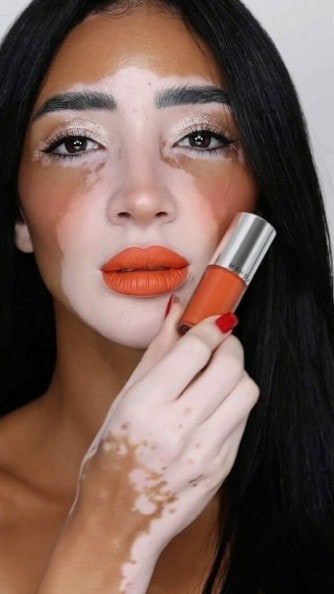 When blended into a sheer layer, 'Rising' becomes a true peachy orange that is perfect for the summer season. When the sun goes down and you're ready for a big night out, rock the full potential of this fiery orange shade that is confident and assertive. Check out his IG to see how he incorporates the Colour Fluid in his looks!



Rose Inc Poetic
If you ever come across a beautiful picture of Rosie Huntington-Whitely and she's wearing a lovely shade of peach on the lips, it is highly likely that it is Poetic by Rose Inc.
If you didn't know already, 'Poetic' is the exact shade of Rosie's lips! So it makes sense that it's her go-to shade as it builds the pigment of her natural lip colour. It's one of her favourite lipstick to wear on the red carpets too!
'Poetic' has a medium undertone with a neutral kick. Because of this, Poetic is a shade of peach that isn't too bright or coral. Instead, it's sophisticated and flattering on a lot of different skin tones.
We love the versatility of this shade. It is so easy to turn 'Poetic' into a fall shade when paired with a brown lip liner. However, this summer, we encourage you to blend Poetic onto the lips and cheeks for the ultimate chic and peachy makeup look!



Anastasia Beverly Hills Primrose Palette
Everyone has heard of the Sweet Peach Palette from Too Faced, but have you heard of the Anastasia Beverly Hills Primrose Palette?
The Primrose Palette includes shades for the eyes and the cheeks in beautiful shades of peached golds, grapefruits and warm sienna browns. With a few pops of dusty rose and deep purple shades, this palette is a summer dream.
Keep in mind that the ABH formulas are prone to fall out. However, if you tap your brush a couple times, you can easily avoid eyeshadow falling onto the face! In any case, these shadows are intensely pigmented and easy to blend. Take caution with the glitter shades as they are not for the faint hearted!



Anastasia Beverly Hills New Lip Gloss Shades
If you remember the good old days, you will remember that ABH created some of the top liquid lipsticks. Nowadays, the ABH lip glosses have taken the crown as one of the best formulas on the market. Creamy, pigmented, glossy and plumping- you are going to love the new shades: Amber Sparkle, Peachy Nude and Peachy!
This is the holy trinity of peach lip glosses. Amber Sparkle and Peach will shower your lips in iridescent and pearly glitters while Peachy Nude is a deliciously creamy, well you guessed it, peachy nude!



Clinique Even Better All-Over Primer + Color Corrector
If you suffer from dark circles and you can't seem to figure out how to hide them, Clinique has the perfect solution for you. Instead of layering copious amounts of concealer, try using a peachy colour corrector. This way you can avoid creasy and cakey under eyes for a much brighter and smoother look!
Our current fave is the Clinique Even Better All-Over Primer + Color Corrector which has the perfect medium undertone that can be used around the eyes, mouth or anywhere else that you want to cover up. Combined with skincare propellers such as hyaluronic acid and vitamin C, brighten and hydrate this sensitive area.
Why a peach corrector? By using colour theory, you can neutralise the blue hues that are often seen under tired eyes. This is because orange sits opposite from blue on the colour wheel.



NARS Orgasm Collection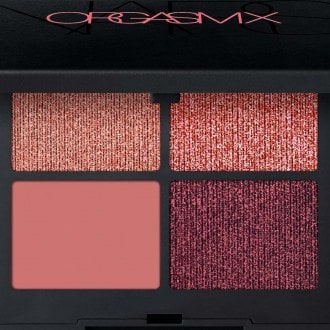 The NARS Orgasm Collection has some of the best peachy products on the market. From their eyeshadows, blushes, tinted lip balms and lip gloss – it's a tropical dream for all peach lovers.
The Orgasm Eyeshadow Quad is a summer must have. The hero shade, Orgasm, is ultra flattering on all skin tones. The matte peachy rose eyeshadow is beautiful to blend the stunningly sparkly nectar and copper shades. To deepen the crease or your overall look, dip into the eggplant colour that is littered with copper, gold and peach shimmers.
If you're wondering about which Orgasm Blush is for you, we highly recommend trying the Liquid Blush! It sets on the skin with a non-sticky glowy finish. Finish your look with the Orgasm tinted lip balm for a chic and enhanced MLBB (my lips but better) or gloss it up with the lavish Orgasm Lip Gloss that dazzles in the light.