Mother-daughter artist duo Sulieti Fieme'a Burrows and Tui Emma Gillies tell Garth Cartwright that, despite their differences, they're cut from the same cloth.
From a South Auckland bungalow to international art galleries, mother and daughter Sulieti Fieme'a Burrows and Tui Emma Gillies are achieving remarkable things with their tapa cloth paintings.
The art they co-create is both beautiful and ominous, reflecting as it does concerns close to all of us: family, Covid, cultural traditions, the Pacific environment, our pasts and futures.
The duo's current exhibition, Voyagers: The Niu World, is showing at Tautai Contemporary Pacific Arts Trust on Auckland's Karangahape Rd and has received hugely positive accolades.
"The response has been overwhelming," says Tui with a radiant smile. "We had TVNZ cover the opening and a great number of people have been coming to Tautai to see the exhibition. It was delayed twice due to Auckland going into lockdown, so to finally have the art on the walls and people enjoying it is wonderful."
While Tui and Sulieti have only been exhibiting in art galleries since 2013 – when Tui was first approached by Fresh Gallery Ōtara – the pair began creating together back when Tui, now 40, was still at school.
"I was always interested in art while growing up," tells Tui, "and my bedroom was covered with my grandmother's ngatu (the Tongan word for tapa) so I grew up in a womb of tapa. Mum had grown up making traditional tapa in her village in Tonga and, while she didn't do so while I was growing up, she was always being given tapa by other Polynesian families and would repair any rips and holes. Then she began selling at Ōtara Market. Eventually, I started painting on the tapa and people at the market liked them. Someone asked Mum who did the painting and when she told them it was her school-aged daughter, they said, 'Gee, that's pretty good for an untrained artist.'"
Sulieti, 70, admits her journey into the international art world was unexpected. Indeed, while growing up in Tonga she never even thought about leaving her homeland. Then, aged 26, she was introduced to a brazen Kiwi builder called Barry Burrows who, being recently divorced, had bought a yacht and determined he would sail from New Zealand to the United States. Barry was well underway on his solo journey until a reef in Fiji abruptly ended his sailing dream. Both mother and daughter laugh while telling Barry's story. "Dad loved to drink rum," says Tui, "so we wonder if he hit the reef because he was a drunken sailor!"
"I'm very pleased he was shipwrecked," smiles Sulieti, "because otherwise I would never have met him."
Barry, having travelled from Fiji to Tonga, was spending much of his time at the yacht club in Tonga's capital, Nuku'alofa, drinking and carousing and wondering what to do with his life now he no longer owned a yacht. Meeting Sulieti in 1977 stirred something inside Barry and a relationship blossomed between the shy Tongan girl and the brash Kiwi.
"Barry brought me, his new bride, to New Zealand in 1978," says Sulieti. "Pregnant with my older brother, Monty," adds Tui, with a chuckle.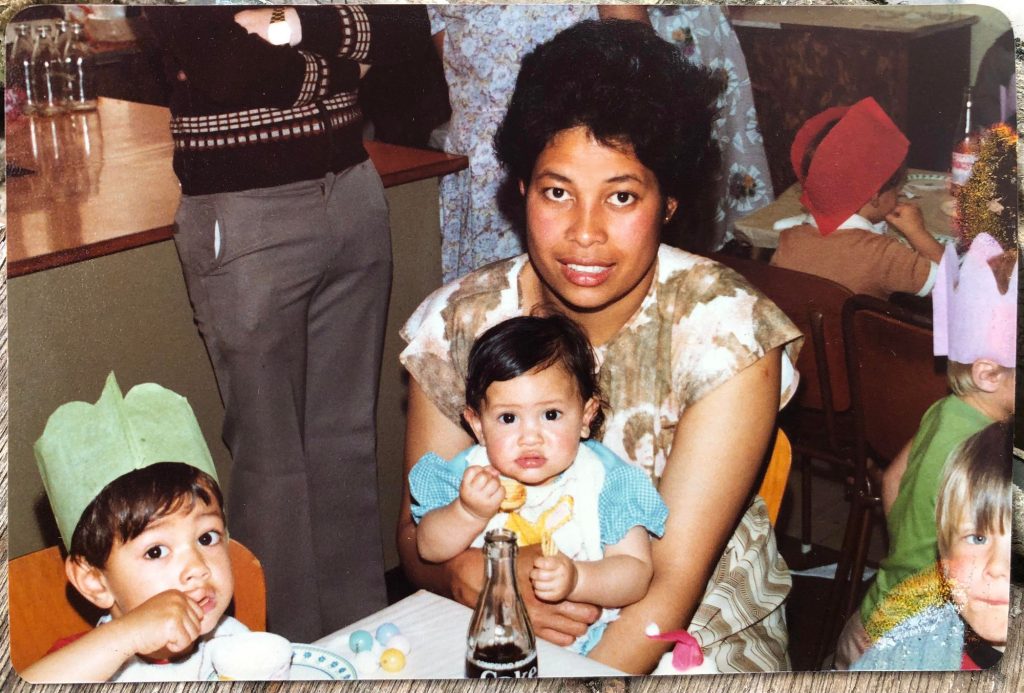 While, according to Tui, Monty proved "good at everything" – he's now a doctor in Australia – she herself was a mama's girl.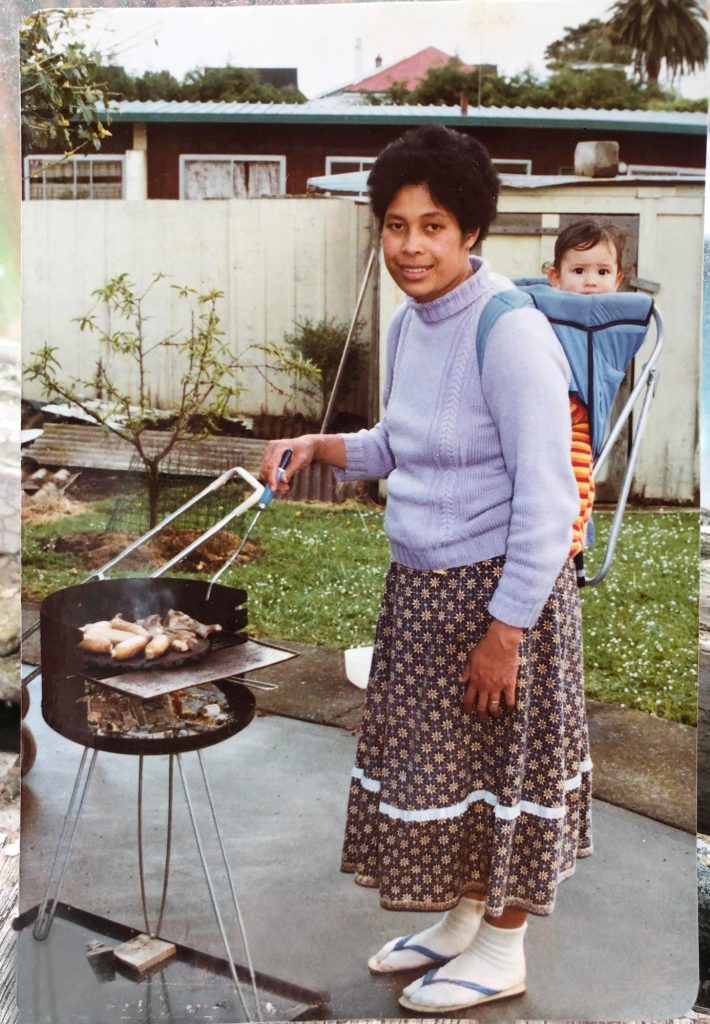 "I would always be with her," says Tui, who, having finished school, enrolled at Manukau Institute of Technology's art school. "I loved painting and New Zealand art – Rita Angus and all those other great painters," she tells. "But I was 18 and unable to get my head around lectures, so I only lasted a year. Then I became a real estate agent for Ray White and sold houses, before I went off and got married and had my kids – and they're bloody time consuming, as every mother knows! Mum and I were working together slowly. Things just developed naturally."
Naturally is the word: while raising her own children, Sulieti had found an income stream involving selling tapa in Ōtara Market. Here she employed the skills she had learnt from her mother to repair old tapa she was given or found in op shops, alongside used clothes she unstitched and remodelled. "Mum does things properly," says Tui. "She's about quality."
The close bond between the mother and daughter saw them gravitating towards making art together while they were raising Tui's offspring. "It's my calling," shares Tui. "My dad always encouraged me as a little girl and I used to make him a drawing every day. If I don't create art, I get very restless and feel like something is missing."
This restlessness pushed forth a new Polynesian art that mixes tradition with contemporary touches. Sulieti makes some of the tapa they paint on – for a big exhibition like their current one at Tautai, it would take far too long for her to manufacture all the ngatu, so they import tapa from Tonga then prepare them, giving the tapa a beautifully mottled look. The pair then discuss the theme of each painting and Tui starts drawing the figures while Sulieti designs the traditional kupesi (borders) that frame the central image.
"Because we know each other so well and share the same DNA, it is like we are coming at each painting from the same angle," explains Tui. "We're like best friends, even though we can bicker about everyday life."
Recognition has been forthcoming and they have received grants from Creative New Zealand towards projects in New Zealand, Tonga, and England. Tui and Sulieti have given presentations about their practice in Melbourne, Vienna, Madrid – home to the world's oldest tapa – Nuku'alofa, Hawaii and throughout New Zealand. Most importantly to them, their engagement in making tapa art has seen the duo reactivate tapa traditions on Sulieti's home island of Falevai.
"Fresh Gallery said to us, 'Why don't you two produce some tapa with the women of Sulieti's village?'" tells Tui. "But when we contacted them, we found the ngatu tradition was forgotten and now it was all about weaving."
Thus, the duo returned to Falevai and helped revive the tapa tradition (a documentary-style video of their experience, titled Falevai Flava, is available to watch on YouTube). "In the village, ngatu has been revived," notes Tui, "and this is a massive thing! I imagine my mum's mum and her ancestors being so happy."
But things aren't always so easy: Sulieti admits she's not always enthusiastic about her daughter's ideas for paintings. "My approach is traditional," she says, "while Tui is very contemporary. We can see things differently."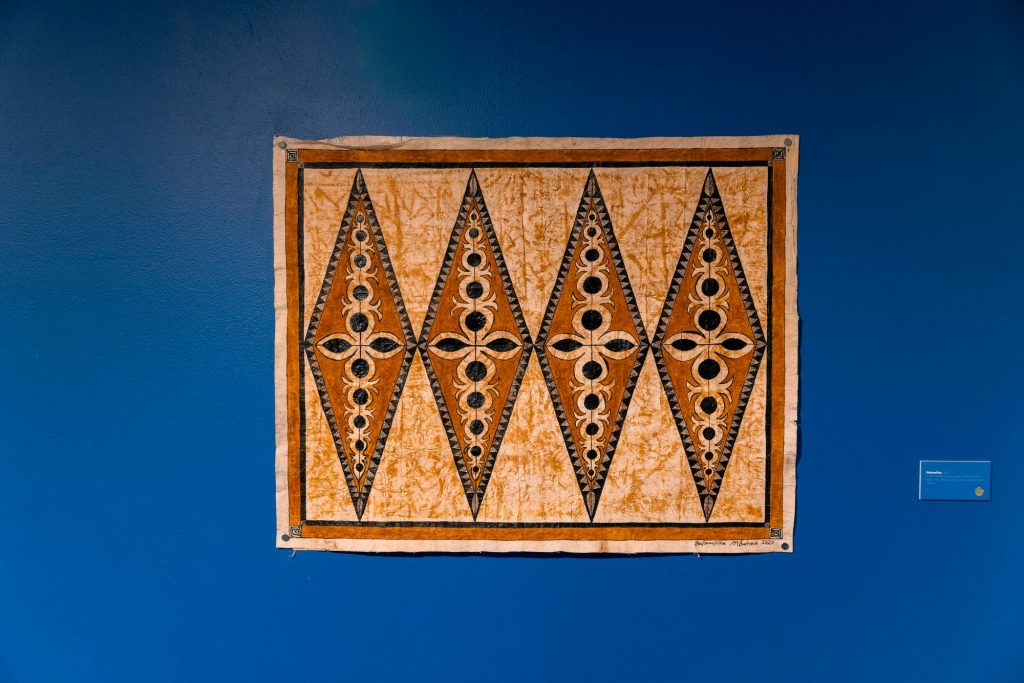 "To be honest, it took me a while to trust mum fully on the tapa cloth," admits Tui. "I'm a bit of a control freak at times and a perfectionist. Eventually I realised I had to drop that attitude and the works became so much better when I allowed mum to do what she does naturally. Our styles complement each other perfectly. We can still battle over the use of colour and naked body parts, which can both be quite controversial in traditional Tongan tapa art – to this day, Mum will still give me a lecture about how much cleavage I can show."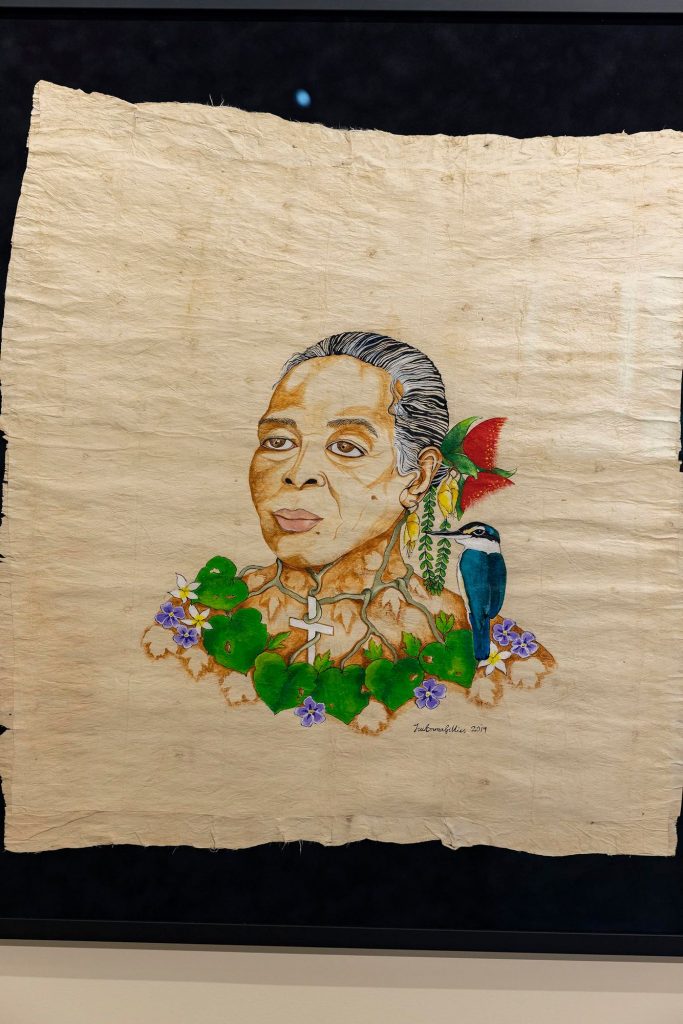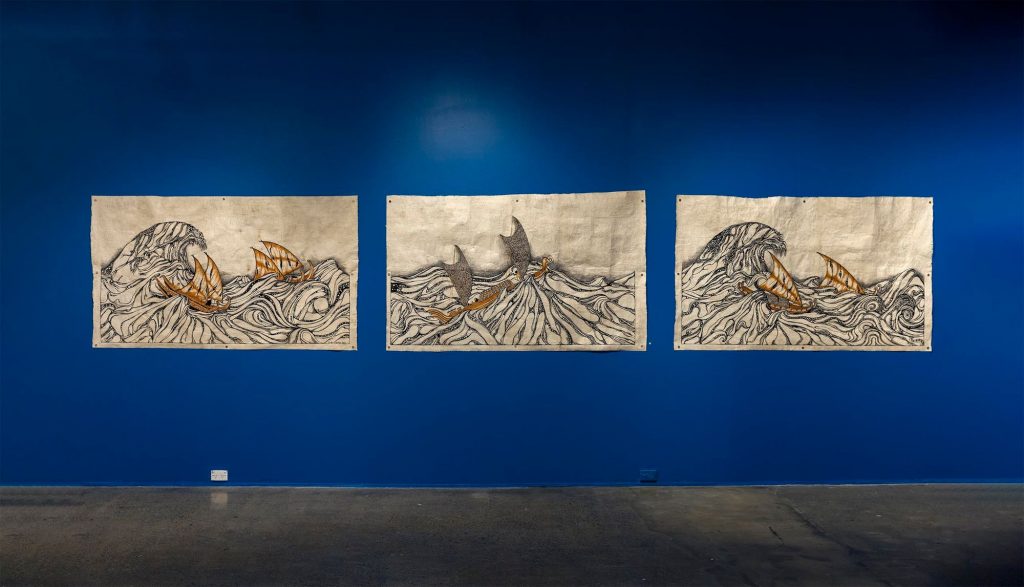 The central theme of Voyagers: The Niu World is family in the time of Covid, with the faces in the paintings often being masked.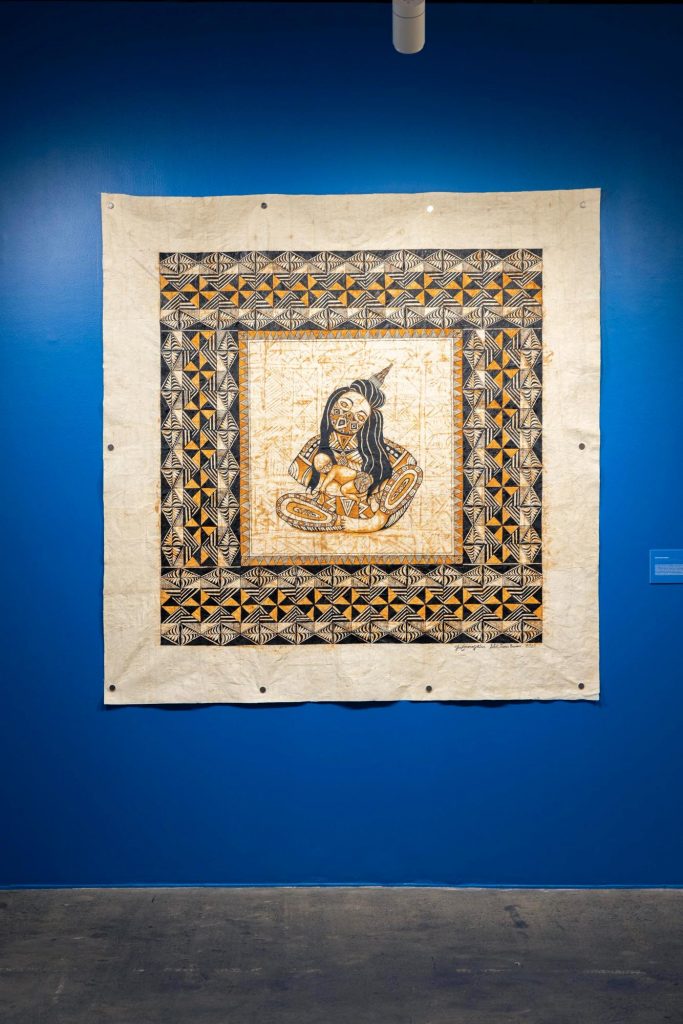 "I looked at the world struggling and us, the 'team of five million", nailing the pandemic as a voyage towards a new world – as our ancestors voyaged through the Pacific," shares Tui. "Scientists have been telling us for years that we have to change our ways if humanity is to survive, and the pandemic has shown that when the world comes together, we can do amazing things. I also believe there is a lot our society can learn from traditional Polynesian culture, and our art reflects this."
While Tui bursts with energy and enthusiasm, Sulieti projects a regal calm. Indeed, amongst the hubbub of the Tautai exhibition opening party, I noted her standing aside from the crowd. Sidling up beside Sulieti, I asked if she would rather be at home than the focus of all this attention. She rolled her eyes and answered, "I hate it! I often tell Tui I don't want to be in the media. But I do it because I support her."
Tui laughs when I mention this to her, then nods in acknowledgement. "Mum is very traditional. She's a great role model for me as she's so loyal and dedicated to family. I said to her that our main goal is to support our community – we want to show that South Auckland is home to many creative people, not just the negative stereotypes you often hear. And we want to do the house up. We've got goals."
Indeed, Sulieti's Manurewa house is a crowded one: Barry died in 2013 and she now shares her property with Tui and her husband Angus Gillies (a Three News producer and best-selling author) and their three children – Pele, 13, Cassius, 12, and Aroha, seven. Finding Auckland property prices beyond them, Tui and Angus purchased a house in Kawakawa three years ago. Tui and the kids moved there, with Angus remaining at Sulieti's – he would join his whānau in Kawakawa over weekends and holidays – but this all proved too challenging and, just before the school year started, the family regrouped in Manurewa.
Beyond the challenge of raising three children without the support of her husband and mother, Tui also chose Manurewa because Pele has, after taking his first piano lesson in September 2019, proven himself a prodigy – so much so, he played a selection of classical pieces at the opening of the Tautai exhibition. Thus, being in Auckland gives Pele access to the best piano teachers available.
"It's incredible to watch him develop," admits Tui. "I asked him to perform at the opening as he would be practising while Mum and I were creating the tapa paintings, so he's part of our creative process. The confidence he had to perform at the exhibition surprised me."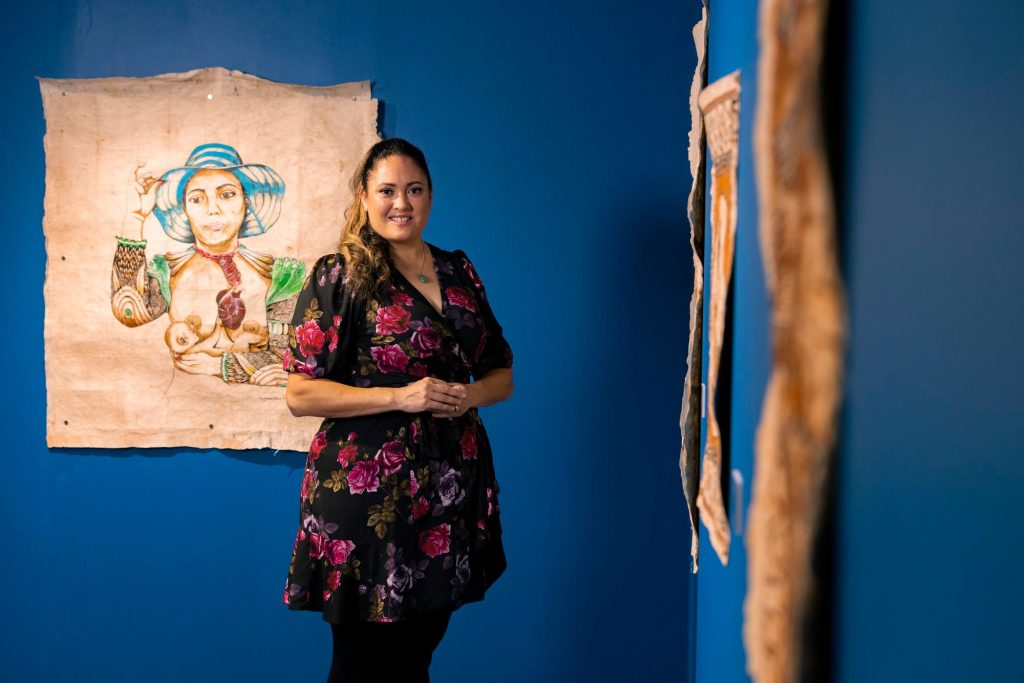 Cassius and Aroha also performed at the opening as part of a children's dance troupe: Tui's determined her children retain pride in their Tongan ancestry. The maternal family lineage was on display during the dance, as part of Aroha's costume was a ta'ovala (a mat worn around the waist) that her great grandmother made and Sulieti adapted for her. "I love the kids – especially my little princess," smiles Sulieti. "For me, it's great to have our entire family back together."
Talented and loving, Sulieti and Tui are intent on taking their multicultural artistic traditions forward.