The county's biggest outdoor art event – NZ Sculpture OnShore – opens to visitors on 4 November. Situated in the glorious environment of Operetu Fort Takapuna with its 180-degree views of the Hauraki Gulf, it's a great opportunity for a girls' day out. But there's a sobering message behind the beauty of the exhibition's setting and the 130 uplifting sculptures on show.
NZ Sculpture OnShore is Women's Refuge NZs major biennial fundraiser. Last year, 52,000 women and children were referred to the Refuge; a number that sadly steadily increases year-on-year. New Zealand has the highest rate of family violence in the OECD. Many of the artworks on offer at the exhibition reference the strength and resilience of women, and of the courage they have shown in leaving situations of violence. Here is a sneak-peak at the extraordinary work created by six women artists who have taken these messages to heart.
For Cary Spencer, creating her artwork Germinating Hope was personal. As well as being a sculptor, Cary is a front-line social worker, supporting those suffering from family harm.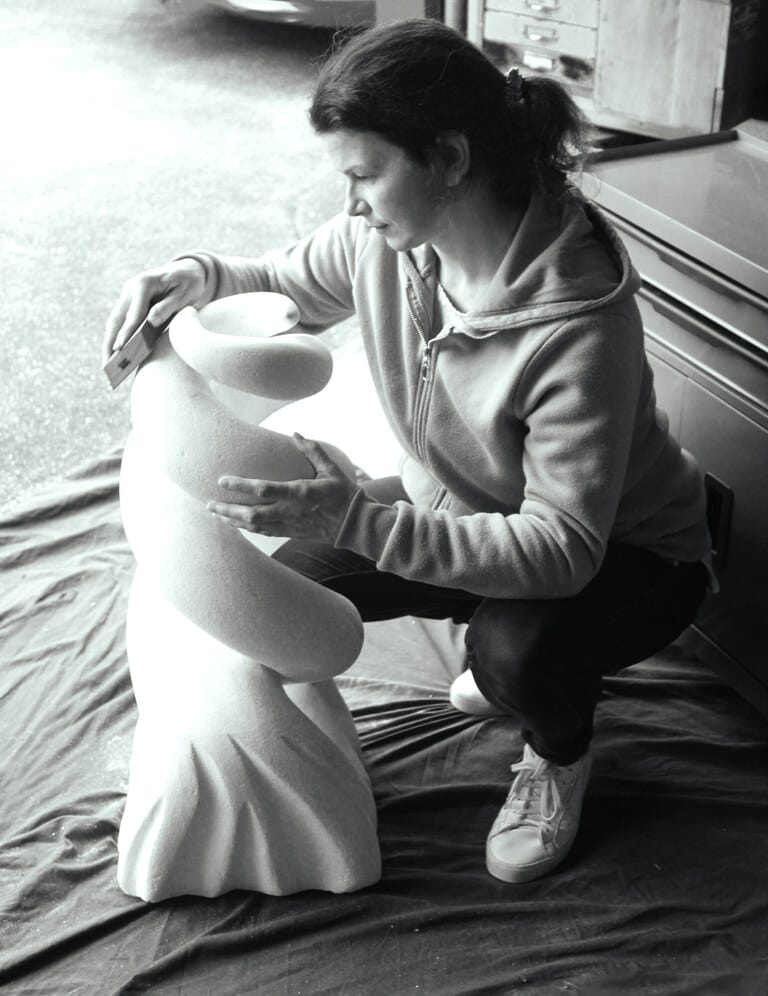 "I know how challenging it can be for women and children seeking to build a new life after escaping violence. My work Germinating Hope depicts human courage and growth in its most basic form. Giving hope through Women's Refuge NZ helps women and their children emerge from a dark place and helps them find a better life."
"Made from Oamaru stone, copper and concrete, I want visitors to see the many levels of enduring strength and resilience reflected in the work."
Full-time practising artist Oriah Rapley's exhibiting work Waka of Solace speaks to the concepts of courage and resilience. Standing 1.8-metre-high, the sculpture's perfectly smooth lines will sooth those viewing it at the exhibition. "It's a response to the calling of help or support," says Rapley. "The bird navigates with her innate skills, guiding the waka to those who need solace," she adds.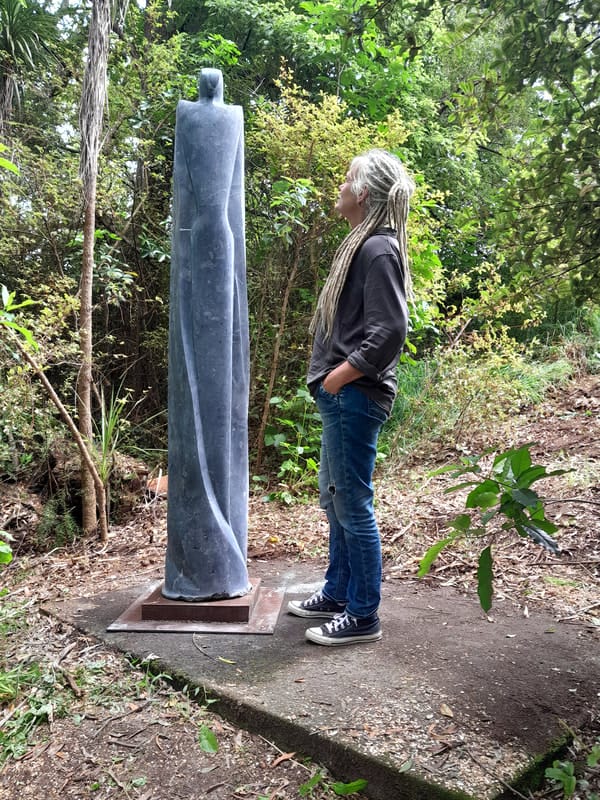 A second piece by Rapley, We've Got This, is a seat made of Taranaki andesite in the form of a bird with a wrapped wing, offering support; its head leaning in to listen. "This is a piece I have thought about for a while and being able to create it for NZ Sculpture OnShore was perfect. I want the work to be a comforting place to retreat to," she says.
Contemporary sculptor Karen Walters drew from her Māori ancestry to create Vessels of Wellness carved in ancient heart rimu that was rescued from buildings destroyed in the 2011 Canterbury earthquakes. The seven works are recreations of plants used in Rongoa (Māori traditional medicine) and speak to healing and replenishment. "These vessels are intended to be uplifting. They reference the beauty of strength, appreciation and resilience which is often gained through challenging and painful experiences," says Walters.




Anna Dalzell is a printmaker, jeweller and sculptor whose work often references historical narratives. "I like to shed light on stories from the past in the hope of a better future, particularly those concerning women," she says.
For the exhibition, Dalzell presents Freedom Seeker – a soaring 1.2-metre-high part woman, part angel resplendent in bronze. "I was influenced by The Winged Victory of Samothrace made in 190 BC – a figurehead on show at the Louvre representing the goddess of victory," says Dalzell. "Freedom Seeker rises from strife and hardship through her winged form to shout out for freedom, proclaiming her rights for all to hear."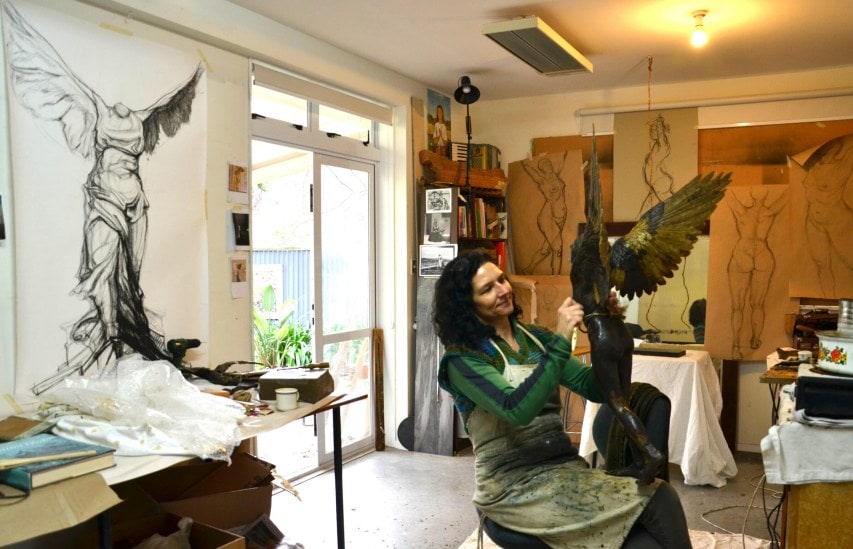 Artist and teacher Philippa Wilson's Crown made of aluminium and steel incorporates wild flowers that act as a protective hedge. "These flowers are often overlooked and grow in arid and windswept conditions. They are resilient and strong and have endured often harsh conditions to survive. The title, Crown, reflects the nobility of the human spirit as it rises," she says.
Wilson's second artwork is a beautiful butterfly; a Red Admiral: Kahukura (red cloak). "The butterfly represents the transformative journey and is a salute to all women who have endured and survived forms of mistreatment. The cloak symbolises dignity and strength," she says.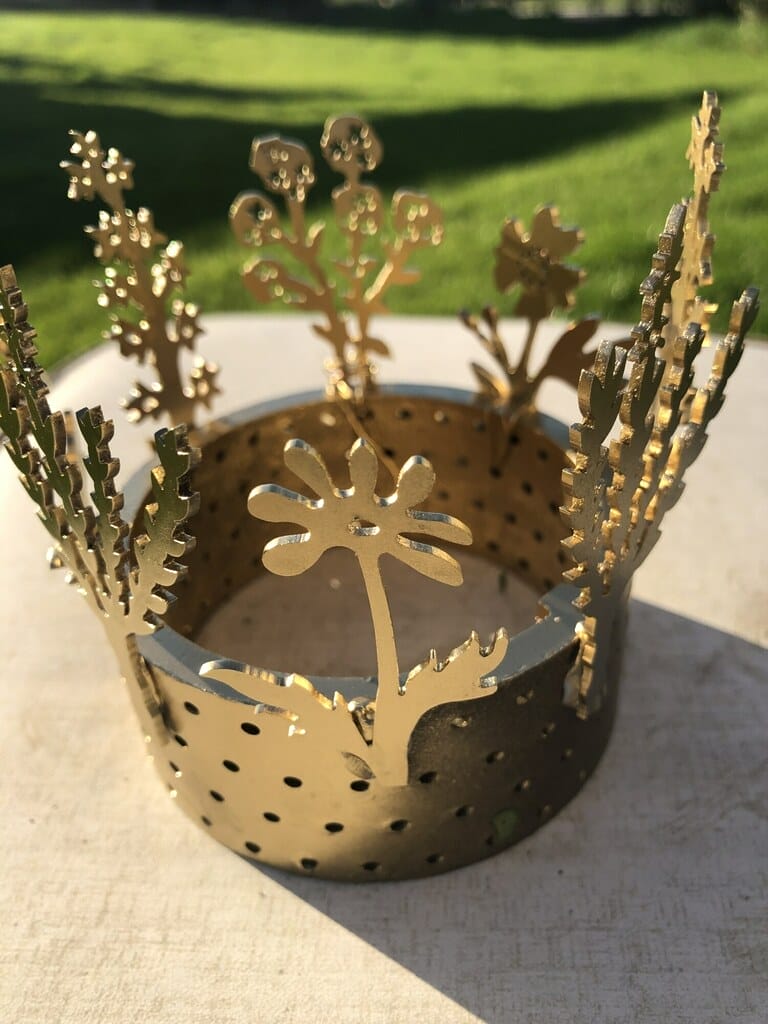 NZ Sculpture OnShore has donated more than $2 million to Women's Refuge NZ since its inception 27 years ago. "With the proceeds from this year's exhibition, we will be purchasing practical items for our 40 affiliated safe houses and the women who use our services like bedding, linen, towels and pjs."
"It is easy to underestimate the feel of a new towel and fresh pajamas after a traumatic experience, but it shows our clients they are valuable and deserve comfort. Alongside this, the funds will be used to fund counselling and legal assistance for our clients," says Women's Refuge NZ spokesperson Susan Barker.
Northland exhibiting artist Jin Ling offers the last word. "All of my sculptural works reference peace. A woman reading in a garden; a child holding a dove. Now more than ever, there is the need for understanding throughout humanity."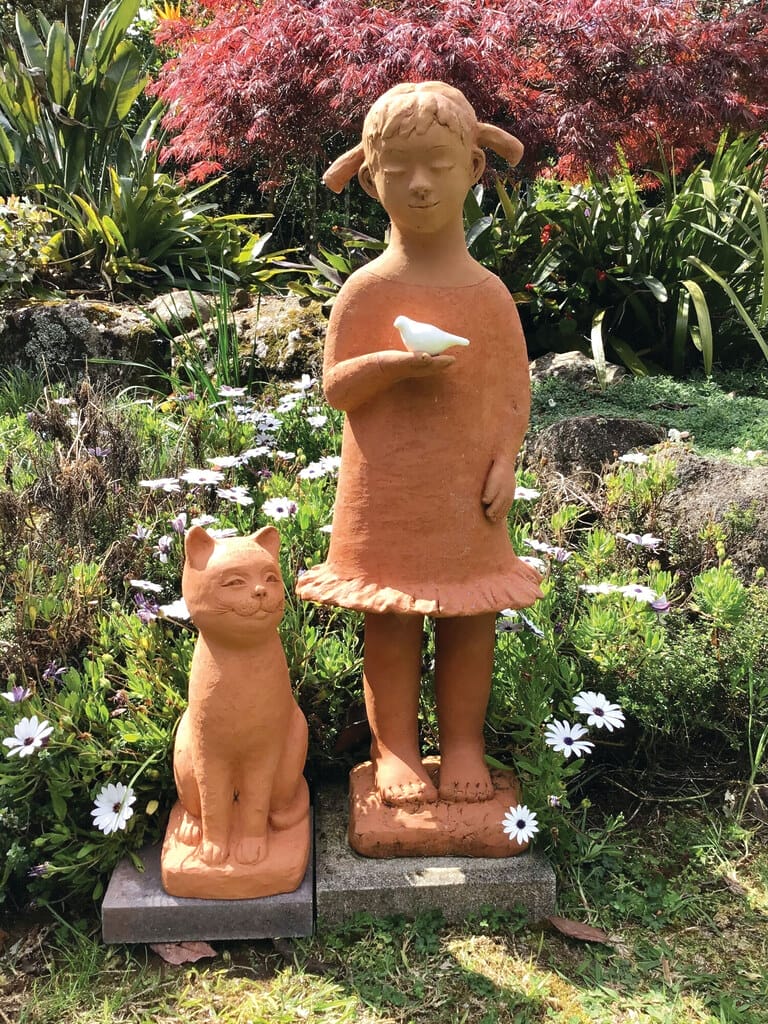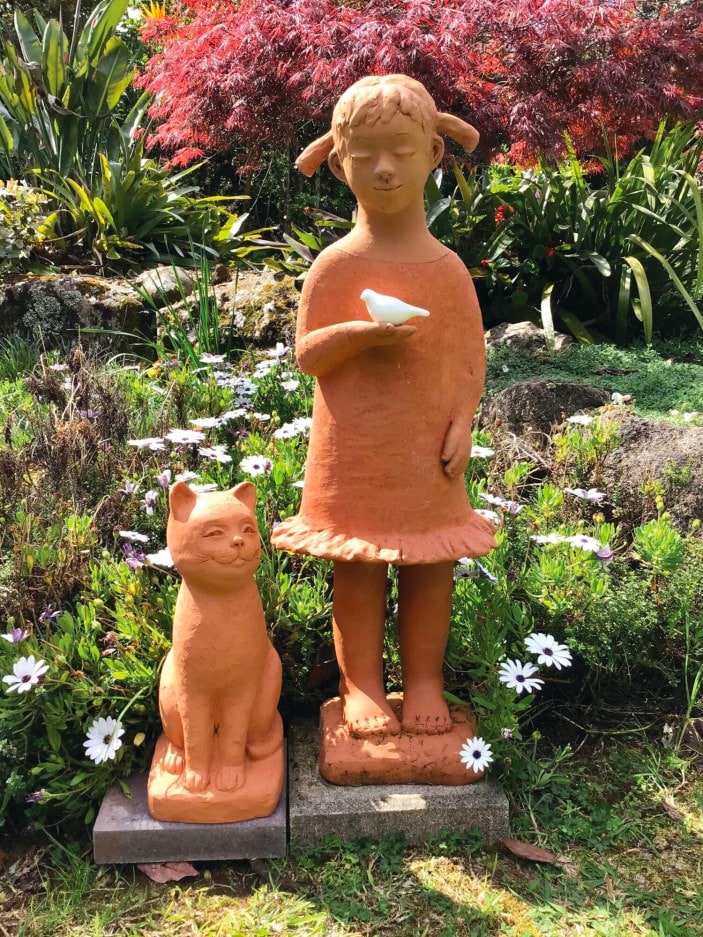 NZ Sculpture OnShore, Operetu Fort Takapuna, 4 – 19 November. Tickets from www.nzsculptureonshore.co.nz
Related Article: What's On This November