Stylist Melissa Marriott creates a cute and cosy nook so that Rolo can snooze right beside his favourite people.
What you need:
An old chest of drawers
Resene dropcloth
Hammer
Screwdriver
Resene sandpaper sheet
Putty knife
1 x 7mm plywood sheet
1 x 12mm plywood sheet
Nails
Resene Lustacryl semi-gloss waterborne enamel in your chosen colour (we used Resene Atomic)
Resene MacGyver all-purpose paintbrush
Your choice of Resene paint roller
An old duvet cover or curtain and stuffing to make the padded base, or use a cushion
Staple gun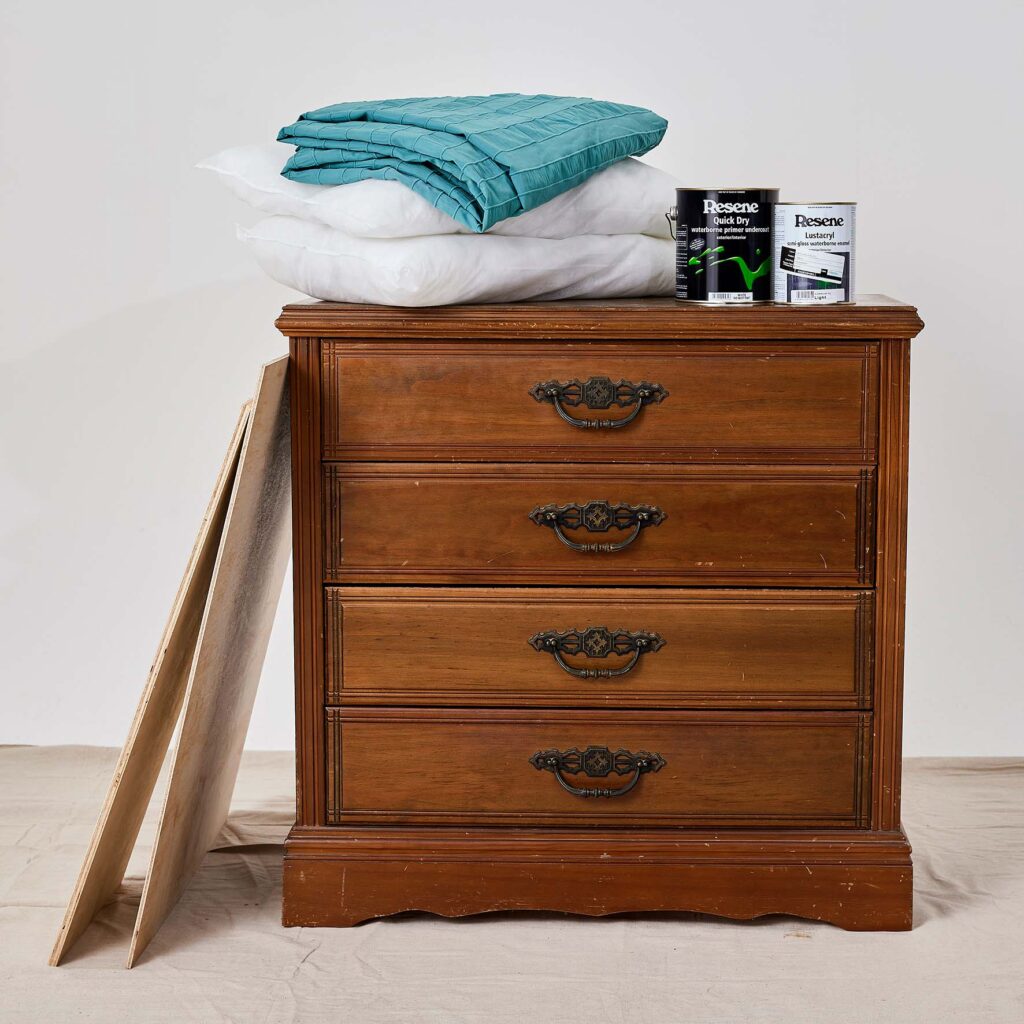 Method
1. Place the chest of drawers on the Resene dropcloth and remove the bottom drawers, keeping the top drawer.
2. Remove the back panel of the chest of drawers. We used a hammer to do this.
3. Remove the drawer sliders, except the one for the top drawer, again using a hammer.
4. Using a screwdriver, remove the drawer hardware.
5. Sand the drawer and cabinet.
6. Fill any holes using the putty knife and Resene EzyFill Quick. Once dry, smooth with sandpaper.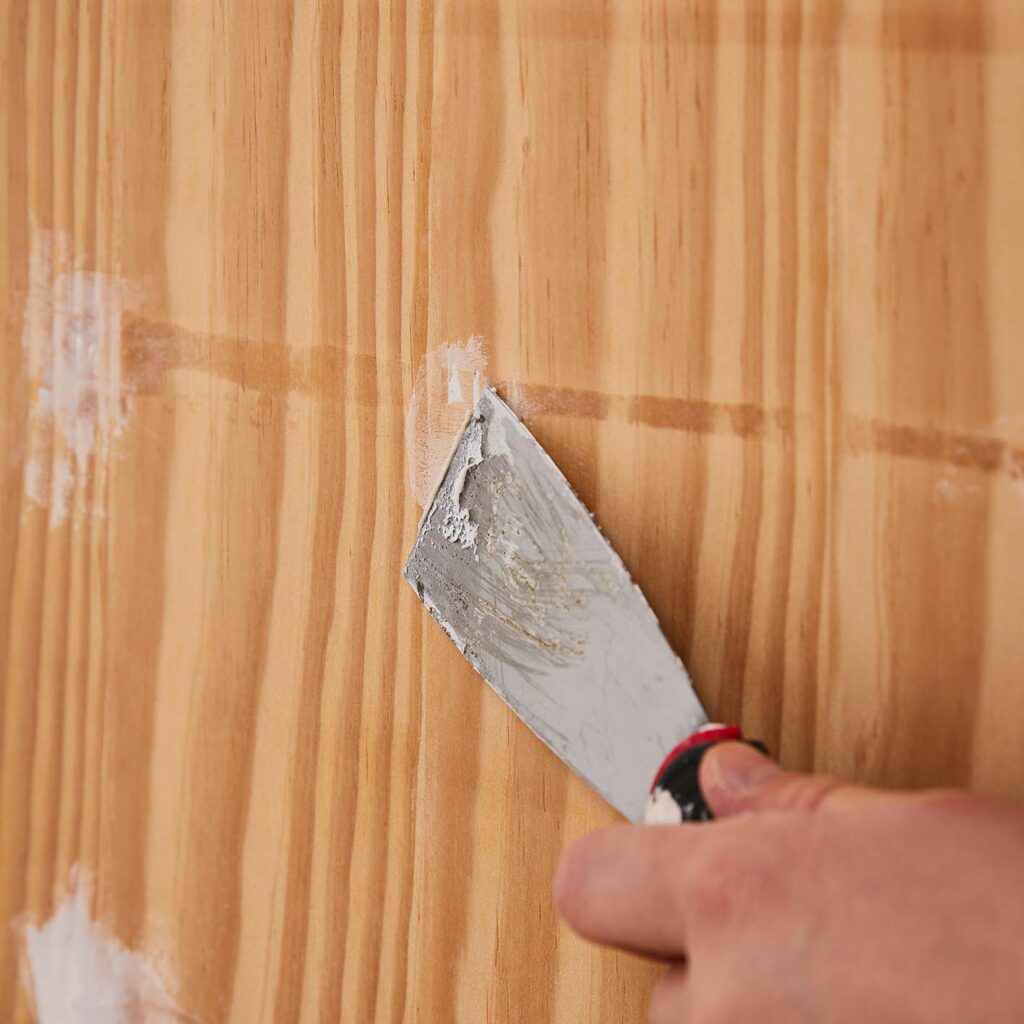 7. Cut the back panel (7mm plywood) and base (12mm plywood) to size. You can get this done at your local timber supplier.
8. Attach the back panel using a hammer and nails. Note: if you are using an existing cushion for your pet bed, attach the base panel now.
9. Prime the whole cabinet and drawer with Resene Quick Dry waterborne primer undercoat, using a Resene MacGyver all-purpose paintbrush.
10. Paint the cabinet with Resene Lustacryl semi-gloss waterborne enamel in your chosen colour, using a Resene paint roller. Resene Lustacryl is pet-safe and vegan. When the first coat is completely dry, apply a second coat, if needed.

11. Cut the fabric for the padded base 25cm larger on all sides than the plywood base.
12. Using the staple gun, secure the wrong side of the fabric to a long edge on the underside of the plywood base. Pad the top with an even layer of stuffing. Then cover the stuffing with the fabric and secure to the underside of the plywood base with staples.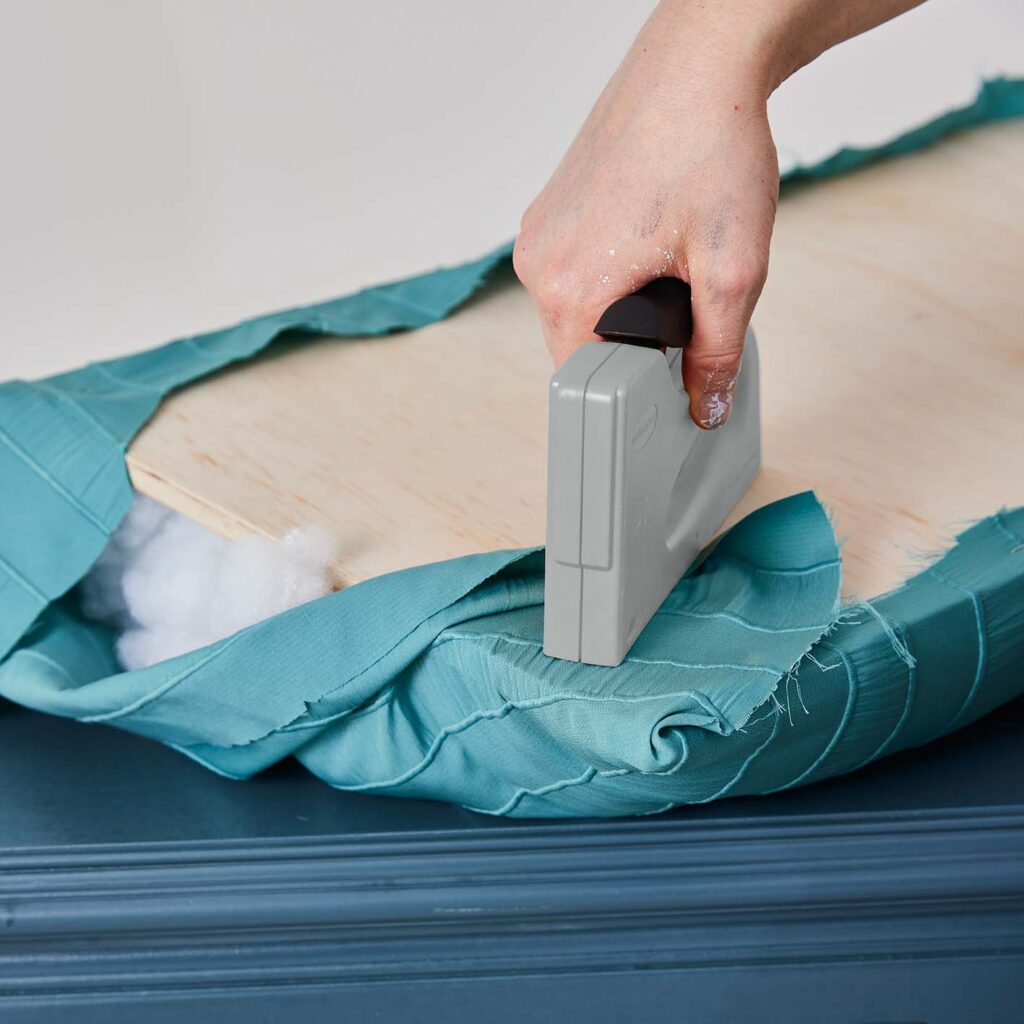 13. Insert the cushioned base into the bottom of your new side table and pet bed.

Related article: Refresh an old cabinet with Resene paint and rattan