How do you choose from the dizzying variety of milks on our supermarket shelves? Sarah Catherall helps you work out which one might best suit your taste buds and your tummy.
Look in a supermarket fridge today and the standard blue and yellow-top milks produced by dairy giants are flanked by dazzling array of new artisan milks – you can get everything from Jersey milks to organic milks, and milk containing only the A2 protein.
Raw milk is being bottled fresh off farms and delivered to local customers in reusable glass bottles, just the way it used to be a couple of decades ago. Despite the vegan trend, milk is back, and evidence suggests that those drinking it want theirs as rich and creamy as possible.
Nicola O'Rourke had her first job delivering milk around the streets of Tauranga in the 1980s, as a teenager. Her favourite part of the milk was always the cream sitting at the top of the bottle, just beneath the silvery foil lid. Today, she's still a fan of the creamiest, fattiest part of the milk, but has replaced a milk trolley for a desk in her job as general manager of one of New Zealand's boutique dairy companies, Lewis Road Creamery.
The Auckland-based dairy brand is bringing back the romantic idea of tracing milk back to the farm gate – all its milk is sourced from five Waikato dairy farms, including one farm where Jersey cows graze exclusively. To supply the artisan dairy brand, farms have to be free of palm kernel and genetically modified organisms, and permeate-free (see below for more on permeates). "We're on a mission to make our milk as fresh and traceable as possible. You can literally stand at the farm gate and know the milk has come from there,'' Nicola says.
New Zealanders drink about 400 million litres of milk a year. However, it's only been in recent years that artisan brands have been able to offer milk drinkers more choice, and less-processed milks, at the supermarket.
Nutrition scientist Elisabeth Weichselbaum, milk producer Synlait's nutrition and health manager, says milk is rich in essential nutrients and is particularly important as a food source for growing children.
She says milk (and dairy) contain a range of nutrients that have a beneficial effect on blood pressure, and dairy consumption is associated with a lower risk of being overweight and obese – these factors all contribute to an overall neutral or beneficial effect of dairy on cardiovascular health, she adds. Milk is the richest source of calcium of all food groups – one 250ml serve of milk provides more than a third of daily requirements. "Not only that, calcium from milk and dairy products is also more bioavailable compared with calcium from plant foods, as in those foods it can be bound to inhibiting factors such as phytates and oxalates. Milk also contains other nutrients that are good for bones, including protein, phosphorus, vitamin D and magnesium.''
Milk naturally contains a whole range of other vitamins and minerals such as vitamins B2 and B12, niacin and vitamin A. Milk is also a source of protein, with one serve providing around 8g. Milk protein is high quality as it provides all of the essential amino acids and has a high digestibility, Elisabeth says.
And even though we think of milk and dairy as building healthy bones and muscles, Elisabeth says the nutrients also support our immune function and the health of our brain and eyes, and reduce tiredness and fatigue. "All the nutrients in milk support healthy growth and development, making milk a great source of nutrition for growing kids.''
The two major proteins in milk are casein and whey. Beta-casein makes up about 30 percent of the protein in cow's milk. A1 and A2 are two variants of beta-casein. Historically, cows produced milk that contained only the A2 form of beta-casein. Today, most of the milk available from supermarkets contains mostly A1 proteins, which studies have shown are harder to digest for those with milk intolerances.
Elisabeth says: "Some people who find it hard to tolerate milk and think they have lactose intolerance are in fact intolerant against A1 beta-casein. Studies have shown that some people with perceived lactose intolerance were able to tolerate A2 milk despite it containing the same amount of lactose.''
Lewis Road Creamery has just released an A2 protein homogenised milk in response to consumer demand for A2 milk. Most milk is homogenised, a process which involves breaking up the fat droplets to smaller sizes so that they do not separate from the rest of the milk, which results in a more "uniform" milk.
Nicola says the company is also selling more of its high-fat milk than ever before. Over the past two years, consumers are increasingly reaching for silver-top and blue-top milks – with four percent and 3.3 percent fat content respectively. "Fat is back. It's definitely a noticeable trend that milk drinkers want creamier milks,'' she says.
After extensively researching the low-fat dairy trend, Elisabeth says it is not necessarily a good thing. "When fat is removed from dairy foods, so are the fat-soluble vitamins A and D,'' she says.
While low and reduced-fat products are promoted in dietary guidelines to reduce the intake of saturated fatty acids, Elisabeth says looking at one nutrient is too simplistic. The Australian Heart Foundation was one of the first organisations to recognise that regular-fat dairy products such as milk, yoghurt and cheese can be part of a heart-healthy diet. Elisabeth says the problem is that saturated fats are often stripped out of a dairy product and replaced with refined carbohydrates. "There is no evidence that regular-fat core dairy products such as milk, yoghurt and cheese are linked to an increased risk of heart disease or stroke – dairy, including full-fat dairy, can in fact be beneficial,'' she says.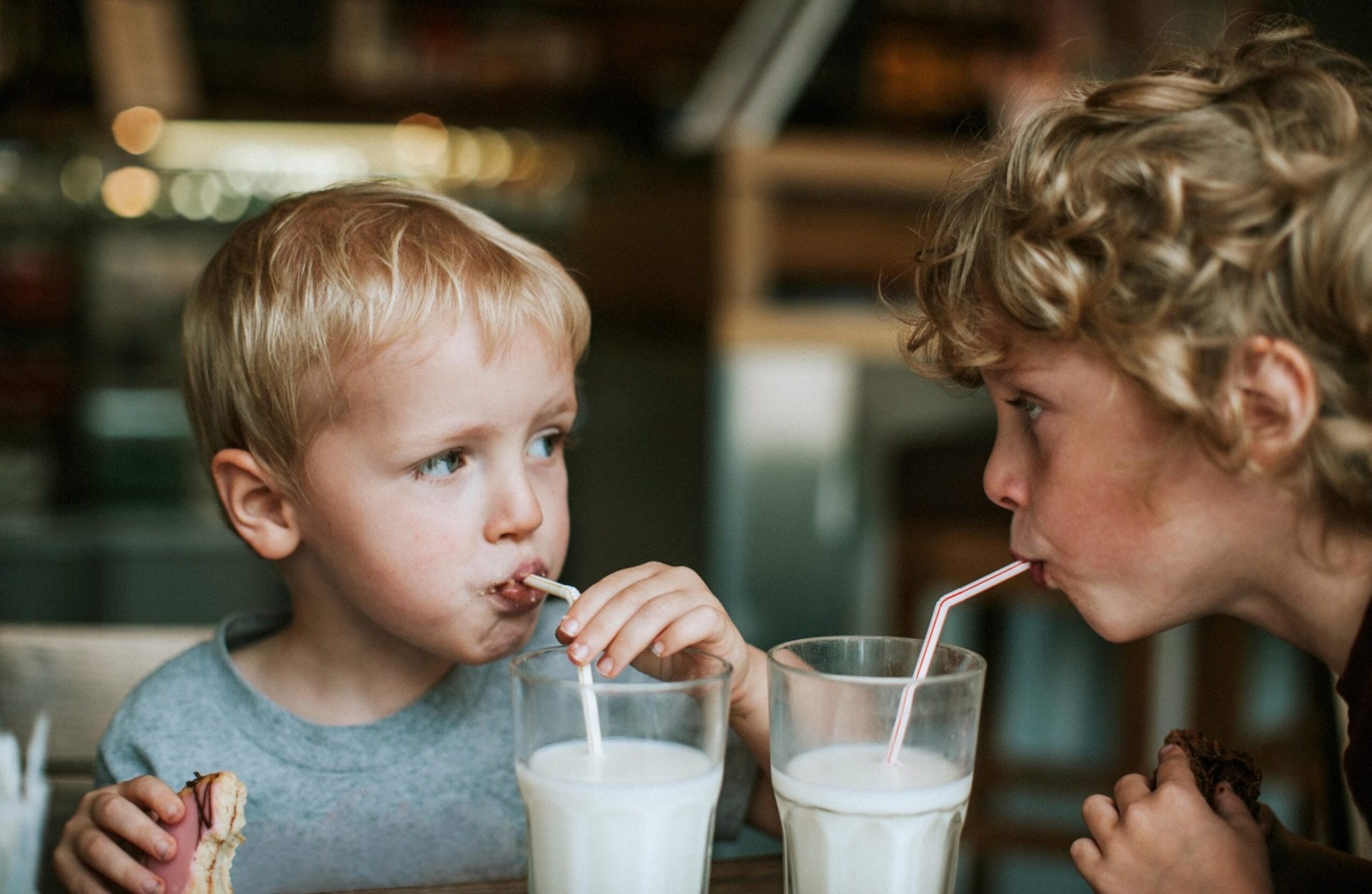 The fuss about permeate
Another key difference between some mainstream milks and artisan brands like Lewis Road Creamery and Jersey Girl Organics is the controversial addition of permeate into milk.
Permeate is voluntarily left out of many Australian milks after a storm blew up some years ago, with claims that it was a green, snot-like milk by-product added to milk to water it down and make it cheaper.
However, Kimberly Crewther, the executive director of Dairy Companies Association of New Zealand, says adding permeate is a regular practice in the dairy industry to make the milk consistent throughout the year. Added to make sure milk drinkers get a product that tastes the same all year, permeate is the result of an ultra-fine filtration process, where the lactose, soluble minerals and vitamins are separated from the protein and insoluble minerals. The lactose, minerals and vitamins that filter through are known as permeate.
"It is this lactose-rich stream that is added back to milk to ensure the protein level – the taste – is consistent.''
Fonterra, the owner of the Anchor brand, adds permeate to its blue and light-blue milks. "Standardising milk means that consumers know they will get a consistent quality, taste and nutritional profile in their milk all year round, regardless of natural variations in milk production on farm,'' says a Fonterra spokeswoman, who says its Anchor Organic, Protein+ and Calci+ milks are all permeate-free.
However, Nicola at Lewis Road disagrees. "Extracting permeate at the factory and then adding standardised amounts to a base creates a highly processed milk, whereas we simply collect, pasteurise and bottle ours – you can taste the difference.''
Another sore point in the milk world is PKE (palm kernel expeller), a controversial animal feed imported from South-east Asia. A by-product of the destructive palm oil industry, PKE is fed to cows when there's not enough pasture. However, a Fonterra spokesperson says most dairy cows are fed grass or pasture, and only about four per cent of their diet comes from PKE.
Artisan milk producers proudly label their milk as permeate and PKE-free. One of those is Jersey Girl Organics, a new milk brand producing A2 Jersey milk.
About eight percent of New Zealand's dairy cows are Jersey cows, a breed which produces a milk that is higher in butterfat and milk solids than average milk, making it much creamier with a rich, full-bodied taste. They're also more likely to carry the A2 protein.
John Vosper is a fifth-generation farmer who milks 220 pedigree Jersey cows near Matamata.
Cleavedale Farm is organic and their "girls'', who they know by name, produce what John says is one of the most minimally processed milks on the market.
Poured into reusable glass bottles under the Jersey Girl Organics A2 organic milk brand, the milk has 30 percent more protein and 25 percent more calcium than standard milk, John says. "Our milk is sold as it comes from the cow. Your standard milk is homogenised, pasteurised and often standardised, but this processes the milk so that, while safe to consume, it removes many of the nutrients and also alters the taste and texture.''
The Vosper farm is free of GMO, fertilisers, PKE, antibiotics and sprays. And their milk seems to be a winner, as it has picked up five awards.
On Facebook, customers rave that the milk tastes like it did when they were kids. "Reminds me of running after the milk truck and my brothers fighting over the milk,'' one wrote.