Farmer Nicky Berger is passionate about helping Kiwis reconnect with the land. She talks to Sharon Stephenson about taking a stand on sustainability and bringing country life to the attention of city slickers.
If you live in the city frequently dream of green, open spaces, prepare to be jealous. Nicky Berger is, quite literally, living that dream.
As we chat, the 41-year-old strolls around the garden of her 250ha Kaipara Harbour farm, tucking herbs and wildflowers into a basket, under shady oak trees that swallow the horizon.
It's so bucolic, I'm half expecting Bambi to appear.
It's not a million miles from cottagecore, the popular global trend beloved by urban Millennials that celebrates a slower, rural way of life. But Nicky, a self-confessed "modern farm girl", isn't wafting around in boho dresses and flower crowns with freshly-baked sourdough cooling in the kitchen. This farmer is far too busy raising four children and growing food for the world.
"We have 2500 ewes, 200 Angus cows and another thousand or so cattle spread across several farms, so I don't have much spare time," she deadpans, laughter crinkling the corners of her startling blue eyes.
Nicky's "rise at 5.30am, bed by 9pm" lifestyle has become even busier since she started working for Open Farms, an organisation aimed at reconnecting Kiwis with the land, food and farmers via farm open days for the public.
"We live in a world that's increasingly disconnected from reality, especially regarding where our food comes from," Nicky explains. "But farming is real, there's dirt and there's life and death."
Nicky, who helps co-ordinate the annual event, says this year around 60 farms across the country are involved, from blueberry and asparagus farms to sheep and beef farms like hers.
"It's about making a connection with the non-rural community so they can see what happens on farms, how important farming is to New Zealand and how their food is grown," she says. "There can be a lot of negative noise about farming, and this is a way to show people how it really is."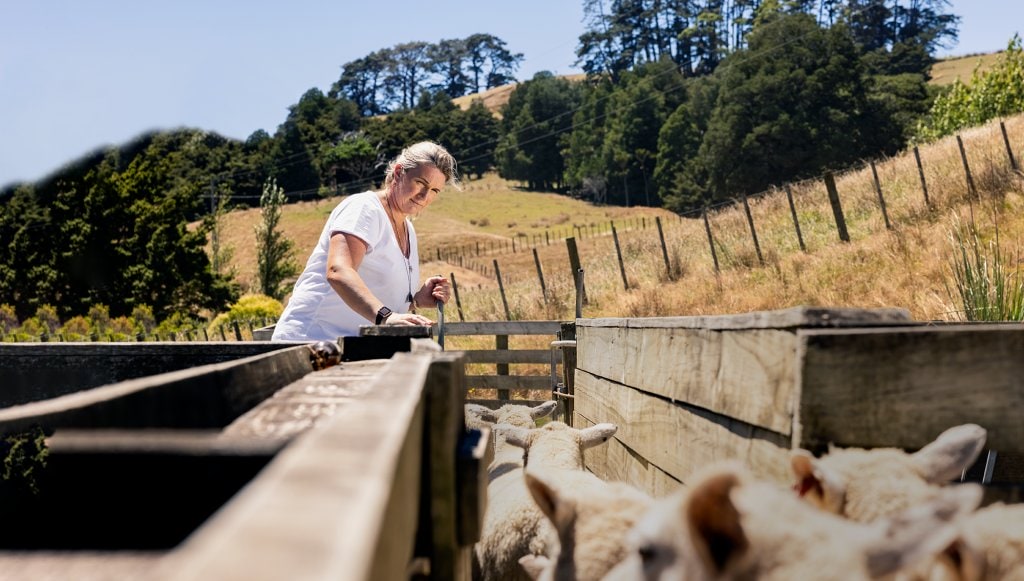 Because, as many people on Twitter will tell you, farmers are polluters, they don't care about the environment and sustainability isn't a close friend.
You'd expect Nicky to roll her eyes when these topics work their way into the conversation. But she takes a deep breath and says she welcomes the opportunity to "show what great strides are being made and hopefully move opinions along the dial".
"Farmers are working to reduce the impact on the environment and to be more sustainable, doing things like planting trees and fencing waterways," Nicky says. "You only have to look at the beaches closed in Auckland this summer to see that water quality isn't just a rural issue."
She's also at pains to point out that a 2020 AUT study showed New Zealand sheep and beef farms are either carbon neutral or almost at that level. But, she says, "that's not the narrative some people want to hear".
It's one of the reasons the mother of Gus, 14, Tessa, 13, Patrick, 10, and Jacob, eight, started Grassfed in the City, a social media collective of "modern farm girls talking food, family and farming on the fringes of Auckland city".
"I'm so passionate about farming, I wanted to tell its stories – both good and bad," says Nicky. "Animals die whether we eat them or not, and farmers need to make life and death decisions every day. We need to be comfortable taking about that."
I'm so passionate about farming, I wanted to tell its stories – both good and bad
Nicky, who has no problem describing herself as a go-getter, went with a friend to a storytelling workshop in Melbourne to learn how to craft those stories. On her return, she started the Grassfed in the City's Facebook page, which has over 2000 followers and frequently gets 50,000 views for its videos of Nicky doing things like showing the difference between synthetic and woollen carpets, or detailing the need for feeding supplements in a drought.
"It's completely amateur, but it works because I'm real and I'm telling real stories."
You don't have to look far to see where Nicky's passion for all things green and four-legged comes from. She was born fairly close to her current home, on a sheep and beef farm where she and her two younger brothers had a standard rural upbringing. But when Nicky hit her teenage years, all she wanted to do was flee.
"We used to visit family in Auckland, and I'd see the skyscrapers and imagine myself sitting in one," she says. "I really wanted the urban life."
Although she didn't quite make it to a skyscraper, she did do a degree in urban planning at the University of Auckland, chasing that with four years in the building industry.
But a hot day in January 2004 changed all that.
"My father died suddenly and we all rushed back to the farm, where hundreds of sheep needed shearing," Nicky recalls. "At 6am, I watched as ute after ute turned up to shear the sheep. This huge thing had happened to us but life had to go on, and the community dropped everything to help. It was my aha moment, when I realised I really wanted to be back living in this kind of community."
Not long before, Nicky met her future husband Dan at the rugby club. He'd wanted to be a farmer from a young age.
"I packed up my life in Auckland and headed north where Dan and I ran a shearing gang for several years, shearing around 1200 sheep a day," says Nicky.
By 2007, she and Dan, 44, saved enough for the deposit on a farm 65km north of Auckland's CBD. Shortly afterwards, the global financial crisis hit, and with it, the bottom of the farming sector dropped out.
"It wasn't great timing but when you're doing work you know you're supposed to do, you just keep going."
That meant doing everything themselves, around the clock. There was, for example, the time when Tessa was four weeks old and there was a huge storm. "My mother had to look after the kids while Dan and I were outside rescuing lambs in the pouring rain in the middle of the night," tells Nicky.
She credits having a solid relationship with her husband of 17 years for getting them through, but admits it is hard when they've both gone weeks without a break.
"We've had something like three holidays in 14 years, mainly to the South Island," Nicky says. "It can also get lonely when we don't get off farm for weeks at a time. But this is a vocation and we wouldn't want to do anything else."
Something that also helps is her daily workouts, whether that's running a 14km loop around the paddocks or powerlifting at the gym. Nicky represented New Zealand in boxing at university and is hoping to get into competitive powerlifting this year.
"It's about making the most of my strength," Nicky says. "Dan and the two oldest kids compete in shearing competitions, but powerlifting is my thing."