The former Auckland stylist is fashioning a new life in Sri Lanka.
The pandemic changed things for all of us, but for Kylie Cooke and her family, it's delivered an exotic new life they never knew was waiting for them.
For the past year, Kylie has been taking the time to bring her dream slow fashion brand Only Lovers to life. Produced in a small factory on the south coast of Sri Lanka with locally sourced fabric, the brand's beautiful dresses were designed entirely by the former Auckland stylist and sewn by community artisans working their magic.
With the help of her husband Brant Fraser, a production designer, Kylie launched the debut fashion label in late 2020, courtesy of a little Covid-19 shake-up.
"We feel very lucky that before the pandemic hit, we'd already chosen to take a year off to travel, reconnect as a family and get busy designing a better lifestyle," says Kylie, 47, mum to son Foxton, four. "We sold our home in Auckland to move to Sydney because Brant was doing the majority of his work there, which meant we'd missed out on a lot of family time together. But then the bush fires happened, and we were forced to rethink as it was definitely not the time to invest there."
Without a mortgage tying them down and excited by the idea of exploring the world, the couple planned a trip to Europe, stopping first in Sri Lanka to visit one of Kylie's old school friends.
"Afterwards, we'd planned to go to Italy for the month of May to celebrate all three of our birthdays, and because Foxy loves pasta," Kylie says. "We had tickets to London and then it was Spain, France and Morocco. Our itinerary was open to see where the winds would take us."
But one relaxing month into their Sri Lanka trip, news of the global pandemic broke. "We'd only started our travel, so we were more than a little reluctant about going back to winter in New Zealand, especially without a home to live in," she recalls. "We worked through all of our options and decided the safest thing for our little family would be to stay here, even though it could be for a long time."
The trio headed to Hiriketiya, a village on the south coast, where they spent the country's lockdown in a rented cottage. "It was a perfect little haven for us, a short walk from the beach," says the former costume designer, who picked up supplies every four days when curfew lifted. "We were only allowed out from 6am until 2pm, so I'd leave early before meeting the boys at the beach, to try and make the most of our short window of freedom."
In June 2020, they moved east to Arugam Bay, following the sun with the change of seasons. "We went with the intention of staying a couple of weeks to wait and see if worldwide travel would open up again, so we could continue our adventure," she says. "But we really liked the place and found it was very easy to exist there. It's a small community and we made wonderful friends." The couple decided to put Foxton in a small school three days a week, and the family settled into a routine.
Surrounded by the beauty of Sri Lanka and its people, Kylie felt inspired to create, working with various local tailors to make her own outfits using locally sourced fabric. Combining oversized comfort with considered design and her love of a frill, she made lightweight shorts and floaty dresses that were easy to throw on in the tropical heat. Of course, they didn't go unnoticed in their village, where she and her boys were living in a resort.
"My friend who owns the resort suggested I make a collection of dresses and offered to put them in her shop. Brant was super encouraging and said I should put them out there and see how they're received. What did I have to lose?" shares Kylie. "I'd only ever made clothes for myself, without any intention of selling, but I've always had little design ideas. Fashion is obviously my passion, but I never had the space or time to allow it to unfold."
Her first 12-piece collection was such a success, it sold out in a month. "Due to the pandemic putting a halt to tourism, Sri Lanka has been quiet compared to what it'd normally be during the season, so I wasn't expecting much," admits Kylie. "I put the dresses on social media and there was a positive response, just from friends. Women visited from Colombo, where they have a far more city aesthetic, and someone came to town to be an impromptu bridesmaid, so she bought one." It all happened organically, Kylie explains, without too much fuss.
Only Lovers' first photo shoot took place in a jungle in Arugam Bay, with Brant acting as photographer and other travellers acting as models. "We did it with a very small production team of just Brant, Foxy and me!" she laughs, "I wanted it to feel like a Vanity Fair shoot, with all these beautiful women scattered around in the different coloured dresses. A diverse group with every shape, size, age and nationality. All those women being there, in the right place and time, made it feel like it was meant to be."
Kylie and Brant were planning the exciting next step of running their own garment factory just before a second and more frightening wave of Covid-19 hit Sri Lanka, prompting the couple and their son to leave their new home.
"We left Sri Lanka mid-May, just after Foxy's fourth birthday. The second wave of Covid was far worse than before and the health system was pushed to its limit. We made the difficult decision to close our factory just one week after officially taking it over, as it was in the best interest of keeping our staff and ourselves safe."
They decided to holiday in Dubai while the factory was closed in the hope that the situation would improve and they could eventually return. "But unfortunately, as it is with Covid, it got worse and the country went into an extended lockdown just days after we left. We decided to stay on the road and chose America, as my bestie lives there and as the US was one of the only places to get freely vaccinated."
For the past few weeks they have been living in Mexico, where they will stay until they return to their beloved Sri Lanka in September. Their factory is still closed and they are using the time to have maintenance work done in preparation for their return.
"The garment factory will produce their own label as well as high-quality garments for boutique designer brands internationally," says Kylie, who has big goals for 2021 including the third drop of Only Lovers. "We hope to develop it into a world-class ethical and green factory that's rewarding for our employees and the community."
Kylie and Brant hope to stay in Sri Lanka, before potentially moving back to Aotearoa for Foxton's schooling. "Sri Lanka has been an amazing place for Foxy to be growing up, but it's important to us he stays connected to his Kiwi roots," she says. "We always talk to family and we've been reading him a lot of books like How Maui Slowed the Sun and Everyday Words in Māori.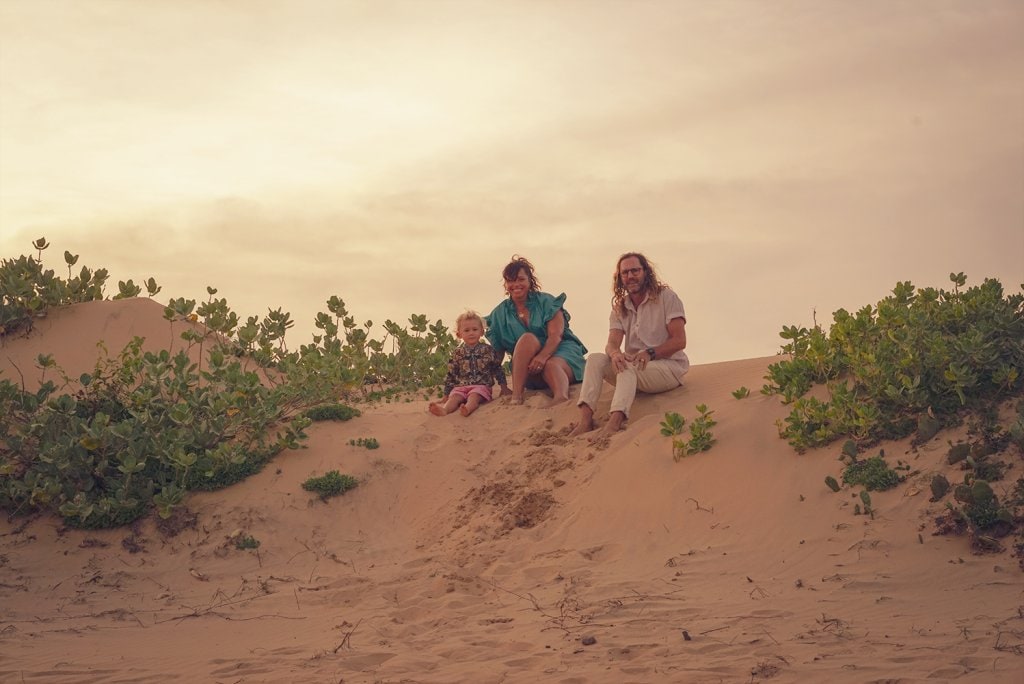 "Looking back, it feels like time has gone by super-fast. In spite of the pandemic, we chose to see ourselves happily living in Sri Lanka, rather than happily stuck," she says. "It presented us with a beautiful new place to call home, a beautiful new family, and a new purpose."