We love entertaining and throwing a pizza party is perfect if you're looking to keep it casual, affordable and most of all, fun! Everyone can pitch in to put their own spin on a favourite pizza while you provide the building blocks; a super-hot oven (no need for a fancy pizza oven, just get your regular oven nice and hot), homemade pizza dough for the bases, sauces and cheese. Go wild with prepping other toppings or get guests to bring their own and you'll all be churning out bubbling hot pizza in no time.


The Bases
Pizza Dough
Makes 3 large or 5 medium-sized thin crust pizza
1 cup warm water
2 teaspoons instant yeast granules
1 teaspoon sugar
2 tablespoons olive oil
3 cups high grade flour
1 teaspoon salt

Method
1. In the bowl of a mixer, or a large bowl if kneading by hand, add warm water and sugar and stir to dissolve the sugar. Sprinkle over yeast and let sit for 5-7 minutes until very frothy. Add the olive oil, flour and salt and knead on low speed with the dough hook attachment until it comes together. Increase speed to medium and knead for about five minutes or until you have a smooth elastic dough. If doing by hand, mix initially with a butter knife then turn out onto a lightly floured bench and knead with a light hand until dough is smooth and elastic, about 10 minutes, adding flour if it becomes sticky.
2. Place dough into an oiled bowl, cover with a damp tea towel and leave in a warm place until doubled in size, about 1.5 hours.
3. Gently turn out dough and divide into 3-5 pieces. Shape each into a ball, dust with flour and rest for about 20 minutes until ready to make pizza.
4. Roll out into desired shape and place on lightly oiled pizza tins or baking trays. Top with toppings of your choice and always bake at a very high heat (240-250 C) for 10-12 minutes.
Gluten free pizza base
Cauliflower makes an amazing pizza base if you're looking for a gluten free option. Makes 2 medium-sized pizza bases.
½ large cauliflower, to yield 2-2.5 cups cauliflower florets
1 large egg, lightly beaten
1 cup grated cheese (I use processed mozzarella )
2 tablespoon grated parmesan


Method
1 teaspoon sea salt
1. Preheat oven to 220 C and liberally oil two pizza trays or baking trays.
2. Cut cauliflower into florets and cook in 2-3cm water, simmering for 8-10 minutes until just cooked. Drain well and rest until steam has released then process in a food processor until it resembles fine breadcrumbs.
3. In a bowl, mix cauliflower with egg, cheeses and salt until combined. Divide mixture between greased trays and with wet hands pat into a thin round, flattening with your palm. Bake for 10-15 minutes or until the edges are browned and top is golden. At this stage the par-cooked bases can either be frozen for later use or topped with your choice of toppings and cooked at 240 C for 10-12 minutes.


The Sauces
Tomato pizza sauce
Makes about 1 cup
400g can crushed tomatoes
2 tablespoons olive oil
1 tablespoons fresh (or 1 teaspoon dried) herbs – thyme, rosemary, parsley or oregano
Salt and pepper to season
In a pot, simmer all ingredients for 10 minutes or until it thickens slightly.
Blanco pizza sauce
As an alternative to tomato-based sauce, try this 'white' pizza sauce.
Makes about 1 cup
200g crème fraiche or sour cream
1/3 cup grated parmesan cheese
2 tablespoons olive oil
1 tablespoon fresh rosemary, chopped fine
½ teaspoon sea salt
Mix all ingredients together in a bowl.

Potato & Artichoke blanco pizza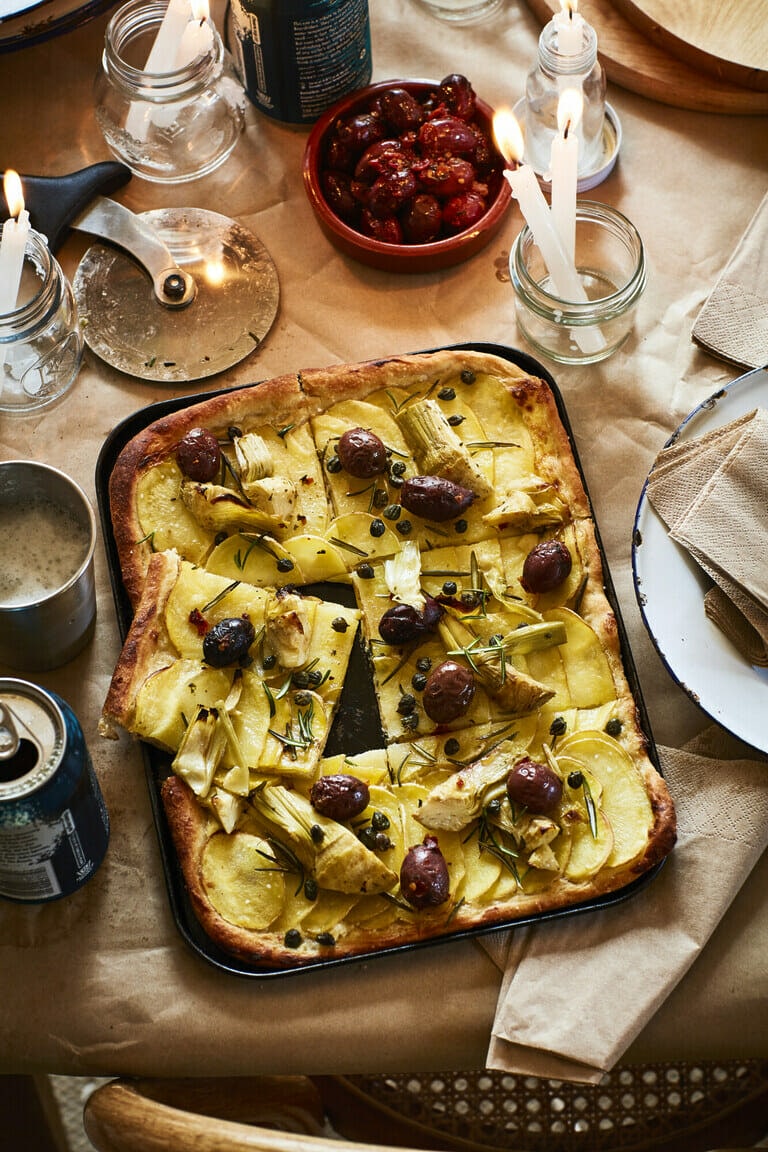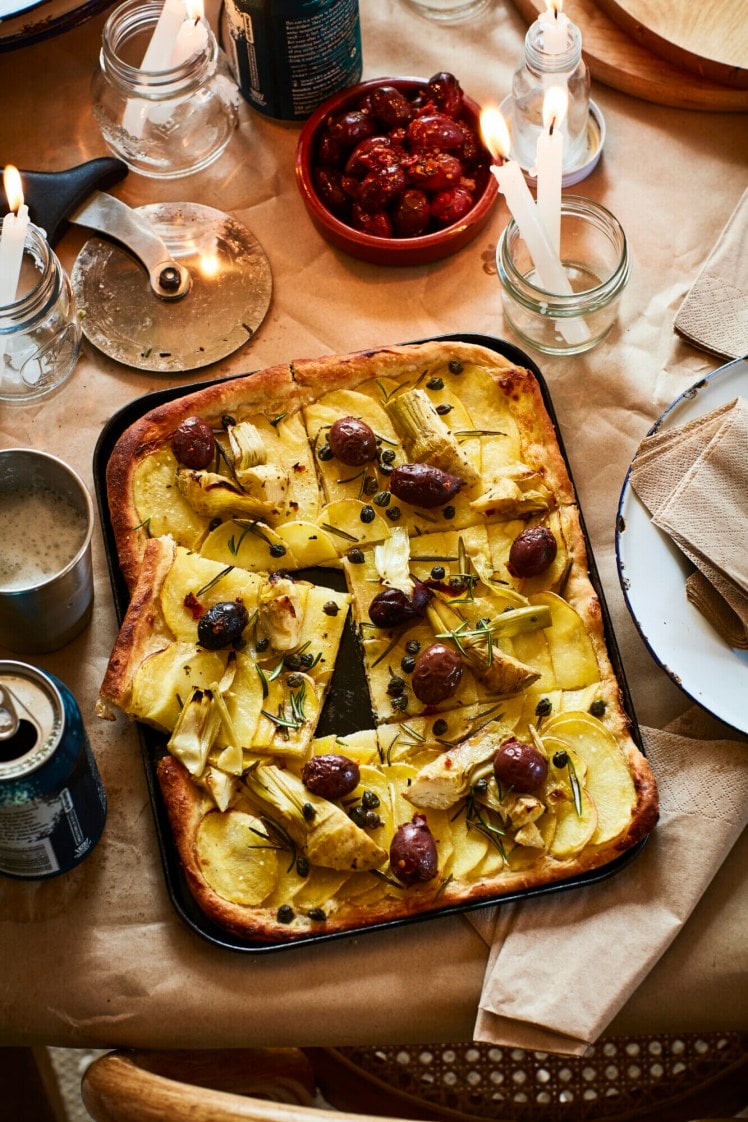 I call this my 'double carb hero' and it's simply divine! I've used homemade pizza dough in this one but you could use flatbreads for an easier option.
Makes one medium pizza

Ingredients
1 ball pizza dough
¼ cup blanco pizza sauce
Pinch chilli flakes
2 large agria potatoes, sliced very thin
½ cup quartered store-bought artichokes (available in jars or in supermarket deli)
½ cup black olives
1 tablespoon capers
1 tablespoon fresh rosemary
2 tablespoons olive oil for drizzling
Salt to season

Method
1. Heat oven to 250 C.
2. Pat or roll the pizza dough into a thin square and place on a lightly greased tray.
3. Spread blanco sauce over dough then sprinkle with chilli flakes and top with thinly sliced potatoes, artichokes, olives and capers. Drizzle over olive oil and sprinkle with rosemary.
4. Bake for 10-12 minutes until base is crisp and potatoes are cooked. Slice and eat!
Vegetarian Delight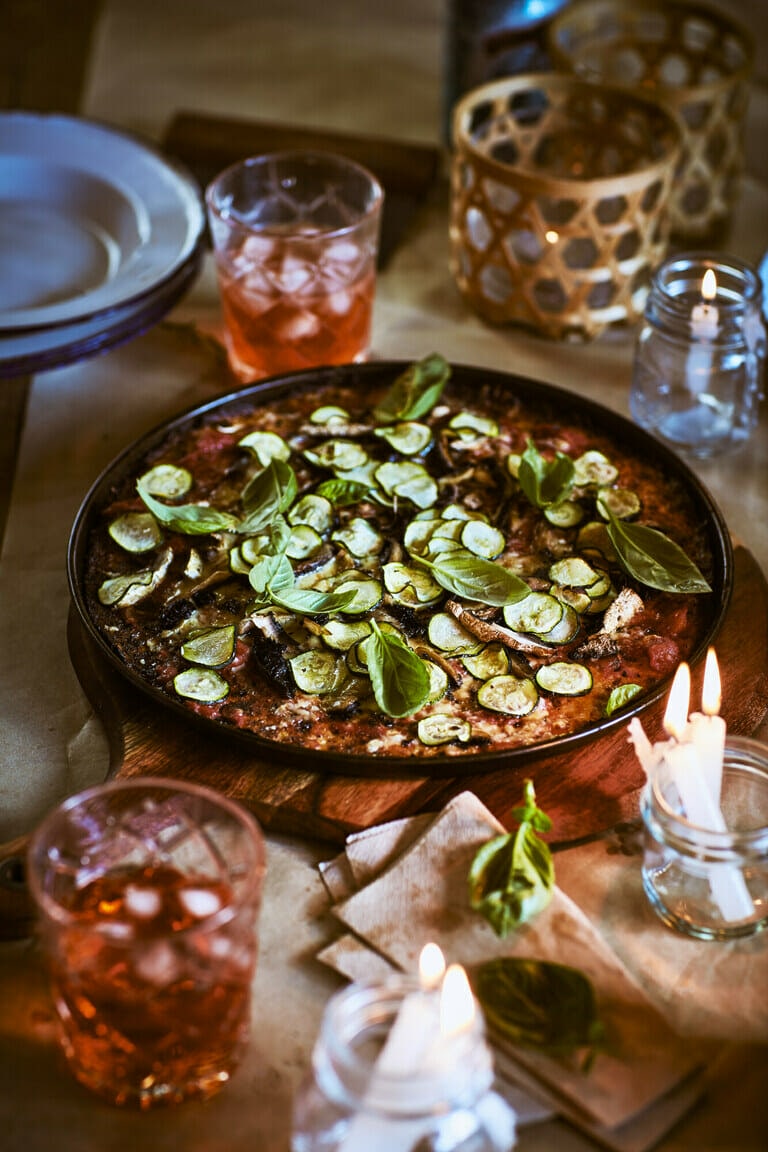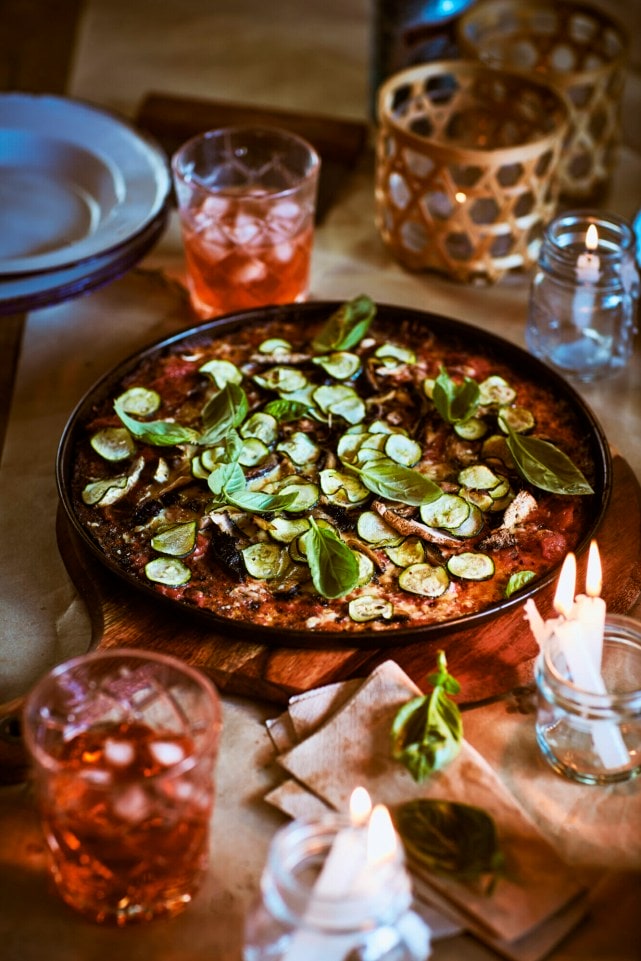 Makes 2 medium pizza
Ingredients
1 quantity pizza base
1/2 cup tomato pizza sauce
½ cup grated cheese, I used a mix of tasty and parmesan
200g mushrooms, sliced
1-2 courgettes, sliced thin
Handful fresh basil leaves

Method
1. Heat oven to 240 C.
2. Divide tomato pizza sauce between both par-cooked cauliflower bases and spread evenly, leaving a 1 cm border free from sauce. Sprinkle over grated cheese then top with mushrooms and courgettes and bake for 10-12 minutes.
3. To serve, top with fresh basil leaves. Eat and enjoy!