For a mesmerising show, the body might be the best canvas.
Hannah Tasker-Poland was just 16 when she appeared in public wearing nothing but body paint and nipple covers; rather than an act of youthful rebellion, it was a formative moment in the brilliant career of one of Aotearoa's most enthralling dance artists.
She recalls experiencing a little "ping" of nervousness about playing a living statue at an outdoor festival but also admits to being "a bit of a show-off" so she was enthusiastic about her transformation into a walking piece of art.
"There are many things that have contributed to my ideas around the body but that was one of the biggest because by having all of these people stop and say, 'oh my god, that looks amazing,' it helped me to realise that the body could be so many things. It wasn't just me out there as a human…"
Around the same time, Hannah, now 34, encountered another situation which could have pushed her down the darker road of body dysmorphia and eating disorders. In a dance class – not, she stresses, at her regular school – an instructor pinched bottoms and tummies while commenting on dancers' weights. Hannah was advised to increase the number of classes she took because she was "getting a bit podgy"; rather than feeling she needed to act on the advice, Hannah was outraged.
"I was a stick! I went home and told Mum; it was so fucking dangerous."
The body admired; the body reviled: it's a juxtaposition central to Hannah's lengthy career as a dancer, choreographer, actor, SPFX body performer, stuntwoman, burlesque artist, model, tutor, muse and director of her own company, projectMUSE.
She's earned a reputation for no-holds barred, avant-garde and highly physical shows where she regularly dances naked or in nothing but skilfully applied body paint. Hannah views her body as a tool to use however she chooses; one that can subvert stereotypes to ask questions – but never provide easy answers – about beliefs and beauty myths which trap us all in a never-ending quest where we constantly labour under the weight of social expectations.
"I feel passionately about things like our autonomy and agency; I want to help strip away all these ideas that we have around the body or sexuality being shameful and the ways in which the feminine body has been manipulated and abused and oppressed since the dawn of time," she says. "It's a bit of a cliché but it is about taking some of that power back and going, 'if I choose to be a sexual, erotic being then I choose to be that in that moment, but I can also choose not to be'."
Just a couple of hours before we met, Hannah was on a building site where she demolishes offices, sands floors, paints, fixes gib board to walls and wields tools like drills, saws and sledgehammers. She acknowledges that yes, the temporary job is a bit Flashdance – a reference to the movie where an aspiring dancer works in a steel mill.
When we meet, outside the Western Springs Garden Community Hall, she is dressed in black except for – almost de rigueur these days – a mask studded with gold domes which match her earrings. Her eye make-up is smoky but understated; her red hair pulled back.
It's late afternoon on a day constantly threatened by rain, so we should be in a bar or dance studio but in the last throes of Auckland's long lockdown, these remain shut. Instead, we find somewhere with a modicum of shelter, on a bench by a tree, to talk about her latest project – that's titled her company's name.
ProjectMUSE is just one part of the cabaret Truth and Lies, directed by Emma Herbert Vickers, at the Auckland Arts Festival. Hannah's image – swathed in gold paint with veinous rivers of inky black flowing down her body – is being used in a number of the festival's promotions. Hannah's contribution to the cabaret is a culmination of her experience in different artistic realms, paired with her long-held fascination with how women in art have been perceived throughout history; it's an exploration of ideas about bodies and beauty.
She says it's not her story and she is creating a character through which to explore historical concepts around the muse, but it is driven by being a muse for a number of different artists, like the photographers who have said, "I have had this idea and I want to shoot you" or the people who tell her, "I have had this idea for a creation that you can bring to life for me" and, of course, numerous directors and choreographers.
"Part of the inspiration comes from having had these experiences and wondering what is the artist/muse relationship? Is it reciprocal? Is it just one way? How does consent play into that? If you see someone and you're inspired by them or get an idea from them, they might not even know that this exchange has even happened. These are all the things I am really interested in."
Being part of Auckland Arts Festival means she'll get to perform at The Civic.
"I was visualising this work and thinking, 'where would I ideally like to stage this if money and all of that was no barrier?' It was always The Civic. The opulence, the aesthetics and the history of it, to me it's just such a gorgeous place to have this character inhabit."
ProjectMUSE is the second show in two years that Hannah has devised, crafted and seen through – with a creative and technical team – from the writing to direction and production. In 2021, she staged her first full-length one-woman cabaret, The Most Naked, where she took archetypes like the singer and the beautiful co-host in a sparkly dress and sent them sky high to explore what lies beneath.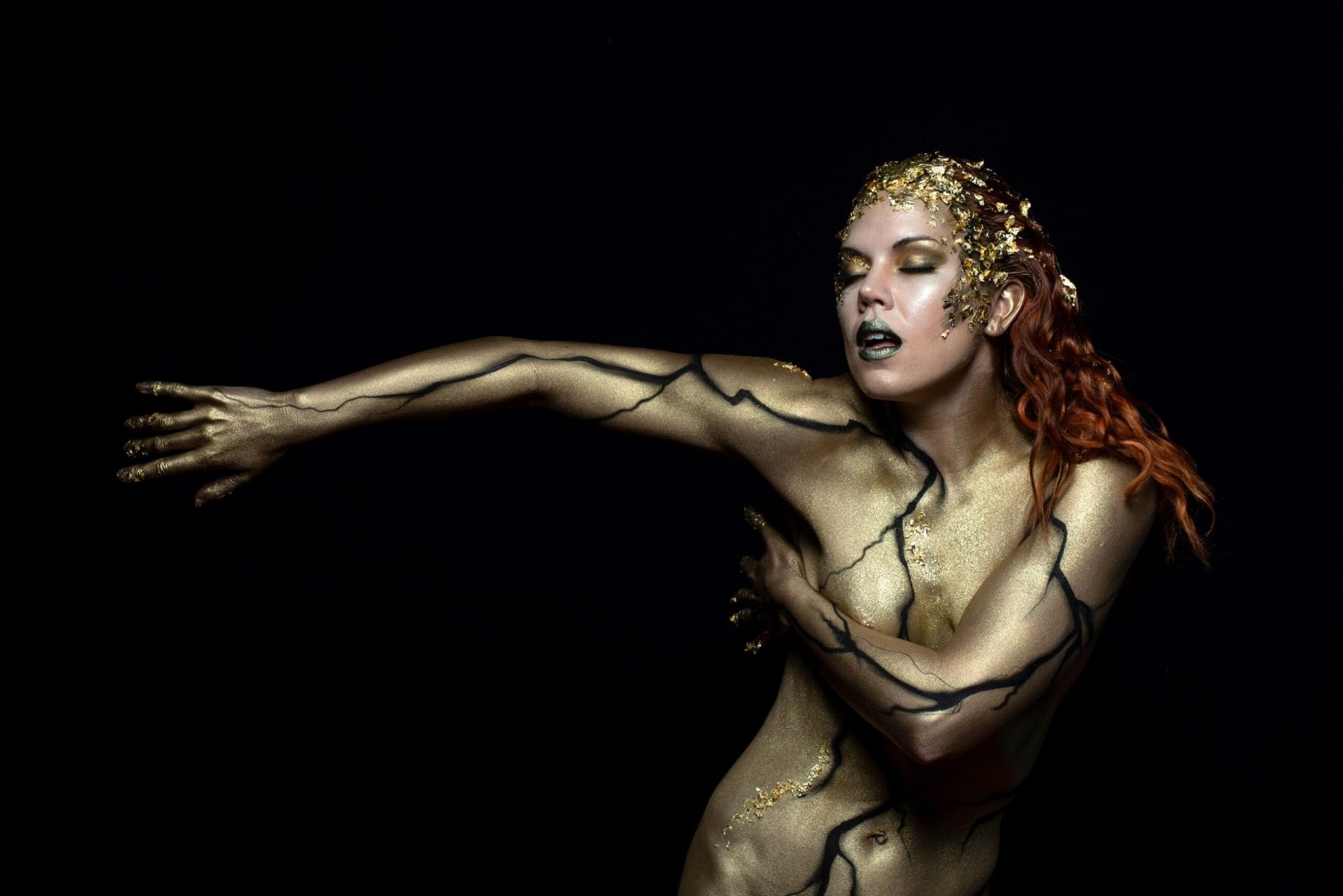 "I have always been drawn to eroticism or sexuality but not just these cliched versions of them but the power and ugliness that can be in the body or sexuality or eroticism," she says. "I love playing with subverting; I'm very interested in ideas of what the feminine ideal might be but also being able to show beauty and ugly existing together or the raw kind of grittiness that can exist alongside beauty and light."
The oldest of three sisters, Hannah grew up in Napier where both her parents were nurses who gradually moved into creative careers. For her father, Philip, that meant starting his own small photography/video company while mum Yolande became a dressmaker and landscape gardener. They encouraged their girls to be creative, enrolling Hannah in classes at the Rochelle Spence Dance Studio when, aged five years old, she asked to learn. She recalls instantly feeling as if she had found her place in the world.
She arrived in Auckland aged 19 to train at Unitec and has been busy ever since, spending five years after graduation with The New Zealand Dance Company and regularly appearing in dance and theatre productions, TV shows, films and music videos. Making her own work is the next move in carving out space for herself as well as others. Part of that has involved training as an intimacy coordinator/director to choreograph intimate stage and screen scenes.
"Luckily I always felt reasonably secure in myself and my body and also secure enough to be able to say, 'I am comfortable with that; I am not comfortable with that' but when I look back, I do see times when I thought I was totally in control but remember things like doing a sex scene for a TV show and the actor on top of me was cracking inappropriate jokes in between takes. Here's an older man on top of a young girl and there was no one there saying, 'you can't talk like that…'"
The last two years – the Covid ones – have been characterised by dark and light, beauty and ugly. During our initial 2020 nationwide lockdown, like so many creatives, Hannah watched work vanish before her green eyes. It contributed to experiencing severe anxiety and depression which was frightening and almost overwhelming. She sought help from her doctor, her partner (fellow dancer Emmanuel – Manu – Reynaud), friends and family, did some counselling and upped the self-care.
"I think it's really important that we normalise talking about mental health in the same way we would if, 'hey, I've sprained my ankle so I have to go to the physio' or 'I've got a cold, I feel really bad and I have to go to the doctor so I am going to feel sick for a bit but then I'll get better because I slept, drank water and maybe took some medicine.'"
In 2021's longer Auckland lockdown, Hannah knew she needed to do more than post online videos and try to stay positive so, she joined Manu working on a building site and the labour has provided a kind of relief.
"Being able to smash things on the building site has been very cathartic."
But walking away from creative work isn't an option.
"Whenever I go, 'should I be making more financially secure decisions?' particularly when I am presented with cost benefits, I have always chosen the arts," she says. "It might not have been the most financially smart decision but I don't think it's fair or right at all to say to artists, 'if you want to earn more, or a living wage, then go and do something else!' I am like, 'no, how about people who are professional and highly fucking skilled in what they do, get paid properly?!' It's what I love, it's where my gut goes."