Michael and Bee Van de Elzen's cookery school follows the philosophy that food is best when prepared from the ground up. Jessica-Belle Greer rolls up her sleeves to taste test the theory.
A stone's throw from Muriwai Beach (if the westerly wind is behind you) you'll find the Good From Scratch Cookery School. It's next to the farm cottage of husband and wife Michael and Belinda (Bee) Van De Elzen, on a six hectare lifestyle property they bought for the land and its soil. A 40-minute drive from downtown Auckland, my half-day Taste of the Farm experience is as much about breathing in the fresh air and getting in the garden as picking up cooking tips from the charismatic chefs.
I arrive on a drizzly morning, winding down a gravel driveway to be greeted by Hector, a German short-haired pointer, who sneaks in through the modern barn-style doors with me, proudly carrying a sopping stick. I'm given a warm tea with fresh milk, and he's told, "Get out!"
It took five years for Mike and Bee to create their school, so you can understand why a wet dog is not always welcome to lie on the entrance rug as today's 11 students arrive. From the vaulted ceilings to the cedar cladding, chosen because it ages well, it's clear the school is also part sanctuary for the instructors.
"This is something that we have dreamed about for years, and have been working towards for a long time," says Mike. "We were involved in every step of development, and with the school sitting on the farm beside our house, it is very much a big part of our lives."
Our introduction takes place around a macrocarpa table in the courtyard, which is warm and inviting, even as we watch the rain move across the rolling hills. Well prepared, we walk past Pop Pops the sheep's paddock and up to the vegetable gardens, which are in a former horse arena.
Adrianne Barrie, an expert gardener and chef, shows us around the large raised planting beds and tunnel house. From green and purple cauliflowers to sweetcorn perfect for popping, 95 percent of the plants here have been grown from seed by Adrianne and Bee, and they give them the best chance possible with interplanting and crop rotation.
As we harvest today's fresh ingredients, I'm distracted by the bursting calendula and head-height hollyhocks, learn that you can trim and replant strawberry runners, and that alyssum will distract aphids from chewing on your crops.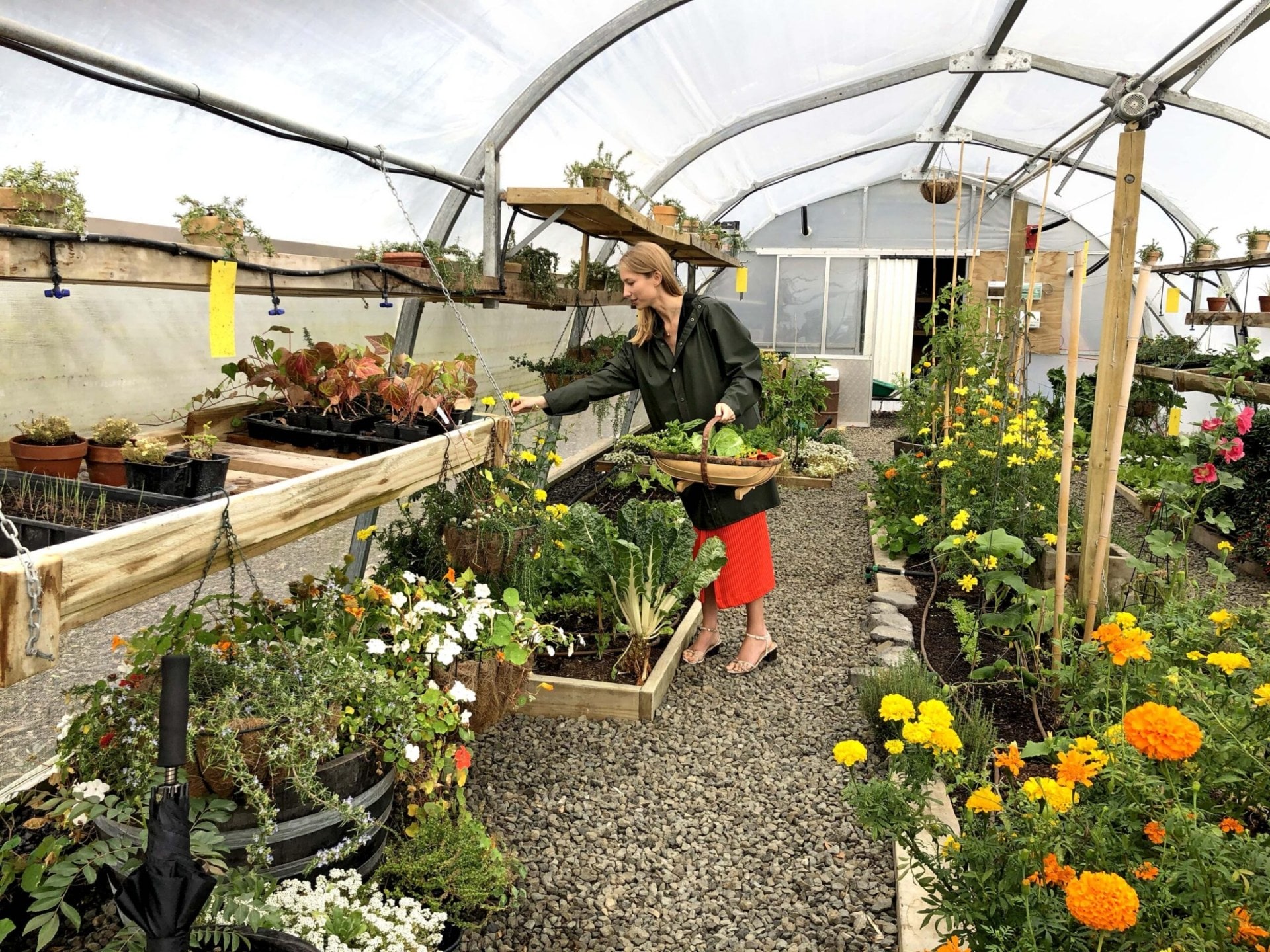 While Bee was a city girl, Mike grew up on a chicken farm in Henderson. One of the reasons for moving here is so their school-age children, Hazel and Ivy, have the space to explore the outdoors, and won't spend every moment on their devices. I take a few snaps during the day, but my hands really are too full, and the reception a bit too sketchy, to be sucked into using my phone.
Drawn back inside by the warmth of a wood-fired oven, which makes the emerald kitchen tiles glow, we experience the school's focus on using as much of our seasonal plants as possible. My group were tasked with making a chickpea salad with roasted pumpkin, while another duo got to work on an accompanying miso emulsion, made with soft boiled eggs from the chicken coop. Elsewhere, cucumbers are pickling for a side dish and figs are caramelising for dessert.
We are all absorbed by our tasks, stopping from time to time for the professionals to show us some new techniques. Mike shows us how to smoke tomatoes for a salsa verde in his giant hot and cold outdoor smokers, set in the courtyard wall.
If it sounds as if there is a lot going on, that is because there is. The five dishes' components are sliced up between us with a speed and intensity I thought you might find in a commercial kitchen – but which, on reflection, I realised was probably dialled down a lot.
Mike and Bee have worked in hospitality for decades. They first met in the kitchen of a restaurant called Antiks on Auckland's Dominion Road in their twenties and became an item a little later. They worked in fast-paced London restaurants, but the seed for this cooking school was planted 20 years ago when Mike and Bee worked together at a remote boutique hotel, the Dunbrody, in Ireland, creating recipes based on its impressive garden produce.
The secret to working smoothly together in heated situations? "Good communication and clear division of labour," says Bee. "Michael has done hundreds of cooking demonstrations, so is a great teacher, but there are certainly a lot of learning curves that come with bringing such a unique experience to life."
The Good From Scratch brand launched in 2015 after Mike's The Food Truck TV show. He opened a restaurant of the same name (still going under new owners) and started working with food companies to create healthier options from quality ingredients. You can buy some of their products from the school's stacked shelves – including honey made from their hives and preserves from their 300 citrus trees. Recently, Mike has been back in front of the camera as a host on Good Living and Eat Well for Less, but his focus is now clearly on the school.
"We really want to impart our Good From Scratch philosophy with everyone who walks through our doors – that food is best when it's prepared from scratch, and you know what you're putting into it," says Mike. "We want people to leave with a renewed passion for being in the kitchen."
Over the din, I learn that we want to cook our pumpkin at as high a temperature as possible, and you can add it to the pan for a quick sear at the end to add colour, because "colour is flavour".
When it comes to cooking meat and fish, you should skip the pan and oil your fillets instead, preferably with grapeseed oil, as it can handle all heats. Also, it looks cool if you tuck your tea towel into your apron – all the professionals do it.
For presentation, it's trendy to show off every element of your dish with layering, and you shouldn't hide the plate entirely as you want to show off your serving dishes too. "You eat with your eyes," says Mike.
Delicious and wholesome
There's just enough commotion for a self-conscious cook like me to feel confident whizzing about the kitchen, knowing everyone's too busy to be watching me. Happily, dirty dishes disappear into a large concrete sink, and you don't see them again
We sit down to enjoy our lunch with local wines and give ourselves, and Hector, a pat on the back (he's manoeuvred himself under the table again). Whether it's the fresh-as-possible produce, the hands-on work, or both, the meal tastes flavoursome and wholesome.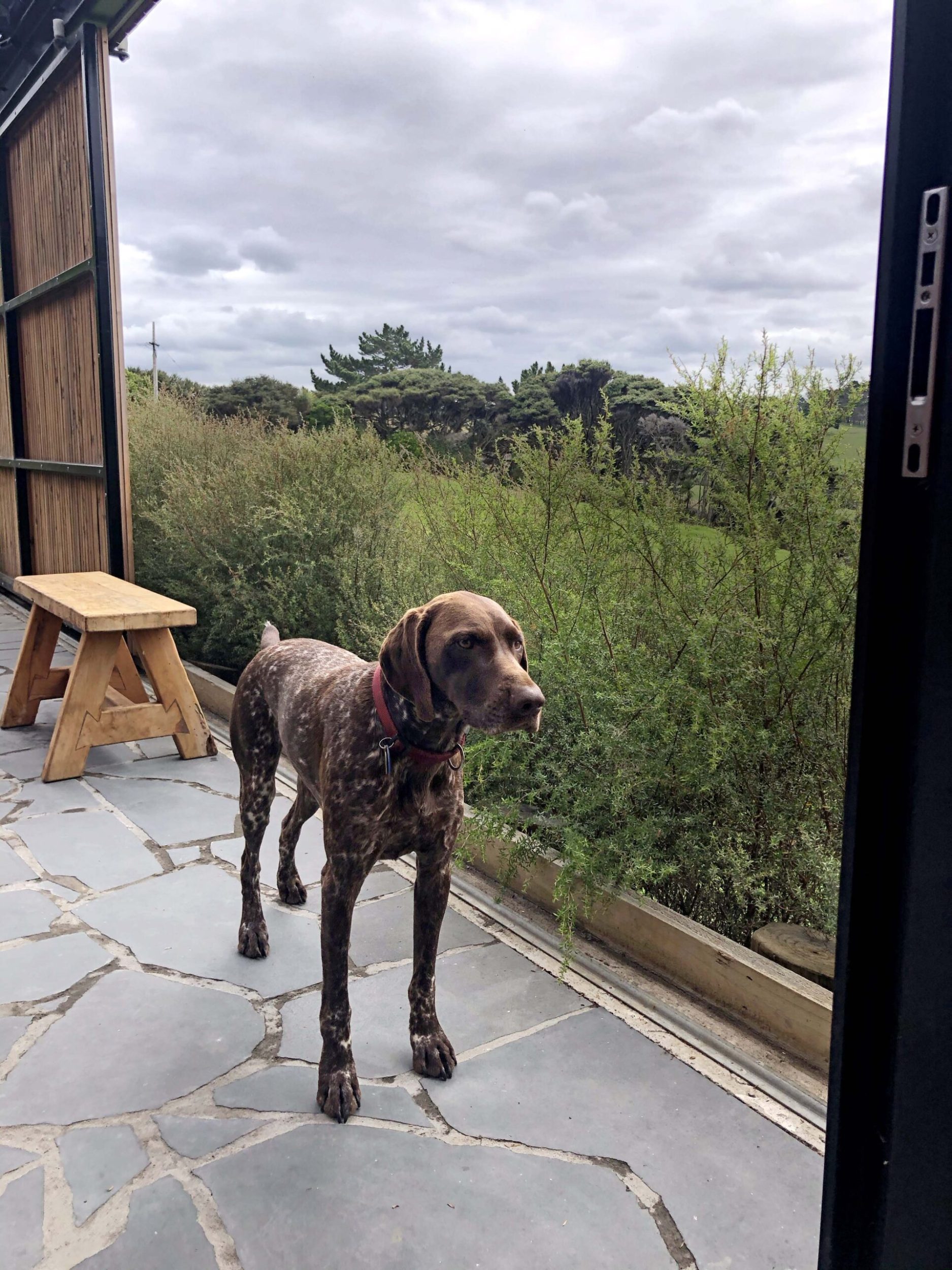 The one lesson our teachers wish we all take away? "Cooking delicious, healthy food does not have to be a tiresome, bland task," answers Bee. "It can be quite fun, and just as nourishing for the soul as it is for the body."
Mike and Bee know the importance of savouring the good moments after going through some tough times. A couple of years ago, Mike was diagnosed with throat cancer. While waiting for treatment, he and a friend were badly injured in a bike accident, and after getting over this, Mike started intensive radiation for his throat, and temporarily lost his sense of taste. During this time, Mike's best friend died in a car crash, and Bee lost her stepfather to cancer.
The cancer treatment was successful, and Mike's back on his bike at the nearby Woodhill Forest tracks. With that behind them, Mike and Bee hoped last year would be a fresh start with the opening of the Good From Scratch Cookery School, but, as we all know, it turned out to be another pressure cooker of a year.
"2020 was a tough year for a lot of people, and opening a hospitality business in Auckland amid numerous lockdowns and level changes has certainly been quite stressful," says Mike. "Getting out on my mountain bike is really important for my mental health, and while homeschooling in lockdown presented its own challenges, we are grateful for the time we could spend as a family and that we had a big farm to play on."