Foraging for nature's superfood has never been easier thanks to this brief guide to New Zealand's edible seaweeds.
There are about 1000 species of seaweed living around the coast of New Zealand. Many are edible and are rich sources of iodine, many vitamins and even protein. With so many types, there is a lot of scope for trying something new when introducing these ocean veges to your kitchen.
Only one species, a red seaweed, is thought to be poisonous (though not lethal), so seaweed is an even safer option for experimentation than mushrooms! Here are New Zealand's top edible species.
Sea lettuce
(Ulva lactuca)
Sea lettuce has thin, translucent leaves and is easily identifiable by its bright green colour. It grows in the clear, shallow seawaters around New Zealand's coast. Best harvested in the spring. Check local harbours, estuaries and coastlines, and pick at low tide.
Only pick fresh sea lettuce.
The blades from the larger plants are the most tender and the best to eat.
It's crunchy with a lightly salty sea flavour.
Use fresh in salads and soups and with seafood dishes.
After drying, it is delicate and crumbles into tiny, tender pieces.
Dried, it can be used to wrap foods such as fish, rice or vegetables like a nori sushi sheet.
It can also be used instead of tinfoil to cover fish when steaming it to seal in flavour.
Sea lettuce can also be chopped up and fried until crispy (like karengo).
Wakame
(Undaria pinnatifida)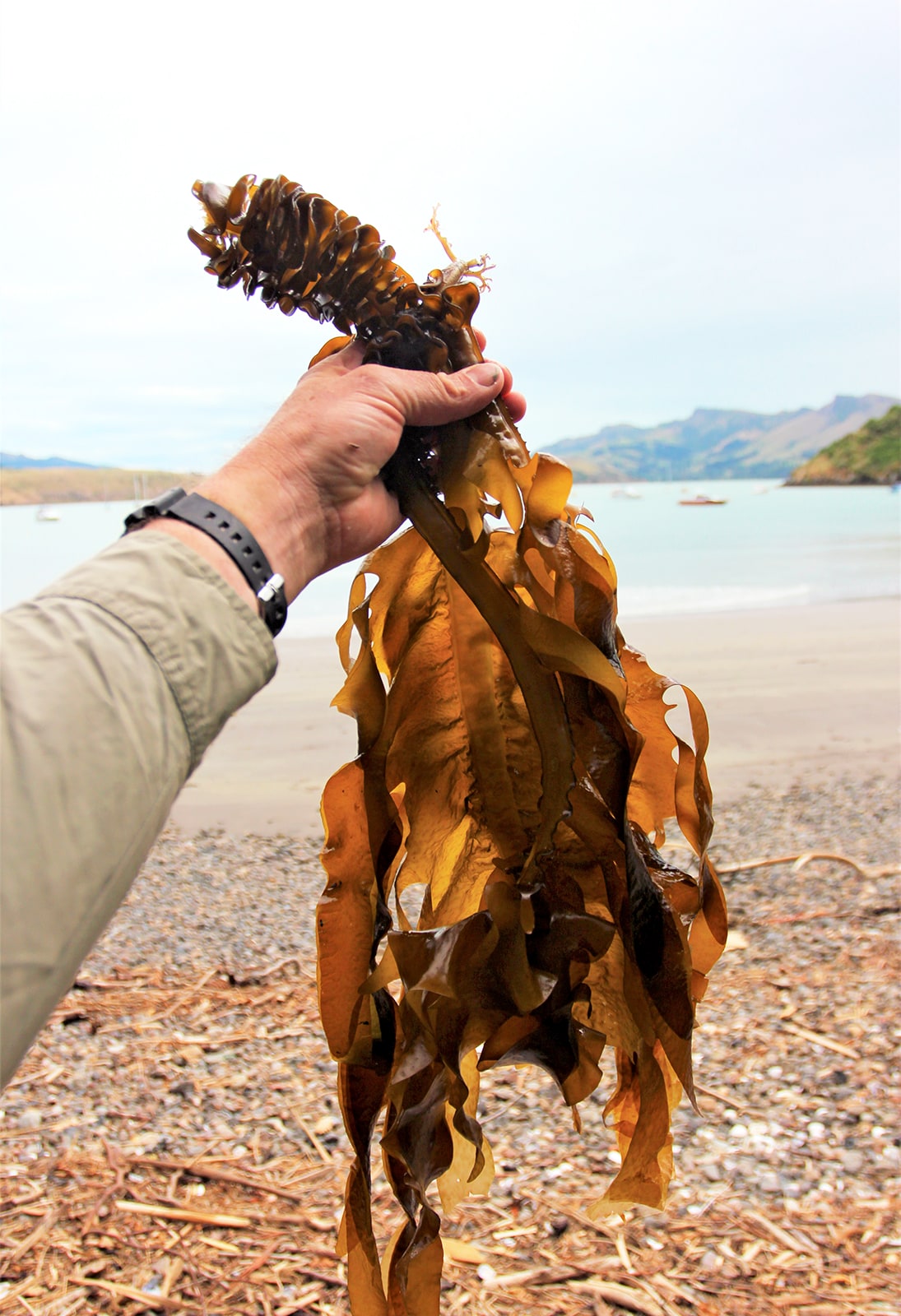 Found around much of Aotearoa, wakame is one of the sweeter-tasting sea vegetables and is highly versatile. When gathering, take plants that have a uniform colour with no signs of discolouration or worn edges. Use a short knife that will allow you to cut off the entire plant, as the frilled base can be dried and used.
Ideal in miso soup when fresh.
Can be fried in olive oil with some cracked pepper.
Will turn a deep green colour when cooked, so it's a visually satisfying addition to mix in with salads.
Sprinkle dried wakame on top of smoked fish.
Grind up dried wakame in a mortar and pestle with coarse sea salt to make a flavoured salt seasoning for salads, vegetables and fish and meat dishes.
Grind up and use to make a stuffing with couscous or rice.
Karengo
(Pyropia columbina)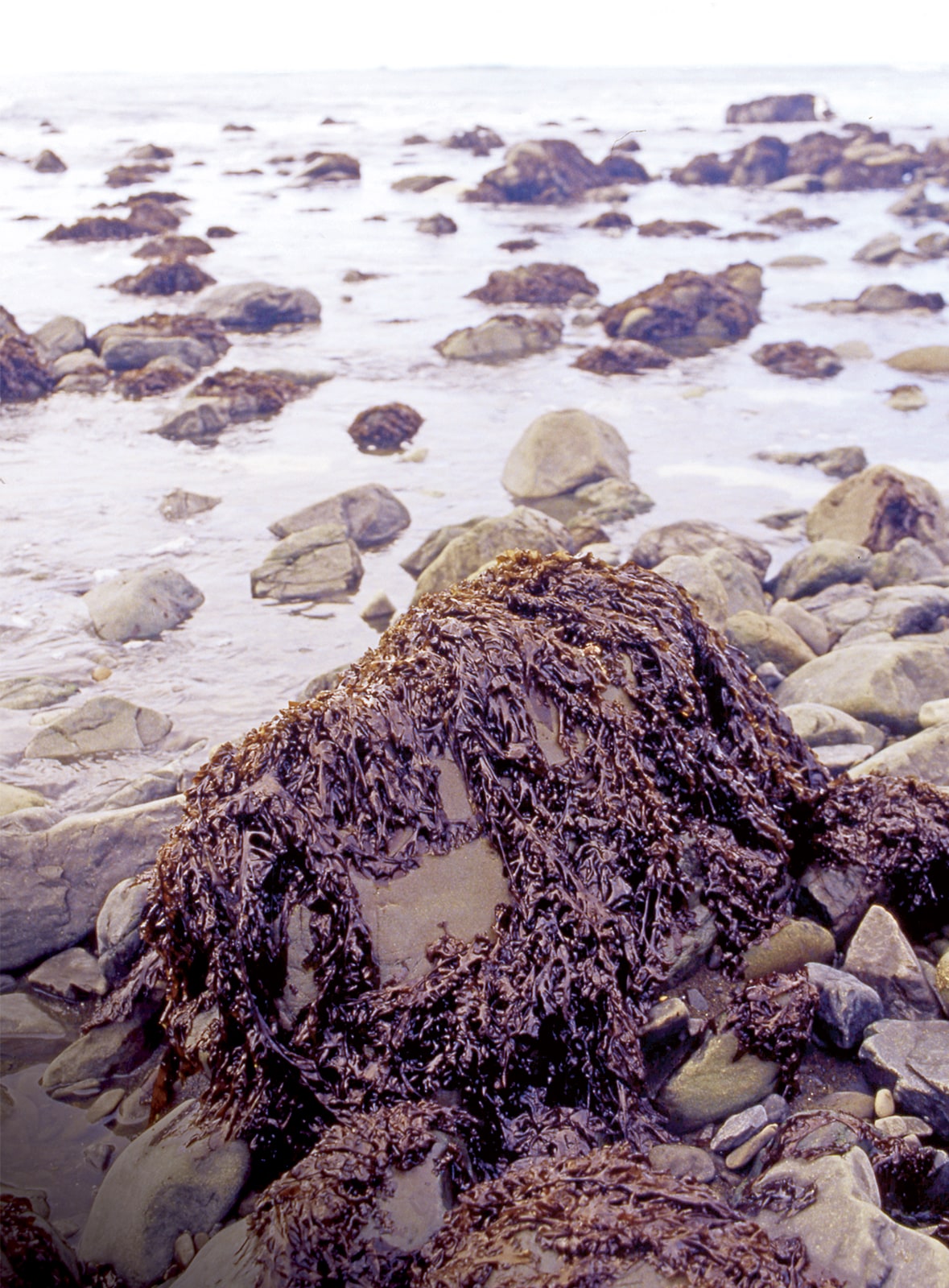 Closely related to Japanese nori and Welsh laver, the red seaweed karengo (porphyra species) is a delicacy to Māori, and now Europeans too. Found growing on intertidal rocks on exposed coasts, karengo is picked and sun-dried in winter months.
Cook karengo by putting it into 2-3 cups of boiling water with salt and butter, and boiling for 30 minutes.
Ideal for frying, it can be cooked alongside bacon or smoked fish, or fried in a mix of olive oil and butter with cracked blacked pepper.
Add some sesame seeds to fried karengo for an extra crunchy texture.
Karengo can keep for at least a year in dry conditions.
Bladder kelp
(Macrocystis pyrifera)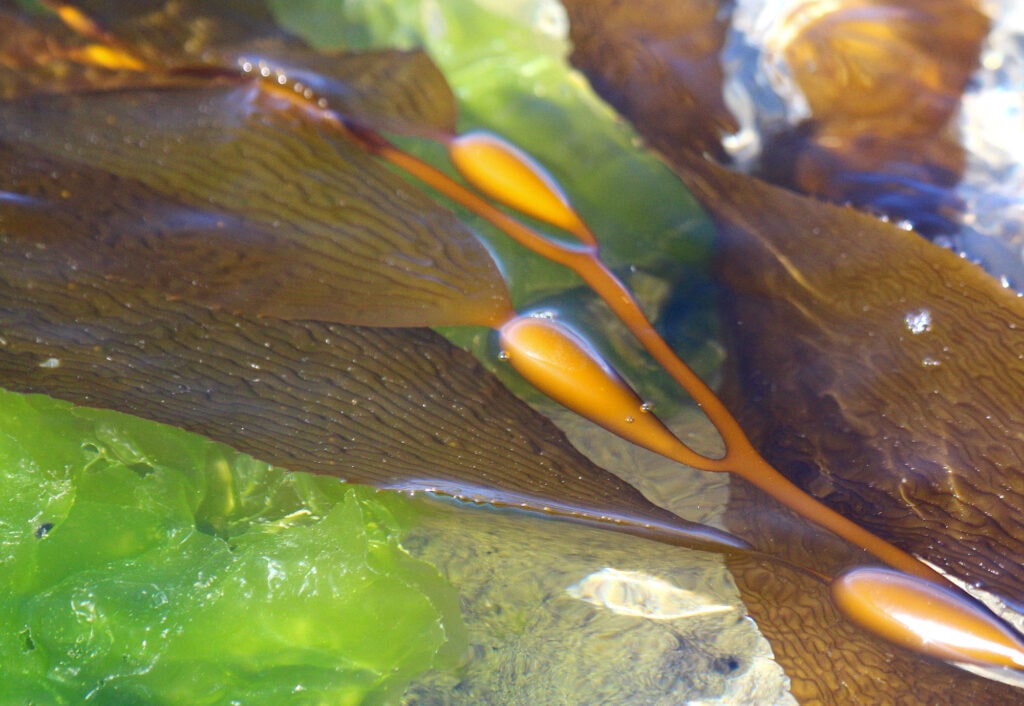 Often referred to simply as "kelp", this species is one of the healthiest seaweeds found in New Zealand's waters and is a great source of vitamins A, B, D and E, with high amounts of trace elements. Readily available around the South Island, the brown seaweed can be found on the low-tide mark and below. It has a seasonal growth pattern and is best harvested in the late spring and summer. Over the winter it dies back but can still be used.
Harvest fresh leaves near the tip of the stem – the large flattened leaves are best for eating.
Dry out and grind down blade-shaped leaves for a seaweed pepper. Mix with sea salt and add to seafood dishes. (Pepper will also stay fresh for a year if stored in an airtight container.)
Rapid drying is best done over the summer when a warm north-westerly wind allows rapid dehydration.
To make seaweed "potato" chips, bake dried leaves in the oven for a short period of time, with a little olive oil added for extra taste.
Cut fresh leaves into strips, blanch slightly to turn them a bright green, and add to a salad.