I've learnt how to bake gluten-free versions of almost any cake or biscuit. There are a few tricks to making them work, but the most important thing is a batter that's runnier than usual cake batters. Gluten-free flours tend to slurp up liquid at a greater rate than regular wheat flour – you want the batter to be quite sloppy so you don't end up with a dry cake.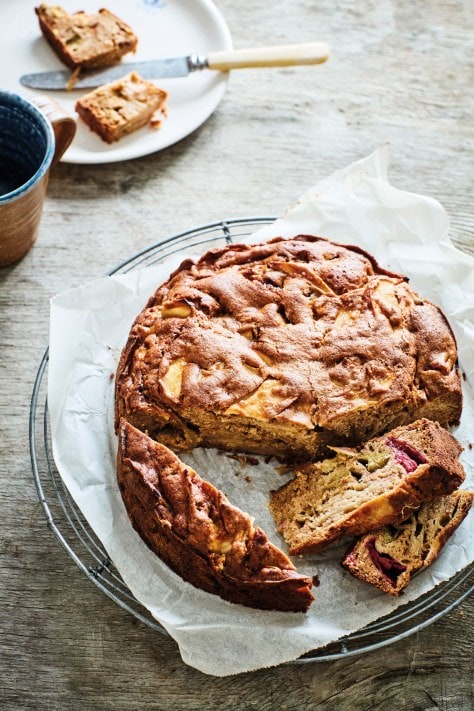 MAKES A 20CM CAKE
Ingredients
2 medium apples, very thinly sliced
1/2 cup 2cm diced rhubarb
1/2 cup walnut pieces
3/4 cup loosely packed brown sugar
100g butter, melted
1 egg, lightly beaten with a fork
1 cup gluten-free plain flour
3/4 teaspoon baking soda
1/2 teaspoon ground cinnamon
1/2 teaspoon mixed spice
Method
1 Preheat the oven to 180°C. Line a 20cm cake tin with baking paper and grease the sides.
2 Mix the apples, rhubarb and walnuts in a bowl, add the sugar and toss to combine.
3 Lightly beat the melted butter and egg together and pour this over the apple, rhubarb, walnut and
sugar mix.
4 Sift in the dry ingredients and stir until just combined.
5 Scrape the cake batter into the tin and level the surface using the back of a spoon.
6 Bake for 25-30 minutes or until a skewer inserted into the cake comes out clean.
7 Leave the cake to settle in the tin for 10 minutes before turning out onto a rack and carefully peeling away the baking paper.
8 Serve warm or cooled, with yoghurt or whipped cream.